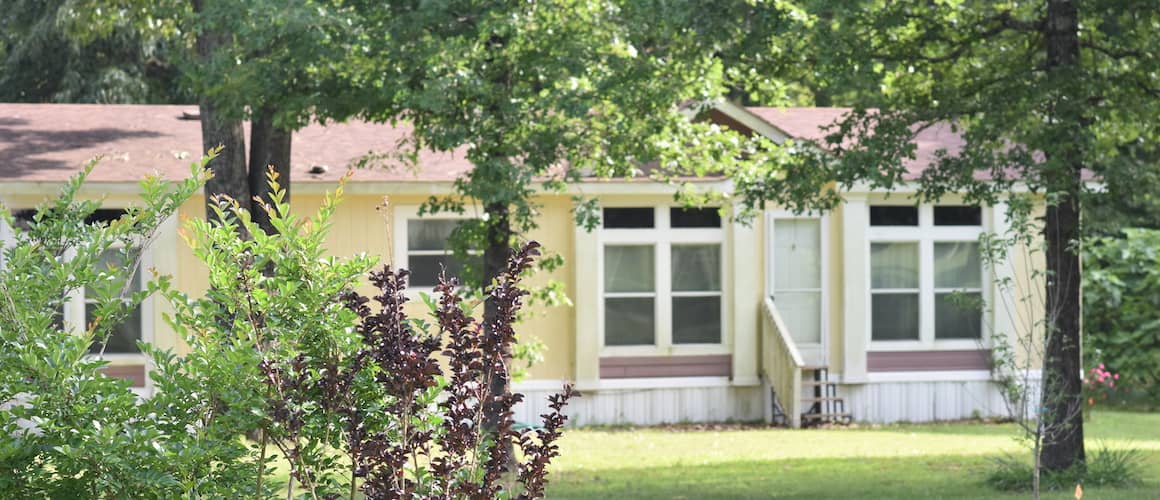 What You Need To Know About Financing Manufactured Homes
Kevin Graham7-minute read
December 14, 2022
Share:
House prices seem to be ever rising, creating an affordability challenge for aspiring homeowners looking to put down roots. If there was a home built to strict federal standards and available at a fraction of the price of traditional site-built housing, that would probably sound pretty good. That's the promise of a manufactured home.
If you're looking to buy one, you should know what to expect in terms of manufactured home financing. Rocket Mortgage® offers conventional financing on qualifying manufactured homes. We'll look at this in comparison to other loan options and discuss what sellers need to know to give buyers access to the best loan terms.
Find the best mortgage option for you.
Apply online for expert recommendations and to see what you qualify for.
What Is A Manufactured Home?
A manufactured home is completely built in a factory prior to being loaded onto a truck and transported to the land on which it's going to rest. When transported, they're attached to wheels and a chassis. They may be left this way when delivered. However, financing may be more favorable if the home is attached to a permanent foundation.
Based on both the way these homes used to be classified and traditional perceptions, manufactured housing has often been associated with trailer homes. This is a misconception as modern floor plans for manufactured homes come in a variety of shapes and sizes. In many cases, a casual observer would never know the difference between manufactured housing and a traditional stick-built home.
Manufactured Vs. Mobile Homes
All manufactured homes built after June 15, 1976, have a HUD tag and data plate signifying they meet the standards of the Department of Housing and Urban Development. Homes built before that date are often referred to as "mobile homes."
These mobile homes were not built with the same specifications for safety and durability in mind. Financing options may be more limited. Rocket Mortgage doesn't offer financing for manufactured or mobile homes built before June 15, 1976
Manufactured Home Benefits
The big benefits to purchasing a manufactured home are enhanced affordability when compared with stick-built homes to go along with rigorous federally mandated construction standards. Construction is also much faster.
More Affordable
Building in a factory with standardized blueprints and materials leads to numerous cost and operational efficiencies that make manufactured homes more affordable compared to homes that are constructed on-site.
According to the Manufactured Housing Institute, the average cost of a manufactured home before accounting for land was $108,100, compared to $365,904 for a site-built home. In terms of cost per square foot, the price is almost cut in half. For a site-built home, you're looking at $143.83 per square foot compared to $72.21 for the average manufactured home.
The combination of smaller loan sizes enabled by the affordability of manufactured homes and the lower rates available under a conventional mortgage mean more people will be able to afford a home. Homeownership is one of the biggest predictors of the ability to pass on generational wealth.
Safe And Durable
Since 1976, manufactured homes have had to adhere to federal HUD code. These are national standards regarding home design and construction, strength and durability, resistance to fire and energy efficiency.
In homes built since the early 1990s, improved standards around energy and ventilation have been in place along with wind resistance standards to mitigate hurricane damage.
Additionally, manufactured homes use the same construction materials as homes built on site. There are also safety regulations around where combustible materials are placed and smoke detectors are required. The construction process is continually inspected.
Stick-built homes are constructed up to local code, which can vary widely based on your location. With a manufactured home, there is one standard and you know what you're getting.
Faster Builds
One of the advantages to building in a factory is the increased efficiency it brings to the construction process. The factory environment enables assembly-line manufacturing as well as a controlled environment. You don't end up with weather delays. Building materials are also not damaged and the labor force is highly trained in their portion of the job.
Financing A Manufactured Home
When it comes to financing a manufactured home, two of the traditional options have been personal loans and what's known as a chattel mortgage. Let's briefly go over these before looking at why a conventional mortgage may be the best option for most who own their own land.
A personal loan is an unsecured loan, meaning that if you don't pay it back, there's nothing a lender can take as collateral. Because there's nothing to back up the loan other than underwriting checks on your creditworthiness, interest rates for these loans tend to be higher. The size of the loan you can get is also comparatively smaller and terms are 2 – 7 years.
Chattel mortgages are mortgages for personal property not tied to land. This type of mortgage is typically used if you rent the land on which your property sits. While not as high as a personal loan rate, chattel loan rates are still higher because it's just personal property and you still keep your land if you default. There are also shorter terms and you still can't borrow as much as you could with a regular mortgage.
A conventional mortgage is likely the most attractive financing option if your home is on a permanent foundation and the land and your home are tied together as real property.
You'll be able to get a regular conventional mortgage rate, which are some of the lowest rates available. Additionally, you have the option of financing for up to 30 years if you choose. Finally, there are fixed and adjustable rates so there's much more flexibility in terms of loan options.
Qualifying For A Conventional Mortgage On A Manufactured Home
When applying for a conventional mortgage to buy or refinance a manufactured home, there are qualifications for you as a client and for the property itself. Let's touch on the personal qualifications first.
Credit score: You'll need a minimum qualifying FICO® Score of 620 or better.

Debt-to-income ratio (DTI):

DTI refers to the percentage of your gross income that's used to make your minimum monthly debt payments. The DTI you can qualify with on a manufactured home serving as your primary residence is going to depend on factors including your credit score and the size of your down payment, among others. In general, it's a good idea to keep your DTI at 43% or below to qualify for most mortgage options.

Down payment or equity amount:

Your down payment should be at least 5% if you want to purchase a manufactured home or do a rate/term refinance of your current loan. If you want to take cash out of the home, you'll need to leave at least 35% equity in the home. If you're taking cash out, the property cannot be a single-wide home and the maximum loan term is 20 years.
Beyond the personal financial requirements, there are a few restrictions on the home itself that we want to call out.
Title:

The title must show that both the land and the home itself have been tied together and converted to real property. We'll have more on that below.

Foundation:

The home needs to be on a permanent foundation. The towing hitch, wheels and axles must be removed.

Age of the home:

To get a loan through Rocket Mortgage, the home must have been manufactured on or after June 15, 1976.

Number of units:

We're lending on single-unit properties.
Apply for a conventional mortgage now.
Rocket Mortgage® lets you do it all online and provides expert recommendations.
What Sellers Need To Know
If you're a seller, making your home compliant with the requirements to get a traditional conventional mortgage is to your advantage. Because it enables buyers to receive financing on much more attractive terms, doing so could greatly increase your pool for potential offers. Here are four things you should confirm prior to selling:
Is it real property?

For buyers to finance their purchase with a traditional mortgage, the home has to be real property. This means that it's permanently affixed to the land and the land and home are taxed together. You should be able to see this based on the title.

Is there an outstanding vehicle title?

It's often the case that manufactured homes begin their life treated as a vehicle for title purposes. Not every state requires that a vehicle title is surrendered to convert the home to real property. However, when you go to sell, working through this can mean additional time and fees. If the vehicle title is in the seller's name alone, we recommend surrendering it in advance to avoid these issues.

Do you have the data plate and HUD certificates?

If either of these are missing or damaged, it will be necessary for the lender and appraiser to receive letters from the Institute for Building Technology Safety. These serve as evidence that the home passed initial HUD inspection. If you have to order the letters, there's a cost and it can take up to 2 weeks to get them. Having the information available in advance can help avoid delays.

Has there been an addition to the home?

If there has, you'll need evidence of a structural inspection by the county or someone the county approves. It doesn't matter whether the inspection is done at the time of the addition or at some point thereafter, but this is necessary to confirm the home can handle the load put on by the addition.
Although, up to this point, we've been speaking about making sure you're ready to sell your home, you'll need to satisfy all the same requirements to refinance your current loan into a conventional mortgage.
Get Your Insurance In Order
One of the important things you need not only to get a mortgage but to protect your investment is homeowners insurance. However, the industry isn't always set up with owners of manufactured homes in mind.
Our sister company CoverTree has a homeowners insurance offering that's built from the ground up for manufactured homes. It's also fully digital, so forget the fax machine, tedious paperwork and waiting on hold.
You can get a quote online and save up to 40% in 3 minutes. They can help protect your home, other structures and your belongings. They also offer personal liability and loss of use coverage, all at a fair price that won't break your wallet. If you do have a claim, you'll get support from their U.S.-based team.
The Bottom Line
Manufactured homes are built to HUD standards entirely in a factory before being transported to the land on which they'll sit. This means you have one set of safety regulations and it can be built using an assembly line method. It enables homes to be built much faster and more affordably while still often being indistinguishable from stick-built homes.
If you're financing a manufactured home, a conventional mortgage is much more affordable than a personal loan or chattel mortgage. You just have to be ready. In addition to qualifying financially, the home has to be real property (structure and land taxed together) resting on a permanent foundation.
If you're interested in buying or refinancing a manufactured home, you can apply online or give us a call at (833) 326-6018.
A conventional mortgage may be a better fit.
Get approved online with Rocket Mortgage® and get to house hunting sooner.
Related Resources
Viewing 1 - 3 of 3