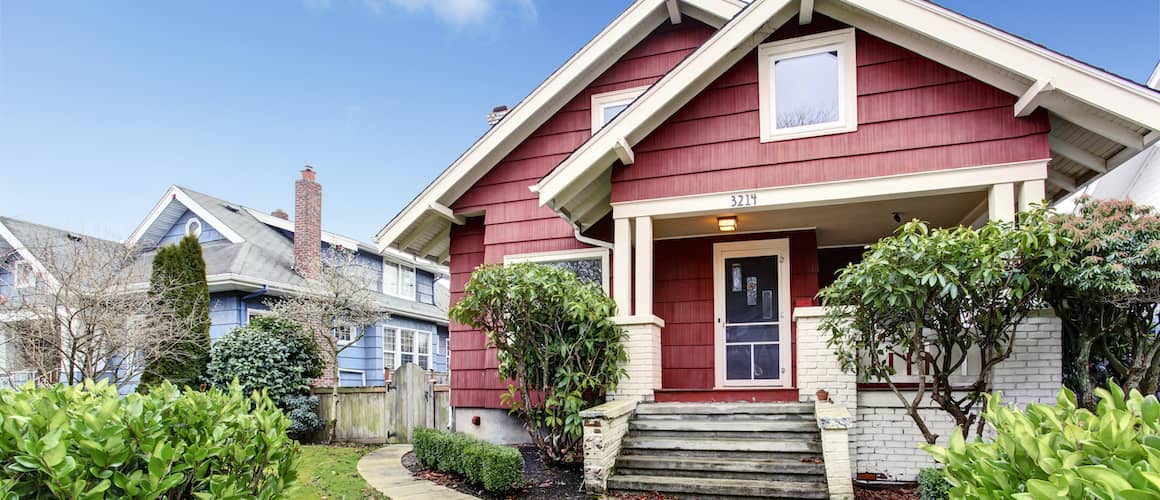 HUD Homes: What Is A HUD Home And How Do You Buy One?
Victoria Araj7-minute read
April 19, 2022
Share:
Imagine this: You're interested in buying a foreclosure, but everywhere you look, a wealthy real estate investor has snatched it up first. HUD homes allow you to escape that frustration. This less conventional path to buying a house doesn't come without risks, however.
The following article will provide a deep dive into what a HUD home is and how to buy one, explore the pros and cons of buying this type of home, and give you a better understanding of HUD itself. After all, you wouldn't want to buy a HUD home without understanding what HUD is and does.
What Is HUD?
The U.S. Department of Housing and Urban Development (HUD) is one of the many federal departments whose leaders (known as secretaries) make up the president's cabinet.
HUD was created in 1965 by President Lyndon B. Johnson as part of his "Great Society," a set of policies and programs aimed at eliminating poverty and inequality in the U.S. The goal of this new agency was to address the lack of affordable housing in cities.
According to its website, HUD's mission is "to create strong, sustainable, inclusive communities and quality affordable homes for all." A few of the ways in which HUD works to achieve these goals include:
Creating programs and policies that support homeownership
Providing rental assistance and public housing for low-income households
Offering grants to local governments to use for community development projects
Enforcing fair housing laws
How Does HUD Encourage Homeownership?
HUD oversees the Federal Housing Administration (FHA). The FHA is the agency that insures FHA loans, which allow lenders to provide mortgage loans to applicants who wouldn't ordinarily be able to qualify for a home loan, making homeownership more attainable for more people.
Because these mortgages are insured by the government, lenders can have slightly more relaxed requirements for qualifying for a loan.
With an FHA loan, it's possible to get a home with a 3.5% down payment and a credit score as low as 580. If you put down at least 10%, you could potentially qualify with a lower credit score (though not all lenders offer this). The minimum qualifying credit score at Rocket Mortgage® is 580.
On non-government-backed, conventional loans, lenders typically require a minimum score of 620.
What Is A HUD Home?
Simply put, a HUD home is a type of foreclosed property that is up for resale. When someone uses an FHA loan to purchase their home and fails to repay it, HUD takes the property back after it has gone into foreclosure. They then offer to put the house on the market for resale to cover the loss of the foreclosure claim. These properties are more accessible to low-income households and may come with benefits like prepaid closing costs.
If you're interested in buying a foreclosed home, a HUD home is absolutely an option that you should consider. Although HUD homes are similar to conventional foreclosures in many ways, HUD's preference for selling to an individual or family who plans to live in the home rather than use it as an investment property can greatly increase the accessibility of this option for many. HUD homes can often be an inexpensive path to homeownership for first-time home buyers.
How Do I Find HUD Homes?
HUD homes are not listed on the Multiple Listing Service like most homes for sale are. To take a look at HUD homes for sale in your area, go to HUDHomestore.com, which is the agency's official website for these home listings. Once there, you can filter the tool to see HUD foreclosures that are for sale in your area.
How To Buy A HUD Home
If you find a home you're interested in, you'll need to enlist the help of a HUD-approved real estate agent to make a bid on the home on your behalf. Only HUD-registered agents are allowed to make bids on HUD homes.
The home will go through an initial bidding period, during which only owner-occupant buyers can make offers. If your offer is accepted, your real estate agent will be notified, and you'll be given a settlement date. Usually, this is within 30 – 60 days of your offer being accepted. During this time, you'll need to secure financing and close on the property.
If you're purchasing the home as an investor, you'll have to wait for the initial listing period to pass before you can make an offer.
HUD advises potential buyers to learn as much as they can about the condition of the property before submitting an offer. This may include getting a home inspection. Getting an inspection will help you get a better idea of what kind of repairs a home might need and how much the purchase will ultimately end up costing you.
HUD Home Financing
Just as with any other home sale, HUD home buyers can use a home loan to finance their purchase. Here are some of the most popular options available:
Benefits Of Buying A HUD Home
Because they're priced to sell quickly, it's possible to purchase one of these homes relatively cheaply. So, if you've been priced out of your local housing market, you might consider purchasing a HUD home.
However, keep in mind that distressed properties aren't always a steal, especially when you factor in repair costs. More on that in a second.
As mentioned previously, if you're looking for a primary residence, a major benefit of buying a HUD home is that you won't be competing against investors looking for cheap, distressed properties that they can flip – owner-occupant purchasers are given first dibs on HUD homes.
A couple other benefits of buying a HUD home include:
HUD may agree to pay your closing costs (up to an amount equal to 3% of the home's purchase price).
Significant discounts are offered to individuals and organizations that qualify for one of HUD's incentive programs.
Drawbacks To Buying A HUD Home
As with any type of distressed property, buyers should do their due diligence in learning about the condition the property is in before purchasing a HUD home, since they'll be purchasing it as-is.
Though the HUD homes program helps buyers find homes for much cheaper than they would likely find on the regular market, it's not uncommon for these properties to need significant TLC.
Additionally, if you're purchasing the home as an owner-occupant, you'll be required to live in the home for at least 1 year before you'll be able to sell it, and you won't be able to purchase a new HUD home for another 2 years.
HUD Incentive Programs
As a part of its HUD home offerings, HUD has a few different programs to make its homes even more affordable to those who meet certain criteria.
Good Neighbor Next Door
HUD's Good Neighbor Next Door program offers a 50% discount on a home's list price for individuals who work full-time as teachers, police officers, firefighters or EMTs. Eligible homes are located in designated revitalization areas.
Recipients of this program are required to remain in the home for at least 3 years.
One Dollar
Program
HUD's Dollar Homes program isn't available to individuals; instead, local governments may utilize this program to provide affordable housing for low- to moderate-income families in the community they serve. By offering these homes for $1, communities can better afford to fix up the homes and offer them to those who need them.
Homes that are eligible for the Dollar program are those that HUD has been unable to sell for 6 months.
Nonprofit Program
In addition to offering homes to local governments at a discount, HUD also offers HUD home discounts for HUD-approved nonprofits – up to 30% off the list price.
Housing Choice Voucher Program (Section 8)
The Housing Choice Voucher Program, or Section 8, provides low-income buyers with affordable homeownership through a monthly subsidy that helps them make their mortgage payments.
$100 Down Program
With this program owner-occupant buyers can forgo the minimum 3.5% down payment and instead make a small down payment of $100. Check programs in your state to see whether this is available in your area.
Take the first step toward the right mortgage.
Apply online for expert recommendations with real interest rates and payments.
HUD Home FAQs
What closing costs does HUD cover?
HUD will cover the following closing costs on a HUD home transaction, according to HUD:
Prorated property taxes, HOA fees and utility bills

Condominium or HOA transfer fee

Cost to provide condominium documents to the buyer

Repair escrow inspection fee of $200

Recording fees and charges for the deed

Overnight mailing fee for the Closing Disclosure

State and local transfer taxes
There are additional closing costs HUD may help pay for, up to an amount that is equal to 3% of the purchase price; be sure to talk to your real estate agent about requesting these funds in your contract.
Will HUD make repairs?
No matter how your home inspection turns out, you won't be able to negotiate with HUD to have any repairs completed. You also won't be able to complete them yourself until you've closed on the home.
If you're buying a HUD home that needs extensive repairs, be certain that you can afford to make those repairs before agreeing to purchase the home.
How much of a down payment is required for a HUD house?
The amount of money you'll need to put down on your HUD home will depend on the type of loan you get, the lender you get it from and your own financial situation.
To review, FHA loans allow some borrowers to put down 3.5%, while some conventional loan borrowers can do just 3%. In other cases, you may be required to put down a minimum of 5% or 10%. To avoid mortgage insurance on a conventional loan, you'll need to put down 20%.
If you're unsure whether you'll be able to afford a full down payment, you might consider looking into your down payment assistance options. If you qualify for a VA loan, you may be able to get a mortgage with no down payment.
Do I have to offer a deposit with my bid?
An earnest money deposit is required for HUD home transactions to show that you're serious about purchasing the property.
Homes with a sales price of $50,000 or less require a deposit of $500. Homes that sell for more than $50,000 require a deposit between $500 – $2,000.
If an owner-occupant buyer fails to close on the transaction due to certain circumstances (such as job loss or death of an immediate family member), HUD will return 100% of the earnest money deposit.
If an owner-occupant buyer fails to close for a nonqualified reason, they forfeit the earnest money deposit. Investor buyers who are unable to close on the transaction also forfeit their deposit.
Is my bid at HUD auction contingent on the home inspection?
If HUD accepts a bid you've made, you'll have 15 days to conduct inspections and terminate the contract if an inspection reveals serious issues that were not previously disclosed.
If you meet these terms, you'll still be able to request a refund on your earnest money deposit. If you terminate the contract outside of these terms, you'll likely forfeit any earnest money you've put down.
The Bottom Line: HUD Homes Present Potentially Extraordinary Opportunities
Though there are some risks that come with purchasing a HUD home, there are also many potential rewards – namely, the possibility of buying a home on the cheap.
If you're considering a HUD home, start by looking at those available in your area and determining how much it might cost overall to purchase and renovate one of these properties before you begin the home buying process. If you're looking for financing, you can get started online with Rocket Mortgage or give us a call at (833) 326-6018.
Related Resources
Viewing 1 - 3 of 3