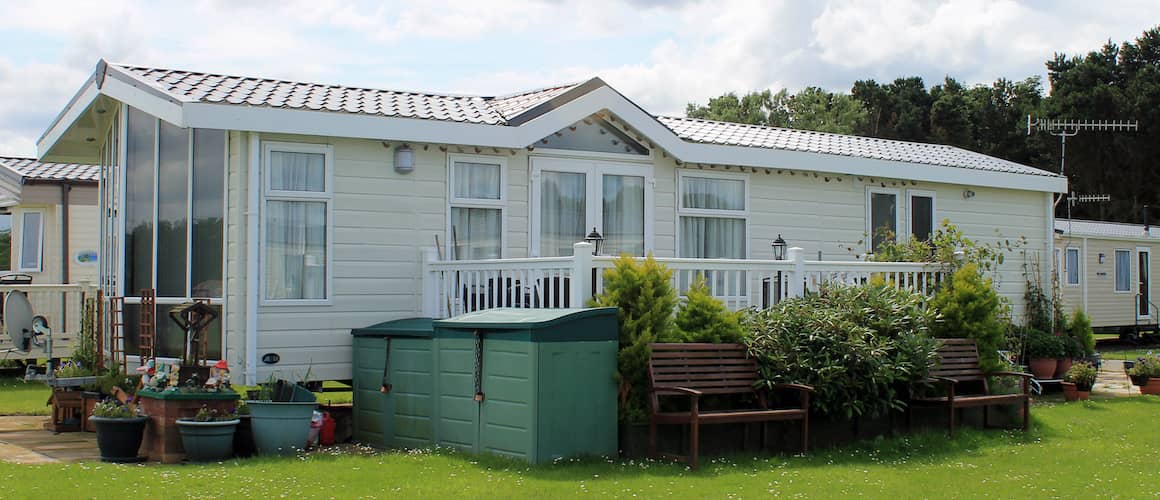 Best Mobile Home Insurance Companies For 2023
Ashley Kilroy6-minute read
July 24, 2023
Share:
As a mobile homeowner, you can choose from among the nation's top insurance companies for a policy covering your home, valuable possessions and more. Although mobile home insurance isn't mandatory under law, lenders usually require it to finance a mobile home.
Whether a home sits on a basement, crawlspace, metal frame or wheels, it needs to be protected. Here's a summary of what mobile home insurance usually covers and the top insurance companies providing policies to these types of homes.
Do You Need Insurance For A Mobile Home?
The law doesn't require you to have insurance for mobile and manufactured homes, but a policy will cover damage to your mobile home and personal belongings. It also protects against liability claims if someone sustains an injury on your property or you damage someone else's property or possessions.
In addition, lenders generally won't finance a mobile home unless you have insurance. As a result, buying a mobile home in cash is likely the only way to avoid buying insurance. It's important to note that some lenders don't offer financing on mobile or manufactured homes regardless of insurance. Rocket Mortgage® provides financing for manufactured home on a permanent foundation, but not on true mobile homes, which are defined as those not attached to a permanent foundation or those built before June 15, 1976.
See What You Qualify For
Congratulations! Based on the information you have provided, you are eligible to continue your home loan process online with Rocket Mortgage.
If a sign-in page does not automatically pop up in a new tab, click here
What Does Mobile Home Insurance Include?
Mobile home insurance shares features with homeowners insurance for traditional homes on a permanent foundation. Policies include coverage for the following:
Dwelling Coverage
Mobile home dwelling coverage protects against theft and various types of damage (including fire and hail) to the home. Your policy may help repair or replace parts of your home and additional structures on your property. For example, if you have a deck or garage, your policy may cover it. However, this coverage does not extend to normal wear and tear or other specific types of damage, such as flooding.
Personal Property Coverage
Personal property coverage encompasses electronics, furniture and other belongings. In addition, you may have coverage for valuables, such as jewelry, up to a certain amount. So, if you're concerned about items of exceptionally high value, you may need to add a rider to your policy to enhance your coverage.
Loss-Of-Use Coverage
Loss-of-use coverage helps pay for expenses should you need to vacate your home because of a covered incident. For example, you might stay at a hotel while your mobile home insurance company removes mold from your mobile home. Your policy may cover the costs for your stay up to a specified maximum.
Liability Coverage
Liability coverage kicks in if someone receives an injury on your property. In addition, it covers costs incurred by damaging another person's property. Remember, the policy doesn't cover you or other family members living in the home, so you can't make a claim for suffering an injury in your home.
The Top Mobile Home Insurers For 2023
Now that you know what to look for in a mobile home insurance policy, here are several mobile home insurance companies offering these policies. Each has strengths and weaknesses that suit different situations and regions.
1. CoverTree
Our sister company CoverTree offers a broad range of coverage at an affordable price. You can apply online and get a quote in minutes.
Pros
They cover property damage, but they also offer contents and personal liability coverage should anyone be injured or have their property damaged by you.
Coverage is available for homeowners, renters and landlords alike.
You can save up to 40% in just 3 minutes with an online quote.
U.S-based support means you're getting top-notch communication.
Special coverage is available for earthquakes, additional living expenses and even golf carts.
Cons
Coverage is only available in nine states, but coming soon to Alabama, Georgia and South Carolina.
2. Foremost Insurance Group
Foremost Insurance Group offers customizable policies for mobile homes regardless of make, model or age. It offers broad coverage and several discounts to increase affordability.
Pros
The Agreed Loss Settlement feature means you receive the full value of your home (minus the deductible) without a hassle if a covered cause destroys it.
You can add an Optional Replacement Cost rider to your replacement coverage for your possessions. You'll receive items of similar quality without accounting for the age or condition of your original items.
Discounts for new homes, multiple policies, approved park locations and policyholders over age 50.
You can acquire liability coverage for trampolines.
Policies are highly customizable.
Cons
It can be more expensive than other companies.
3. Allstate
Allstate provides numerous insurance types and has around 16 million customers in the United States. The company offers detailed policies for mobile home insurance and special discounts.
Pros
Discounts for original owners, retirees over 55, multiple policies and security devices.
Reimbursement for installing energy-efficient appliances and devices.
Unique riders, like musical instruments and electronic data recovery.
Allstate serves every state in the country.
Cons
Typical policies don't cover loss-of-use.
You'll need to add riders for outdoor items and landscaping.
4. American Family Insurance
American Family Insurance is a seasoned company offering homeowners, renters and mobile home insurance. The company offers numerous unique perks to stand out from its competition, catering to mobile homeowners' needs.
Pros
The Diminishing Deductible perk reduces your deductible by $100 when you renew your policy. You can reduce your deductible by up to $500 this way.
The Matching Siding Endorsement perk prevents awkward repairs for vinyl and metal siding.
The Trip Collision Coverage perk protects the home if you transport it.
The Hidden Water Damage perk expands water damage coverage.
You can acquire estimates for purchasing a mobile home on the website.
Discounts for smart home devices, multiple policies, new homes and more.
Cons
Making a claim resets your deductible, meaning you'll have to build the diminishing deductible discount again over 5 years.
Coverage for additional structures costs extra.
Available in only 19 states.
5. State Farm
State Farm, another insurance giant, offers mobile home insurance. It provides a wide range of coverage you can customize to your liking.
Pros
Loss-of-use coverage includes rental income if you rent out your home.
Personal property coverage applies to your possessions even when they aren't in the home.
Discounts for security systems, age of the home and a history of insuring your primary residence with the company.
You can add coverage for damage from an earthquake or volcanic explosion.
Deductible options help your policy fit your budget.
Reports of high customer satisfaction.
Cons
Has fewer discounts than other companies.
It can be challenging to estimate pricing if you don't get a quote.
No riders for water seepage, flooding or business activity.
Get approved to buy a home.
Rocket Mortgage® lets you get to house hunting sooner.
Top-Rated Mobile Home Insurance Companies: At A Glance
Here's a simplified breakdown of the five companies. Although the overall rating is helpful, you might find that a specific company meets your needs better than another.
When considering pricing, look at the overall cost of coverage. Some companies will offer "discounts" based on the relative risk of insuring your property. Others just bake those risk factors into the base price.
| | | | |
| --- | --- | --- | --- |
| Company | Overall Rating | Best For | Available Add-Ons |
| CoverTree | 4.8/5 | Those who want savings while also having options for personal liability and contents coverage. | Golf cart, earthquake, identity fraud, incidental farming, water backup, equipment breakdown, additional structures, medical payments to others, trip, additional living expenses |
| Foremost | 4.5/5 | Customers with older homes, trampoline owners. | Agreed Loss Settlement, Optional Replacement Cost. |
| Allstate | 4.5/5 | Customers with specific items or electronic data, customers in remote regions. | Identity theft protection, water backup damage, sports equipment, green improvement reimbursement, musical instruments, electronic data recovery. |
| State Farm | 4.5/5 | Customers who want to modify the deductible or have already insured their home with State Farm for years. | Replacement cost coverage, identity restoration, earthquake and volcanic explosions. |
| American Family | 4/5 | Customers who want low deductibles or water damage coverage and live in one of the 19 covered states. | Matching siding, trip collision, hidden water damage, additional structures. |
FAQs About Mobile Home Insurance Companies
Mobile home insurance is complex, and policies vary by company. As a result, questions can arise as you sift through quotes, discounts and add-ons. Here are the answers to commonly asked questions:
How much is mobile home insurance?
Mobile home insurance costs between $300 and $1,300 annually, according to Insure.com as of January 2023. Your mobile home insurance cost depends on several factors, including your location, the age of the home and added coverage needs.
What does mobile home insurance not cover?
Generally, mobile home insurance policies don't cover the following:
Water damage from floods, backups and sewers
Wet or dry rot
Pests
Earthquakes
Normal wear and tear
However, you may be able to purchase add-ons to expand your coverage to specific areas.
How do I get insurance for a mobile home?
You can get insurance for a mobile home by visiting a mobile home insurance company in person or online. Typically, you can get a quote by submitting your information online, chatting with an agent or representative or obtaining your local agent's contact information from a company website.
The Bottom Line
Mobile home insurance can bring peace of mind by insuring your home and possessions. In addition, it can protect against the risks of transporting the home, living in an area prone to natural disasters, a guest suffering injury and loss or damage to personal property.
Mobile home insurance companies offer an array of perks, discounts and add-ons to help you customize your policy to fit your needs. Researching various companies and obtaining multiple quotes can help you understand which company will serve your needs best.
If you're in the market for a mobile home, you're in the right place. You can learn more about mobile home financing and determine if financing with Rocket Mortgage® is possible and the right option for you.
Get approved to buy a home.
Rocket Mortgage® lets you get to house hunting sooner.
Related Resources
Viewing 1 - 3 of 3