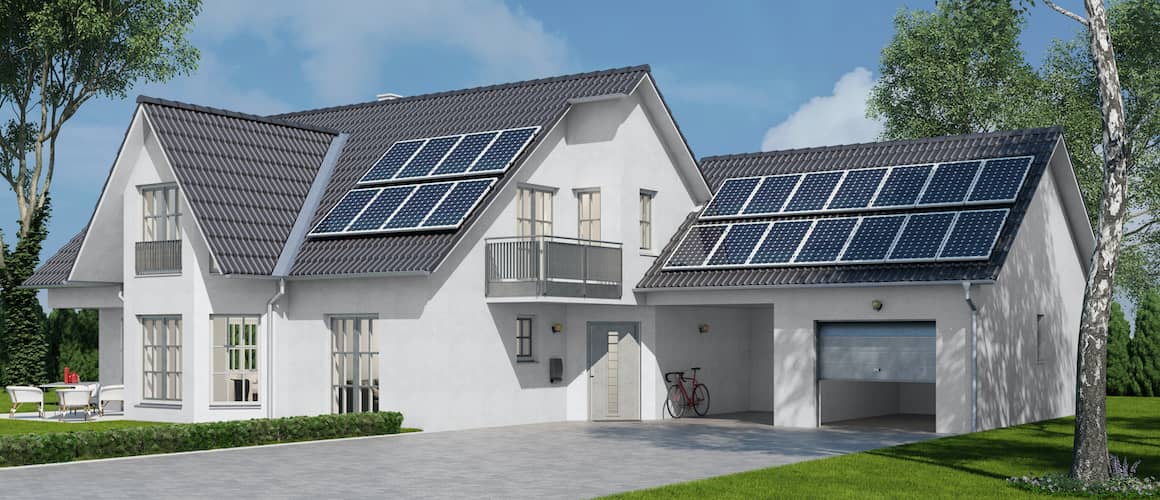 Interested In A Solar Loan? Here's What You Should Know
Katie Ziraldo8-minute read
November 28, 2022
Share:
According to the U.S. Office of Energy Efficiency And Renewable Energy, solar power is more prevalent in the United States than ever before, with over 3% of national electricity coming from solar energy.
Solar technology goes beyond helping the environment – it can also help your wallet. Despite high upfront costs, the use of solar energy can significantly decrease your monthly energy costs and increase the value of your home.
But although advances are happening in the industry, making the move to solar energy isn't cheap, so how do people on a budget prioritize energy efficiency? In this article, we'll explore the various types of financing that could fund your solar energy project.
What Is A Solar Loan?
Depending on the scale of the project, the cost of installing a residential solar energy system can easily reach tens of thousands of dollars, based on data from the Clean Energy States Alliance. This means that while more and more people are interested in exploring renewable energy, it can be difficult for most homeowners to turn this dream into a reality without some sort of financial assistance.
This is where solar loans come into play. Unlike home improvement loans, which can be used toward any major home expense, solar loans are specifically tailored to help homeowners purchase a solar energy system and pay it off over time. But some homeowners may not realize there are actually several types of solar financing available.
Consolidate debt with a cash-out refinance.
Your home equity could help you save money.
Solar Loans, Solar Leases And Power Purchase Agreements
The first option to consider is a solar lease. With this form of financing, a solar company will install the solar energy system on your property, but they retain full ownership of said system. Although the borrower still makes regular payments to the company, these payments are for the use of the energy, not the system itself. Depending on the company and the type of lease, costs of equipment and maintenance may be covered, or they may fall on the homeowner.
The second option is a power purchase agreement (PPA). Similar to a solar lease, PPAs don't result in full ownership of the solar energy system. Instead, the solar company that installs the system will both own and maintain it, and the homeowner is responsible for making energy payments to the company. The cost of this power is typically reasonable – competitive with local electricity rates – and is purchased at a set price per kilowatt-hour.
The third and final option is a solar loan. Solar loans are most like traditional loans, allowing the homeowner to pay off the system over time and ultimately own it themselves. The monthly payments for solar loans are typically smaller than a conventional energy bill, although homeowners can save money over the lifetime of the loan by choosing to make larger payments.
What Expenses Does Solar Financing Cover?
Let's say you decide to pursue a solar loan. What specific expenses will the loan cover? Most solar loans cover the physical solar panels as well as the cost of labor and installation – but they typically don't cover the cost of maintenance over time.
The Pros And Cons Of Solar Loans
Solar loans can be incredibly beneficial, but depending on the homeowner and the specific property, they may also come with a few drawbacks. As always, we recommend analyzing both sides before choosing to apply for financing.
Pros
There are a handful of distinct advantages to using a solar loan, including:
Borrowing means lower out-of-pocket expenses:

Solar loans help homeowners afford otherwise expensive solar energy and increase their home value without having to pay for their system upfront – often with relatively low interest rates.

Borrowers may be eligible for tax benefits:

Owning a solar energy system may entitle homeowners to tax credits, like the federal solar tax credit. While solar leases and PPAs aren't eligible for this since the company retains ownership of the system, homeowners who pursue solar loans may save additional money through these tax breaks.

Solar-powered systems can generate energy and income:

In addition to generating your home's energy – and therefore significantly lowering your energy bill – solar systems can also earn money for their owners. If you generate an excess of electricity, you may be able to sell it to your utility company and earn a profit.
Cons
For all the advantages, there are also a few disadvantages to solar loans that must be considered, such as:
Your clean energy mileage may vary:

The efficacy of solar panels can depend on where you live and the amount of sun exposure your house receives.

You may not save money on your energy bills:

While some solar energy users will see a major decline in their utility costs, monthly payments could make solar energy just as expensive as traditional energy resources depending on the interest rate, length of the loan and the amount of energy needed to keep the home running.

Interest puts a dent on your bottom line:

Homeowners looking to profit from owning their solar equipment may not net a positive return until their loan is repaid in full. This is because paying interest on the loan adds to the cost of the loan itself.
Today's Refinance Rates
*
Pricing is currently not available for the selected value.
Types Of Solar Energy Loans And Financing
Setting aside solar leases and PPAs, there are a few different types of solar loans.
Secured Solar Loans
Secured solar loans function similarly to secured car loans, in which the borrower is required to pledge collateral to be approved. Backing a loan with collateral limits the risk taken on by the lender, ultimately resulting in lower interest rates and a better chance for loan approval.
Unsecured Solar Loans
Unsecured loans, on the other hand, don't require any sort of collateral for approval. With unsecured solar loans, borrowers may face higher standards for approval and higher interest rates.
Other Solar Financing Options
Outside of solar-specific loans, there are other alternative financing options that may move the needle on your solar energy project. From personal loans to energy efficient mortgages, let's explore the variety of financing there is to consider. It's important to note that not every lender offers these products or honors every program available.
Personal Loans
If you have plans for your home beyond the solar project, a personal loan could offer more flexibility and support, as these can be used to finance just about any home improvement project. But keep in mind that these loans typically come with higher interest rates.
Energy Efficient Mortgages (EEMs)
An energy-efficient mortgage (EEM) is a financial loan product that allows borrowers to finance energy-efficient improvements under favorable loan terms. Sometimes referred to as a green mortgage, EEMs provide added funds included in your mortgage purchase or refinance that can be applied to energy-efficient home upgrades. To qualify for an EEM, homeowners must meet several requirements – including the standard mortgage requirements of credit and debt-to-income ratio (DTI) – and an energy consultant must create a home energy rating report to estimate potential energy savings.
Home Equity Loans And HELOCs
If you've accumulated equity in your home, home equity loans and HELOCs are also valid options to finance your project. These options typically offer lower interest rates which can save you a significant amount of money over the lifetime of the loan. But remember that they leverage your home as a collateral, so if you're unable to fulfill payments and end up defaulting on the loan, you could potentially lose your house.
Property Assessed Clean Energy (PACE) Loans
PACE loans are funded through government programs that partner with private lenders. Through this type of loan, borrowers don't make monthly payments. Instead, the cost of the solar energy project is paid over a set number of years as an assessment on the home's property taxes, leading to a higher tax bill.
The Bottom Line: Should You Apply For A Solar Energy System Loan?
Solar loans are one of many ways to invest in energy-efficient technologies – but if you're facing $20,000 in upfront costs to install solar panels in your home, these loans can certainly lighten the financial burden as you prioritize sustainable energy.
But other financing methods like personal and home improvement loans can also be a good option. To determine which form of financing is right for you, we recommend considering your home's size, location and traditional energy usage to determine the scale of your project.
If you prefer to purchase a solar-powered home outright, be sure to research how solar panels can impact your mortgage.
Related Resources
Viewing 1 - 3 of 3