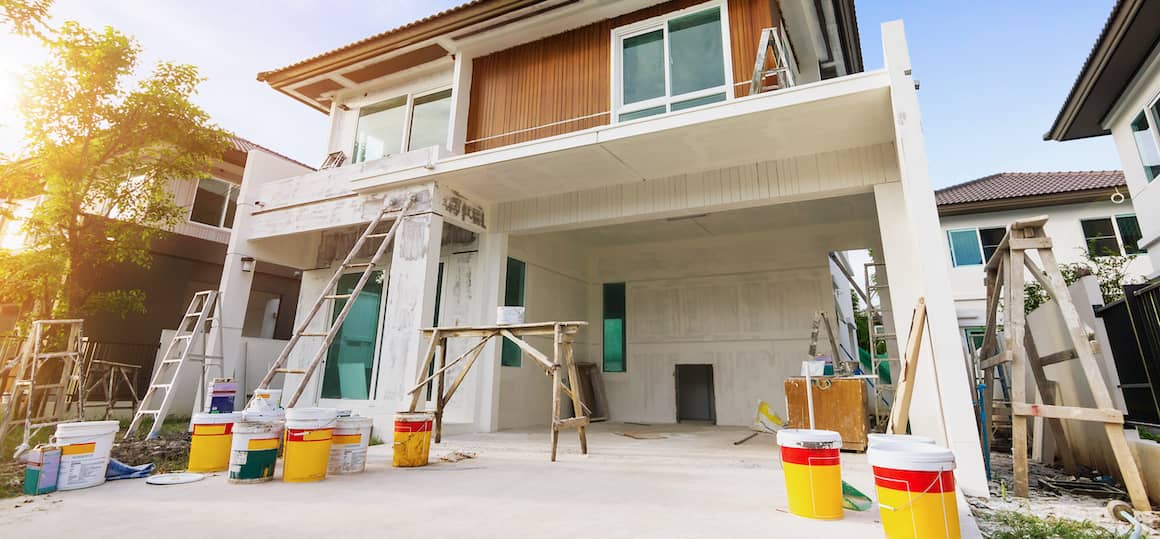 Home Improvement Grants To Fund Your Next Repair Project
Scott Steinberg8-minute read
August 17, 2023
Share:
Home improvement grants are a form of financial assistance available to homeowners who need help financing repairs to their current home. Also known as home repair grants, these types of financial aid are provided by the federal government, or various state or municipality agencies, and are designed to help you offset what can often be considerable home upgrade expenses.
While not all projects will qualify for home improvement grants, these useful financing solutions can nonetheless offer many homeowners a helpful source of financing and cash with which to make desired property improvements.
What Are Home Improvement Grants For Homeowners?
Designed to help homeowners defray the cost of pricey home repairs and improvements, home improvement grants are intended to provide property owners with government-sponsored financial aid when needed.
Although highly competitive, dozens of home improvement grant programs backed by the government at the county, state and federal levels are available as potential sources of funding.
However, these programs aren't open to all parties and are designed to support specific types of improvements that generally ensure that homes are more accessible, livable, safe and up to code.
To qualify for a home improvement grant, you'll need to meet certain requirements, as detailed below.
See What You Qualify For
Congratulations! Based on the information you have provided, you are eligible to continue your home loan process online with Rocket Mortgage.
If a sign-in page does not automatically pop up in a new tab, click here
Where Do I Find Homeowner Grants For Home Improvement?
There are many places you can turn to in search of home improvement grants. Several options among many can be found below. As a first port of call, be sure to check with your local Housing and Urban Development (HUD) office or check in with the National Residential Improvement Association (NRIA) as well.
Government Grants For Home Improvement
To help you get started in your search for home improvement grants, let's go over some of the most popular options.
The Home Investment Partnerships Program
Administered by HUD, the Home Investment Partnerships Program provides grants to state and local governments as a means through which to help create affordable housing options for those living in low-income households. Among the most popular government grants for home improvements, these solutions are often provided in partnership with local nonprofit groups.
How The Money Can Be Used
Monies can be utilized to fund activities such as building, buying and rehabilitating affordable housing for ownership or rental, or as a means to provide direct rental assistance. Meant to help empower both individuals and communities, funding can additionally be utilized for relocation expenses, demolition of dilapidated housing and housing site acquisition or improvement.
How To Qualify
To be eligible to receive funding here, you must:
Have an income no more than 60% of the HUD-adjusted median family income for your area

For rental projects with five or more assisted units, have a minimum of 20% of units occupied by families whose income doesn't exceed 50% of the HUD-adjusted median family income

Apply through your local or state government, as HUD doesn't provide assistance directly to individuals or organizations
Section 504 Home Repair Program
The Section 504 Home Repair Program, also known as Single-Family Housing Repair Loans and Grants, is a government-backed loan program overseen by the U.S. Department of Agriculture (USDA). Intended to provide financial assistance for low income (below 50% of median income in the local area) and elderly homeowners, as well as those who struggle with disabilities, it supports individuals who live in rural areas outside of big cities.
How The Money Can Be Used
The Section 504 Home Repair Program can be utilized to help repair and modernize single-family homes, and funds can be applied to replace or fix important fixtures, like a property's insulation, foundation or septic system. Funding recipients can also use monies received to make improvements to a property's energy efficiency, remove health or safety hazards or make properties more accessible.
How To Qualify
To qualify for this home improvement grant, you must:
Live in a rural area

Be a U.S. citizen or a legal permanent U.S. resident

Own and occupy the house

Be least 18 years old or above

Be unable to obtain or afford credit from other lenders

Have a family income less than 50% of the area's median income

For grants, be at least 62 years old or above and unable to repay a loan
Native American Housing Improvement Program
One of the most commonly accessed government grants for home improvement, the Housing Improvement Program (HIP) is administered by the Bureau of Indian Affairs (BIA) and federally-recognized Native American tribes. It is a home repair, replacement, renovation and new housing grant program that serves those most in need and who have substandard or no housing.
How The Money Can Be Used
A safety net designed to end homelessness in Native American communities, the program is crafted to provide all families with a safe home and suitable living environment.
Under HIP's terms, you can obtain up to $7,500 for housing repairs related to concerns that threaten occupants' health and safety, and up to $60,000 for repairs or renovations that improve the condition of a property to ensure it meets building code standards. It can also be tapped to obtain replacement or new housing.
How To Qualify
To be eligible, you must:
Be a member of a federally recognized Native American tribe or an Alaskan Native

Live in an approved tribal service area

Have an income that does not exceed 150% of U.S. Department of Health and Human Services (DHHS) Poverty Guidelines

Have present housing that is substandard, as defined by federal regulations

Be unable to access other resources for housing assistance

Have not acquired your present housing through a federally sponsored housing assistance program
Home Improvement Grant Options For Seniors
Seniors also enjoy access to many home improvement grants and government-sponsored financial assistance programs designed to support their specific needs.
Area Agency On Aging
Funds for home repair and modification can be accessed by turning to your county's local Area Agency on Aging office, which has the ability to tap into funds granted under the Older Americans Act.
Backed by HUD, the programs that it administers offer support for home repairs and accessibility improvements that make properties safer and more livable for senior citizens. To determine your eligibility, which can vary by state and county, you'll want to search online for your specific city and Area Agency on Aging. Funding values and limits may vary by county and region.
Other Home Improvement Grants And Programs For Seniors
Very low income housing repair programs

State repair programs, like Virginia's Home Repair for the Elderly Program

Earthquake Brace + Bolt programs

State weatherization programs, such as those offered by the California Department of Community Services and Development

State low-income home energy assistance programs
Home Improvement Grant Options For Veterans
Veterans and experienced service members further enjoy access to a unique range of home improvement grants. Each grant has its own purpose and qualification requirements. Qualified readers are encouraged to contact their regional Department of Veterans Affairs (VA) office for more information.
Department of Veterans Affairs (VA)
Specially Adapted Housing Grant
These housing grants are designed to help support veterans and service members with service-connected disabilities in their efforts to purchase or update homes to meet their individual needs.
Some ways funds might be used include widening doorways, installing ramps or adding more easily accessible pathways to commonly accessed areas of the home. Grant monies – which can be used up to six different times over an individual's lifetime – can be used to buy, build or update properties. If you qualify for a Specially Adapted Housing (SAH) grant, which is designed to be applied to a permanent residence, you can receive up to $109,986.
VA Special Home Adaptation Grant
Alternatively, you may also be able to obtain a Special Home Adaptation (SHA) grant, which covers different kinds of disabilities. Under the terms of an SHA grant, you can receive up to $22,036 in funding assistance in 2023.
To be eligible to receive either an SAH or SHA grant, you must:
Own or will own your home

Have a qualifying service-connected disability
Temporary Residence Adaptation Grant
A Temporary Residence Adaptation (TRA) grant is a variant of the SAH or SHA grant designed to support veterans and service members looking to receive funds to help update the home of a family member where they're currently living. In effect, if you qualify for a SAH or SHA grant and are temporarily living in a family member's home that needs changes to meet your needs, you may be able to access the TRA grant program.
Under the current terms of the TRA program, if you qualify for an SAH grant, you can receive up to $44,299 in funding, and if you instead qualify for an SHA grant, you can receive up to $7,910 in funding.
Need extra cash for home improvement?
Use your home equity for a cash-out refinance.
Additional Financing Options For Home Improvement
Of course, homeowners also have a wide range of options available to them to finance home improvement projects in addition to home improvement grants. Be sure to thoroughly research each option before applying for any grant or funding program to ensure it best meets your household needs.
Cash-Out Refinance
A cash-out refinance leverages equity in your house to let you consolidate high-interest debt to a lower rate or perform home improvements. It's a form of mortgage refinance under which you take out a larger mortgage than the sum of your original loan, pay off the original loan balance and then pocket the difference.
Upon refinancing, you can use the monies taken out to make repairs, institute home improvements or otherwise upgrade your property, though you will extend the period of repayment on your mortgage to do so.
Individual lenders set loan requirements for a cash-out refinance. Common minimum financing requirements include a credit score of at least 620 and a debt-to-income ratio (DTI) of less than 50%. You'll also need to have a good-sized amount of equity built up in your home prior to applying.
Home Equity Line Of Credit (HELOC)
A HELOC is a form of financing that lets you borrow against current home equity and repay this money over an extended period. It's a type of second mortgage that allows property owners to borrow monies against the equity that they hold in their home and receive these sums in the form of a line of credit.
Interest rates are adjustable and can often skew higher than refinancing your home. In addition, as opposed to a cash-out refinance (which replaces your current mortgage with a new home loan), a HELOC involves making two payments (one on your existing mortgage and one on the HELOC itself). Rocket Mortgage® does not offer HELOCs at this time.
Weatherization Assistance Programs
Weatherization Assistance Programs are provided to help support homeowners in their efforts to make properties safer and more energy efficient. From repairs to caulking and weather stripping, these programs provide funding for the installation of energy conservation solutions throughout low-income families' homes that can help improve residents' safety and reduce heating and cooling demands. Funds are provided free to eligible applicants.
FAQs About Grants For Home Improvement
Keep reading for answers to some of the most frequently asked questions about home improvement grants.
Are there any government grants for home improvements?
Several government grants exist to help eligible homeowners fund their home improvement projects. These grants exist at the federal, state and county level.
Who is eligible for a government home improvement grant?
Eligibility for a home improvement grant varies depending on the specific grant. Most government grants have income requirements as well as restrictions on who is eligible to apply.
How do you get a grant for home improvement?
To get a grant for a home improvement project, you'll need to find one you are eligible for and then follow the steps to apply. Each specific grant has a different process that needs to be followed, so be sure you understand the process for the particular grant you're applying for.
The Bottom Line
Whatever your individual situation, home improvement grants provide government-sponsored financial aid to those in need of relief. These home improvement grants are designed to support the purchase and rental of affordable housing, or – especially in the case of low income, elderly or disabled homeowners – to help fund much-needed home repairs, upgrades and enhancements.
A helpful tool for financing the ongoing maintenance of a property or upgrading accessibility options, a variety of county, state and federally provided home improvement grant funding programs are available. To learn more about which programs that you may be eligible for, or to find out more about alternate options for financing home upgrades, be sure to check out our guide to refinancing for home improvements.
Get approved to refinance.
See expert-recommended refinance options and customize them to fit your budget.
Related Resources
Viewing 1 - 3 of 3