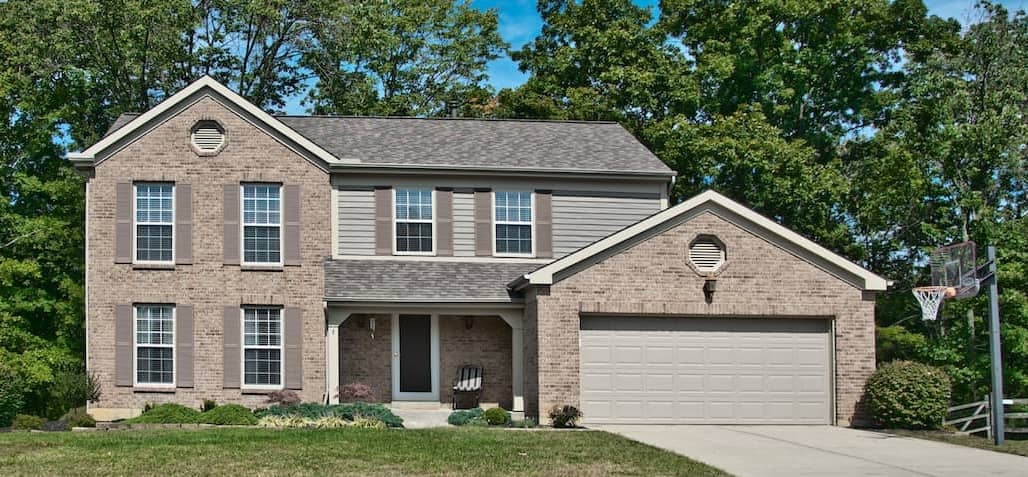 Home Warranty Cost: Is It Worth It?
Laura Gariepy6-minute read
April 16, 2021
Share:
Disclosure: This post contains affiliate links, which means we receive a commission if you click a link and purchase something that we have recommended. Please check out our disclosure policy for more details.
When you own a home, you're financially responsible when something breaks. And believe us, something inevitably will! One way to protect your wallet is to purchase a home warranty. But is the home warranty cost worth it? We'll share everything you need to know so that you can make an informed decision.
What Is A Home Warranty?
A home warranty is an annual contract that covers the repair or replacement of major appliances and home systems. Folks often confuse a home warranty with homeowners insurance, but they are not the same. While home warranties can save your budget from broken refrigerator-induced disaster, they are optional.
Homeowners insurance, on the other hand, is mandatory if you have a mortgage. The insurance covers the inside and outside of your property (including your belongings) in the event you have damage due to a natural disaster or theft. It also protects you if someone gets hurt on your property.
Obtaining a home warranty is pretty straightforward. In some cases, a warranty may be included at closing when you buy your home. Otherwise, you'll need to compare the coverage and cost from several major companies before making a purchase. (We've included a handy chart later in this article to help you.)
If one of your covered appliances or systems breaks down, you'll have to contact the home warranty company. They'll locate a relevant service provider in their partner network and have them contact you. The service provider will come to your home to diagnose and fix the problem. Then, it's rinse and repeat (though hopefully, you won't have to make too many calls!). When the coverage contract ends (typically at 1-year intervals), you'll have to decide whether to stick with your current company, sign a deal with another, or stop coverage altogether.
What Does It Cover?
Depending on your needs and budget, there are three types of home warranty policies:
Tier 1: Covers one appliance

Tier 2: Covers multiple appliances

Tier 3: Covers several appliances AND major home systems
Since each tier provides additional coverage, it comes with a bigger price tag.
A basic home warranty plan covers appliances like your stove, oven, dishwasher, garbage disposal, furnace, water heater and ceiling fan(s). (Some companies will also cover your refrigerator.) The plan would also cover your electrical, HVAC (heating, ventilation and air conditioning) and plumbing systems. (Some companies will also cover your septic system.)
If you want to protect another appliance or home system, you may be able to purchase add-on coverage for things like your:
Well pump

Hot tub

Swimming pool

Garage door opener

Second refrigerator

Washer and dryer
Get approved to buy a home.
Rocket Mortgage® lets you get to house hunting sooner.
How Much Does A Home Warranty Cost?
Home warranty cost depends on several factors, including your home's location, which plan you choose, and the plan's deductible. For a basic plan, the annual average cost of a home warranty is in the range of $350 – $600. To get the best possible plan for the best possible price, experts encourage you to shop around and obtain home warranty quotes from multiple reputable companies.
There are a handful of costs associated with home warranties to keep in mind. Your premium is the most obvious one. Typically, you'll pay this monthly. Using the average annual premium cost above, your monthly payment would fall between $25 – $50.
Next is the home warranty fee for service. Each time a service provider comes to your home, you'll have to cough up as much as $100 to pay them for their time. When they make the repair, you may also have to pay a deductible (usually $100 or the repair cost, whichever is cheaper). As you can see, home repairs can still be pricey – even with a warranty. Fortunately, some companies let you customize your premium and service fees based on an estimated number of claims.
Top Home Warranty

Companies
Home Warranty Companies

Best For

Home Warranty Cost*

All-Around

Typical Plan: $30 – $45/month

Service Fee: $75 – $125

Customer Care

Basic Plan: around $44/month

Total Plan: around $50/month

Service Fee: $75 – $125

Customizable Options

Platinum Plan: around $50/month

Service Fee: $75 - 125

Flexibility

Basic Plan: around $28/month

Premier Plan: around $45.50/month

Service Fee: $75 – $100

Low Deductibles

Basic Plan: around $38/month

Service Fee: $45 – $75
*Note: Premiums typically vary based on the plan selected, home location, and service fees.
The Pros And Cons Of Home Warranties
Like anything else, home warranty plans have pros and cons. It's important for you to carefully weigh these advantages and disadvantages before making any commitments. It's also critical to thoroughly read all plan documentation because both the pros and cons can vary based on your location and the type of plan you select.
Pros Of Home Warranties
There are a few main pros of home warranties:
Peace of mind

Fewer unanticipated costs

Beneficial to new homeowners
When you have the warranty coverage, you can relax knowing that your essential appliances and home systems are protected. And, when something does need repair, you won't have to scramble to pay for it. In many cases, you'll be able to predict what a broken stove or air conditioner will cost you. This is especially helpful for first-time home buyers who aren't accustomed to dealing with repairs and may not have the cash reserves to pay for them out of pocket.
Cons Of Home Warranties
Here are the major cons of home warranties:
Not everything is covered by the home warranty plan

Dollar limits per repair

Claims denied for appliances not being "properly maintained"

You pay premiums regardless of need
Unfortunately, your home warranty doesn't cover everything. If your television stops working or your front door gets damaged, you'll have to turn to other coverage or take responsibility for the expense. Plus, even if the item is covered, the home warranty company will likely impose a dollar limit on a given repair. That means, if your super-fancy six-burner gas range can't be fixed, the company may install a cheaper stove with fewer features. On top of that, if the company feels you haven't properly maintained your appliance, they could deny your claim altogether.
On the flip side, you could pay premiums for years and never have to make a claim. While some would consider this lucky, you may feel like those premium dollars were wasted. But is peace of mind ever a waste?
Are Home Warranties Worth The Cost?
The short answer: it depends. The value of a home warranty will vary from homeowner to homeowner and from situation to situation. Since budgets may be tight and DIY home repair difficult, a home warranty can be especially valuable for the elderly and first-time home buyers. The plan could really save your budget in the event a major appliance or home system needs to be fixed or replaced.
However, a home warranty may not be worth it if your appliances are already covered through a manufacturer's warranty or extended warranty via a credit card. If you're super handy and have the cash for repairs in the bank, you might also think twice about purchasing coverage. At the end of the day, a home warranty can shield you from financial risk. It's up to you to determine what level of risk may exist and your risk tolerance.
The Bottom Line
A home warranty can protect your finances and give you peace of mind. But, you'll need to assess your needs and budget to determine if the coverage is worth the cost. No matter what you decide, it's a smart idea to plan ahead for potential home-related expenses – especially if you're a first-time home buyer. It's also wise to consult this home buying checklist before your next real estate purchase.
Get approved to buy a home.
Rocket Mortgage® lets you get to house hunting sooner.