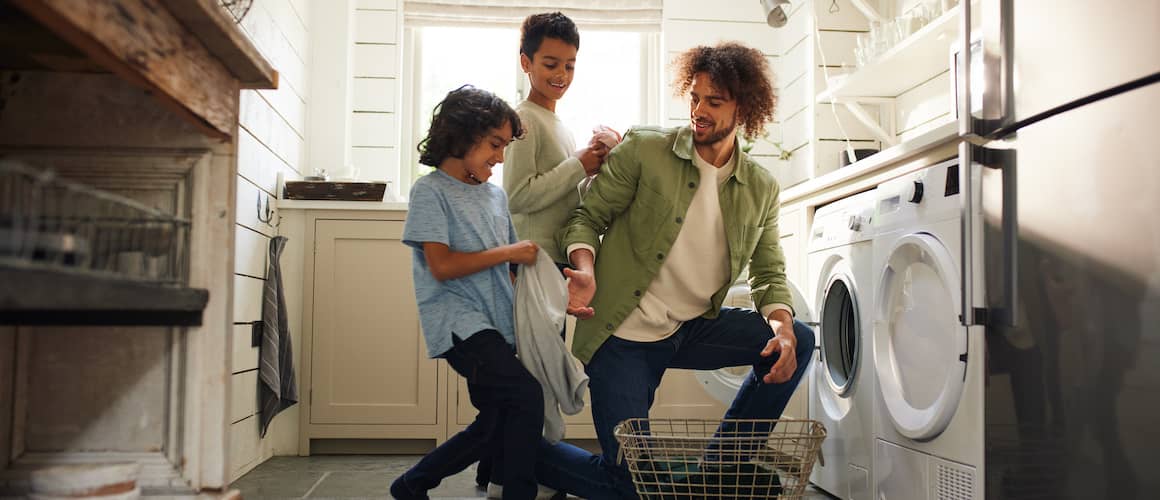 What Is A Home Warranty And How Much Does It Cost?
Andrew Dehan5-minute read
June 08, 2023
Share:
Disclosure: This post contains affiliate links, which means we receive a commission if you click a link and purchase something that we have recommended. Please check out our disclosure policy for more details.
When you own a home, you're financially responsible when something breaks. One way to protect your wallet is to purchase a home warranty. We'll share everything you need to know about what home warranties are, how they work and whether the cost of a home warranty is worth paying.
What Is A Home Warranty?
A home warranty is an annual contract covering the repair or replacement of major appliances and home systems. A service contract could pay for large components like the HVAC or electrical system and includes coverage for specific home appliances like water heaters, garbage disposals, washers and dryers.
While this might sound like a homeowners insurance policy, it's actually a different type of coverage. Home insurance only includes damage to your house's structure, theft of personal belongings and injuries that happen on your property. A home warranty pays for a replacement or repair to the interior appliances and/or systems due to normal wear and tear or manufacturing defects.
See What You Qualify For
Congratulations! Based on the information you have provided, you are eligible to continue your home loan process online with Rocket Mortgage.
If a sign-in page does not automatically pop up in a new tab, click here
How Does A Home Warranty Work?
Once you find a home warranty service provider and sign the contract, there is a set process you'll have to follow when submitting a claim. If one of your covered appliances or systems breaks down, here's what you should do:
1. File a service request claim: You'll contact the home warranty company to alert them to the issue. Let them know what appliance is broken and the manufacturer of the unit.
2. Schedule an appointment: The home warranty company will locate a third-party service provider in their partner network and have them contact you. Note that some companies allow you to choose your own service provider.
3. Repair or replace the appliance: The service provider will come to your home to diagnose the problem. The warranty company will then either pay for the repairs (parts and labor) or the replacement of the item.
4. Pay your trade call fee: This service fee acts like a deductible for your home warranty policy and you'll have to pay each time you file a claim. If the repair is less than the fee, you only pay the smaller amount.
What Does A Home Warranty Cover?
Different home warranty companies offer a variety of plans and levels of coverage. What plan you should consider depends on your home and personal needs. In most cases, though, there are three common types of home warranties available:
System plans:

This level will only cover specific systems in your home. For example, if you get HVAC coverage, your air conditioning unit or furnace would be protected, but not smaller machines, like your space heater.
Appliance plans:

This type of policy will include appliances but not larger systems. Coverage for refrigerators, ranges, built-in microwaves and garage door openers fall into this category.
Combination plans:

As you've probably guessed, this warranty will pay for breakdowns of home systems and appliances, depending on the policy and your service provider.
You can also pay for add-ons to your warranty. This additional coverage can be especially helpful if your house has a pool, hot tub, well pump or other type of home system.
What Is Not Covered By A Home Warranty?
You might have noticed that some home features are not included in any of the above types of plans. That's because home warranties don't cover the property's exterior, windows, walls, floors or sprinkler systems.
Some appliances might even be ineligible for coverage if they are too old, in poor condition, were incorrectly installed or have not been properly maintained.
How Much Does A Home Warranty Cost?
Home warranty cost depends on several factors, including your home's location, which plan you choose and the plan's service fee.
Some companies let you customize your premium and service fees based on an estimated number of claims. To get the best possible plan for the best possible price, we encourage you to shop around and obtain home warranty quotes from multiple reputable home warranty companies.
Top Home Warranty Companies And Average Cost Breakdown
Home Warranty Companies

Best For:

Home Warranty Cost*

Service Fee

All-around

Typical Plan: $19 – $80 monthly

$75 – $125

Customer care

Basic Plan: ~$46 monthly

Total Plan: ~$55 monthly

$85

Customizable options

Platinum Plan: ~$50 monthly

$75 – $125

Flexibility

Basic Plan: ~$36 monthly

Premier Plan: ~$52 monthly

$85

Low deductibles

Basic Plan: ~$52 monthly

$75 – $100
*Note: Premiums typically vary based on the plan selected, home location and service fees.
Most warranty providers sell several different plans with different levels of coverage and costs. In most cases, the annual average cost of a home warranty ranges from $300 to $600, which breaks down to an average monthly payment of $25 to $50.
You can also expect to pay a service fee of around $60 to $100 each time a technician comes to your home. The benefit of a home warranty plan is that, instead of paying all repair costs out of pocket, you can enjoy the financial stability of a deductible toward service costs.
The Benefits Of Home Warranties
Like anything else, buying a home warranty plan has its advantages and disadvantages. There are a few main pros of home warranties worth discussing. Let's look at those.
Peace Of Mind
You can relax knowing that your essential appliances and home systems are protected when you have home warranty coverage. This is especially helpful for first-time home buyers who aren't accustomed to dealing with repairs and may not have the cash reserves to pay for them out of pocket.
Fewer Unanticipated Costs
When something does need a repair, you won't need to deplete your emergency fund to fix it. In many cases, you'll be able to predict what a broken stove or air conditioner will cost you. In fact, some companies will cover preexisting issues, so, in theory, you could calculate your warranty savings in advance based on what you know needs to be fixed.
What To Consider Before Buying A Home Warranty Plan
It's also critical to thoroughly read all plan documentation because both the pros and cons can vary based on your location and the type of plan you select. Here are some considerations to take into account before buying a plan.
Not Everything Is Covered
Unfortunately, your home warranty doesn't cover everything. If your television stops working or your front door gets damaged, you'll have to turn to other coverage or take responsibility for the expense.
Coverage Limits Per Repair
Even if the item is covered, the home warranty company will likely impose a dollar limit on a given repair. This means that if your super-fancy six-burner gas range can't be fixed, the company may install a cheaper stove with fewer features.
Premium Costs
You could pay premiums for years and never have to make a claim. While some would consider this lucky, you may feel like those premium dollars were wasted.
Waiting Periods
There's generally a waiting period before coverage becomes effective. The idea here is that you can't buy a home warranty when your freezer breaks and file a claim the next day. It's often 30 days, but check the contract.
Current Customer Reviews
You should also take the time to carefully research a prospective service provider before signing a warranty contract. Testimonials and reviews are an excellent way to learn more about a company's coverage options and help you determine what plan you should choose.
Home Warranty FAQs
Let's answer some of the most frequently asked questions regarding home warranties.
What is a home buyer warranty?
A home buyer warranty is similar to a typical home warranty, but it's especially designed for new owners who might not know the condition of their house's systems and appliances. This type of policy also covers any misuse or deferred maintenance from the seller.
Am I required to have a home warranty?
Lenders do not require home warranties to qualify for a mortgage. However, you may want to consider purchasing a home warranty plan depending on how much cash you have on hand, how comfortable you are repairing appliances on your own and how old your home systems are.
How much does a home warranty cost per month?
Although the amount you pay can depend on the home warranty provider you choose and your level of coverage, the average basic home warranty contract will cost you $30 – $50 each month.
What is the difference between a home warranty and home insurance?
While a home warranty provides coverage for repairing or replacing home systems, homeowners insurance covers the cost of damage to your home and other structures, theft of your personal items and lawsuits or claims against your property. While home insurance tends to be required by mortgage lenders, home warranties are optional.
How do I know if I already have a home warranty?
When you purchase a home, you can have your real estate agent ask the seller if the property is currently covered by a warranty. If it does not have a warranty, you may be able to negotiate with the current owner and have them purchase a policy before closing.
When can I purchase a new home warranty?
For a new contract, you can typically purchase a plan at any time but it's common for new owners to get coverage within 30 days of closing.
If the home already has a plan and the coverage contract ends (typically at 1-year intervals), you can decide whether to stick with your current company, sign a deal with another or stop coverage altogether.
Are home warranties worth the cost?
The value of a home warranty will vary from homeowner to homeowner and from situation to situation. Since budgets may be tight and DIY home repair difficult, a home warranty can be especially valuable for the elderly and first-time home buyers. The plan could save your budget in the event a major appliance or home system needs to be fixed or replaced.
However, there are some legitimate reasons that may not make a home warranty worth the cost.
The Bottom Line: A Home Warranty Plan Offers Protection
A home warranty can protect your finances and give you peace of mind. Regardless, you'll need to assess your needs and budget to determine if the coverage is worth the cost. If you're not sure which appliances and systems are covered, see some disrepair in your home, are on a budget or are new to homeownership, it's likely worth it to buy a home warranty.
Choose the right home warranty company for your coverage needs today.
Related Resources
Viewing 1 - 3 of 3