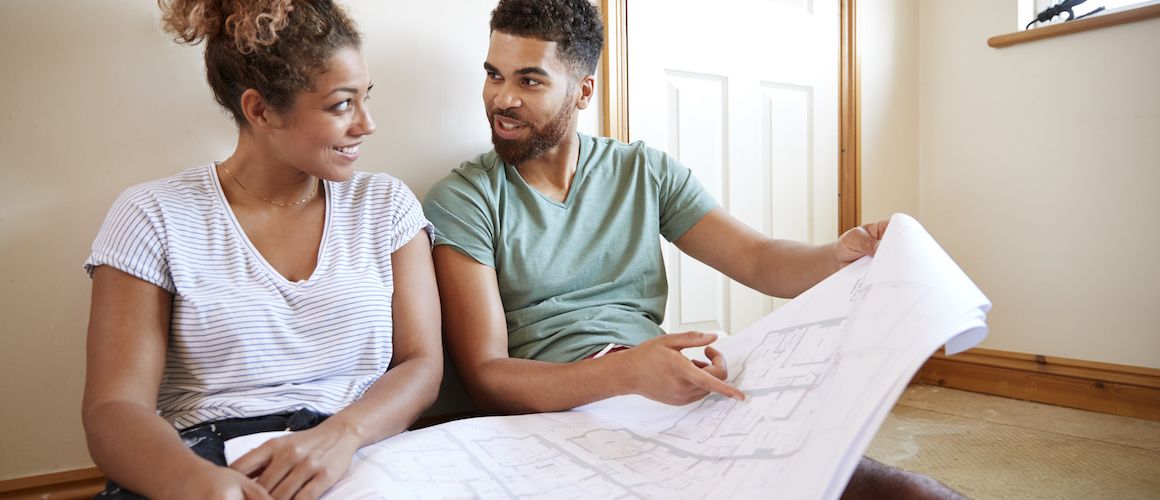 Building A House: A Breakdown Of How Much It Costs
Miranda Crace7-minute read
September 19, 2021
Share:
If you've spent hours browsing homes online and in person only to find dealbreakers with every single one, you may have considered giving up on buying a house altogether and opting instead to build your own place from the bottom up.
Building your own house can come with a lot of benefits, the main one being that you have the opportunity to get exactly what you want and create a house that checks off every item on your "want" and "need" lists – provided you can afford it.
So, can you afford it?
How Much Does It Cost To Build A House?
According to HomeAdvisor, the average cost to build a house is $290,314. That may sound like a lot, but it's actually less than the median home sales price, which was $361,800 in July 2021, according to the U.S Census Bureau and the U.S. Department of Housing and Urban Development.
So, is it cheaper to build a house rather than buy one? Not necessarily. The total cost of building a custom home can also vary quite a bit depending on the choices you make, the materials you use, labor costs and even what region of the country you're in. Though $290,314 is the average, most homeowners spend $127,805 – $452,824 to build their home.
Average Cost To Build
| | |
| --- | --- |
| National Average | $290,314 |
| Minimum | $15,000 |
| Maximum | $750,000 |
| Average Range | $150,000 - $445,000 |
Source: HomeAdvisor.com
Average Cost To Build Per Number Of Bedrooms
| | |
| --- | --- |
| Bedroom Count | Average Cost |
| 1 | $90,000 – $300,000 |
| 2 | $140,000 – $350,000 |
| 3 | $180,000 – $400,000 |
| 4 | $200,000 – $500,00 |

Source: HomeAdvisor.com
A Breakdown Of The Average Cost To Build A House
Let's take a look at the different steps that make up the home building process and break down how much each step typically costs, according to the National Association of Home Builders' 2019 "Cost of Constructing a Home" survey.
Buying Land ($90K)
First, before you can build a house, you need land to build it on. Not only will you have to purchase a lot, but you'll have to have it cleared. This can include tree removal and having the land leveled.
The cost of purchasing an empty lot will vary depending on a variety of different factors, including the size of the lot and its location. According to NAHB, the average lot size is around 22,000 square feet, and the average cost of a finished lot is just under $90,000.
Drawing Up Plans And Getting Permits ($18K)
Once you've got your land, your contractor and subcontractors will get started on preparing to build the house. This stage includes having an architect draw up plans for the home and purchasing all the necessary permits.
On average, this costs about $18,000, but will vary depending on how simple or complex your house is going to be and what types of permits and preliminary inspections you may need.
Prepping And Building The Foundation ($35K)
After all the prep work is taken care of, it's finally time to break ground. A crew will come and begin digging out a space for your home's foundation.
Then, they'll pour the concrete according to which type of foundation you'll have: slab, crawl space or basement. Typically, a concrete slab foundation is the cheapest, followed by the slightly more expensive crawl space, and the most expensive basement foundation.
Which foundation you choose will depend on your budget and preferences. Each type has its pros and cons, so be sure to do your research.
Prepping and building your foundation will, on average, cost around $35,000.
Framing The Home ($51K)
Next up is framing. Think of this step as building the skeleton of your home. Floors will be framed and then covered with plywood. Walls will be framed, raised and then sheathed with plywood or oriented strand board. Then, the trusses that will frame the roof are built and placed on top of the wall frames.
All in all, this process will cost around $51,000.
Installing External Elements ($41K)
Once the skeleton is built, all the necessary external elements of the walls, roofs and openings will be installed. This means siding will be put up on the walls, then windows and doors will be put in, after which the roof will be sheathed – covered in roofing felt and nailed-on shingles. In total, this costs around $41,000.
Installing Plumbing And Electrical ($43K)
Now it's time to install all the systems that make your home hum with water, air and electricity. At this stage, plumbing and HVAC systems will be installed, and an electrician will wire your home and get you connected to the power grid.
No fixtures will be added at this time; this step is about getting all the behind-the-scenes stuff like pipes and ducts set up. You can expect this step to cost just under $43,000.
Adding Interior Finishes ($75K)
Next are the interior finishes. This includes adding insulation, drywall, flooring, interior doors and all the basic components that will turn the newly constructed structure into a livable home. Cabinets and countertops will be installed, walls will be painted, and appliances will be hooked up.
On average, this part will cost around $75,000. Once this step is finished, your home's construction will be all but complete.
Finalizing Additions ($20K)
The final step includes any other additions you want made to your property, including any outdoor structures like a deck or patio, a driveway or any landscaping you want done. These projects may be completed in the middle of the home building process, in conjunction with some of the steps listed above.
Once everything is finished, work areas will be cleaned up and all the necessary inspections completed. This can cost around $20,000.
Things To Keep In Mind
Keep in mind that all these costs are averages based on the NAHB 2019 survey, and when coming up with your building budget, you should take care to do your research and get estimates for all the jobs that will need to be done to get your house built. Additionally, once you have your total budget, it's generally a good idea to give yourself some wiggle room with a bit of extra money in case things end up costing more than you originally anticipated.
Cost By Size
One of the biggest factors in determining how much a home will cost is its size, specifically calculating the price per square foot. Here's a breakdown of what you can expect to pay for a newly constructed home by popular house sizes. For reference, the median size of a new, single family home in 2020 was 2,261 square feet, according to the U.S. Census.
| | |
| --- | --- |
| Size | Average Cost Range |
| 800 sq. ft. | $80,000 – $160,000 |
| 1,000 sq. ft. | $100,000 – $200,000 |
| 1,200 sq. ft. | $120,000 – $240,000 |
| 1,500 sq. ft. | $150,000 – $300,000 |
| 2,000 sq. ft. | $200,000 – $400,000 |
| 2,500 sq. ft. | $250,000 – $500,000 |
| 3,000 sq. ft. | $300,000 – $600,000 |
Source: HomeAdvisor.com
Factors Affecting The Cost Of Building A House
While we've done our best to give you the best and most recent data on how much building a home costs on average, the fact is it's difficult to say with any certainty how much your home construction project will cost without doing some research into average costs in your area and getting estimates from contractors.
Your overall cost can be affected by all sorts of factors, including current real estate trends, the availability of materials and labor in your area and the types and qualities of the materials you choose.
The total price you pay will also be determined by the type of home you're building. A very simple, small home can be relatively affordable to build. A more high-end, luxury home with multiple stories and architectural flourishes will, naturally, be much more expensive.
When To Consider Building A House
Weighing whether you should buy an existing home or take the plunge and build your own? There are many important factors to consider.
Compared to building a house, buying an existing one off the market is typically a much simpler and faster process. New homes can take months to build, while the home buying process can be completed in as little as 1 – 2 months. Additionally, building a home usually comes with plenty of stress and lots of decision-making. If you're looking to spare yourself months of headaches, buying a home might be the easier option.
On the other hand, building your own home gives you the opportunity to get everything you want, while the home buying process requires you to make a lot of compromises. Plus, as long as your home is well-built, you won't have to worry about having to deal with costly repairs right away, like you might with an older house needing a roof replacement or a new HVAC system. A newly built home means you have all-new components, which are more likely to last for years to come than an existing home's older components.
How To Afford Building Your Own Home
As you've now seen, none of this will come cheap. While hopeful home buyers can apply for a mortgage loan to finance their purchase of an existing home, hopeful home builders don't have that same option, as you typically can't use a traditional mortgage to fund the building of a home.
If you don't have the cash to fund this project, what you'll need is a home construction loan. These are short-term loans that are used to fund the building of a new home. You can get home construction loans that convert to a traditional mortgage loan once the construction has completed, or you can get construction-only loans that cover the costs of construction and then, once the project is completed, apply for a traditional mortgage to pay off the construction loan.
While Rocket Mortgage® doesn't offer construction loans, you can use our services to get a loan for a newly built house.
The Bottom Line: Calculate The Cost Of Building A House
While the average cost to build a house is $298,000, most homeowners spend between $150,000 and $445,000 to build their home. While you can get a general idea of what you may pay, it's important to keep in mind that there are numerous factors which will impact the cost to build.
There's also a lot more to consider than cost. It's important to weigh the benefits of buying an existing home, like convenience, against the benefits of building, like customization, when determining which option is best for your personal circumstances and goals.
Looking for more information like this? Check out our Learning Center for the latest insights on all things buying- and mortgage-related.