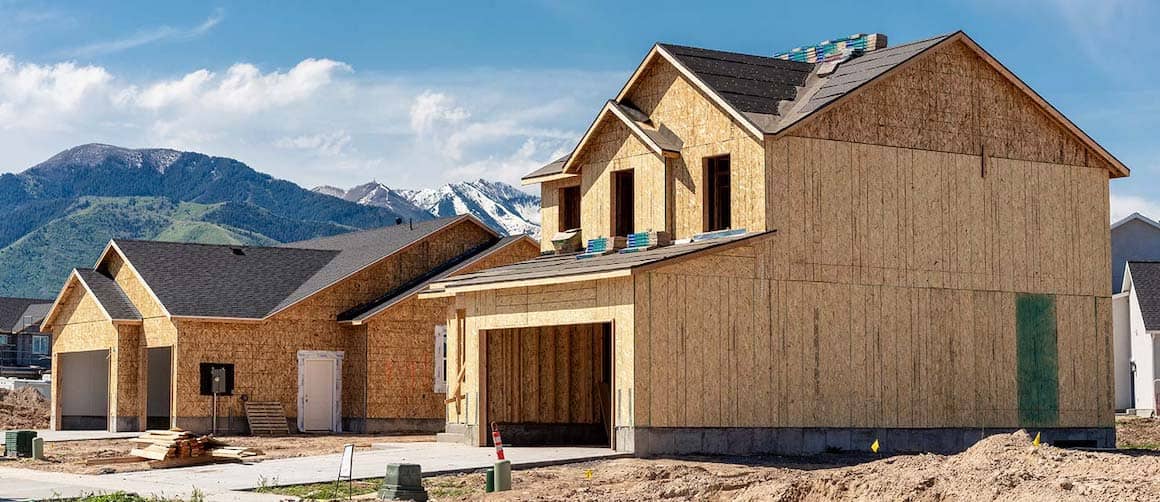 10 Best Places To Build A House During The 2021 Building Boom
Victoria Araj6-minute read
July 13, 2023
Share:
Disclosure: This post contains affiliate links, which means we receive a commission if you click a link and purchase something that we have recommended. Please check out our disclosure policy for more details.
Building your dream home can be a costly pursuit, so if you're planning to build a house of your own this year, you may want to consider building in a city with cheaper construction costs to keep your total expenses low.
You may be thinking about choosing the cheapest place to build a house to save as much money as you can. However, finding the right place to settle can be influenced by several factors, from the cost of construction to the quality of the community.
To help with your decision process, we've analyzed the cheapest places to build a home across growing cities in America. We pulled data from the list of fastest-growing cities in the United States.
Cheapest Places To Build A House
Let's take a look at 10 cities across the United States that will provide you with the opportunity to build a house on a budget.
1. Jonesboro, Arkansas
Jonesboro is the fifth-largest city in Arkansas and serves as the state's regional hub of the northeast for health care, entertainment and business. Jonesboro is considered one of Arkansas' most progressive cities and is home of Arkansas State University. Downtown Jonesboro is filled with gift shops, restaurants, art galleries, a day spa and an active civic center called the Forum.
Population: 79,036
Average Cost to Build Home:$90 – $200 per sq ft
2. Lawrence, Kansas
Lawrence is just 45 minutes west of Kansas City and 30 minutes east of Topeka, the state capital. Home to both the University of Kansas and Haskell Indian Nations University, Lawrence is known for its live music venues and "Mass Street," which features unique shops, art galleries, locally owned restaurants, breweries and coffee houses.
Population: 95,256
Average Cost to Build Home: $200 – $400 per sq ft1
3. Sioux Falls, South Dakota
South Dakota's largest city, Sioux Falls, offers its residents popular scenic attractions including Falls Park, SculptureWalk, Washington Pavilion and more. Sioux Falls borders Iowa and Minnesota and is only a few hours' drive from most major Midwestern cities.
Population: 196,528
Average Cost to Build Home: $101 – $259 per sq ft2
4. Hammond, Louisiana
Source: City of Hammond
Hammond is located 45 miles from both Baton Rouge and New Orleans. Hammond is considered one of the fastest growing cities in Louisiana and has recently undergone significant development. Updated features include new hotels and motels that serve the New Orleans area during major events such as Mardi Gras, the Super Bowl and NCAA Basketball Final Four Tournaments. Hammond is also home of Southeastern Louisiana University.
Population: 19,976
Average Cost to Build Home: $100 – $210 per sq ft
5. Logan, Utah
Logan is located 85 miles north of Salt Lake City. Logan is home to several attractions including Utah State University, Bear Lake and the American West Heritage Center. The Logan area is known for its outdoor recreation opportunities which include camping, fishing, mountain biking, boating and hiking.
Population: 54,436
Average Cost to Build Home: $100 – $210 per sq ft
6. Hattiesburg, Mississippi
Hattiesburg is located about 90 minutes from the state capital of Jackson and roughly the same distance from New Orleans, Louisiana, and Mobile, Alabama. Hattiesburg is home to the University of Southern Mississippi and William Carey College. It's also home to Camp Shelby, the largest National Guard training base east of the Mississippi River.
Population: 47,068
Average Cost to Build Home: $90 – $150 per sq ft
7. Dalton, Georgia
Known as the "Carpet Capital of the World," Dalton is located between Atlanta and Chattanooga, Tennessee. Dalton offers attractions including festivals, fine arts and Civil War historical landmarks. There are also plenty of shopping and dining choices in its downtown area.
Population: 34,285
Average Cost to Build Home: $10,231 – $85,264 per sq ft3
8. Grand Junction, Colorado
Grand Junction, which is the largest city in western Colorado, is known for its natural beauty with its red rock canyons and stone monoliths that make the perfect backdrop during hikes and biking excursions. The nearby Grand Mesa offers a variety of year-round activities including skiing in the winter and hiking, fishing and biking in the summer. A great spot if you're into the outdoors.
Population: 66,964
Average Cost to Build Home: $52,531 – $76,966 per sq ft4
9. Waco, Texas
Situated between Dallas and Austin, the city of Waco offers mountain biking or hiking in Cameron Park. Its downtown area features the Magnolia Market, antique stores, local shops and restaurants. Waco also has a cultural and historic district along with a historic suspension bridge.
Population: 139,594
Average Cost to Build Home: $180,000 – $540,000 per sq ft
10. Auburn, Alabama
Auburn sits in the eastern section of the state, about 30 miles from the Georgia border. Auburn is the largest city in eastern Alabama and is home to the state's largest school, Auburn University. Auburn also has 16 parks that consist of Appalachian foothills, multiple trails and a lake.
Population: 78,564
Average Cost to Build Home: $200 – $400 per sq ft5
See What You Qualify For
Congratulations! Based on the information you have provided, you are eligible to continue your home loan process online with Rocket Mortgage.
If a sign-in page does not automatically pop up in a new tab, click here
Other Factors To Consider When Deciding Where To Build A Home
Aside from how cheap it is to build a house somewhere, there are several factors you should keep in mind before you start drawing up the blueprints.
Cost Of Living
In addition to the budget you establish for building your home, you'll want to plan ahead for the cost of living in your new location. You'll want to ensure that you can keep up with your mortgage payment and also cover basic living expenses such as groceries, child care, a gym membership, entertainment and more.
Job Opportunities
Before determining where to build a home, you'll need to figure out how you'll financially support yourself and your family there, which will likely be from a job. Are you planning to work remotely? If so, you won't need to worry as much about the location you decide to build. If not, you'll want to be familiar with the job market in the area and whether you'll be able to successfully find work.
Crime Rates
It's important to do some research on the crime rates in your desired area before you build. Keep in mind that you can't base your safety on crime rates alone, and these rates can vary significantly even from neighborhood to neighborhood. However, these rates can affect external costs, such as insurance premiums, so it's an important piece to look into.
Education Systems
Whether you already have kids or you are planning a family, the schools in your desired area are something you'll want to research before deciding to build a home there. You can also talk with parents in the neighborhood to field opinions on their school system.
When you start looking at neighborhoods and school districts, you may find that there are many existing homes that fit your needs just as well as a custom home. If this is the case, you'll want to apply for a mortgage if you think buying a home that's already built is a better fit for you. The sooner you do, the easier it will be for you to make an offer on a home you'll love.
Get approved to buy a home.
Rocket Mortgage® lets you get to house hunting sooner.
Methodology
Rocket Homes℠ collected and analyzed the most recent data on five key local and statewide metrics to give us insight into the most affordable places to build a home. They found that 67.8% of U.S. residents reside in the 337 most populated metro areas in the country.
The metrics used in this study include all new (year to date) privately owned housing unit permits authorized per capita, the average valuation of new privately owned single-unit housing, the occupied housing units built after 2020 per capita, the average cost to build a home and the average hourly construction laborer wage.
Metrics from the U.S. Census are based on 2021 ACS 5-year estimates. In one case, state-level data was used because data is not recorded at the metro area level.
2023 New privately owned housing unit permits authorized per capita (20%)
2023 Average valuation of new privately owned single-unit housing permits (20%)
Occupied housing units built after 2020 per capita (15%)
Average cost to build a home (25%)
Average hourly construction laborer wage (20%)
The Bottom Line
If you're interested in building a home on a budget, you might want to consider doing some further research on the ten cities we discussed above to see which one, if any, will satisfy you and your family's needs.
Remember, the cost to build is just one factor when determining where to live, as you'll need to take other things into account, such as the cost of living, the local job market, crime rates and other factors.
If you're feeling confident about where you want to live but don't want to deal with the time-consuming construction process, buying an existing home can be a great alternative. Start the mortgage process today with Rocket Mortgage®.
Get approved to buy a home.
Rocket Mortgage® lets you get to house hunting sooner.
Related Resources
Viewing 1 - 3 of 3