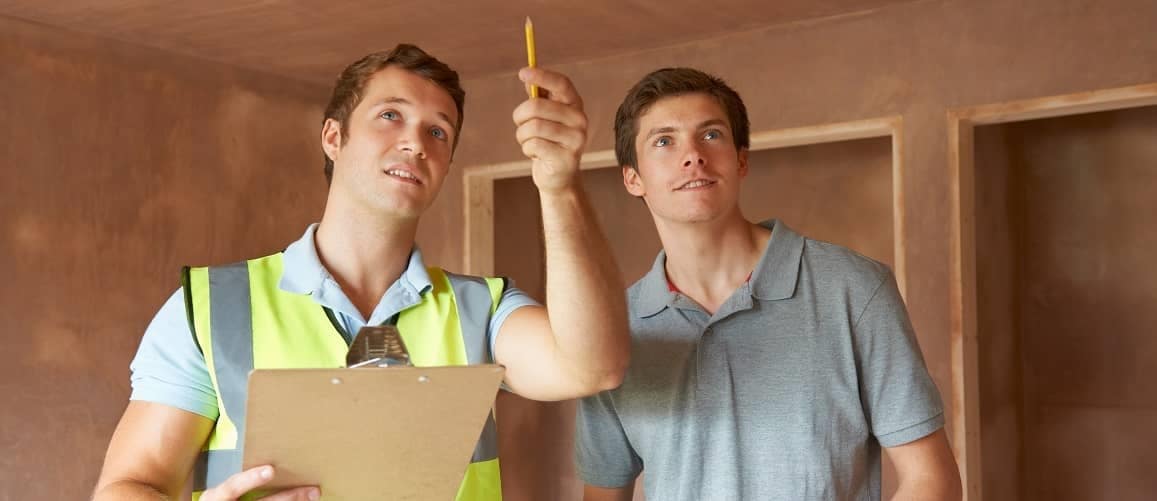 Your Guide To Blue Tape Walkthroughs
Ashley Kilroy6-minute read
February 27, 2023
Share:
What could be more exciting than building your own home? Finally, after probably years of working for it, you get to choose and construct the house of your dreams, all from the ground up.
When it's standing, you'll feel like the finish line is in sight – and it is. But first, you have to inspect the structure. A blue tape walkthrough is a vital step in the home construction process that lets the buyer, builder and other important personnel check the new home. Then, together, you work to identify any improvements you want or need before the big move-in day arrives.
While it's fun to examine your future home, a blue tape walkthrough requires a careful eye. Here is what you need to know before you take yours on.
What Is A Blue Tape Walkthrough?
A blue tape walkthrough, also called a blue tape inspection, is part of building a home. Although, it actually occurs after the new construction's completion date. Typically, around 3 – 4 weeks after.
At that time, the potential buyer meets with someone who represents the builders, like a builder's agent or on-site construction foreman, to do a walkthrough of the home. The buyer may also bring their real estate agent or a close friend to help catch any issues.
It's similar to a home inspection since you're looking for problems big or small you want to address. That includes major defects like mold and minor flaws like mismatched paint. Together, the buyer, agent, builder representative, and others mark off any items of note with blue tape. In some cases, this includes appliances or systems. Future homeowners may want to consider a home warranty to help cover the cost of repairs for items like these.
Owners may want to bring certain tools with them to the walkthrough as well. For example, you may bring a flashlight to inspect dark areas and a camera to document any items that require attention.
Blue Tape Vs. Final Walkthroughs
Both blue tape walkthroughs and final walkthroughs are important steps for any potential home buyer. They help you ensure that the home you're buying is in the exact condition you expect. But there are a few differences.
Namely, the term "blue tape walkthrough" usually applies to a new construction. And, you have a builder or builder representative join you during it. In contrast, you'll likely just have a real estate agent with you during the final walkthrough. This is usually a follow-up to the initial blue tape inspection.
In addition, most homeowners do a final walkthrough even if they purchase a previously owned home. That's because it, and the blue tape walkthrough, are vital to the buyer. It protects their investment and helps them identify anything that could hurt the home's value, their safety, or structural integrity.
See What You Qualify For
Congratulations! Based on the information you have provided, you are eligible to continue your home loan process online with Rocket Mortgage.
If a sign-in page does not automatically pop up in a new tab, click here
New Construction Walkthrough Checklist: Things To Look For On Blue Tape Day
Your builder wants to deliver a polished product. You want a home worth your dreams and money. A blue tape inspection ensures both of you come away satisfied.
Together, you can inspect the house and mark off any items that need attention – that's where the blue tape comes in. All the tagged parts of the home create a "punch-list," or "punch-out list," for the builder to correct. Here are some of the areas you should review carefully.
Major Damage And Repairs Needed
A blue tape walkthrough helps you and your builder identify problems, both big and small. That way, you can address any issues before you move in. Some may be a higher priority or need more work than others. But, left untreated, major damage may pose a real risk to the integrity of the home and you and any other residents' safety.
Keep a watch out for red flags that require repair, such as:
Completely broken or severely damaged appliances
Completely broken or severely damaged home systems
Poor ventilation
Leaking roof
Other threats to the structural integrity, like rotten wood
Poor drainage
In a new construction, you're more likely to find minor defects rather than major ones. However, the walkthrough gives you the chance to address anything and everything.
Safety Hazards
Buyers should beware of potential safety hazards in their new home. If you don't pay close attention during the walkthrough, you may miss something that could pose a danger to you – personally and financially.
Some possible risks to your new home's interior and exterior include:
Signs of pests, like rodents, termites, ants, and larger animals such as raccoons
Mold growth in moist areas, like the bathroom and kitchen
Improperly installed structures like handrails, flooring or lighting
Faulty wiring
Clogged gutters
Early water damage
Cracks in the foundation (allowing water and radon to seep in)
Other environmental hazards such as carbon monoxide
Window Quality
During the walkthrough, the homeowner and construction representative inspect every surface, from floors to mirrors to walls. At that time, it's important to check the windows as well. That involves every part of the window, including the glass, screen, latches, locks, and frame.
Look for the following:
Glass is clean and easy to see through, with no scratches or cracks
Window frame appears square (or otherwise correctly measured)
No cracks, rot, or decay in the frame or trim
Screen is intact without any tears
Screens do not pop out easily
Opens easily and latches properly
Weep holes installed
Uniformly caulked
Your windows are more than an aesthetic accessory. They also play a key role in protecting your home. A window that doesn't open correctly becomes a fire hazard, and a poorly installed one invites cold air, water damage, and mold.
Door And Drawer Mobility
Like windows, drawers and doors need to move smoothly. Nothing should be painted shut, or you risk a safety hazard at worse and an inconvenience at best. This includes any type of door or drawer, like front doors, back doors, interior doors, garage doors, storm doors and cabinets.
Look for any of these problems in your doors:
Issues with closing or opening, such as dragging or sticking
Not flush with the frame
Noisy hinges
Wood frames with damage
Sensor issues with the garage door
Examine your front door in particular. It's a focal point and adds curb appeal, which can help with prospective buyers in the future.
Appliance And House System Functionality
Before you sit down with a checklist, you may not realize how many systems and appliances there are in a home. But each one needs to be examined during the blue tape walkthrough.
So, make sure to review the functionality of appliances like:
Ovens
Stoves
Dishwashers
Washing machines
Dryers
Refrigerators
Freezers
Test these appliances as you go through. For example, see if the oven heats up, if the freezer dispenses ice and water, and if the dishwasher makes it through a run cycle.
You also want to inspect home systems like:
Air conditioning
Heating
Plumbing
Electricity
For instance, you can examine the wiring on your electrical systems, the ductwork for your HVAC (heating and cooling) systems, and the pipes for your plumbing.
If you find any issues with a particular product your contractor installed, consider contacting the manufacturer or local supplier. Also, review the warranty process on the item in question.
Minor Cosmetic Issues
When you do a blue tape walkthrough, you're looking at little problems as well as big ones. But even if they're small, you'll want them addressed. After all, this is your new home we're talking about. Appearances are important, and you want to move in happy with the final product.
Keep an eye out for these cosmetic issues:
Cracks or blemishes in the paint
Stains in the carpeting
Scuff marks on the floor
Scratches on surfaces like countertops or on appliances
Dents in the structure
Nail holes
The nice thing about cosmetic concerns is that your builder can easily address them. It just takes a thorough look over to find them. So, take your time as you move through the house. Again, having others inspect with you, such as a partner or friend, may help lessen the workload.
Consolidate debt with a cash-out refinance.
Your home equity could help you save money.
What Happens After The Walkthrough?
The blue tape walkthrough marks off everything worth addressing. But afterward, or during, the buyer should compile a separate list with their construction representative and real estate agent that details all the necessary repairs.
This documentation should also establish everyone's expectations for these improvements. So, together they discuss what the timeline will look like for any changes and the associated costs. This might be the time to talk about home warranty information as well.
If you have any follow-up questions, you can always reach out to your builder. They'll fix most items on the punch list with little to no issue. However, if anything is left unresolved, don't be afraid to touch base with a supervisor or representative.
The Bottom Line: Blue Tape Walkthroughs Help Get Your New House Move-In Ready
Blue tape walkthroughs help homeowners identify potential problems or blemishes before the final walkthrough and closing. Most new homes will only need minor adjustments. But, it's essential regardless for both the buyer and builder to do so they can address any issues proactively.
This isn't the only step in buying a new-construction home. If you're curious about what that process may look like or its expenses, check out the Rocket Mortgage® article on how much it costs to build a house.
Get approved to refinance.
See expert-recommended refinance options and customize them to fit your budget.
Related Resources
Viewing 1 - 3 of 3