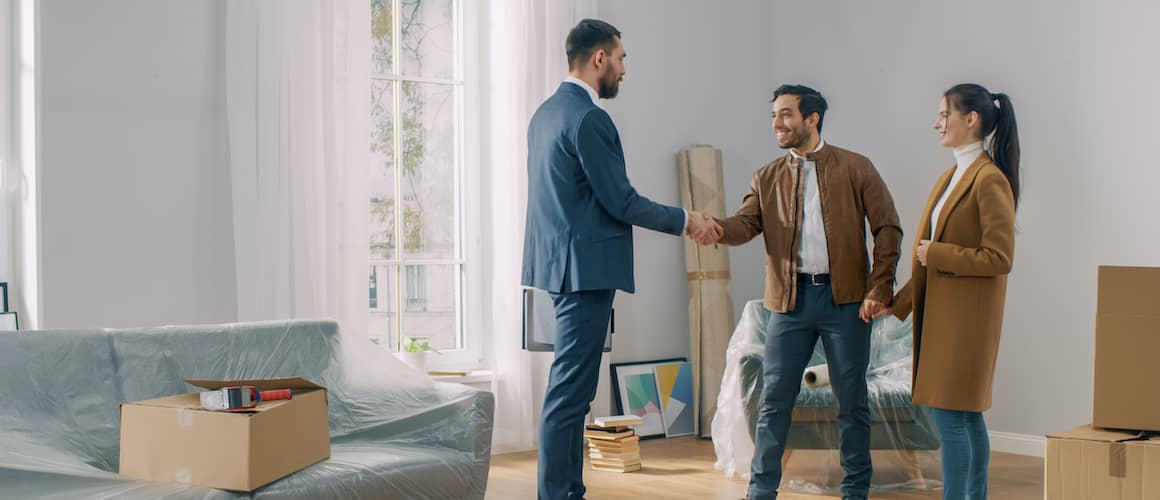 12 Critical Questions To Ask When Buying A House
Patrick Chism5-minute read
February 23, 2022
Share:
There's a lot to keep in mind when buying a house, and if you're not an experienced home buyer, you probably don't know everything that should go into your home buying decision.
While you'll have many questions about mortgages for your lender, you should also do some digging into the nuts and bolts of the house itself by talking to your real estate agent and the seller.
There are many factors that could add costs to the asking price or help you gauge whether the seller might bring the price down. Even if you can't communicate with the seller directly, your real estate agent may be able to help you get answers to the following essential questions.
1. What Is The Risk Of Natural Disaster?
Factoring in insurance costs on your potential new home should be a top priority, as they can add a significant amount to your monthly payments. Depending where you are, certain insurance for hazards like floods, earthquakes and hurricanes may be required. If there are no requirements in your area, make sure you assess the risk of a major disaster. This is particularly important for homes near flood zones and fault lines. If you don't get homeowners insurance that covers these events, you'll have to pay out of pocket if your home is damaged.
2. Are There Health Or Safety Hazards?
Your seller must disclose information about problems with the house that they're aware of, but make sure you get the full picture. If they have documentation about any past issues, ask to take a look at it. Keep an eye out for culprits like lead paint and radon that can pose serious health risks if left unaddressed. Sellers of homes built before 1978 are required to fill out a lead-based paint disclosure.
Take the first step toward the right mortgage.
Apply online for expert recommendations with real interest rates and payments.
3. How Old Is The Roof?
A roof is a major expense and it's critical to consider how much it will cost you on top of your down payment and closing costs if it's old and needs repairs. You may be able to get the asking price knocked down or have the seller repair the roof as a contingency to the sale.
4. Are The Major Appliances In Good Condition?
If systems like the water heater, washers, faucets and HVAC are old, you'll want to know early on so you can factor in the cost of replacement when looking at the asking price. Ask how old they are and how well they perform. For water heaters, specifically, try to get a sense of how large it is and how much power you can expect from it.
5. What Is The Cost Of Utilities?
The ongoing cost of living in your home is just as important as your mortgage payments. When you look at a house, make sure you get a sense for what your monthly utilities will cost. Depending on where you live and how the house is set up, these could add a significant amount to your monthly bills. Real estate agents will often give you an estimate of total price, but be sure to ask some qualitative questions as well. You might spend more on heat if it's electric rather than gas, for example.
6. What's Included In The Sale?
You don't want to move into a new home only to realize you have no washing machine. While many sellers leave behind large appliances like washers and refrigerators, some don't. Make sure you know exactly what comes with the house, as the listing won't always have a comprehensive explanation of included appliances.
7. Have There Been Any Additions Or Renovations?
A history of renovations can be a signal that you should pay extra attention to your home inspection and inquire about warranties. Ask to see the original plans for the house, if they're available. You may be able to find chronic issues with the house. If not, this is still a good way to compare asking price to the true value of the home.
8. How Much Do Homes Sell For In The Area?
Ask your real estate agent how much other homes in the neighborhood have sold for. Hopefully, they'll be familiar with the market and can tell you right away whether the house you're looking at is priced appropriately. You should also try to find out how much the house sold for previously. If the seller stands to make a large profit based on the current asking price, you'll have a lot more room to negotiate.
Take the first step toward the right mortgage.
Apply online for expert recommendations with real interest rates and payments.
9. Why Is The Seller Leaving?
Asking the seller why they're leaving can yield a few useful pieces of information. On one hand, the seller isn't obligated to be honest about their motivations, but you might be able to glean something from a response by paying close attention. Your real estate agent can also dig in and get this information for you. Anything you find out here will be important. If the seller is dissatisfied with something about the house, you might be able to spot a dealbreaker before closing, and if the seller has a pressing reason for leaving, you might be able to negotiate for a better price.
10. How Long Has The House Been On The Market?
You can often find this information on listings, but your real estate agent will be able to give you the most exact date. For some people, a house that has been on the market for a long time sends up red flags, since it might seem like there's something wrong with it. However, this isn't always the case. If you like the house, a long listing time can be to your advantage. Sellers will be more likely to negotiate the longer they've been waiting to make the sale, so you may be able to get the house for less than asking.
11. What Is The Neighborhood Like?
Does the community have restrictions or a homeowners association (HOA)? Knowing the rules of the neighborhood you might be moving into is a critical consideration. Suppose you're looking forward to building a treehouse in your backyard, only to move in and find out there are community rules against it. You'll want to take a close look at restrictions like this before making a final decision.
Also important are the neighbors themselves. Are you going to get along with the people who live closest to you? Try talking to the neighbors to gauge how respectful people will be regarding sound, pets and children. If connecting to your neighbors is important to you, this will also be a good opportunity to see whether the community is receptive to that.
Finally, don't forget to ask about the wider area. Do people feel that it's safe? Ask about the schools and hospitals nearby, as well as any other essential amenities.
12. Does The House Have A Reputation?
You might not care if a house has a reputation for being haunted, but it's still a good idea to ask around and find out if the house you're looking at has any stories or rumors associated with it. Even if you're not superstitious, negative associations with a house have a very real impact on its value. A house that has some stigma attached to it will often be harder to sell, and if you're comfortable with the association, this can be a good opportunity to negotiate the asking price down on a misjudged property.
Your Checklist For An Informed Home Purchase
These questions are a great resource to keep in your back pocket when looking at a home. Bring a checklist before going to a viewing or meeting with your realtor and make sure you get answers to all these important questions before negotiating on a house. Finding out a house's exact context is the best way to figure out what you're willing to pay for it – and how much a seller is willing to take for it.
Are you ready to line up your financing? Get started online with Rocket Mortgage®.
Take the first step toward the right mortgage.
Apply online for expert recommendations with real interest rates and payments.
Related Resources
Viewing 1 - 3 of 3