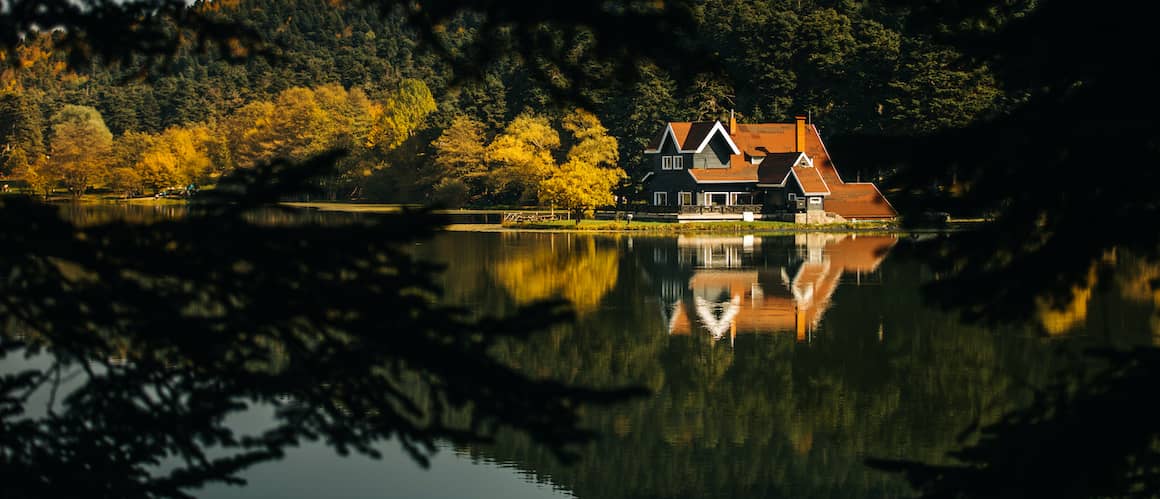 A Guide To Buying A House In A Flood Zone
Molly Grace5-minute read
June 01, 2022
Share:
Living near water is a delicate balance: it's nice to have a body of water close by, but not so nice when it's creeping into your basement.
Water can be extremely destructive to a home. A single inch of floodwater can cause up to $25,000 in damage, according to the Federal Emergency Management Agency (FEMA). This doesn't necessarily mean you should avoid buying any house in an area that's at risk for flooding, but you do need to be prepared for the insurance costs and have a good understanding of what your risks are and how you can mitigate them.
Here's what you should know before buying a house in a flood zone.
What Is A Flood Zone?
An area's flood zone designation tells us its flood risk as determined by FEMA. FEMA uses a variety of different codes to communicate the specific flood risk to an area.
High-risk zones: These zones are known as Special Flood Hazard Areas (SFHA). If your flood zone code begins with an A or a V, you're in an SFHA. The difference between these two letters is that V indicates the zone is in a coastal area.
Moderate-risk zones: In a moderate-risk zone, it's less likely that the area will experience flooding, but it's still possible. These zones are coded as Zone B or Zone X (shaded).
Minimal-risk zones: In these zones, the risk of flooding is minimal, though flooding is still possible. These zones are either Zone C or Zone X (unshaded).
You can use FEMA's Flood Map Service Center to find out whether your home or a home you're considering purchasing is in a high-risk flood zone.
If you're in an SFHA, that means you have a 1% or higher chance of experiencing flooding each year. While that might sound relatively low, over the course of a 30-year mortgage, that translates to a one in four chance of experiencing flooding, according to FEMA.
It's important to understand that buying a house in a low or moderate risk area isn't a guarantee of protection from flooding.
According to the National Flood Insurance Program (NFIP), which is the federal program that underwrites flood insurance policies to those in participating communities, policyholders outside high-risk flood areas accounted for 40% of all NFIP claims between 2014 – 2018.
Today's Purchase Rates
*
Pricing is currently not available for the selected value.
What Are The Risks Of Buying A Home In A Flood Zone?
If your dream home is in an SFHA, you'll need to be prepared. Here are some of the threats you take on when you buy in a high-risk flood zone.
Potential For Significant Flood Damage
Flooding can cause everything from mold growth to major structural damage, depending on the severity.
Extreme flooding or flooding caused by a natural disaster can be both emotionally and financially devastating. It could mean having to evacuate your home and find temporary shelter while repairs are completed or even having to completely rebuild the home or relocate and start over somewhere else.
Even small amounts of flooding can create huge headaches for homeowners. It could mean replacing flooring, drywall and damaged personal belongings such as furniture, or having to hire professionals to remove the water from your home and sanitize the affected areas.
High Cost Of Flood Insurance
The higher your risk, the more you'll likely pay for flood insurance. According to FEMA, the average flood insurance policy premium was $700 in 2019.
If you want to be covered in the event of flood damage, you'll need flood insurance. Regular homeowners insurance doesn't typically cover damage caused by flooding, so if you're uninsured, you could end up having to pay hefty costs out of pocket.
If you get flood insurance through NFIP, you can get up to $250,000 in coverage for your home's structure and up to $100,000 in coverage for the contents of your home, which includes things like furniture or electronics.
If you need a larger policy or want to purchase additional coverage, you may be able to do so through a private insurer.
Can Be Difficult To Sell
Buyers are often hesitant to buy a home located in a high-risk flood zone. This makes sense – buying a home is a huge investment, and the higher chance of flooding puts that investment at risk. Plus, these properties can be expensive to insure.
Because of this, it can be difficult to sell a home in an SFHA.
How Do I Get A Mortgage For A House In A Flood Zone?
Getting a mortgage in a high-risk flood area is basically the same process as it is anywhere else. The main difference is the types of insurance you'll need to buy.
If you're using a mortgage to purchase a home in an SFHA, you'll most likely be required to purchase a flood insurance policy. Flood insurance coverage is required for borrowers who have government-backed loans, such as FHA loans, or conventional loans backed by Fannie Mae or Freddie Mac.
Your lender may roll your flood insurance premium into your monthly mortgage payment, so you'll pay a little bit of your annual premium each month.
Get preapproved to see what you can afford.
Rocket Mortgage® lets you do it all online.
Questions To Ask Before Buying Property In A Flood Zone
If you're considering buying a home that's at significant risk of flooding, work with your real estate agent to learn more about the property's history.
What Is The Home's Flood Zone Designation?
Your real estate agent should be able to answer this question for you, but as we already mentioned, you can also find out yourself by entering the property's address into FEMA's flood map database.
How Often Does This Property Flood?
Laws vary from state to state when it comes to required seller disclosures of flood risk, but if you can, you should try to find out if the home has experienced flooding or flood damage in the past and how frequently flooding happens.
If you don't get much information from the seller and your state doesn't require flood risk disclosures, you can do a little research of your own by asking neighbors or searching online archives from local news outlets.
What Flood Mitigation Has Been Done On The Property And In The Community?
Ask the seller what, if anything, has been done to mitigate the risk of flooding on the property. Your real estate agent can also help you find out what steps the local government has taken in terms of its floodplain management to protect the community as a whole from the area's flood risks.
Is It Worth Buying A House In A High-Risk Flood Zone?
Deciding where to live is an incredibly personal decision, and only you can decide whether buying a house in an SFHA is the right choice for you.
Homes in high-risk flood areas can be risky to own and more expensive to insure. But they can also be a lot of fun to own, especially if the property is located on a beautiful waterfront or coastal area.
It's important to learn as much about the property as you can, so that whatever decision you come to, it's an informed one.
The Bottom Line: Weigh Flood Risks Carefully
As you consider whether to buy in a flood zone, think about your own level of comfort with risk as well as your ability to financially recover from potential flood damage. Get preapproved now to get a better idea of what you can afford.
Get preapproved to see what you can afford.
Rocket Mortgage® lets you do it all online.
Related Resources
Viewing 1 - 3 of 3