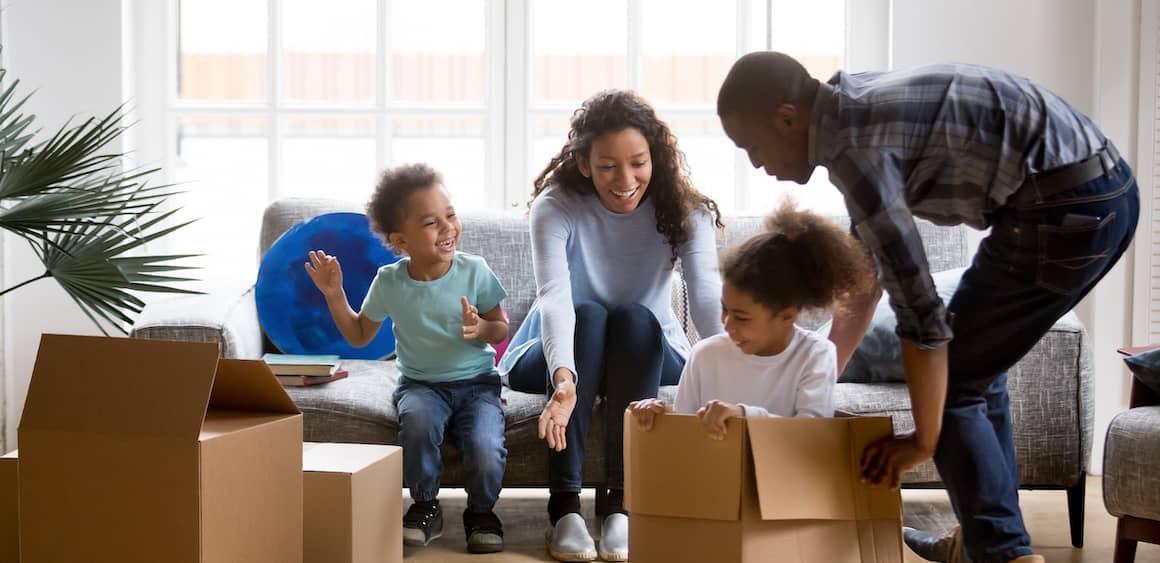 How To Get A Mortgage: A Step-By-Step Guide
Victoria Araj8-minute read
July 01, 2022
Share:
You probably already know that a mortgage is a type of loan that you use to buy a home. It's a good idea to learn as much as you can about getting a mortgage before you start shopping for a home.
The best way to avoid wasting time is to know the players and the process. That means working with a lender to get the best possible loan.
In this article, we'll get you ready to go mortgage shopping by going over what lenders are looking for, the paperwork involved and the five steps it takes to complete the mortgage process.
What Are Mortgage Lenders Looking For?
Lenders look at a few different factors when you apply for a mortgage with the goal of assessing your ability to pay back the loan. The key areas taken into consideration are your income and job history, credit score, debt-to-income ratio, assets and the type of property you're looking to purchase.
Income And Job History
One of the first things that mortgage lenders consider when you apply for a loan is your income. There is no set dollar amount that you need to earn each year to be able to buy a home. However, your mortgage lender does need to know that you have a steady cash flow to pay back your loan.
Your lender will want to look at your employment history, your monthly household income and any other forms of money you have coming in, like child support or alimony payments.
Credit Score
Your credit score plays a major role in your ability to get a mortgage. A high credit score tells lenders that you make your payments on time and that you don't have a history of borrowing too much money. A low credit score makes you a riskier borrower, because it tells lenders you may have a history of mismanaging your money.
The minimum credit score for a conventional loan is usually 620. For a government-backed loan, you'll need a credit score of at least 580, but that can vary depending on which loan you choose.
A higher credit score can give you access to more lender options and lower interest rates. If you have a lower score, it's a good idea to try to boost your credit score for a few months before you apply for a loan.
Debt-To-Income Ratio (DTI)
Similarly to income and credit score, your debt-to-income ratio is a strong indicator used by lenders to determine if you have the requisite cash flow to qualify for a mortgage.
Your DTI is calculated by taking the total of all your minimum monthly debt payments and dividing it by your gross monthly income. The types of debts that you'll need to factor into your DTI will be recurring, such as credit card statements, student loans and auto loans. Expenses like groceries or a Netflix subscription can be left off when calculating DTI.
Depending on the mortgage type you're applying for, the DTI a lender is looking for will vary. Typically, for a conventional mortgage, a DTI of 50% or less is the benchmark – but many government-backed loans will have higher thresholds.
Assets
Lenders want to know that you have some extra money in the bank when you apply for a loan. This assures the lender that you'll still be able to make your payments if you run into financial trouble. Your lender will ask to take a look at your assets, which include any type of account that you can draw cash from.
Here are a few examples of assets:
Savings accounts
Retirement accounts
Taxable investments
Property Type
The type of property you buy affects the type of loan you can get, because different types of property change the level of risk for your lender.
Want to buy a small single-family home that you plan on using as your primary residence? You'll probably get better terms because lenders know that primary housing costs already factor into most people's budgets, and you're more likely to stay up to date with your payments.
Investment properties, on the other hand, will take a backseat to primary residences if the owner runs into financial hardship. To balance the potential risk, lenders will likely require a larger down payment and a higher credit score to qualify for an investment property mortgage.
Interest rate and buyer requirements vary depending on the type of property you're after. Keep in mind that not every lender finances every type of property (mobile, manufactured, commercial, etc.).
Tested. Trusted. Top-rated.
Visit Rocket HomesSM to get a proven real estate agent that's handpicked just for you.
What Documents Do I Need To Get A Mortgage?
Get all your paperwork in order so you can speed up the process before you apply for a loan. Let's go over the documentation you'll usually need when you apply for a mortgage.
Proof Of Income
Your lender will ask you to provide multiple pieces of paperwork to verify your income. Some documents you might need to provide include:
At least 2 years of federal tax forms
Your two most recent W-2s and pay stubs
1099 forms, or profit and loss statements if you're self-employed
Divorce decrees, child support decisions and any other legal documentation that confirms that you'll continue to receive payments for at least another 3 years
Legal documentation that proves you've been receiving alimony, child support or other types of income for at least 6 months, if applicable
Credit Documentation
Your lender will ask you for verbal or written permission to view your credit report. They'll look at your credit history and search for negative factors (like a bankruptcy or foreclosure) that would make it difficult for you to get a loan.
If you had an extenuating circumstance that damaged your credit, it's a good idea to explain this to your lender and provide documented proof. For example, if you missed a few payments on your credit card bills due to a medical emergency, you may want to give your lender a copy of your medical bills. This proves to your lender that the bad marks on your report were the result of a one-time instance, rather than a pattern.
Proof Of Assets And Liabilities
Your lender might ask you for some or all of the following when they verify your assets:
Up to 60 days' worth of account statements that confirm the assets in your checking and savings accounts
The most recent statement from your retirement or investment account
Documents for the sale of any assets you got rid of before you applied, such as a copy of the title transfer if you sold a car
Proof and verification of any gift funds deposited into your account within the last 2 months
Your lender may also ask you for supplemental information on any debts you owe, like a student loan or an auto loan. Cooperation with your lender only makes the process easier, so be sure to provide any requested information as soon as possible.
How To Get A Mortgage With Rocket Mortgage®
Once you have all of your documentation in order, it's time to start searching for a loan. Here's what you can expect when you apply for a home loan with Rocket Mortgage®.
Step 1: Apply For Mortgage Preapproval
Preapproval is the process of learning how much a lender is willing to lend to you. When you apply for a preapproval, lenders take a look at your income, assets and credit, and tell you how much they can lend you. They'll also determine your interest rate.
Although similar in name, a preapproval shouldn't be confused with a prequalification. Prequalifications are less accurate than preapprovals because they don't require asset verification. While a prequalification can be helpful, it won't give you the most concrete idea of how much money you'll be lent, whereas a preapproval can. That's because lenders require you to provide documents for the preapproval that help prove your income and debt obligations to ensure you're eligible for the mortgage.
Getting preapproved for a loan and knowing the amount of money you will receive will help you narrow your property search, and make you more appealing to both sellers and real estate agents.
Check Your Credit Score
The first thing you'll do when you apply for preapproval is answer a series of questions about yourself, your income, your assets and the home you want to buy. You'll then give your lender permission to look at your credit report.
Your credit report is a record of your borrowing history from any lenders and creditors you've worked with in the past, including credit card companies, banks, credit unions and more.
Customize Your Personal Mortgage Solutions
After we verify your credit, Rocket Mortgage will give you a few mortgage options that you can customize to fit your needs. We'll show you a few different mortgage solutions and how much you can qualify for. You can also learn more about your individual interest rates, loan types you may be eligible for, monthly payments and down payment requirements.
Step 2: Get Your Approval Letter
Once you find the best mortgage solution for your needs, you can see if you're approved online. If you are, we'll send you a Prequalified Approval Letter that you can use to begin house hunting. If you want an even stronger approval, you may want to consider contacting a Home Loan Expert and applying for a Verified Approval.
Step 3: Find A Property And Make An Offer
Now comes the best part – finding the home that's right for you. To help you with your search, try connecting with a real estate agent in your area when you start viewing properties, especially if you're buying your first home. A real estate agent can help you narrow your search and show you properties that fit both your budget and needs.
Once you find the right home, your real estate agent will also help you submit an offer, and potentially begin negotiating with the seller. Once the seller accepts your offer, it's time to move to the final stages of the home buying process.
Step 4: Verifying The Details
During the verification process, an underwriter takes a closer look at your assets and finances. You'll provide documentation and paperwork that backs up the information you submitted when you applied.
Your lender will also need to verify your property details. This usually involves ordering an appraisal, verifying the home's title and scheduling any other state-required inspections. As soon as underwriting finishes, you'll receive a document called a Closing Disclosure.
Your Closing Disclosure tells you everything you need to know about your loan, including your monthly payment, down payment, interest rate and closing costs. Make sure your Closing Disclosure is similar to your Loan Estimate, which you should have received from your lender 3 days after you applied for your loan.
Step 5: Closing
Once you get your loan approved, it's time to attend a closing meeting. At closing, you'll have a chance to ask any last-minute questions you may have about your loan. Remember to bring your Closing Disclosure, a valid photo ID, your down payment and a check for your closing costs. Once you sign on your loan, you're officially a homeowner.
The Bottom Line: Keys To Getting A Home Loan
Lenders look at many factors when you apply for a mortgage. They'll examine your income, job history, credit score, debt-to-income ratio, assets and the type of property you want to buy. You'll be responsible for providing them with all relevant documentation that can prove your viability to qualify for a loan.
The first step in getting a mortgage is applying for preapproval. Getting preapproved gives you a good idea of the loan principal you can receive, making it easier to shop for homes within your budget. Once you're preapproved, you can start viewing homes, and potentially enlist the help of a real estate agent.
Your agent can help you make an offer on the right home once you find it. You'll need to get full approval from your lender once the seller accepts your offer. Full approvals also include underwriting and an appraisal. Once you're approved, you'll attend a closing meeting, sign the closing documents, and pay your down payment and closing costs.
If you're ready to start shopping for home loans, apply for a mortgage today with Rocket Mortgage.
Find out what you can afford.
Use Rocket Mortgage® to see your maximum home price and get an online approval decision.
Related Resources
Viewing 1 - 3 of 3