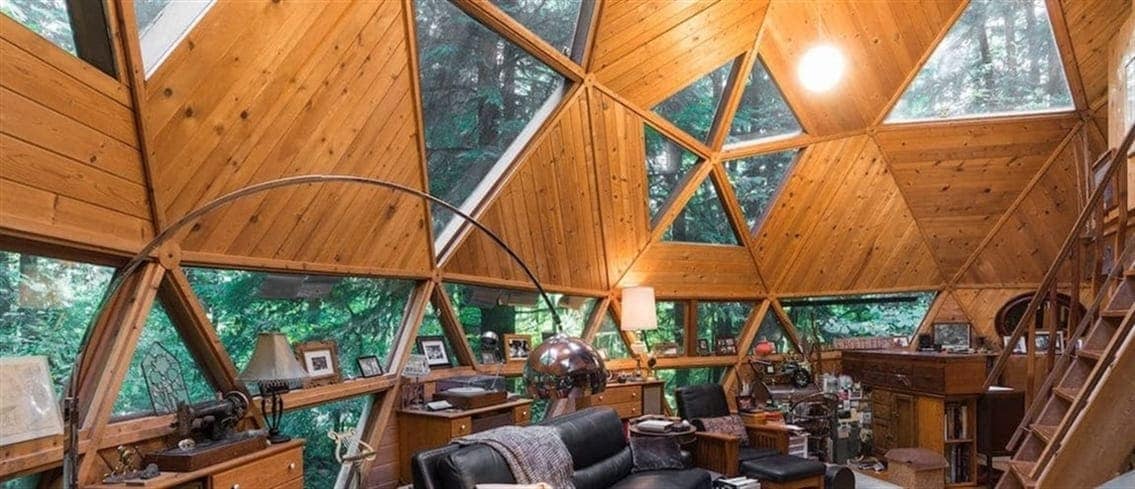 Things To Consider When Buying A Unique Home
Andrew Dehan6-minute read
February 21, 2023
Share:
Many people are drawn to uniqueness. For some, that impulse to find something different extends into their home buying journey. Chances are you've seen a home that stands out from more typical designs. Whether it's a cozy hobbit hole or a wonder of a surrealist luxury home, what strikes one home buyer's fancy may not appeal to another.
While standard styles of houses may not pique your interest, there's a reason they're so popular. They check a lot of boxes for a lot of people and can act as a blank slate for personalization. Their common floor plans highlight features most people want.
A major factor holding people back from owning unique real estate is the idea of living in it. It's something that sounds better in theory than in practice. It takes commitment.
It's not like you can live in a replica hobbit home but have a particle board bookshelf or a stainless-steel kitchen, you know?
Think you're up for the challenge of owning a unique home? Here's what to consider before calling your real estate agent.
Repair Costs
An overlooked challenge of owning a unique home is maintenance. Is your dream house a large-scale version of the Nautilus from the "20,000 Leagues Under the Sea"-themed ride at Disney World? Does it have portholes instead of windows?
If one of those suckers breaks, you can't just run to Home Depot to get a replacement window. You may have to special order it. While you're waiting for the replacement, you'll need to have a new piece of plexiglass cut to block off the window.
Not only will you have to wait for special-order parts, but the cost of the custom-made pieces will be more expensive than a standard part. In other words, it'll be harder to replace and more expensive in general.
See What You Qualify For
Congratulations! Based on the information you have provided, you are eligible to continue your home loan process online with Rocket Mortgage.
If a sign-in page does not automatically pop up in a new tab, click here
Renovation Costs
Along with repairs, renovation costs go up with a unique property. For example, if your dining room has built-in benches with ornate woodwork, you may have trouble finding and paying for a skilled carpenter to restore or alter the work.
You may also run into issues if the home is in a protected district. If you buy a historic home, you may have to go through a permitting process. Sometimes changes to the exterior and interior of the home require approval. Talk to neighbors and your real estate agent to see if the area has a historic society or an HOA that requires approvals before making updates.
This is good to know if you have DIY inclinations, too. Some associations require owners to work with contractors with specific licensing. The red tape may not be worth the hassle.
Unhappy Neighbors
It doesn't matter if you're in New York City or Cheboygan, Michigan – most unusual homes stick out like sore thumbs, and that can put some neighbors on edge.
Imagine a developer buys the old house next door to your beautiful, but very traditional, home. Instead of keeping it as-is, or updating it within the standards of the neighborhood, the new homeowners raze it and replace it with a 3,000-square-foot concrete teepee.
You might be annoyed by this. You talk to other neighbors who are just as concerned about the unusual architectural choice. You decide to file a petition with city hall to halt construction. This sets the developer back on building time, costs more money on construction and starts them off on the wrong foot with everyone in the neighborhood.
If you move into your dream house and don't consider the neighborhood, you could have some resentful neighbors built in.
Lifestyle Changes
You should also consider your lifestyle and potential life changes. The idea of living in an old church may sound cool and mysterious when you're young and single. But as life changes, maybe you meet someone and decide you want to have a family. Your priorities change. You want a little more living space and a little less stained glass.
Conversely, you could be a huge fan of the tiny house movement. You sell nearly all your belongings to live in a 265-square-foot space. Then you get married, get a couple of cats and a dog, think about kids and realize living on top of your spouse with pets everywhere is stressing you out. You've outgrown your tiny house and need to upgrade.
In other words, buying a unique house is a lot like getting a tattoo – you must be in it for the long haul. If you know things are going to change in the next 5 – 10 years, you should reconsider your intense desire to live in a house shaped like a shoe.
Get approved to buy a home.
Rocket Mortgage® lets you get to house hunting sooner.
Selling Your Home
This leads us to one of the most important things to consider – selling your home. Unless your family wants to keep your home after you die, someone will have to sell your dream seashell house.
Selling your unique home isn't going to be as easy as listing it, holding a couple of open houses and waiting for the offers to roll in. With a unique home, you must expect your property will be on the market longer than the average home.
The more unique your home, the smaller the pool of buyers looking for a home like yours. People who are into unique homes are…unique! They know what they like. They may appreciate that your home is a shell, but they may think the starfish bathroom tile is tacky.
Your home could take a long time to sell, and you might not get the offer you're expecting. If you put a lot of money into the customization, upgrades, design and decor of your unique home, the resale value may not be enough to move on from the home.
A potential buyer may have a hard time finding comps in the area to get approved for a home loan. An appraiser might have a hard time appraising the home for building code and quality because of the unique features you built into the home. These are all hiccups that could occur when selling your unusual property.
A perfect example of a great house that had a hard time selling is the story of the Ensculptic House in Minnetrista, Minnesota. The home's REALTOR®, Dayna Murray, said that the home generated a lot of interest from all over the world – even from the likes of MTV – but it was difficult for interested buyers to get financing.
In the end, they decided the best way to sell the home would be for a cash deal. The home sat on the market for 230 days before they found the right buyer.
Once you know you're ready to walk on the wild side, prepare for these potential hurdles:
Difficulty Finding A Lender
As mentioned before, it may be difficult finding a lender for your new unique home. The mortgage process is streamlined for standard homes. But since you're unique, the process may be unique for you, too.
You can improve your chances with a large down payment. A larger down payment increases your equity in your home, and reduces the amount of money you'll need to borrow. Also, you should be prepared for a potentially higher interest rate as well.
Finding The Right Inspector
You'll want to add finding a specialized inspector to your home inspection checklist. The right inspector is valuable whether you're buying a run-of-the-mill fixer-upper or a distinctive work of art. Unique homes require an inspector with more skills and an eye for unique problems. Hire someone who's experienced with inspecting unique properties.
This depends on your home's particular level of uniqueness. Home inspectors are going to look at the structure, water and HVAC systems. If your house is fairly standard in those areas, finding an inspector will be easy. However, if you want to live in a geodesic dome, you may have to hire a specialized inspector.
You want to be confident that the inspector did their job, finding areas of concern before you close on your new home.
Securing Insurance
Insurers want to know what they're getting into. Unique homes pose their own problems for insurance. Insuring a houseboat is different from insuring a bungalow. Ask the home seller if they're willing to talk about their insurance.
Find out who insures their home and how much they pay. Learn what the policy covers and what it doesn't. Use their policy as a baseline to judge other policies. From there, shop around to see if you can get a better one.
Getting An Appraisal
The last piece of the puzzle for buying your unique home is getting it appraised. Like insurance and inspection, an accurate appraisal of your unique home could be challenging. Since appraisers often compare a home to others like it, a custom home could be harder to value.
Appraisals can come in lower than the purchase price since no comparisons exist. This may cause issues with your mortgage lender, who won't want to overpay for the home. On the other hand, a low appraisal may mean you can negotiate a lower price.
These are the most important factors to keep in mind when buying a unique home. If you're considering buying a home that's a bit on the nontraditional side, by all means don't let these guidelines deter you. A home is an extension of yourself and buying one that reflects your personal taste and style should be a natural choice. If you're ready to begin house hunting, let's get started.
Get approved to buy a home.
Rocket Mortgage® lets you get to house hunting sooner.
Related Resources
Viewing 1 - 3 of 3