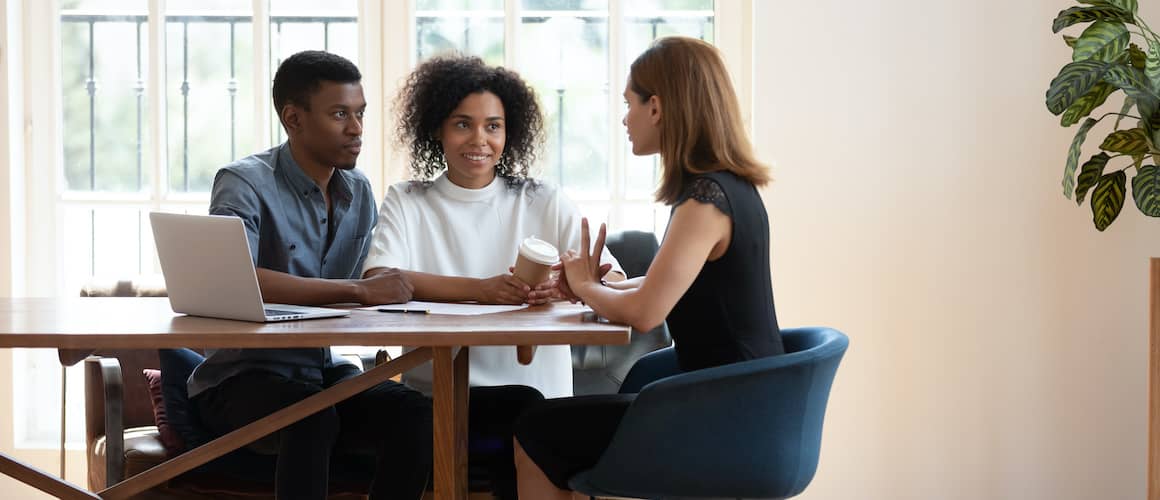 What Are REALTOR® Fees And Who Pays Them?
Victoria Araj5-minute read
January 27, 2022
Share:
When you are buying or selling a home, there is no one more invaluable to have at your side than a good REALTOR® or real estate agent. They are there to guide you, to hold your hand, to be your sounding board and keep you moving forward into your new home. They allay our fears of commitment, nudge us when we need to act and pull us back when the time comes to walk away.
And when it's all said and done, they earn their fees for the services they have provided.
Take the first step toward the right mortgage.
Apply online for expert recommendations with real interest rates and payments.
What Are REALTOR® Fees?
REALTORS® and real estate agents are professionals who work hard to help sellers and buyers through the process of buying and selling our homes.
REALTORS® are real estate agents who have earned an advanced designation from the National Association of REALTORS®, through study, experience, and a demonstrated record of character and integrity.
Real estate agents meet the educational and licensing requirements of the state in which they operate professionally. They can perform all the same professional services as REALTORS®.
For the purposes of this article, I'll use the terms "REALTOR®" and "agent" interchangeably, as the designation does not alter the fee structure.
They generally work on commission, although there are agents who work on a flat fee basis in some markets. They earn their fees if and only if they sell your home, or help you buy your next home. If you don't buy, or can't sell, they don't earn anything.
Who Pays REALTOR® Fees?
REALTOR® fees are paid by the seller(s) at closing. If the sellers chose not to work with an agent, and offer their home For Sale By Owner, they may be contacted by agents working with buyers to see if they'll agree to pay the buyers' agent's fees. If they do, and the sale is completed, the sellers will pay those fees at closing.
How Much Do REALTORS® Earn From A Home Sale?
Typically, real estate commissions total 5% – 6% of the home's purchase price. There are no federal or state laws that regulate commissions. They may vary from one location to the next or one brokerage to another. If a house sells for $300,000, the seller can expect to pay between $15,000 and $18,000 in fees.
That fee is a pretax total amount. It is immediately split between the buyers' and sellers' agents. Generally, each agent then splits that fee further with their brokerage, their support staff, and any newer agents who helped them complete the sale.
There's a lot of work and expense that is largely unseen by buyers and sellers. This includes creating and publicizing a new listing, running open houses, getting signage up and more.
REALTOR® Fees Can Be Negotiated
Because they aren't regulated, agent fees can be negotiated. If you feel like you can handle some of the legwork that goes into preparing your home to be listed, you might ask your agent to reduce your fees.
If your home ends up selling for significantly less than the asking price, agents might be open to reducing their fees. It never hurts to ask and seasoned agents won't be offended when you do.
Take the first step toward the right mortgage.
Apply online for expert recommendations with real interest rates and payments.
Do REALTORS® Add Value To Sales Transactions?
Yes, they do. Let's compare For Sale By Owner (FSBO) homes to agent-assisted home sales. According to NAR, in 2018, FSBOs accounted for 11% of home sales in 2018. The typical FSBO home sold for $200,000 compared to $280,000 for agent-assisted home sales.
Had the average FSBO seller sold their home for $280,000, they would have paid a 6% commission of $16,800, and pocketed an additional $63,200 from the sale. That's a clear value.
What are you paying for when you pay for an agent's services? Their expertise, their relationships and their time. They know how things work and they can keep things moving.
When fires ignite, they can put them out and keep everything on track. We tend to think of agents as being the people who show us houses, but that's a fraction of what they do. The real work is in taking us from the starting line and pushing us over the finish line.
Sellers' Agents
Sellers' agents have a fiduciary duty to protect the interests of the sellers. The services they provide include, but are not limited to, helping sellers:
Get their homes ready to list
Set an asking price
Stage the home
Make sure sellers make all required disclosures
Put marketing materials together
Run open houses for buyers' agents
Navigate sellers through the inspection and closing process
Buyers' Agents
Buyers' agents have a fiduciary duty to protect the interests of the buyers. The services they provide include, but are not limited to, helping buyers:
Figure out how much house they can afford
Narrow down what they are looking for in their next home
Visit homes
Find comparable sales to help buyers figure out how much to offer
Negotiate the sales contract, making sure buyers are protected by adding contingencies as needed
Conduct a thorough home inspection by recommending inspectors and helping buyers analyze the results
Manage the appraisal process
Answer questions regarding closing costs
Dual Agency
In some limited cases, agents will work with both buyers and sellers. If they're helping buyers interested in purchasing a FSBO home, they might need to assist the sellers. This includes things like making proper disclosures, providing needed access and information and advising them on practices and procedures.
Buyers' agents must disclose dual agency to both parties and make sure they understand the conflict and risk of assuming both roles. In Florida, Kansas and Colorado, dual agency is prohibited by law.
Will I Get A Statement Of Costs From My Agent?
When you list your home with a listing agent, you will sign a listing agreement which will list any transaction fees (typically, to cover the cost of document storage and management) and all the commissions that you will be expected to pay at closing.
The listing agreement also states how long the agreement will remain in place, usually 90 to 120 days. If your home hasn't sold in that time, you can extend the agreement or choose a new agent.
Summary: Professional Service Warrants Professional Fees
Like any other worthwhile professional, REALTORS® earn the payment they receive. If they make everything seem like it's going smoothly and "anybody could do that," it's a sign of how good they are. As with most things in life, you get what you pay for.
Learn more about buying and selling your home in our Learning Center.
Take the first step toward the right mortgage.
Apply online for expert recommendations with real interest rates and payments.
Related Resources
Viewing 1 - 3 of 3