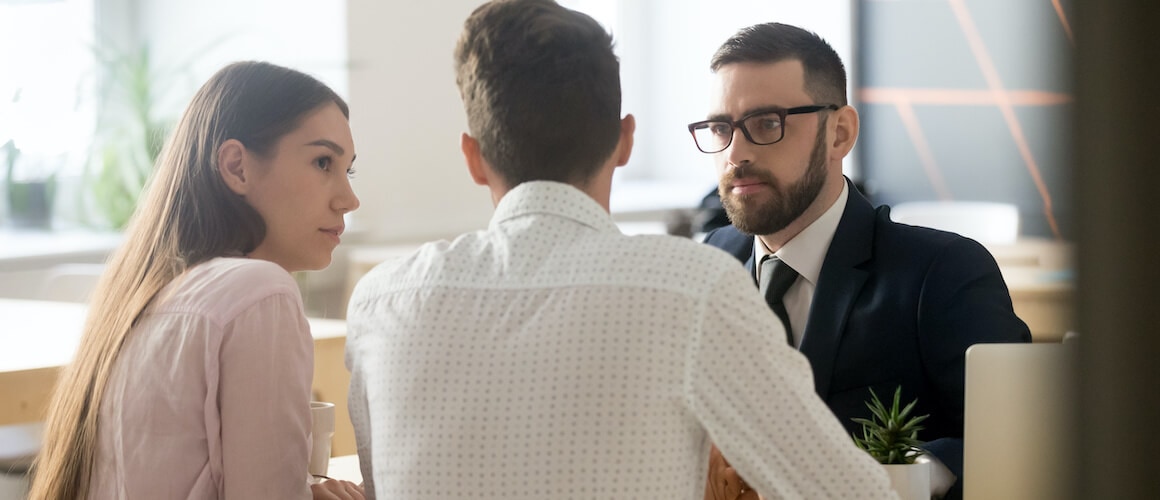 How To Tell Your REALTOR® You're Choosing A New Agent
Victoria Araj6-minute read
October 26, 2021
Share:
Working with a real estate agent is a unique professional bond. Their job is to understand your current financial health and how you envision your family's future, and get you in the house to make the dream happen. It's natural to feel wary about breaking up with your REALTOR® or real estate agent.
Before you have the conversation, it's important to confirm you're legally allowed to work with another agent, or if you're stuck with your current one.
What You Can Expect From A Good REALTOR®
If you're reading this because you hired a family member or friend to broker your home and are having second thoughts, you're not alone. Only you know if the social capital loss will be worth the difference in quality of experience in another agent.
As a home buyer, your real estate agent, also known as a buyer's agent, will be your expert source of information at every step on your journey to homeownership. The buyer's agent helps prospective homeowners find a home in their budget, with their needs and desires and has expert knowledge of local market value. They'll help you save money and get you into a home you feel excited about.
If you're selling, your listing agent will have a keen understanding of your current market and which homes in your neighborhood have sold. They'll negotiate a fair selling price for your home. They'll also mitigate any repair request negotiations and help you complete any paperwork for a seamless transfer of ownership.
Get approved to buy a home.
Rocket Mortgage® lets you get to house hunting sooner.
Signs You Should Break Up With Your Real Estate Agent
Your real estate agent should be a licensed professional. They may not be the right fit for you if they exhibit any of the following behaviors:
Refuses reference check: If your real estate agent refuses or dodges your request to talk with previous home buyers they've worked with, that's a red flag. They may be hiding something or lying about their experience.
No license record: Find your state's real estate licensing board and look up your agent. You'll see how long they've been licensed and if they're in good standing with the board.
Ignores your calls: It's an agent's job to keep you updated on your search for a home. If they've agreed to be available for a certain number of calls a week and are not living up to the bargain, it's something to talk about.
Shows up late: You don't want your first impression on a seller to be a sign of disrespect for their time. If your REALTOR® is late to an open house or walk-through, it can throw off the seller's day by forcing them to stay out of their home for longer. It's unprofessional.
Disrespects your preferences: It's the real estate agent's responsibility to inform you if your requests for a two-bedroom home with a yard and garden beds is unreasonable in your market or budget. It can feel like a breach of trust for your vision if your agent shows you homes you're not interested in to push you in another direction.
At the end of the day, many conflicts can be resolved with direct communication. Ask your real estate agent why they're not calling you back or why they won't give you a reference. In the real estate business, poor communication can cost you in assumed repairs, assumed real property and, ultimately, money. Trust your gut.
How Do I Tell My Real Estate Agent I Chose Someone Else?
Once you've decided that the relationship can't be repaired with an open, honest conversation, it's time to look at other options. Depending on which stage in the home buying process you're in, you may have limited choices.
Before Signing A Buyer's Agent Agreement
It's important to remember real estate agents live off commission. If your agent has spent countless hours researching and scheduling showings for you, firing them will mean they worked for you for free. That's why most agents will ask buyers to sign exclusivity agreements, typically for a limited time frame of 6 months.
If you haven't signed a buyer's agent contract with your REALTOR®, it'll be much easier to break up with them. Do for your agent what you expect in return, and be direct and kind. Ask them if there's a good time for you both to talk, so they can be mentally prepared for the rejection.
During your scheduled call, tell your real estate agent you've chosen to work with someone else and thank them for their time. They may ask if you've signed an exclusivity agreement with someone else. You don't need to disclose any other information if you don't want to. It's appropriate to offer feedback if they ask for a reason for your decision. Be prepared with a response.
If you're turning down a family member or friend, less is more. You may not want to combine business with personal as a rule and they should understand that. Allow them to have their reaction and return to build the personal relationship after they've had time to process.
Using Multiple Real Estate Agents
If you haven't signed an exclusivity agreement, you can work with two or more real estate agents at a time. Be warned: it is not the best long-term solution, but there are valid reasons to take this approach at first.
Working with multiple agents in the early stages isn't a bad idea. You can tell them you're in the "interviewing phase" of your search to hire an agent. During this time, you can get a sense for their punctuality, if you have any personality clashes and you can get a sense of their reputation.
Because agents work off commission, refusing to sign an exclusivity agreement puts you at the lowest priority for an agent. Why would they put in the work to find you a home if they aren't guaranteed a paycheck from their labor?
The agents who have the capacity to take you on without an exclusivity agreement for the long-term likely don't have a robust number of clients, which may be a red flag.
Terminating A Buyer's Agent Agreement
If you've signed an exclusivity agreement, firing your agent can be tricky, if not impossible. Another agent will not want to take you on as a client because your current agent has a legal right to the full commission in court.
If you're unhappy with your REALTOR®, they may know it. You can ask your real estate agent to cancel the contract if you want out of the relationship. One of two things might happen: they could agree they don't want to work in an untenable relationship and cancel the contract. Or they could refuse and you'll be stuck with them until the term of the contract expires.
It's wise to weigh the pros and cons of having this conversation. If you have 1 month left on the contract, it could be easier to let the contract expire. If you're at the start, the REALTOR® may agree to cancel because they haven't invested as much time.
Tested. Trusted. Top-rated.
Visit Rocket HomesSM to get a proven real estate agent that's handpicked just for you.
How Do I Know Which REALTOR® To Choose?
Telling a real estate agent that you've decided to work with someone else is a conversation best avoided. While you're interviewing real estate agents and REALTORS®, vet their reputation and their license status, and ask them the important questions for you.
What is their preferred communication style? Do they work full-time or are they only available part-time right now? Have they helped other buyers find homes within your budget?
Don't agree to an exclusivity agreement until you feel confident they're the right fit. It's OK to say you're still in the interviewing process.
Summary
Breaking up with a real estate agent is best done as early as possible in the relationship, before they've invested unpaid hours into finding your next home. It can be as easy as simply telling your agent you're no longer interested in their services and thanking them for their time and expertise.
However, if you've signed an exclusivity agreement, you may want to weigh the length of time left on the contract with how receptive they might be to dissolving the contract before you ask for a termination.
As soon as you're ready to choose a real estate agent, Rocket Homes℠ is here to help you get in the home of your dreams (without those awkward breakup conversations).
Get approved to buy a home.
Rocket Mortgage® lets you get to house hunting sooner.
Related Resources
Viewing 1 - 3 of 3