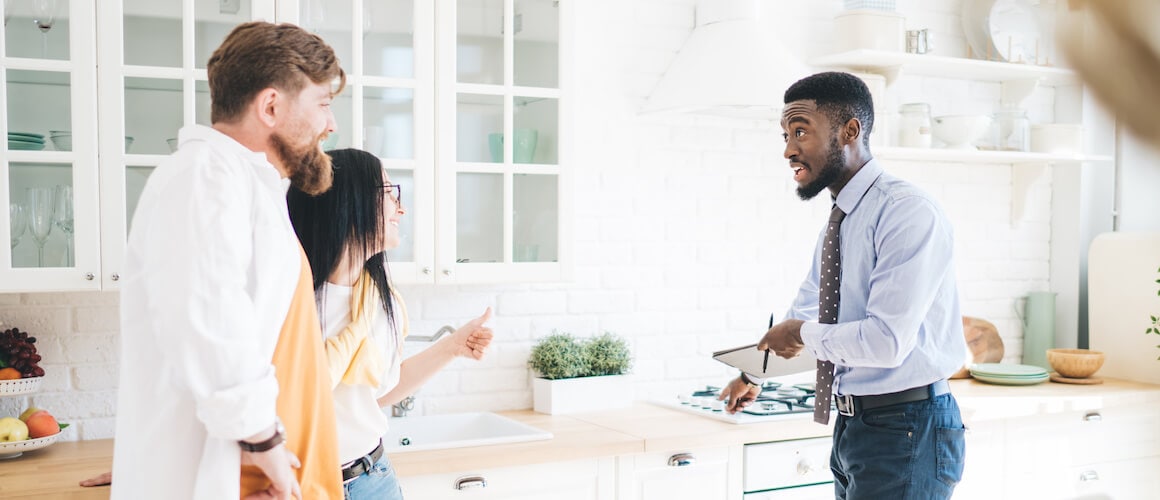 REALTOR® Definition, Role And Facts
Miranda Crace5-minute read
April 20, 2023
Share:
The real estate industry is rife with obscure terminology and tricky lingo. For example, you've likely heard the word REALTOR® used interchangeably with the term "real estate agent" or "real estate broker." In fact, some dictionaries even conflate the terms. While they're all real estate professionals, they absolutely have some key distinctions. Confusing, right?
So, what is the real definition of a REALTOR® and why is it a registered term? Read on to find out once and for all, and to learn exactly how REALTORS® differ from their real estate industry counterparts.
What Is A REALTOR®
A REALTOR® is any real estate professional who is a member of the National Association of REALTORS® (NAR), an association founded in 1908 as the National Association of Real Estate Exchanges. Those who hold the title of REALTOR® can include real estate agents, real estate brokers, property managers, appraisers or any other professional working in the real estate industry who holds membership in this association. There are currently more than 1.5 million REALTORS® in the United States.
The word REALTOR® is a federally registered collective membership mark. The designation is widely respected, as it requires adherence to the high standards and code of ethics of the association.
REALTOR® Vs. Real Estate Agent Vs. Real Estate Broker
While a REALTOR® is any member of NAR, a real estate agent is a professional who is licensed specifically to aid in the sale of real estate, under a broker. If a real estate agent is a member of NAR, they would also hold the REALTOR® designation, but it's important to note that not all agents are REALTORS®.
Agents work under brokers who run real estate firms. Like real estate agents, brokers are licensed to facilitate real estate transactions. Brokers are typically required to have several years of work experience as agents before they can take the broker's exam and obtain licensure.
Again, just to be clear, a broker would be considered a REALTOR® only if they were a member of NAR.
Real estate brokers might be confused with mortgage brokers in the real estate market. The key difference is that mortgage brokers work with lenders to help match people with financing. Real estate brokers connect home buyers and sellers.
See What You Qualify For
Congratulations! Based on the information you have provided, you are eligible to continue your home loan process online with Rocket Mortgage.
If a sign-in page does not automatically pop up in a new tab, click here
How Do REALTORS® Make Money?
REALTORS® help people buy, sell and rent homes, taking care of everything from advising clients on market conditions, putting in offers and conducting walkthroughs. REALTORS® make money on commission, meaning they take a portion of a property's sales price. Generally, the buyer's agent and seller's agent each take 3% of the total sales price for the home. This combined 6% comes out of the profit that the seller makes on their sale.
What Is The REALTOR® Code Of Ethics?
As briefly mentioned before, REALTORS® are held to a high standard of professionalism and integrity. This isn't just lip service – REALTORS® follow a code of ethics, known as the Code of Ethics & Professional Standards, designed to protect consumers from dishonest business practices. The code discusses many aspects of a REALTOR'S® duties, including how to handle conflict, how to advertise and how to treat clients.
It's worth noting that real estate agents have much of the same training and expertise based on having to pass state licensing exams.
Should You Hire A REALTOR®?
The decision whether to work with a REALTOR® comes down to each individual and what's best for their situation. There are many advantages to partnering with a REALTOR® when buying or selling a home, including:
They are knowledgeable of the home buying process. Real estate transactions can be a complicated process so having someone on your side who is knowledgeable on the ins and outs of buying or selling a home can make the process less daunting for you.


They will always have your best interest in mind throughout. When you hire a REALTOR®, that individual works for you. You should be able to trust that your REALTOR® has your best interest at heart throughout every stage of the transaction, so you can count on them to provide you with guidance and advice whenever needed.


They have superior negotiation skills. Whether you're buying or selling a home, a REALTOR® 's negotiation skills can come in handy and help you more easily attain whatever you're looking to achieve.


They can save you time and energy. Buying or selling a home is a complicated process, and because of this, some prefer to partner with a REALTOR®. Your REALTOR® will be able to take care of all the details throughout the real estate transaction, including preparing paperwork and making and taking calls on your behalf, saving you from the potential headaches these tasks can cause you if you try to navigate the process yourself.
Of course, these same attributes can also apply to real estate agents without the official professional designation of REALTOR®.
Alternatives To Hiring A REALTOR®
While there are undoubtedly benefits to working with a REALTOR® when buying or selling a home, doing so isn't required. If you're looking to sell or buy a house without a REALTOR®, it is possible to do it on your own. However, because the processes include complicated disclosures and legal contracts, many people find that hiring a REALTOR® or other licensed real estate professional is worth it in the long run.
How Do You Find A REALTOR®?
If you plan on using one, finding a REALTOR® to work on your behalf is an important first step in the home buying process. One of the most common ways people find a REALTOR® is through word of mouth. Chances are, someone you know has used a REALTOR® they really liked in the past, so asking friends and family for recommendations is a good way to start finding a REALTOR®. You can also find a reputable REALTOR® through real estate experts such as our sister company Rocket HomesSM.1
As you interview potential candidates, don't be afraid to ask questions about their experience and knowledge of the area you're buying or selling in. Below is a list of potential questions you may want to consider when speaking with potential REALTORS®:
What's your schedule and availability?


How many clients are you currently working with?


How long have you been a REALTOR®?


Do you specialize in any particular areas or property types?


What percentage of your listings do you sell?


How long does it take on average for a buyer to purchase a home with you?


How many homes did you close on in the last year?
The Bottom Line On REALTORS®
While REALTORS®, real estate agents and brokers are all real estate professionals, they are not interchangeable terms. REALTOR® is reserved solely for real estate professionals who are members of the National Association of REALTORS®. While working with a REALTOR® isn't required when buying or selling a home, doing so can help to make the process run more smoothly and ensure you have someone looking out for your best interest.
In addition to finding a REALTOR®, another important first step in the home buying process is to get your initial approval from your lender. If you're ready to begin, start your application online with Rocket Mortgage® today so that you'll be ready to start house hunting once you find the right REALTOR®. You can also give us a call at (833) 326-6018.
1 Rocket Homes® is a registered trademark licensed to Rocket Homes Real Estate LLC. The Rocket HomesSM Logo is a service mark licensed to Rocket Homes Real Estate LLC. Rocket Homes Real Estate LLC fully supports the principles of the Fair Housing Act. For Rocket Homes Real Estate LLC license numbers, visit  RocketHomes.com/license-numbers. California DRE #01804478. Hawaii License # RB-23371. TREC: Information about brokerage services, Consumer protection notice.
Take the first step toward the right mortgage.
Apply online for expert recommendations with real interest rates and payments.
Related Resources
Viewing 1 - 3 of 3