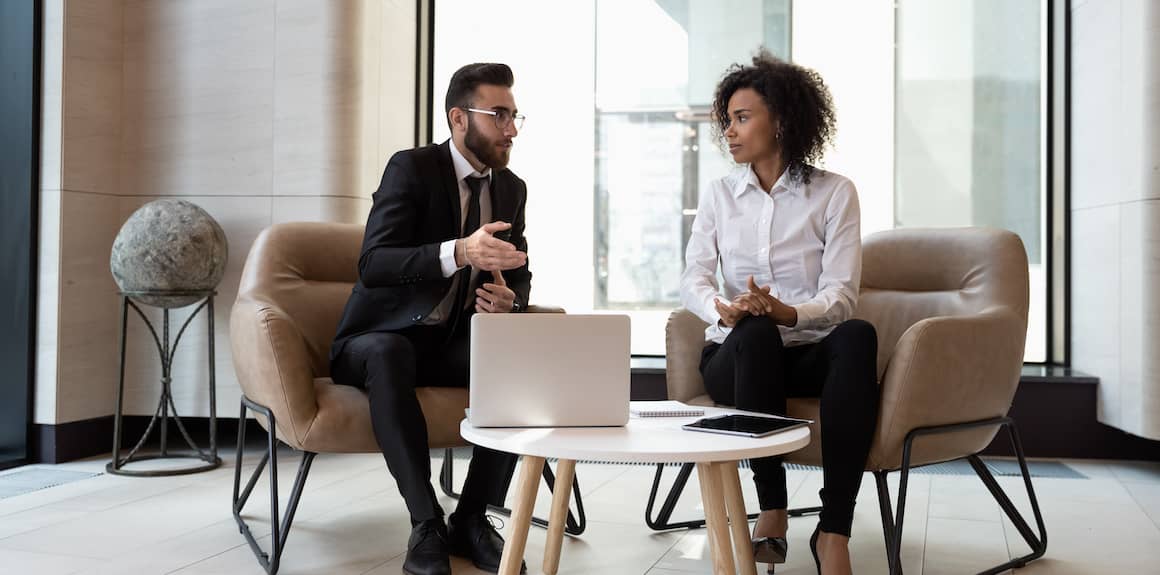 Dual Agency: What You Should Know Before You Buy
Sarah Sharkey4-minute read
February 27, 2022
Share:
In most real estate transactions, there is usually a buyer's agent and a seller's agent. But in some cases, you'll run into a mysterious dual agent. In the case of dual agency, the real estate agent can represent both the buyer and the seller in a real estate transaction.
Is it a good idea to work with a dual agent? Let's take a closer look at the advantages and disadvantages.
What Is A Dual Agent?
Dual agency occurs when a real estate agent works on behalf of both the home buyer and seller. In most real estate transactions, it is much more common to have separate agents represent each party, as this helps avoid the conflict of interest that can happen when an agent negotiates for both sides.
You can work with a dual agent, especially if you fall in love with a home that your real estate agent happens have listed. But it is more likely that you'll find a situation in which you have a buyer's agent who works with a listing agent. Be aware that in some states, dual agency is illegal.
Who Benefits From A Dual Agency?
As a buyer, you may be attracted to the ease of a dual agent arrangement. With only one agent involved in the deal, you may be able to streamline communications between the buyer and the seller.
Although there are some benefits for the buyer, the person who benefits the most from this type of agreement is not the buyer or seller. Instead, the person who benefits the most from a dual agency agreement is the dual agent themselves. As a dual agency, it will be difficult to maintain their real estate agent responsibilities and fiduciary duty to both parties.
After all, the dual agent will want to strike a deal that works for both parties. But as a dual agent, he or she will also be interested in closing the deal as quickly as possible without too much concern over the negotiation details.
Take the first step toward the right mortgage.
Apply online for expert recommendations with real interest rates and payments.
The Drawbacks Of Dual Agency
If you are considering a dual agency arrangement, there are some drawbacks that you need to be aware of. These include the following:
Misaligned interests between the agent and the buyer. Because the agent commission is based on the sale price, a dual agent may not be inclined to help the buyer negotiate a better price.
Misaligned interests between the agent and the seller. Although the agent and the seller want to get the best price, the agent may feel pressure to close the deal more quickly.
Conflicts of interest. Dual agents can't give advice to either side that they represent without creating a conflict of interest.
Increased workload for the agent means limited availability. Dual agents take on twice the work compared to an exclusive agent, which means buyers and sellers have to battle each other for the agent's attention.
The drawbacks can be overcome in certain situations. But you shouldn't pursue this arrangement if you aren't comfortable.
Are Dual Agents Illegal In Certain States?
Even if you are interested in working with a dual agent, it is not possible in all states. In fact, it is outright illegal in several states. These states include Alaska, Colorado, Florida, Kansas, Maryland, Oklahoma, Texas and Vermont.
Although dual agents are legally allowed to operate in most states, there are usually restrictions in place that limit dual agency powers. The buyers and sellers will need to provide written permission to the agent to move forward if the topic of dual agency comes into the picture. Without written consent from both parties, a dual agent would not be able to move forward.
Breaking Down The Commission For Dual Agents
The seller will pay the commission in a dual agency scenario. Although the exact amount of the commission will vary, it is typically between 5% – 6% of the purchase price.
When the buyer and seller each have their own representation, the agents will have to split the commission in half. With that, each agent would only receive 2.5% – 3% of the purchase price.
There is a financial incentive for a dual agent to run the entire transaction and pocket the complete commission. Therefore, it's important to be cautious when considering a dual agency scenario because the seller's interests don't align with the buyer's interest.
Dual Agents Vs. Designated Agents
A dual agent is an individual who acts as both the buyer's and seller's agent in a transaction.
It is easy to confuse dual agents with designated agents. But unlike a dual agent, designated agents are two separate individuals representing the buyer or the seller. However, the designated agents may work for the same brokerage firm.
With designated agents, you'll know that you have someone with your best interests working with you. With that, many buyers and sellers prefer to work with a designated agent to ensure their REALTOR®️ has their best interests in mind.
The Bottom Line: Is Dual Agency The Right Decision For You?
Although there is nothing wrong with working with a dual agent, it can be tricky to confirm that your real estate agent is working for your best interests. It may be an easier option to work with your own agent to make sure that your interests are being taken care of.
Take your time to weigh the pros and cons before working with a dual agent. As you explore your options throughout the buying process, take advantage of the Rocket Mortgage®️ Learning Center. You'll find more information there to help you successfully navigate the home buying process.
Get approved to refinance.
See expert-recommended refinance options and customize them to fit your budget.
Related Resources
Viewing 1 - 3 of 3