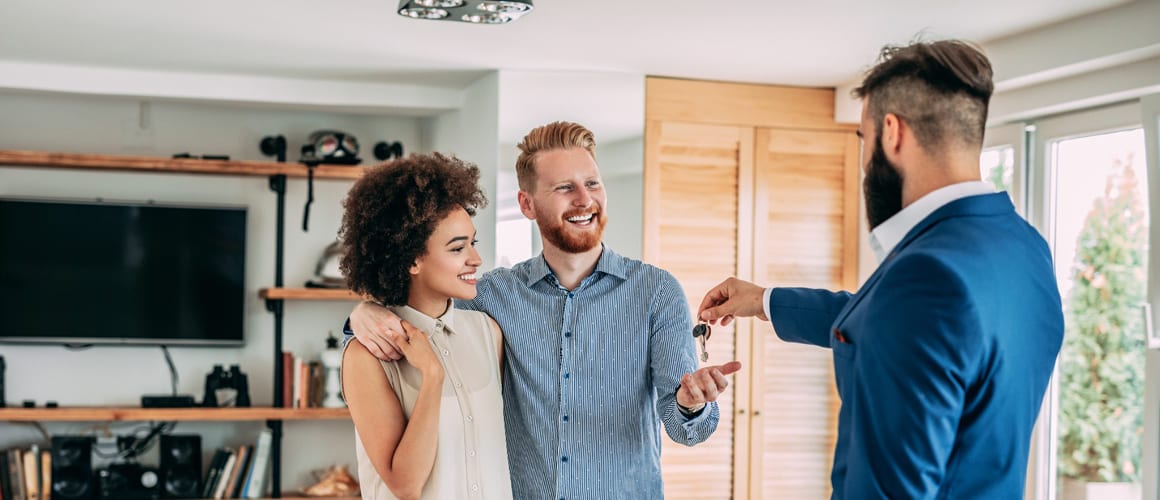 FSBO Meaning: Buying A House That's For Sale By Owner
Victoria Araj6-minute read
April 20, 2022
Share:
You finally found the perfect house, which turned out to be harder than expected in this current housing market. Fortunately, your offer has been accepted, and you're ready for the next step, but your agent told you the home is for sale by owner.
While selling a house by owner can be tricky so can the buying process for the new homeowner. What does that really mean, and how does that affect the buying process? Read on to learn more about owner-sold homes.
What Does FSBO Mean?
For sale by owner (FSBO, pronounced "fizz Bo") homes are sold by the homeowner without the help of a listing agent. Before you buy a home directly from a homeowner, let's walk through how buying a FSBO home differs from buying a property that's listed by a real estate agent.
The Pros And Cons Of Buying A House For Sale By Owner
While dealing directly with a homeowner may sound intimidating, there are a few advantages potential buyers can enjoy.
Benefits
Direct communication:

When you buy a FSBO home, you eliminate the intermediary (i.e., the listing agent) and communicate directly with the homeowner. This might give you more room to negotiate.

Detailed information about the home:

No one knows more about a home than its owner. When you buy a FSBO home, you can learn more about the neighborhood, local hot spots and home features by speaking directly with the owner.
Drawbacks
Unfortunately, there are also disadvantages that can make a FSBO sale more difficult and complex than other real estate transactions.
Inflated sense of home value:

Most homeowners who sell their houses have no experience in real estate. With little knowledge of the housing market, homeowners may have unrealistic ideas about what their home is really worth. This could spell trouble when it comes time for the home appraisal – and of course, it could mean you'll pay more for the home than you should.

Shaky disclosures:

Sellers are required by law to disclose known problems with a home during the sales process. Any known defects – like mold, roof damage and plumbing issues – must be acknowledged before closing. Unfortunately, independent sellers aren't always honest or may be unaware of disclosure requirements and may hide problems from prospective home buyers.

Difficulty getting repairs made or costs covered:

Since most people who forgo using an agent are doing so to save money, you might have a tough time convincing FSBO sellers to make repairs. These sellers typically don't want to spend more money on a property they're trying to get rid of, even if repairs need to be made.
The Steps To Buying A House From The Owner
The process of buying a house can feel overwhelming in general. To make things less confusing, here are the five main steps most people will follow to buy a home that's for sale by owner.
Remember: if you're thinking about buying a FSBO home, make sure to consult with a real estate professional.
Step 1: Get Approved For Your Mortgage
With any house purchase, the first thing you'll need to do is get approved for your home loan so you know exactly how much you can spend. You can apply online with Rocket Mortgage® . It's a great way to get an approval letter fast so you can get out there and start shopping. Most smart sellers don't let people in the door without preapproval from a lender.
Step 2: Consider Working With A Buyer's Agent
Once you're approved for your mortgage, you can engage the services of a real estate agent or REALTOR®.
A buyer's agent can be beneficial even if you already have a specific home in mind. With an FSBO transaction, your agent will negotiate on your behalf and handle the complicated paperwork for you. This is especially important if the seller is doing their own paperwork because your agent will make sure everything checks out, so you don't run into any problems.
The seller usually pays the commission fees for the buyer's real estate agent, so working with a buyer's agent can offer a huge opportunity with very little downside. Just make sure the homeowner agrees to pay your real estate agent's commission as part of the purchase agreement.
Step 3: Take An In-Depth Look At The Home
If you're working with a real estate agent, they can usually arrange showings for you through the multiple listing service (MLS), but most FSBO homes won't be listed there. Instead, you and your agent might have to search for open houses or listings by word of mouth or with a different platform.
If you're not using an agent, you can get a showing by contacting the seller directly. If the seller is present at the showing, it's a great opportunity to ask questions and get to know the home and the area.
Step 4: Make An Offer
When you find a home you like, it's time to make an offer. If you're using a real estate agent, they'll be able to offer opinions on how the home is priced so you know whether you should bid below, at or above the asking price.
Step 5: Close On The Home
Once you've received a final approval on your mortgage and completed all the necessary inspections, it's time to close. This is when the ownership of the home will officially be transferred to you.
At closing, you'll pay your down payment and closing costs. If you're immediately taking occupancy of the home (i.e., the seller hasn't negotiated to stay in the home past closing), you'll get the keys to the house.
Tested. Trusted. Top-rated.
Visit Rocket HomesSM to get a proven real estate agent that's handpicked just for you.
FAQs About Buying A FSBO Home
How does for sale by owner work when creating a purchase agreement?
A purchase agreement is a contract between a seller and a buyer that lays out the terms of the home sale. In most real estate transactions, the seller's agent is responsible for the purchase agreement. If the home is for sale by owner, then drafting the purchase agreement might become the responsibility of your real estate agent.
If you're not using a real estate agent, then you and the seller have a couple of options:
Hire someone to draft the agreement.

You may want to hire a transactional agent – a real estate professional who facilitates paperwork for both parties – or a real estate attorney to handle this step.

Draw up the contract yourselves. If you choose to create the purchase agreement yourself, you'll need to ensure that it contains all the required information. The buyer's and seller's full names, home address, purchase price, earnest money deposit

and closing date are just a few requirements. Make sure you consult with a real estate professional before using a homemade purchase agreement.
Do you have to get an inspection when buying a FSBO home?
Although it's not required, we would recommend you never buy a FSBO house without a proper inspection. A trained home inspector reviews the house's major systems, appliances and structure during their visit. This process is a great way to find out what may need repairs now or in the future.
Keep in mind that the home inspection is different from the appraisal. While an inspection is part of the home appraisal, the appraiser isn't looking for problems; they're just assessing the home's overall condition and some basic safety elements and looking at comps to figure out how much the property is worth. The appraisal is a required part of the mortgage process, but the inspection isn't – which means you'll need to hire an inspector yourself.
What can you do if the FSBO home needs a repair?
If your inspector finds a problem with your new home, you have a few options.
Ask the seller to fix the problem:

You can ask the seller to fix the problem at their expense before buying the home. This is the easiest solution for buyers, but you can't guarantee that the seller won't choose a sub-par contractor.

Ask for a credit to fix the problem:

You can ask the seller to credit you for the cost of repairs after closing. This ensures that you can choose the contractor, but you may have a more difficult time convincing a seller to agree to a repair bill if they don't know the cost ahead of time.

Ask for a reduction in sale price: The seller might be convinced to lower the home's asking price so you'll have money to make the repairs yourself.

Cancel the sale:

If the problem is severe and you can't reach a solution with the seller, you can always cancel the sale.
Make sure to consult your real estate professional for help in figuring out how to navigate any inspection problems that come up.
The Bottom Line
Buying a home that's for sale by owner (FSBO) won't always mean savings for you. While the owner will most likely save by not using a listing agent, it may introduce some problems to the home sale process.
As the buyer of a for sale by owner home, it's up to you to scrutinize the property carefully and do your research to make a fair offer. Working with a real estate agent can protect you from overpaying for the home and running into problems with the purchase agreement and other documents.
If you're looking for a real estate agent who can help you navigate the home buying process, our friends at Rocket HomesSM can help match you with a real estate agent who understands your goals and concerns.
Tested. Trusted. Top-rated.
Visit Rocket HomesSM to get a proven real estate agent that's handpicked just for you.
Related Resources
Viewing 1 - 3 of 3