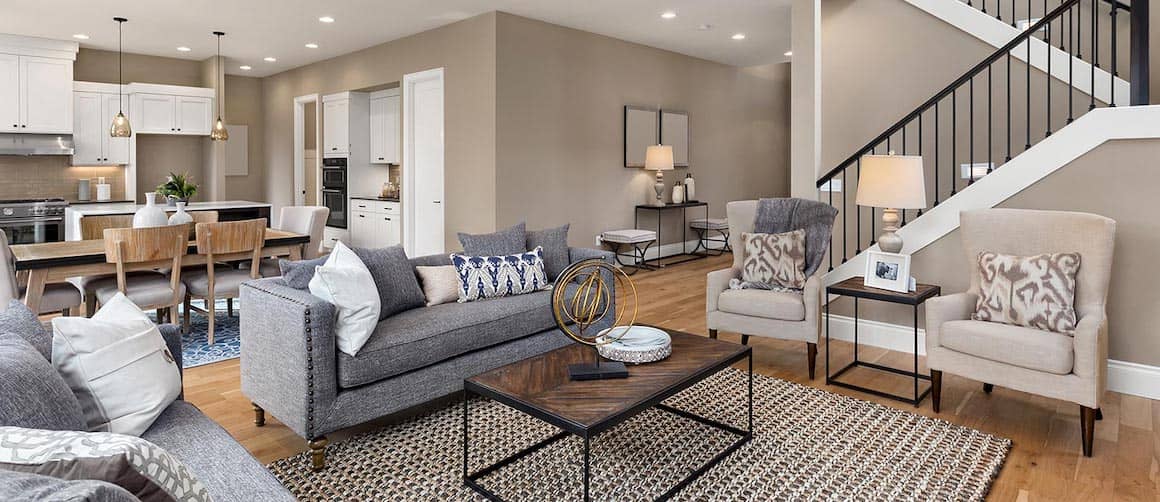 Best Home Layout Based On Your Enneagram
Victoria Araj7-minute read
March 29, 2023
Share:
Those with strong personalities may need a bit of tranquility to stabilize their boldness, while others who flourish in their free-thinking ways need a space that is full of color and spontaneity. Living in a space that suits your personality allows you to find appreciation in the way you see the world.
The Enneagram system is a tool that describes nine different types of personalities. An Enneagram type describes how a particular person manages their feelings and their reactions. A person typically has one dominant type that they connect to, but they can also connect to the other types on a smaller level. The Enneagram types you best connect with are unique to you, and your space should reflect that.
Different floor plans can impact how we feel within our own space. Studies have shown that how you set up your living space can affect your comfort level and sociability.
You can always change the design style of your home, but it's not easy to change the home's original floor plan. Knowing the best home layout for your Enneagram type will help you when purchasing your perfect home.
Take the first step toward the right mortgage.
Apply online for expert recommendations with real interest rates and payments.
1. The Reformer: Split-Level
The reformer loves to be in control of their space. For Type 1s, every inch of the home has a purpose and no attention to detail is spared. A split-level floor plan allows Type 1s to keep things practical while having designated spaces for specific functions. Each part of the home has a purpose.
Style suggestions:
Minimalist interior: Focus on neutral colors and clean lines. Keep the room decor simple but tasteful.
Storage spaces: Be creative with your storage by building custom shelving in your living space or purchasing furniture that can hold miscellaneous items like extra blankets or throw pillows.
2. The Helper: Combined
The helper cares for all that come into their home and enjoys taking the lead as party host with friends out of generosity. A combined floor plan allows for a large, open gathering space despite minimal square footage, which can be seen in combined layouts in smaller spaces, like a studio apartment.
Style suggestions:
Farmhouse interior: Type 2s are warmhearted and thrive in a homey and inviting space. Choose cozy furnishings with warm accents that can be complemented with modern lighting fixtures.
Rustic features: Rustic wood features like shiplap walls or a large wooden dining table pair nicely with a farmhouse-style interior.
3. The Achiever: Loft
The achiever is adaptive to their environment but likes to be surrounded by objects that reflect their drive to impress. The loft-style floor plan is ideal for Type 3s who are goal-driven and don't have time to bother with decor.
Style suggestions:
Industrial interior: This design style best suits the achiever's focus on their image. Choose grand lighting fixtures and highlight natural lighting to shine bright on the steel elements of the room. Choose sleek furniture pieces that don't take up much space.
Positive impression: Incorporate a few hand-picked pieces of home decor from well-known brands and designers. The space should be open and full of elements that will impress their visitors, whether that be high-end art or rare memorabilia.1
4. The Individualist: Open Concept 
The individualist doesn't shy away from dramatics, but they're in tune with their emotions and try to protect their sensitivity. An open-concept floor plan is ideal for Type 4s, as they can fill the space with color and whimsical details for all to see and enjoy.
Style suggestions:
Eclectic interior: A Type 4's home should reflect their personality with a space full of expression! Mix and match furniture pieces with complementing tones and patterns.
One-of-a-kind design: Add bright pops of color such as a bold accent wall, custom decor and special items picked up from antique shops and thrift stores. Add a statement piece of art in every room, whether that's a framed textile or a curious painting.1
5. The Investigator: Closed Concept
The investigator is a deep thinker and likes to spend time looking introspectively at themselves and their life. A closed-concept space allows Type 5s to have designated spaces, including a space dedicated to meaningful quiet time.
Style suggestions:
Traditional interior: A closed-concept space flourishes with a traditional interior, as it spotlights rich details without feeling too confined. Dark woods and lush fabrics reflect a "coffeehouse" feel to the space – perfect for times of deep thought.
Reading space: Create a space dedicated to reading, such as a comfortable chair or a nook by a window.2
See What You Qualify For
Congratulations! Based on the information you have provided, you are eligible to continue your home loan process online with Rocket Mortgage.
If a sign-in page does not automatically pop up in a new tab, click here
6. The Loyalist: L-Shaped
The loyalist takes pride in their commitment to their friends and family. They're security-oriented and feel grounded when they feel safe. An L-shaped home allows plenty of privacy for Type 6s, as well as a strong floor layout against harsh weather conditions.
Style suggestions:
Midcentury modern interior: Type 6s can easily be overwhelmed with anxiety during stressful times, so they need a space that's relaxing and illuminated. Focus on simple lines and plenty of natural lighting. Light-colored wooden furniture with abstract art pieces is the way to go.
Add pops of color: Pick out chair coverings or throw pillows with fun pops of color, like cobalt blue, which symbolizes loyalty, to tie the whole look together.
7. The Enthusiast: U-Shaped
The enthusiast finds joy in staying busy and is the life of the party. They're versatile in most situations, which their space should reflect. A U-shaped home has one of the most unique layouts, with its focal point on the courtyard space. However, every part of the space is dual-use and can be used for entertaining or relaxation, depending on the day.
Style suggestions:
Mediterranean interior: A pool and Mediterranean interior couldn't be a better match for a Type 7 who enjoys staying active and creative between their frequent travel adventures. Highlight architectural elements like detailed trimming and large windows that look out to the courtyard space.
Entertainment space: The space should be open and inviting and arranged for larger groups of people to congregate.2
8. The Challenger: Multistory
The challenger thrives in tough environments and is always the most confident in the room. They tend to have dominating personalities, so they need a space that can calm them. A multistory floor layout allows for a variety of different spaces but can be tied together with a simple design style.
Style suggestions:
Contemporary interior: Contemporary interior design provides a light, airy and cheerful essence.3 Having a calm, but sophisticated space helps to balance Type 8's bold persona.
Unique lighting fixtures: Just because contemporary design focuses on neutrality, doesn't mean it needs to be boring. Pick out lamps and light fixtures that are unique and draw attention.
9. The Peacemaker: One Story
The peacemaker likes to go with the flow, both in and out of their home. They don't enjoy conflict and prefer to live in the solitude of peace and tranquility. A one-story floor layout is easy to manage and is ideal when paired with an effortless design style that doesn't overwhelm Type 9s.
Style suggestions:
Bohemian interior: You can never go wrong with a simple bohemian design for Type 9s, as it embodies their free-thinking spirit. Layer simple, neutral patterns and textiles with subtle pops of jewel colors for a cohesive interior style.
Natural pieces: Pick out natural pieces to complement the textiles, like wicker baskets and wood shelving and tables. Choose light-colored furniture coverings like cream and white to balance out the color scheme.
Home Floor Plans Tips And Tricks
Here are some go-to tips and tricks to keep in mind when designing your new space, whether you're starting from scratch or building on your existing space.
How To Design A Floor Plan With Ease
To design a floor plan, you should hire a professional draftsperson who knows how to accurately design a safe and reliable floor plan. However, if you're planning to design your own custom home, learn how to create a floor plan with these steps:
1. Choose the plot or area: Decide on the space that you'll be designing a floor plan for, whether it's an open piece of land or an open constructed room.
2. Take precise measurements: If it's an open constructed room, measure the doors, walls and floor space. If it's a piece of land, measure the total ground area where the house will be built to get a measurement of the floor space.
3. Draw and design: From there, on a design device or application, add the walls for each room or space of the home to scale. Add architectural features to the design, like windows, doors and appliances. You can then add in where the furniture will sit.
How To Avoid Floor Plan Mistakes
Even if you're not currently house hunting, knowing what to avoid in a floor plan will help you pick the best floor layout for your lifestyle.
Safety features: If you're planning to raise a family in the home, staircases that lack proper railings and balconies won't be ideal. If you'll be living with someone who can't go up traditional staircases, you should plan on a one-story floor plan. Remember to design an accessible emergency escape route in the event of a fire or dangerous weather.
Lifestyle: When looking at a floor plan, consider the kind of lifestyle you have. If you tend to host gatherings and entertain, a closed-concept layout won't work. If you like to spend time in a quiet space by yourself, a one-room open layout won't be fitting.
Touring open homes: If you're touring a home, avoid focusing on the beautiful stainless-steel upgrades catching your eye. Instead, focus on the space itself and imagine yourself living day-to-day in the home.
Layouts are an important consideration in the home buying process because they aren't easy to change. Design, on the other hand, can be redone, so try out some of these expert design tips to create a balanced space that reflects your personality.
If you're not living in a space that your Enneagram type favors, it can impact how you live your daily life, including how you manage time and move from task to task. Learn more about how your Enneagram type navigates time management and the best ways to increase your productivity below.
Tested. Trusted. Top-rated.
Visit Rocket HomesSM to get a proven real estate agent that's handpicked just for you.