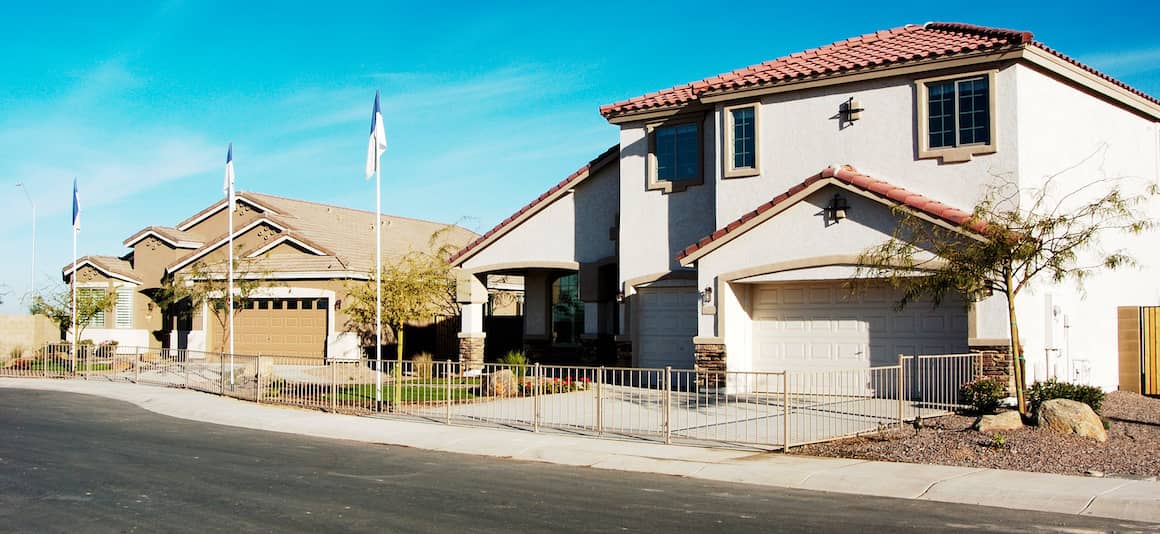 Is Buying A Model Home A Good Idea?
Jamie Johnson4-minute read
April 13, 2023
Share:
You've probably come across a model home if you've ever driven through a newer neighborhood. These display homes aren't lived in but are meant to demonstrate to potential buyers what's possible with the other houses in that neighborhood.
But as construction winds down in that neighborhood, many builders will eventually sell the model homes as well. But is buying a model home from a builder a good idea? This article will explore how to buy a model home and the pros and cons of that decision.
What Is A Model Home?
A model home is a show property that's intended to display the work of a home builder to prospective buyers. It showcases the design, floor plan, upgrades and amenities of potential new construction homes in development. Model homes can come in many types of home styles.
Can You Buy A Model Home?
If you've ever viewed a model home and fell in love with its particular design and amenities, you may have found yourself wondering if it was available for purchase. Although a model home is primarily used to sell other homes in the neighborhood, you may be able to buy one. Model homes are typically the last properties to be sold in that development. Once most new construction homes have been sold, the builder may list the model home at a discounted price. If you're interested in viewing and potentially buying a model home, you may want to get started on your mortgage approval ahead of time so that you'll be ready to make an offer once you find a home you love.
Take the first step toward buying a house.
Get approved to see what you qualify for.
How Does Buying A Model Home Work?
The process of buying a model home is similar to the traditional home buying process. You should make sure you're represented by a real estate agent when you meet with the builder. It's best to use a different real estate agent than the one the builder uses, that way there won't be any conflict of interest and your agent can focus on getting the best deal for you.
You should ask to see all the different model homes in that neighborhood and compare them to other homes in the area. From there, you can negotiate a price with the builder. Make sure to have the home inspected and check up on the reputation of that builder before signing a contract.
Buying A Model Home Vs. Traditional Housing
Here are some of the biggest differences between buying a model home and a new home:
Model homes may not be listed: Model homes may not be listed or visible on the multiple listing service (MLS). The builder will usually only list the homes they are actively working on selling.
Model homes might be cheaper: Builders are sometimes motivated to sell model homes at a lower price point, so there may be more room to negotiate.
Model homes can come move-in ready: Model homes are typically sold as is and may come with furniture plus other amenities.
Home builders may offer financing options: Home builders sometimes work directly with lenders and can offer a mortgage. However, home buyers should still look into other loan options. It's important to shop around for lenders to see who will give you the lowest rate and the most favorable terms on your home loan. Locking in a lower interest rate can save you thousands of dollars over the life of your loan, so be sure to do your due diligence when comparing terms from potential lenders.
How To Buy A Model Home From A Builder
If you're thinking of buying a model home, here are seven steps you can take:
1. Work With A Real Estate Agent
Before buying a model home, your first step should be to find a qualified real estate agent to work with. That person can assist you in purchasing a model home by looking at real estate comps and negotiating with the builder's agent. And a real estate agent will give you their opinion on whether you're getting a good deal and should move forward with the home purchase.
2. Get A Home Inspection
Even though you're buying a home that's never been lived in before, it's still a good idea to request a home inspection on a model home. This information you receive could help you negotiate a better price on the house.
3. Ask If Someone Previously Occupied The Model Home
Even though the home hasn't been previously lived in, it's a good idea to ask whether or not it was previously occupied. For instance, the house could have been used as a sales office for a period of time. This is important because it helps you understand what kind of condition the home is in.
4. Consider Your Own Loan Options
Builders often offer lending options, but it's a good idea to look into your own loan options. Taking out a loan from another lender could help you find a better deal when you're getting a mortgage and home warranty. In general, it's good to have a preapproval in hand when you begin house hunting so that you know how much home you can afford.
5. See About An Extended Warranty
A model home isn't exactly a brand-new home, so it may not come with a full warranty. Because of this, it's a good idea to ask the builder for an extended warranty on the house. This will protect you from any issues that arise during the first year.
6. Negotiate The Sales Price
Even if you feel like the builder is already offering a good deal on the house, you can always negotiate the purchase price of a model home. Your real estate agent can assist you during the negotiation process and help you get the best deal for your money.
7. Look Into The Builder's Background
And finally, before you close on your model home, it's important to look into the home builder's reputation. Check to see if that person has any pending lawsuits or other red flags you should know about.
Should You Buy A Model Home?
Still wondering if buying a model home is right for you? If so, it may be helpful to compare the pros and cons of using this route to achieve your goal of homeownership.
Pros
Buying a model home can offer many advantages to home buyers. Model homes often come with:
Lower prices: Model homes may be priced lower than other homes in the development.

Better amenities: Model homes can come with upgraded amenities that were installed to showcase to potential buyers.

More room to negotiate: The prices of model homes are often negotiable.
Cons
Of course, there are also some potential downsides to buying a model home. When you purchase a model home, you could be getting:
A potentially older model: A model home may be older or more outdated than others in the development.

More wear and tear than a new construction home: Model homes could be depreciated from constant walk-throughs.

Lower-quality craftsmanship: Some model homes have rushed construction to get them in front of buyers.

Minimal warranty coverage: You may not get a full home warranty with a model home.
The Bottom Line On Buying Model Homes
Buying a model home can be a good opportunity to purchase a new home at a lower price point. However, it's important to do your due diligence on the house and research the builder, as well as take steps, like ordering a home inspection, to ensure the house you're looking at is in good condition. If you're ready to start the home buying process, start your mortgage application online with Rocket Mortgage®.
Get approved to buy a home.
Rocket Mortgage® lets you get to house hunting sooner.
Related Resources
Viewing 1 - 3 of 3