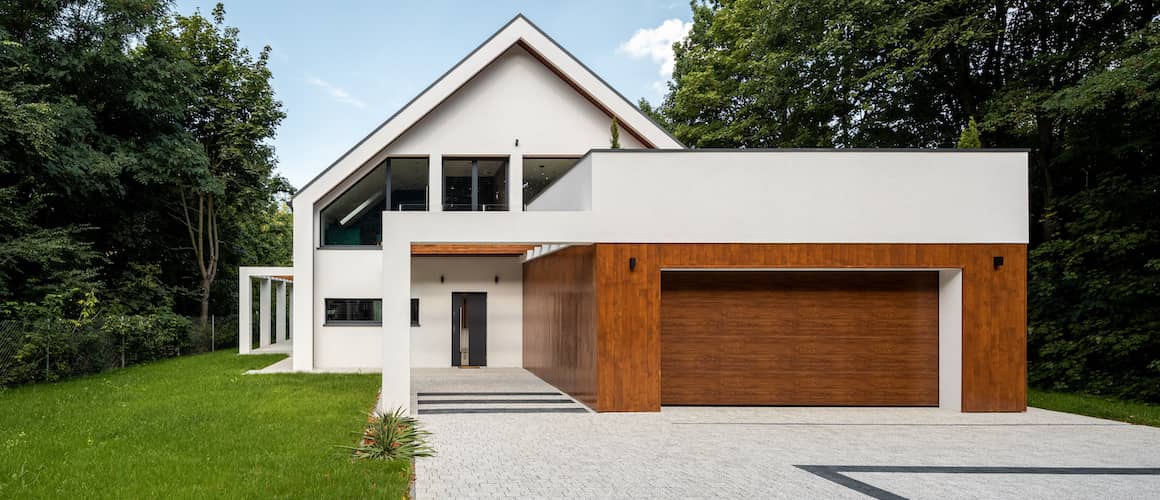 What Is A Spec Home?
Melissa Brock4-minute read
May 22, 2023
Share:
The most obvious way to become a real estate investor is to buy rental property. However, did you know that you can become a real estate investor in other ways? You can invest in real estate stock or a real estate investment trust (REIT), participate in a real estate crowdfunding opportunity, rent out part of your home or build a spec home.
If you're looking to invest in or buy a house, you can tap into many advantages if you go with a spec home. We'll walk you through the cost of spec homes, the pros and cons of buying a spec home, the difference between a custom home and a spec home and the best time to buy one.
What Is A Spec House?
What is a spec house, anyway? A spec house – short for speculative house – is a new house that a home builder constructs on the speculation that it will sell easily for a profit. Builders design these move-in-ready homes to be as appealing to home buyers as possible.
In other words, a spec home is built on the speculation of what home buyers are looking for. For example, builders might include ample amenities and upgrades or build a spec home in a quality neighborhood. Home builders take careful note of real estate trends and the real estate market to determine where and what to put in the spec homes when they build them.
If you find yourself looking at spec homes in a competitive market, a higher level of financial backing can help to strengthen your offer. Rocket MortgageⓇ offers Verified Approval, which takes a closer look at your income and assets to provide you with a firmer understanding of what you can afford and the ability to show sellers you're serious and ready to buy.
See What You Qualify For
Congratulations! Based on the information you have provided, you are eligible to continue your home loan process online with Rocket Mortgage.
If a sign-in page does not automatically pop up in a new tab, click here
The Cost Of Spec Houses
You'll generally pay less for a spec home per square foot compared to a similar customized production home or custom-built home. Quality home builders put their money into home plans that they know will turn out solidly built homes. The goal is to give home buyers a good deal for a well-built home.
What Determines The Price Of A Spec Home?
A few factors will determine the price of a spec home, including the following:
Supply of property lots

Amenities and upgrades

Surrounding home values in that particular neighborhood

Design of the home

Material quality

Square footage

Buyer demand
Can You Negotiate The Price Of A Spec House?
Builders usually construct several comparable spec homes, which means that the style of home will likely have a going rate. They may not want to negotiate with you and may want to stick with their base price. However, depending on your specific situation, you might be able to negotiate the price.
You may consider negotiating by asking the seller to cover your closing costs. You pay closing costs to your lender to process your real estate transaction. Closing costs include fees such as origination fees, home appraisal fees, title searches and other costs during the home buying process.
You may also be able to negotiate upgrades if the house isn't already built, such as higher-quality cabinets, countertops or better carpet. This way, you can get a nicer home but keep a lower price.
Note that sometimes, a spec home is built for you and sold as-is. In some cases, if you want to make any changes to it, you'll do so after you own the home, and it'll be on your dime. Sometimes builders may not comply with your requests to upgrade.
How To Buy A Spec Home
The process of purchasing a spec home is similar to that of a traditional property – you'll need to decide how to finance the home purchase and what type of mortgage works best for your situation. The plus side is that buying a spec house is often a quicker process than buying a custom or new construction home because spec homes are move-in ready.
You can accelerate the home-buying process even further by getting initial mortgage approval before starting your home search. If you know you want to buy a spec home, starting the approval process and getting Verified Approval shows that you're serious about buying a home. It can also give you a competitive advantage when you decide to make an offer on a spec house.
Make an offer that will get accepted.
Get a Verified Approval from Rocket Mortgage®.
Pros And Cons Of Buying A Spec House
Let's walk through the pros and cons of buying a spec house.
Pros
They're move-in ready new homes. You don't have to worry about installing new cabinets or countertops or whether the roof is in bad shape. You'll move into a quality home immediately.
They're affordable. You'll pay much less for a spec home than a custom home. Builders typically try to control the costs when they build, accounting for things like location, design and the quality of materials used in the construction.
There's little to no wait time for construction. Even if you choose a few parts of the spec home to personalize to your taste, such as the color of the countertops, you likely won't have to wait too long for the home to be move-in ready.
Cons
Limited customization is available. The builder gets to choose most of the features. They will base it on what they believe that home buyers are looking for in a new home, whether it's to your taste or not.
The floor plan is fixed.

You won't get to choose your floor plan. Again, it will be up to the builder to choose.
The home will be generic.

Spec homes often come with very basic flooring, cabinets, paint colors and more. Most spec homes look similar to previous spec homes the builder has built.
You'll be u

nable to choose the lot or neighborhood.

You cannot choose the lot or neighborhood where the spec house is located because the home will have already been built or be almost built to completion by the time you look at it.
What's The Difference Between A Spec Home And A Custom Home?
A custom house is a unique house designed for a specific client and for a particular location. A custom build or custom home project involves working directly with a home builder or architect to plan and select all the details that you want for your home.
It's unlike a spec home because a spec home does not allow you to choose the details from start to finish – most items are already chosen for you by the builder.
When Is The Right Time To Buy A Spec House?
You may want to consider buying a spec home from a local builder (particularly when you want to negotiate a deal). Try to buy when they aren't selling a lot of them, such as in the middle of winter or around major holidays. Your real estate agent can also walk you through the home buying steps and help you determine the right time to buy in your area.
The Bottom Line
Buying a spec house certainly comes with its share of limitations – like not being able to negotiate a home price or choose your desired floor plan. But a spec home is also an affordable, move-in ready option that can be appealing to home buyers and real estate investors alike.
Are you ready to take the steps to buy a spec house? Start the approval process today.
Get approved to buy a home.
Rocket Mortgage® lets you get to house hunting sooner.
Related Resources
Viewing 1 - 3 of 3