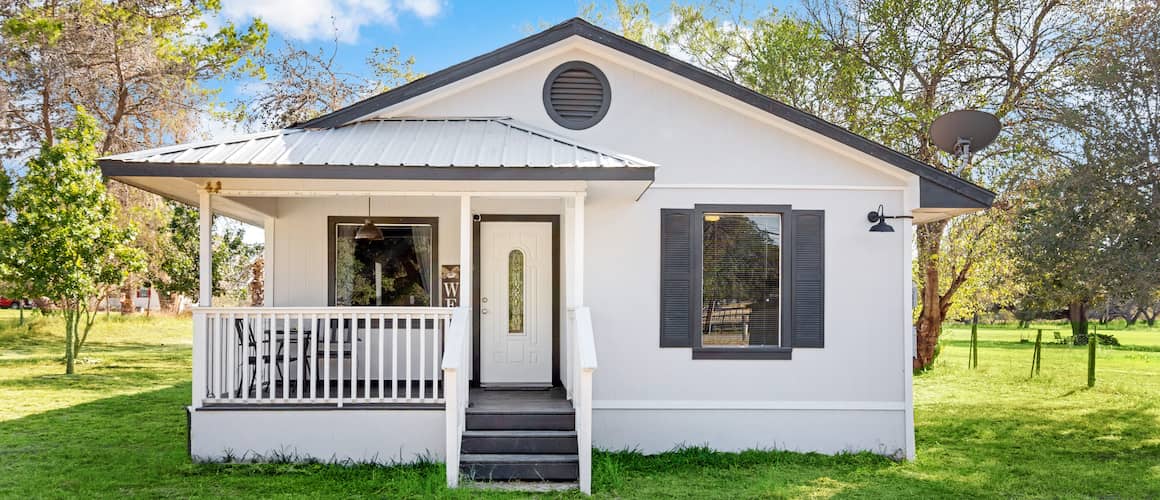 What Is A Resale House? Defined And Explained
Dan Rafter4-minute read
August 14, 2023
Share:
Looking to buy a home? You have two main choices: You can purchase a resale house or a newly built property.
Which choice is right for you? It might depend on how much money you can spend on your new home. It could depend, too, on how important it is to own a home that construction crews have built entirely with your tastes in mind.
Just know that both a resale house and new-construction home come with positives and negatives.
What Does Resale Mean In Real Estate?
A resale house is one that has been owned in the past. These homes are older and have a more lived-in feel to them because they are not newly built.
If you and your REALTOR® are touring homes in your real estate market and they're listed on the multiple listing service (MLS) as having been bought or sold before, you're looking at resale homes.
Basically, a resale home is any property that has not been newly built. Though these homes might have some wear, they often come with lower price tags than do new-construction properties. Because of this, they might be a good choice for buyers on a budget.
Resale homes often sit in more established neighborhoods, too – another positive for many buyers who prefer walkability to a sprawling subdivision.
See What You Qualify For
Congratulations! Based on the information you have provided, you are eligible to continue your home loan process online with Rocket Mortgage.
If a sign-in page does not automatically pop up in a new tab, click here
Resale Home Vs. New Build: What Are The Differences?
A new build house is a home that is freshly built, with no previous owners. You might work directly with a homebuilder to build a residence on a plot of land that you have purchased. When you do, you can specify exactly what features you'd like to include in your home.
You can also buy a new-construction home that has already been built but has not yet been occupied. You won't be able to customize this property, but you will get a newly built home in which you will be the first owner. The hope is that such homes come with fewer maintenance problems and the most modern of amenities and features.
When buying a house, you'll have to decide which option is best for you based on your lifestyle, budget and home preferences or needs.
The Pros And Cons Of A Resale House
Interested in buying an existing home, maybe one that has had two or three past owners? Here are the positives and possible negatives of such a purchase.
Get approved to buy a home.
Rocket Mortgage® lets you get to house hunting sooner.
Pros
Opportunity For Renovations
Resale homes can be a good choice for buyers who are interested in making home improvements or renovations. These homes often come with lower price tags than do new construction properties. Because of this, you might have more money available to renovate an aging kitchen, add a master bedroom suite or build your dream home office if you buy a resale property.
Could Cost Less
Resale homes usually cost less than new-construction homes. An existing home might have a layout that is slightly outdated, a kitchen that needs updating, smaller rooms or a less spacious backyard. Because of this, you can often purchase a resale home for less than what you'd spend on a new-construction residence.
More Room For Negotiation
You might have more opportunities for negotiation when trying to purchase a resale home. Say the owners are selling the home that they have lived in for 10 years for $380,000. You might make an offer for $350,000. If the sellers agree, you can sign a contract. But the sellers might come back with a counteroffer, perhaps agreeing to accept a price of $370,000 for the home.
It's possible to shave tens of thousands of dollars off the sales price of an existing home through such negotiations – especially if you find issues with the home the sellers don't want to deal with. You might not be able to negotiate any price reductions with a new-construction home, though. The developers who built it might have a set price in mind and might not be willing to budge from it.
Cons
Maintenance Issues Could Be Costly
Because of their age, and maybe because their owners haven't been diligent about maintaining the property, a resale home could come with expensive maintenance issues. Maybe the owners didn't want to spend the tens of thousands of dollars to replace their home's aging roof. If you buy that home, that deferred maintenance becomes your financial responsibility.
These maintenance issues could be especially costly if you're considering buying a fixer-upper. Yes, you might be able to purchase a fixer-upper for a lower price tag. But don't forget to include an estimation of the renovation or repair costs of such a home in your budget.
Less Functional Layout
Prefer wide-open spaces and airy rooms? A resale home might not offer that. Many older resale homes come with smaller rooms and narrow hallways.
In fact, the entire layout of a resale home might not be as functional as what you'll typically find in new-construction properties. Some bedrooms might be on the upper floor while others are on the lower. And if you're looking for a spacious master bathroom and ultra-modern kitchen, an older resale home, if it hasn't been renovated, might not offer either.
Could Come With Safety Hazards
Because of their age, resale homes might come with safety hazards. Maybe a resale home has lead paint in the bedrooms. Maybe it's suffered flooding over the years and has mold hiding in the basement. Termite infestations might have weakened the home's entire structure.
This is why it's important to order a home inspection when buying any resale home. An inspector can search for problems, including safety issues, in the property. You can then ask the home's sellers to fix the problems or provide you a credit or cash so that you can hire a professional to remediate the issues.
Is A Resale House Right For You?
What makes more sense for you, buying an old house or a new house? That depends on several factors. If you have a limited budget, a resale house, with its lower price tag, might be the better choice. If you like the character that comes with old houses or you want to move into a more established neighborhood, a resale home might be a good fit, too.
The key is to consider all the pros and cons of both newly built homes and resale properties before making your decision. There is no one-size-fits-all approach: A resale home is the better choice for some buyers, while a new home is a better fit for others.
The Bottom Line
Whether you are searching for a new-construction home or hunting for a resale property, you can start the mortgage process with us. Go online today to start your mortgage application and find your dream home.
Get approved to buy a home.
Rocket Mortgage® lets you get to house hunting sooner.
Related Resources
Viewing 1 - 3 of 3