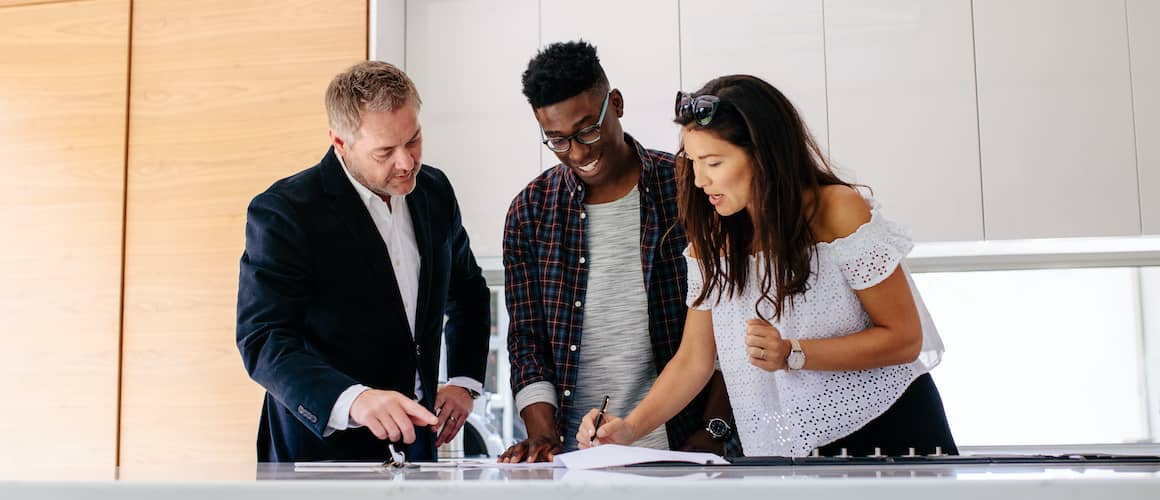 Proprietary Leases Defined: What They Are And How They Impact Co-Ops
Melissa Brock4-minute read
February 22, 2023
Share:
When you buy into a co-op, the property belongs to everyone who lives within it. A document known as a proprietary lease grants you the right to occupy a particular unit.
Prior to signing on the dotted line of your proprietary lease agreement, it's important to understand the ins and outs of the proprietary lease that governs your co-op.
So, what is a proprietary lease, exactly? Here's what you need to know about proprietary leases before you take the plunge.
What Is A Proprietary Lease?
A proprietary lease is an agreement that grants shareholders in a co-op the right to live in a particular apartment space. Also known as occupancy agreements, proprietary leases stake out the rights and responsibilities of shareholders and the cooperative corporation's board of directors.
For example, most of the units in New York City form co-ops. Because co-op buyers don't actually own their units (unlike condos, where buyers own their individual units or apartments), legal specifications of proprietary leases cover the relationship between shareholders and co-ops. The proprietary lease details the requirements that shareholders must follow for renovations, sublets, repairs and maintenance as well as other terms of their residency in that particular unit.
See What You Qualify For
Congratulations! Based on the information you have provided, you are eligible to continue your home loan process online with Rocket Mortgage.
If a sign-in page does not automatically pop up in a new tab, click here
How A Proprietary Lease Works
Most shareholders receive specific rights, such as the right to sublet a unit in a cooperative apartment building and what a typical proprietary lease document will include (such as validation of a shareholder's total number of shares).
The proprietary lease details the essential functions of the cooperative, including how the corporation will maintain the building for the good of all people who live there.
The proprietary lease includes (but is not limited to) the following inclusions:
Monthly maintenance payments
Monthly bills
Methods for services and repairs
Compliance with local, state and federal laws
Inspecting shareholders' apartments and giving tips on how to maintain them
The proprietary lease also lists shareholder responsibilities. For example, it might cover repairs and maintenance rules of an individual unit, including regulations related to paint, tile floors, light fixtures and more. It also details the care of items that belong to the building, such as windows and elevators.
In a cooperative apartment, the shareholder is the owner of the apartment and must pay to maintain items and ensure that they remain in good condition. If a shareholder wants to renovate, they must get written permission from the cooperative. These rules protect the cooperative and shareholders so that only licensed and insured professionals conduct work within the building.
You should review your proprietary lease in detail before you sign the agreement. You want to thoroughly understand the co-op's duties and your responsibilities before you sign. Note that co-ops don't give occupants ownership, meaning that shareholders don't receive a title or a deed.
Proprietary Leases Vs. Bylaws
Along with proprietary leases, bylaws also dictate how the co-op runs. However, the bylaws take a larger view of a co-op's and shareholders' responsibilities. Proprietary leases focus more on the contractual relationship between each shareholder and the co-op as well as the rights and responsibilities of each party.
For example, bylaws outline management of a property, board member eligibility and elections. Bylaws also dictate house rules. They detail information about annual meetings, quorum (voting majority), removal of the director by a board, executive committee and other committee rules. Bylaws may also cover details about the duties and powers of the board as well as information about members and compensation (meaning that directors may not receive compensation during their time on the board of directors).
An Example Of A Proprietary Lease In A Co-Op
Let's go over a hypothetical situation in which a shareholder might use a proprietary lease of a co-op to claim the rights to which they're entitled.
For example, let's say your proprietary lease includes a clause that grants the right to quiet enjoyment. You could cite the language in your proprietary lease in your case against a loud neighbor.
Your proprietary lease could state something like this: "The lessee shall not permit or suffer any unreasonable noise in the building that will interfere with the rights of other lessees."
In that case, your noisy neighbor could be in default of the agreed terms if the co-op board determines that the house rules have not been followed.
The Bottom Line: Proprietary Leases Don't Mean You Own Real Estate
Put simply, a proprietary lease is an agreement. The co-op board is responsible for setting policies and making decisions in the co-op's best interest. These rules are then enforced by a document known as a proprietary lease. Also known as occupancy agreements, proprietary leases share the rights and responsibilities between the shareholders and the cooperative corporation's board of directors.
Co-op membership comes with a few drawbacks. It's also important to know that the proprietary lease gives the management of the co-op the right to evict you if you don't pay maintenance fees or violate a rule. In addition, you don't actually purchase real estate when you buy into a co-op.
Learn more about the difference between condos and co-ops and their pros and cons.
Get approved to refinance.
See expert-recommended refinance options and customize them to fit your budget.
Related Resources
Viewing 1 - 3 of 3