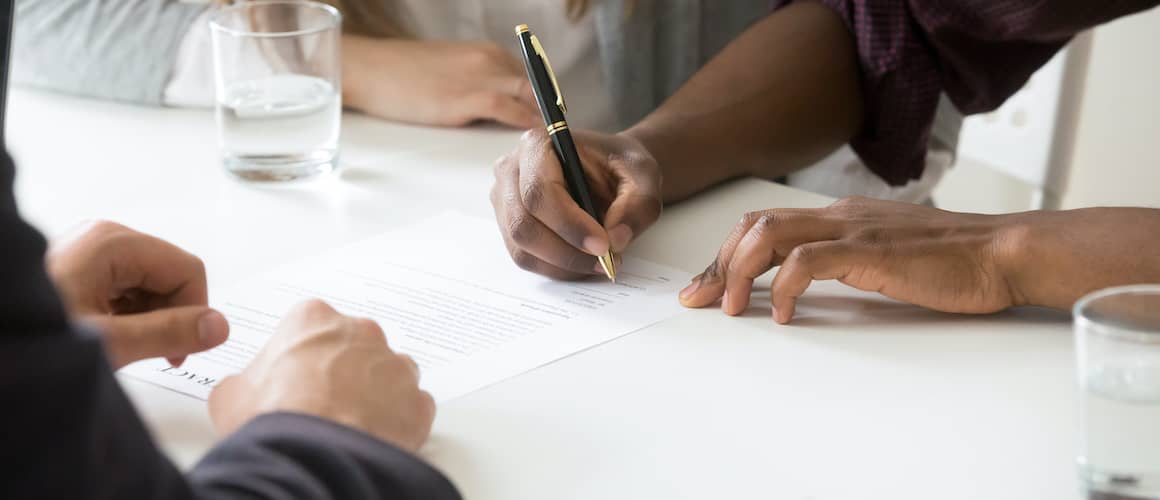 House Title: What You Need To Know
Molly Grace7-minute read
January 25, 2023
Share:
Owning property is legally complex. Think about it: with most other purchases, you can simply go to the store, hand over some cash, get a receipt and no one will ever question whether or not you truly own the item in question. Buying a home is, obviously, a lot different.
When you buy a home, you'll need to go through the process of taking title, which means that you become the legal owner of the home.
Let's take a look at what a house title is and what home buyers need to know about it.
House Title, Defined
A house title represents all of the legal rights surrounding the ownership and use of a residential property. A house title isn't a document; it's a concept used to establish a property owner's "bundle of rights."
This bundle of rights encompasses all of the rights that come with being a property owner. It means you have the right to: possess the property (Right of Possession); use (Right of Control) and enjoy (Right Of Enjoyment) it however you wish; sell, rent, or transfer ownership (Right Of Disposition); limit who can enter the property (Right of Exclusion).
These rights may be limited by the law, easements or liens on the property or homeowners association (HOA) rules. For example, though you typically have the right to limit who can enter your property, a legal search warrant presented by a law enforcement officer can override this right. And though you might enjoy painting the exterior of your home to look like a lava lamp, your HOA might not permit this.
When you buy a house, there are a few different ways you can opt to hold title. We'll get more into that in a minute.
Why Is The House Title Important
Chain of title refers to the history of ownership of a home.
When a home is in the process of being sold, its chain of title will be thoroughly scrutinized to ensure that the seller actually has the legal right to sell the home and that the buyer will be able to take possession of the home without any encumbrances that could jeopardize their ownership or cost a lot of money to remedy. This is called a title search.
Typically, the entity that performs this search during a home purchase transaction is a title company. They'll comb through public records to ensure that the title is clear.
Take the first step toward the right mortgage.
Apply online for expert recommendations with real interest rates and payments.
Why Is The House Title Important?
A home's title tells us who legally owns it. It also tells us who has a claim to the property.
You might think that the person selling the home is the one who legally owns it, and that when they sell it to you, you'll be the legal owner. But it's not always that simple.
Say, for example, somewhere along the chain of title on a home, the property was sold when it was supposed to be willed to some long-lost heir. Unaware of this, you buy the home. Then, a few years later, this long-lost heir comes a-knockin' at your door – or rather, their door.
If that heir is able to prove that they're the rightful owner of the property, you could lose your home.
More commonly, a homeowner will, knowingly or not, try to sell a home that has some type of lien on it. Maybe they have property taxes they never paid or a contractor performed some work on the house and was never paid for the job. If the sale goes through, the new owner becomes legally responsible for those debts.
A title search will usually catch these things and prevent the sale from moving forward until any issues are resolved and the title is clear. If a problem with the title comes to light after you've purchased the home, title insurance will protect you from any related financial loss.
It's also important to understand the way you hold title on your property. Co-owners, liens and easements can all limit what you're able to do as an individual with your property.
House Title Vs. Deed
Remember that a house title refers to the legal ownership of a property. It's not a document. If you hold title on a property, you own it.
A property deed is the document that officially transfers ownership of the property from its previous owner to its new one.
When you buy a house, the seller will sign this document, deeding the house to you. The deed will then be filed with the appropriate government office for your county, such as the clerk or the register of deeds.
Essentially, the deed is the physical document that proves you hold title to your home.
Primary Methods For Holding House Title
There are a few different ways homeowners can hold title to a property. These different methods can change how ownership interest is divided among co-owners and who that interest will be passed onto when an owner dies.
Below are some of the most common ways a homeowner can hold title and how they typically work. However, the types of ownership available to you and the specifics of those types can vary depending on your state's laws.
Sole Ownership
This method for holding title is pretty straightforward. A sole owner holds title to a property in their name only; they don't share ownership interest with anyone else.
This type of ownership is most often utilized by single homeowners or married individuals who want to be the sole owner of the property. If you're a married person buying a house without your spouse, your spouse may need to formally relinquish their right to that property by signing a quitclaim deed.
When a sole owner dies, who takes over ownership of the home depends on whether or not they had a will. If they did, the property will be passed to the heirs designated in the will. If they didn't have a will, the home will be transferred according to state law.
Community Property
Arizona, California, Idaho, Louisiana, Nevada, New Mexico, Texas, Washington and Wisconsin are what's known as community property states.
In these states, any property obtained by one spouse during a marriage is considered to belong equally to both spouses. When it comes to home ownership, this means that both spouses hold title on the home as community property.
Depending on individual state laws, this type of ownership may or may not include what's known as "right of survivorship."
Right of survivorship means that when one owner dies, their ownership interest is automatically transferred to the living owner(s) without having to go through probate.
For example, if a husband and wife own their home together and the husband dies, the wife will automatically become the sole owner of the home.
Without right of survivorship, both spouses are free to will their share in the property to whomever they choose.
Find out what you can afford.
Use Rocket Mortgage® to see your maximum home price and get an online approval decision.
Joint Tenancy
Joint tenancy allows two or more co-owners to share equal, undivided interest in a property.
This means that each co-owner has an equal right to the entire property, with ownership interest typically split up evenly (so two co-owners would both have a 50% interest in the property, for example).
When co-owners hold title this way, they're granted right of survivorship. This means your share can't be willed to others and will automatically pass to your co-owner(s) upon your death.
However, depending on your state's laws, one joint tenant may be able to unilaterally sever the joint tenancy agreement and convert it to a tenancy in common agreement (more on that below), which allows property to be willed to others.
This type of ownership is popular with married couples.
Tenancy In Common
Tenancy in common allows two or more people to co-own a property with ownership interest split up however they choose. This means that one co-owner could own a 75% interest in the property while the other owns 25%. However, all co-owners have an equal right to possess the entire property.
This type of ownership is common among unmarried couples.
With tenancy in common, each owner has a right to sell, give away or otherwise do as they wish with their ownership interest. This includes the right to will it to whomever they choose, as tenancy in common doesn't include right of survivorship.
Tenancy By The Entirety
This type of ownership is only available to married couples, and isn't an option in every state.
With tenancy by the entirety, a married couple is viewed as a single legal entity for the purposes of property ownership.
Tenancy by the entirety includes right to survivorship. Each spouse needs the other's permission before they can sell, transfer or encumber the property or their interest in it.
Living Trust
Some homeowners may decide the best way to handle the ownership of their property is to put it into a living trust.
This type of ownership means that your property is held in a trust by you, for you; you're both the trustee and the beneficiary.
When you die, the assets in your trust will be distributed according to your instructions without having to go through probate.
How Do I Protect My House Title?
The best way to avoid title issues is to have a professional conduct a title search on the property you plan on purchasing and to insure yourself against future title claims with title insurance.
If you're purchasing your home with a mortgage, your lender will require a title search and a lender's title insurance policy, which protects them financially against any claims against your home's title. The buyer pays these costs as part of their closing costs.
Additionally, it's often customary for the seller to cover the cost of the buyer's title insurance policy.
The Bottom Line
When you buy a home, you want to buy one that doesn't come with costly baggage. Understanding who truly owns your home and protecting yourself with title insurance can give you peace of mind and help you avoid a financially ruinous title disaster.
Take the first step toward the right mortgage.
Apply online for expert recommendations with real interest rates and payments.
Related Resources
Viewing 1 - 3 of 3