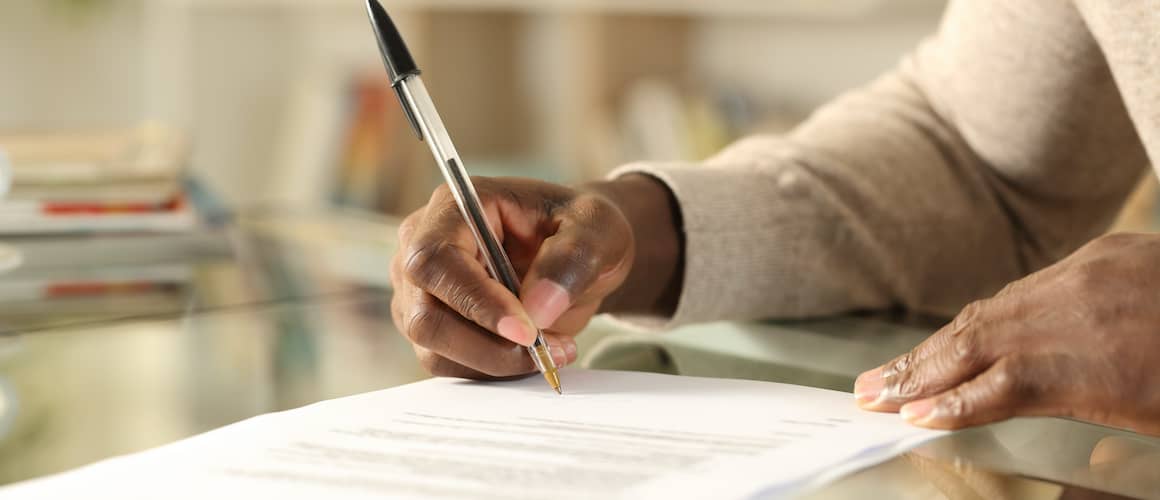 Deeds Of Reconveyance: A Guide To What Happens When You've Repaid Your Mortgage
Hanna Kielar3-minute read
March 14, 2023
Share:
Are you getting close to paying off your mortgage? Congratulations! That's a huge accomplishment that you've probably been working toward for a long time. After you make your final payment, you may be issued a deed of reconveyance.
Read on to learn what a deed of reconveyance is, how it differs from a deed of trust and how to properly record it with your local government.
What Is A Deed Of Reconveyance?
A deed of reconveyance is a legal document that indicates the transfer of a property's title from lender to borrower – legally referred to as the trustor – in deed of trust states. The deed of reconveyance is typically issued after the borrower has paid off their mortgage in full.
Some states use deeds of trust instead of mortgages. These deeds document the details of how much is being borrowed, by whom and from whom. Depending on your state, you may receive what's called a full reconveyance, which is signed by a trustee and a notary public.
What Is A Reconveyance?
A reconveyance is the return of a property's title – sans mortgage lien – to the original owner after they've fulfilled their obligations pursuant to the mortgage or deed of trust. In general, it means that the homeowner has finished paying their mortgage loan off and the lender is relinquishing their interest in the property.
If you used a mortgage when you closed on your home, what technically happened is that you bought the home with the loan proceeds. In return for that loan, you conveyed a property interest to your lender by signing the mortgage, the security instrument in your home that allows the lender to foreclose or take possession of the property if you default on the loan.
Whether you get a deed of reconveyance, a full reconveyance or a satisfaction of mortgage document, it means the same thing: your loan has been repaid in full and the lender no longer has an interest in your property.
In short, your home is finally all yours!
See What You Qualify For
Congratulations! Based on the information you have provided, you are eligible to continue your home loan process online with Rocket Mortgage.
If a sign-in page does not automatically pop up in a new tab, click here
What Is A Satisfaction Of Mortgage?
In mortgage states, you'll probably receive a satisfaction of mortgage loan document instead of a deed of reconveyance, though the name of the document varies from state to state. Essentially, this document will lift the mortgage lien on your home.
You should also receive notice that your escrow account will be closed. Any remaining balance in the account will be returned to you.
The Reconveyance Process
Once you've repaid your loan in full, your lender contacts the title company to issue a deed of reconveyance in its proper form according to state law. This generally occurs within 3 – 4 weeks of your final payment.
If you have a deed of trust, the title company will often give you a copy of it, along with your deed of reconveyance and the title to your home.
Remember that filing this deed is a legal transaction. You must have your deed of reconveyance notarized and filed in the public records. Often this means taking your deed of reconveyance to the county offices. Recording this deed of reconveyance accurately is essential to providing proof of your ownership and that you paid your loan back.
If the deed does not get filed properly with the property recorder's office, it can create what's called a clouded title. This means that nothing shows the lien or encumbrance has been paid, and it can delay or jeopardize the sale of your home.
Examine the deed of reconveyance for errors. Mistakes can happen, and you want to catch them before they're filed and become part of the public record. Work with the title company to ensure your mortgage payoff is properly documented.
Once you have an accurate deed of reconveyance in hand, guard it and get it to your local records office to be filed.
Reconveyance FAQs
Who signs a deed of reconveyance?
The deed of reconveyance must be signed by the trustee holding the deed of trust. It must also be notarized.
How do I complete the reconveyance?
It is then filed with the property clerk for the municipality where the property is located to remove the mortgage lien from the property. The County Recorder's office will then record the change.
What is the difference between a deed of release vs reconveyance?
A deed of release indicates that the homeowner has completed the terms of the mortgage loan repayment while the deed of reconveyance formally transfers full ownership to the homeowner. Depending on the laws of your state, a homeowner might need both documents to remove the mortgage lien from their home.
What is a full reconveyance form?
If you live in a deed-of-trust state, you can sometimes file a full reconveyance form, signed by the trustee and notarized, to publicly state that you have completed the repayment of your home loan debt.
The Bottom Line: It's Finally All Yours!
A deed of reconveyance signifies the end of your mortgage. Paying off your loan is a huge accomplishment. You should celebrate!
Thinking of ways to keep what you now own outright in the family? Read about how to avoid the gift tax if you're thinking of transferring ownership of your home to your child.
Get approved to buy an investment property.
Rocket Mortgage® lets you get started, sooner.
Related Resources
Viewing 1 - 3 of 3