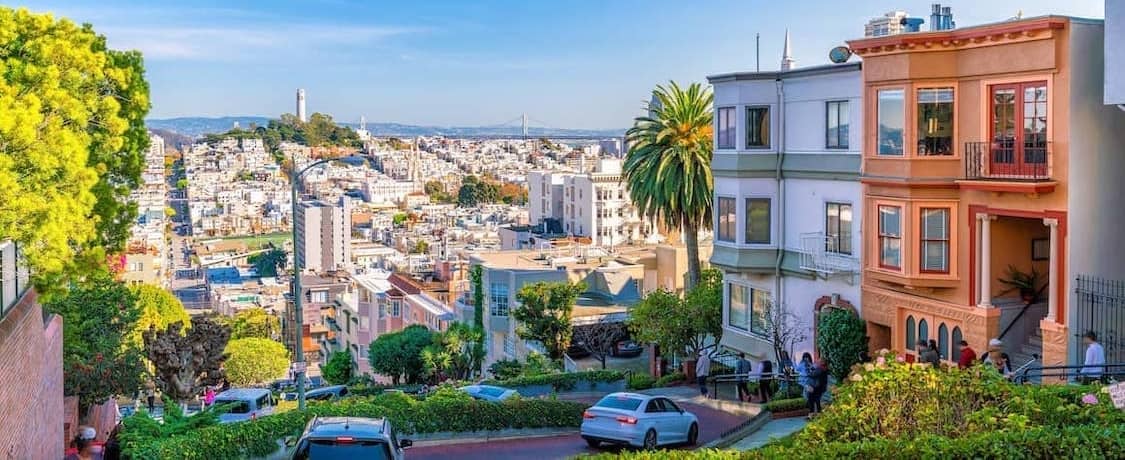 10 Most Expensive Cities In The US
Andrew Dehan9-minute read
May 28, 2021
Share:
Before relocating to a new city, it's important to look into the cost of living. If you plan on buying a home, knowing the price of real estate and the condition of the market is crucial. Many expensive cities come with a higher cost of living.
If you're interested in putting down roots, buying a home in these cities could be difficult. Not only are they expensive, but many are competitive. They're popular places to live and if you want to live there, you're going to pay for it.
Most Expensive Cities In the US, Based On Real Estate
Living in the city is expensive, no matter how you look at it. But this expense comes with good reason. Cities are full of opportunities to advance a career. They're centers of culture and entertainment.
For this list of most expensive cities, we looked at the cost per square foot, median listing price and median selling price. From there, we calculated the cost of a 5% down payment. This is the lowest percentage necessary for most conventional mortgages.
For a baseline, the national average cost per square foot is $144 and the median listing price is $228,200.
While not considered in the ranking, this report also lists whether these cities are buyer's or seller's markets. A seller's market is more competitive for buyers, with houses selling quickly and often above asking price. A buyer's market is the opposite: houses stay on the market longer and sell below listing. A neutral market means houses sell close to their asking price and in an average length of time.
Most other lists like this incorporate cost of living, cost of goods and average salaries. We wanted to take a different approach and look solely at the cost of buying real estate.
Using the Rocket HomesSM Neighborhood Trend Reports, we built our list to show you what kind of market to expect when you're buying in the most expensive cities in the U.S.
1. San Francisco, CA
Median listing price: ~$1,300,000
Median selling price: ~$1,360,000
Average 5% down payment: ~$68,000
San Francisco is an epicenter for technology jobs in this country. Thousands of tech companies have their headquarters in the adjacent silicon valley. Big names like Apple, Intel, Facebook and Tesla are located nearby, bringing billions of dollars into the area.
The city of San Francisco also has a long history of culture. From the beat writers of the '50s, to the hippies in the '60s to the establishment of one of the oldest and longest-running LGBTQ Pride festivals in 1972, San Francisco has been a bastion of expressive and progressive culture.
Because of its booming tech economy and rising housing demand, San Francisco is the most expensive place to buy a home in the U.S. A median selling price of over $1.3 million lands San Fran in the top spot on our list.
For context, you could by a three-bedroom house in rural Ohio for the price of the average 5% down payment. But that's rural Ohio. This is San Francisco we're talking about.
2. Manhattan, NY
Median listing price: ~$1,600,000
Median selling price: ~$950,000
Average 5% down payment: ~$47,300
Manhattan has the highest price per square foot in the USA. In fact, the price of one square foot in Manhattan nears the average monthly mortgage payment in the United States.
But as the host of the United Nations headquarters, Wall Street and a center for the arts, people flock to Manhattan. As one of the five boroughs in the City That Never Sleeps, Manhattan is the birthplace of New York City, the most densely populated city in the U.S.
As an area bounding with opportunity, Manhattan contains some of the most recognizable landmarks in the world: Central Park, the Empire State Building and the Statue of Liberty. It's also home to Broadway theater, several prominent art museums, Greenwich Village and prestigious schools like Juilliard and New York University.
With all it has to offer, it's no surprise that a piece of Manhattan comes with a high price tag.
3. San Jose, CA
Get approved to buy a home.
Rocket Mortgage® lets you get to house hunting sooner.
Median listing price: ~$925,000
Median selling price: ~$983,000
Average 5% down payment: ~$49,000
With a median listing price over four times the national average, San Jose comes in at third on our list. Like San Francisco, San Jose is the center of the tech powerhouse of Silicon Valley, with major tech companies like eBay, Adobe, Hewlett Packard and PayPal headquartered there.
Because of its innovative reputation, San Jose has become a center of affluence. Because of its high housing prices, the cost of living in San Jose is one of the highest in the nation.
Yet with its plentiful opportunity, along with its beautiful Mediterranean climate, the population of San Jose is still growing.
4. Bethesda, MD
Median listing price: ~$1,200,000
Median selling price: ~$848,000
Average 5% down payment: ~$42,000
If this list were all about price per square foot, Bethesda would be much further down this list. But with a listing price over five times the national average, Bethesda comes in at No. 4 on our list.
Bethesda is an anomaly here. Technically, it's not a city; it's an unincorporated, census-designated place. With a population a little over 63,000, it's by far the least populated place on this list.
That being said, Bethesda borders Washington, D.C., and is home to important federal institutions like the National Institutes of Health, the Consumer Product Safety Commission and the Naval Surface Warfare Center Carderock Division.
Along with the federal presence, defense contractor Lockheed Martin, hotel chain Marriott International and software company Bethesda Softworks are all headquartered in the small, affluent community.
5. Brooklyn, NY
Median listing price: ~$730,000
Median selling price: $799,000
Average 5% down payment: ~$40,000
At No. 5 is Brooklyn, the second of New York's five boroughs to make the list. With a median listing price over three times the national average, Brooklyn is an expensive place to put down roots. If this list were organized by price per square foot, Brooklyn would rank 4th, with a price per square foot nearly five times the national average.
It's proximity to Manhattan, hip neighborhoods and thriving tech and art scenes have made Brooklyn a popular place to live. So popular that Brooklyn has seen a significant uptick in housing costs in the past 10 years.
Yet, unlike many gentrifying cities, Brooklyn maintains a high degree of diversity. Its distinct neighborhoods are home to multiple cultures, ethnicities and religions. Brooklyn still represents New York City as a city of immigrants.
6. Los Angeles, CA
Median listing price: ~$860,000
Median selling price: ~$760,000
Average 5% down payment: ~$38,000
Los Angeles, the city of angels, comes in at No. 6. As the home of Hollywood, LA is a center for entertainment and the arts. It's a destination for many aspiring actors, musicians and artists in hopes of making it big.
With such notable landmarks as the Hollywood Bowl, Capitol Records Building, Griffith Observatory and Grauman's Chinese Theatre, Los Angeles is one of the biggest cultural centers of the U.S.
Its Mediterranean climate means it's warm all year-round, just a few degrees cooler than a tropical climate. It's surrounded by the natural beauty of the Santa Monica mountains.
Like the San Francisco Bay Area, the city has a high rate of homelessness due to economic hardship and lack of affordable housing. Still, people are moving to the city, with its population eclipsing 4 million in 2020.
7. Boston, MA
Median listing price: ~$770,000
Median selling price: ~$692,000
Average 5% down payment: $35,000
With the third-highest price per square foot, Boston lands at No. 7 on this list. Yet, with a median selling price at half of San Francisco's, Boston may seem like a bargain.
Boston is a thriving center of research, with many of the world's top colleges and universities nearby. Medicine, engineering and biotech make Boston a global leader in the sciences.
The city also has a strong significance in American culture, with many important events of the American Revolution occurring in or around the city. Boston also has many civically supported centers like the Boston Public Library, Symphony Hall and the Museum of Fine Arts.
Unfortunately, Boston is considered the most racist city in the United States. In 2017, the The Boston Globe commissioned a survey that found, among eight major cities, Black people ranked Boston as the least welcoming to people of color. Boston's history as a major slave trading port, as well as decades of racially divisive private and governmental practices, has left the city with a poor reputation.
8. Oakland, CA
Median listing price: ~$690,000
Median selling price: $757,000
Average 5% down payment: ~$38,000
The third city in the San Francisco Bay Area on our list, Oakland has a median selling price that could get you over three average American homes. But Oakland's not an average American city.
The Port of Oakland is the fifth busiest port in the USA. The city is home to major corporations like Kaiser Permanente and Clorox, and companies like Pandora Radio and Southwest Airlines.
Oakland has many vibrant, diverse neighborhoods. It's known for innovative and creative cuisine, drawing on the ethnic backgrounds of its residents. It has a vibrant art community, being close to the art community of Berkeley, California. Oakland is also a home to musicians from a variety of genres, ranging from heavy metal to gospel to rap.
9. Seattle, WA
Median listing price: ~$690,000
Median selling price: ~$751,000
Average 5% down payment: ~$38,000
The ninth most expensive city in the U.S. for real estate is Seattle. Home to major tech companies like Microsoft and Amazon, Seattle is city of opportunity and innovation. Due to its progressive-leaning population and affluence, in 2014 Seattle passed an ordinance making the minimum wage $15 in the city.
Seattle is also known for its thriving music scene. It's the birthplace of Jimi Hendrix and the old stomping grounds of Ray Charles and Quincy Jones. It's the hometown for bands like Foo Fighters, Modest Mouse and Mudhoney.
Because of its popularity, Seattle is overflowing. In July 2020, over 32% of homes sold over asking. Its rising population and limited housing have made Seattle a seller's market. You can easily see this by how high the median selling price is above the median listing price.
10. Honolulu, HI
Median listing price: ~$625,000
Median selling price: ~$610,000
Average 5% down payment: $31,250
Beautiful Honolulu comes in at 10th on the list. It may have a higher price per square foot than other cities on this list, but no one moves to Honolulu to stay inside. With its steady warm temperatures, scenic beaches and nearby mountains, Honolulu is many people's version of paradise.
Because it's the most isoloated large city on earth, the cost of living in Honolulu is high. Most food must be imported and electricity costs 94% more than the average American city.
However, the median home value in Honolulu has fallen over the past couple years, and signs are pointing to a continued fall. The area's largest industry is tourism, and with problems like COVID-19 and the effects of climate change on real estate prices, the area is taking huge hits to its economy.
The natural beauty of Honolulu persists. Its culture is unique, with influences from the Americas and Asia. If you want a piece of this paradise, and have a stable income, now may be a good time to buy.
Most Expensive Cities To Live In The US: Trends
As you may have noticed, most of these cities are located on either the East or West coast. Four of these cities are in California, with three of them in the affluent San Francisco Bay Area. Two of them are boroughs of New York City. In fact, the only city not on either coast is Honolulu, and that's on a gorgeous island.
Cities near water are not just desirable for the weather or the scenery. They're trade hubs, each with ports moving goods. Any goods coming from Europe, Africa or Asia must pass through a coastal port.
For many cities on this list, they've built their economies with multiple sources of income. Oakland has a busy port, but it's also a tech hub. Like other thriving cities, its proximity to art and culture brings in visitors and keeps people interested in the city.
The Bottom Line
If you're considering setting down roots in one of these cities, it's important to know what to expect. Buying a home is the biggest investment most people make. With cities like San Francisco and NYC, your mortgage and down payment will be multiple times above average.
The reason real estate in these cities is expensive is because of all these cities have to offer. Nearby natural beauty, plentiful high-paying jobs, innovative science centers and creative cultural scenes make these cities appealing to a lot of people. Apply the basic economic principal of supply and demand, and you can see why.
Want to establish yourself in one of these cities? Or do you think you'll locate somewhere else? Either way, work with the experts at Rocket Mortgage® and buy with confidence.
Get approved to buy a home.
Rocket Mortgage® lets you get to house hunting sooner.