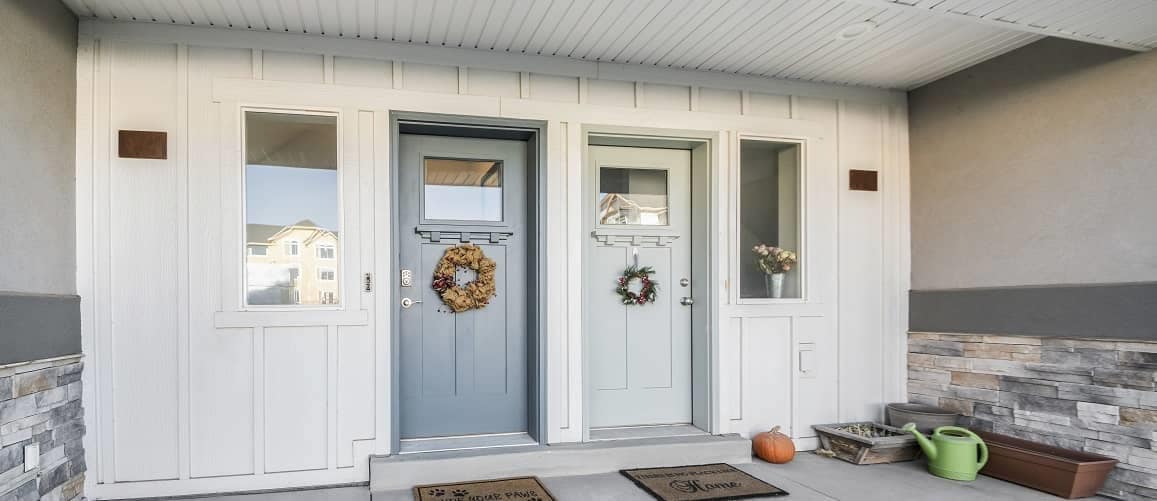 What Are FHA Multifamily Loans And Who Is Eligible?
Kevin Graham9-minute read
April 21, 2023
Share:
If you're thinking of buying a home with several units so that you can live in one and rent out the others in order to make investment income, you might find yourself looking into FHA multifamily loans. While these are great in specific instances, if you're just looking to rent out a few units, you may not need one.
We'll go over everything you need to know if you're looking to rent out other units while occupying the property. But let's start by providing a little clarity on what the FHA actually means when discussing multifamily loans.
What Is An FHA Multifamily Loan?
A Federal Housing Administration (FHA) multifamily loan allows borrowers and real estate investors to buy a multifamily home, which is defined by the FHA and other mortgage investors as a property that has 5 units or more. Homes with up to 4 units are considered single-family housing, so those properties wouldn't qualify for this type of loan.
Under the traditional FHA mortgage program, clients can purchase a home with up to 4 units. The advantage of this is that borrowers can get favorable terms such as a low down payment and they may receive lower interest rates than they would with the typical multifamily loan. In addition, requirements for income, credit and debt-to-income ratio (DTI) are less strict than many other loan options.
Whether you're looking for an owner-occupied property or a much bigger apartment complex, here's a brief breakdown.
For Owner-Occupiers
The FHA became part of the Department of Housing and Urban Development (HUD) in 1965, becoming a key part of the housing strategy for the U.S. to allow more people to own and occupy homes. The mission of the FHA is to make housing available to home buyers with lower incomes or past credit mistakes that might otherwise keep them from fully participating in the housing market.
While the FHA doesn't directly make home loans, it insures these loans. This means that lenders take on less risk when they originate these loans in the event that a borrower defaults.
For Commercial Investors
If you're a commercial investor, the owner-occupied program isn't for you. The FHA also has commercial loan programs that might better suit your financing needs.
FHA defines a non-owner-occupied multifamily home as one that has 5 or more units. Each unit has to have a complete kitchen and bathrooms. For the FHA to insure the property, it has to have been completed or experienced a major remodel no less than 3 years prior to someone's application. Those looking for this type of financing can be for-profit or nonprofit entities.
Rocket Mortgage® doesn't offer financing for those seeking to buy 5 or more units.
See What You Qualify For
Congratulations! Based on the information you have provided, you are eligible to continue your home loan process online with Rocket Mortgage.
If a sign-in page does not automatically pop up in a new tab, click here
How Does An Owner-Occupied FHA Multifamily Loan Work?
Certain things about applying for an owner-occupied multifamily home of 4 units or less are the same as applying for a home with a single unit. You're going to be qualified based on your credit score, income and existing debts along with the appraisal. However, there are two primary differences when dealing with a home with multiple units.
The first distinction is that rental income is used to determine qualification. This makes sense because the reason to buy extra units is usually to rent them out. Secondly, because buying additional units costs more money, loan limits are higher with each additional unit added to the property.
Get approved to buy an investment property.
Rocket Mortgage® lets you get started, sooner.
What Are The FHA's Loan Requirements?
Since most people looking to live in a home and rent out the rest don't actually need a multifamily home, but actually a multiunit single-family home, we'll be discussing those requirements.
Income
As with any mortgage, the first items a lender will look at in determining your income are W-2s, 1099s and tax returns. However, you'll also have a special appraisal done when you're using rental income to qualify called a 1025. In addition to valuing the property, the appraiser will place a fair market rental value on the units.
One special note for three- or four-unit properties is that they have to generate income equal to or greater than the monthly mortgage payment (including principal, interest, taxes and homeowners insurance) after a 25% deduction designed to account for the time when the property might be under maintenance or you need to find a new tenant.
Credit Score
You need a median FICO® credit score of at least 580 in order to qualify for an FHA loan. The higher your credit score is, the better rates you'll be offered. Another thing to be aware of is that lenders look at your credit history in addition to the score itself. As an example, if you've experienced a foreclosure, you have to wait 3 years before applying for a new FHA loan.
Debt-To-Income Ratio
Your DTI ratio measures how much of your pretax income goes toward paying debts every month. There are two types of DTI: front- and back-end DTI.
Front-end DTI, also called the housing expense ratio, looks at how much of your monthly income you spend on your mortgage payment alone (principal, interest, taxes and insurance). Your back-end ratio takes into account your mortgage payment plus all of your other existing debts including car payments, student loans and minimum credit card payments.
In order to qualify with a median FICO® Score of between 580 and 620, you need a housing expense ratio no higher than 38% and an overall DTI of 45% or lower. If your score is 620 or better, FHA systems will approve you with a back-end DTI as high as 67%, although this varies based on other qualifying factors.
Appraisal
Appraisals serve two purposes: to place a value on a home and to make sure it's safe to occupy. The valuation portion of an appraisal is important because lenders can't loan you more than the home is worth. The reasoning for this is that if you have trouble making your payments and go into mortgage default, one recourse a lender has is to take the house back and resell it.
The FHA does have some special safety regulations when compared to other mortgage investors. The most well-known of these is that properties built before 1978 with chipped or peeling paint have to be scraped and repainted prior to closing because of the possibility of lead paint.
Owner Occupied
Multiunit single-family homes backed by FHA loans must be owner-occupied in at least one of the units. You can't use an FHA loan strictly to get an investment property.
What FHA Loans Are Available For Renovation?
There are loans available for renovation under the FHA 203(k) rehab loan program. This allows you to roll the cost of a renovation into a refinance or purchase. The home is appraised based on the after-repair value.
This program can be used to essentially reconstruct the property as long as the foundation of the home remains in place. You can also do everything in between. The only other requirement is that the repairs have to be worth at least $5,000. There's also a limited 203(k) loan that may be less documentation intensive with a maximum repair value of $35,000.
Rocket Mortgage doesn't offer FHA 203(k) loans at this time.
Are There Other Ways Of Financing A Multifamily Property?
Although FHA multifamily loans are one option, they're far from the only one. Let's go over some alternatives.
Conventional Mortgage
You can get both single-family multiunit homes up to 4 units and multifamily properties with 5 units or more with conventional mortgages. These can be both primary properties with the other units rented out and investment properties without owner occupancy.
One thing to note is that down payments are more in the range of 15% – 30% depending on the number of units and the loan purpose, but interest rates and mortgage insurance terms may be more favorable than you would get from the FHA.
We don't offer conventional mortgages on properties with 5 or more units.
Commercial Mortgage
A commercial mortgage is one that's tied to a business rather than being residential in nature. These are considered more risky by lenders because the first payment you're going to make would be on your actual home. Therefore, higher interest rates are often charged compared to residential mortgages.
Your ability to repay a commercial mortgage is going to be impacted by the performance of your business. If you're in retail, the lender might evaluate how much foot traffic you have in the area in addition to generally evaluating your income from the business.
Rocket Mortgage doesn't offer commercial mortgages at this time.
The Pros And Cons Of FHA Multifamily Loans
Here's a quick look at the pros and cons of FHA owner-occupied multifamily loans.
| | |
| --- | --- |
| Pros | Cons |
| 3.5% down payment | Must be owner-occupied |
| Low interest rates, because lenders rely on the FHA's mortgage guarantees | Mortgage insurance premiums (MIP) must be paid upfront as well as monthly for 11 years regardless of whether you have reached more than 20% equity in the home. If your down payment or equity amount when you close on the mortgage is less than 10%, you'll pay MIP for the life of the loan. |
| Easier underwriting, with manual underwriting available to consider your unique circumstances | More exacting FHA appraisals are tougher to pass, so home sellers are less likely to accept an offer based on an FHA preapproval. |
| Ability to wrap renovation loan into mortgage loan and make one payment | Interest rates are low, but not as low as they would be with stricter credit underwriting standards. |
FHA Multifamily Loan FAQs
What is a multifamily property according to the FHA?
The FHA definition of multifamily property involves properties with 5 units or more. Most people are buying single-family properties with 4 units or fewer rather than apartment complexes.
However, there's some crossover in the requirements. Whether buying a single-family or multifamily property, the property has to be residential in nature. It also has to meet the appraisal standards for FHA loans either at the time the property is purchased or after renovations are completed. One of the major differences is that if it's a single-family property, at least one of the units must be owner-occupied.
How do I apply for a multifamily loan?
If you're looking to apply for an owner-occupied multifamily home loan up to 4 units through FHA, a lender will check your credit as well as evaluate your income and assets. Be prepared to share things like your W-2s, tax returns and 1099s. Additionally, you'll want to provide statements from any bank and investment accounts you want to use to qualify for the mortgage.
In addition to your personal financial qualifications, your property will be evaluated to give an appraised value. You'll also receive a fair market rental value, which is used to help qualify you for the mortgage payment with rental income.
Are there commercial FHA loans?
The FHA doesn't offer commercial loans. What they do offer is the possibility for mixed-use property as long as 51% of the property is still devoted to living space for you and your tenants. This is true whether dealing with single-family projects or what the FHA considers multifamily residential properties.
Is an FHA multifamily loan the only way to finance a multifamily property?
There are a couple of different options when it comes to financing a multifamily property. One option is to use a conventional mortgage which allows the borrower to get both single-family multiunit homes up to 4 units and multifamily properties with 5 units or more.
Another option is to use a commercial mortgage which is tied to a business instead of being residential in nature. It's important to note that this financing option is heavily impacted by the performance of the business.
The Bottom Line: An FHA Multifamily Loan Can Help You Build A Real Estate Portfolio
Owner-occupied multifamily properties with FHA loans can be a very affordable way to dip your toe into the real estate world as a landlord and take advantage of continuous rental income.
If you're ready to own property, get started on the mortgage process today. You can also give us a call at (833) 326-6018.
Related Resources
Viewing 1 - 3 of 3