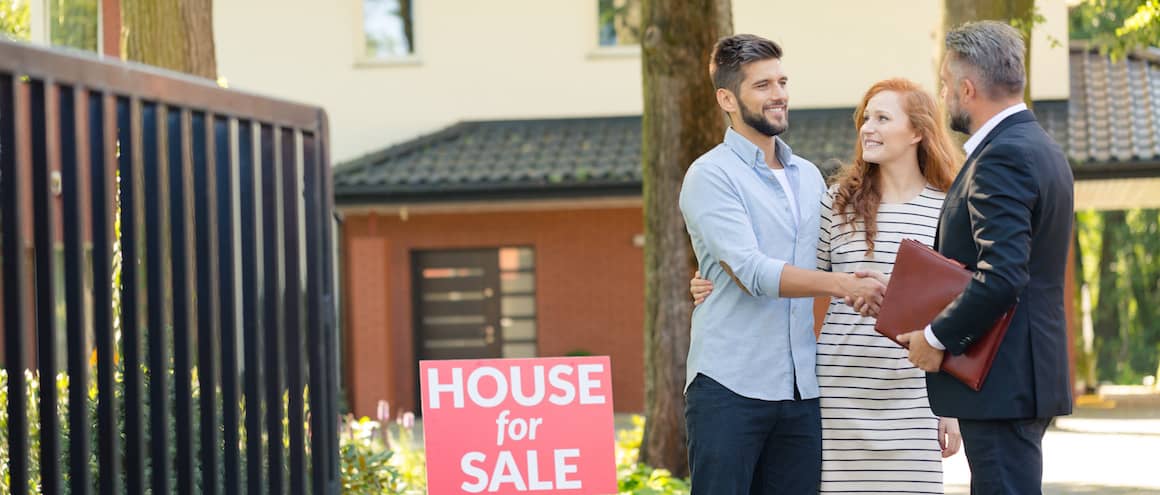 Earnest Money And VA Loans: What You Need To Know
Ashley Kilroy6-minute read
June 09, 2023
Share:
In a competitive real estate market environment, including earnest money in your offer can give you a leg up on the competition. Earnest money essentially acts as a security deposit letting the sellers know you're serious about purchasing their home. While earnest money isn't a requirement for VA financing approval, it could help sell your offer stand out so you can buy the home of your dreams.
But, if you're not careful and follow the contract guidelines, you could end up forfeiting your earnest money deposit. With that in mind, here's everything you need to know about earnest money with VA loans.
What Is Earnest Money?
Sometimes also referenced as a good faith deposit, earnest money shows the sellers you're serious about purchasing the home. Once a seller accepts an offer, they enter into a purchase agreement. During the closing process, the house is removed from the market. So, if the agreement crumbles, the seller must begin the entire process over and list the house once again, costing the seller significantly. Thus, if the buyer decides not to move forward with the sale, earnest money can protect the seller from loss.
Usually, earnest money deposits range between 1% – 3% of the home's purchase price. The actual amount you choose may fluctuate depending on market conditions. The deposit amount is put in an escrow account until the deal is complete. If the deal goes as planned, the earnest money deposit may be directly applied to the down payment or closing costs.
On the other hand, the earnest money deposit can go back to the buyer if the home doesn't pass the inspection or other contingencies listed in the purchase agreement.
See What You Qualify For
Congratulations! Based on the information you have provided, you are eligible to continue your home loan process online with Rocket Mortgage.
If a sign-in page does not automatically pop up in a new tab, click here
Do VA Loans Require Earnest Money?
Earnest money deposits are not required when using a VA loan to purchase a home. However, depending on the current real estate market conditions, a seller may request an earnest money deposit as part of an offer. Doing so reassures the seller that you're a serious buyer and ready to move forward with purchasing the home. So, even if you use a VA loan to finance the property, it's not uncommon for the seller to make this request.
If you decide to offer earnest money, the VA requires that the money come directly from you. In other words, the deposit cannot be a gift or loan. Therefore, the VA will verify the source of the funds, like they do when you provide your down payment amount.
Keep in mind that some types of mortgages and states require earnest money. For example, if you're buying real estate in Florida, you almost always need to offer earnest money deposit.
Should You Offer Earnest Money With A VA Loan?
Although earnest money isn't a VA lender requirement, it can give you a competitive edge in a seller's market. When you're in a seller's market, demand for housing surpasses the supply. Therefore, more home buyers compete for properties available since there is limited inventory. Because there are fewer homes available, the seller has the advantage.
So, if the seller receives numerous offers, an offer with an earnest money deposit and favorable terms may stand out from the rest. Also, the sum applied directly to your down payment or closing cost could reduce the amount of money you need later on to complete the transaction.
Today's Purchase Rates
VA 30-Year Fixed *
6.99 Rate / 7.533 APR
Legal Disclosures
30-year Fixed-Rate VA Loan:

An interest rate of 6.99% (7.533% APR) is for a cost of 1.875 Point(s) ($4,788.28) paid at closing. On a $255,375 mortgage, you would make monthly payments of $1,697.31. Monthly payment does not include taxes and insurance premiums. The actual payment amount will be greater. Payment assumes a loan-to-value (LTV) of 61.29%.

VA loans do not require PMI. The VA loan is a benefit of military service and only offered to veterans, surviving spouses and active duty military.
Assumptions
Listed rates are offered exclusively through Rocket Mortgage.
Mortgage rates could change daily.
Actual payments will vary based on your individual situation and current rates.
Some products may not be available in all states.
Some jumbo products may not be available to first time home buyers.
Lending services may not be available in all areas.
Some restrictions may apply.
Based on the purchase/refinance of a primary residence with no cash out at closing.
We assumed (unless otherwise noted) that: closing costs are paid out of pocket; this is your primary residence and is a single family home; debt-to-income ratio is less than 30%; and credit score is over 720; or in the case of certain Jumbo products we assume a credit score over 740; and an escrow account for the payment of taxes and insurance.
The lock period for your rate is 45 days.
If LTV > 80%, PMI will be added to your monthy mortgage payment, with the exception of Military/VA loans. Military/VA loans do not require PMI.
Please remember that we don't have all your information. Therefore, the rate and payment results you see from this calculator may not reflect your actual situation. Rocket Mortgage offers a wide variety of loan options. You may still qualify for a loan even in your situation doesn't match our assumptions. To get more accurate and personalized results, please call to talk to one of our mortgage experts.
View Rates
Pros And Cons Of Offering Earnest Money With A VA Loan
So, when deciding if it's necessary to offer earnest money, you must look at your situation and the market conditions. Also, considering the advantages and disadvantages can help you make a more informed decision.
Pros Of Offering Earnest Money With A VA Loan
If you want to show the sellers of a home, you're committed to buying their property, offering an earnest money deposit can give you an edge over other offers. It may also help you receive more favorable terms for your purchase agreement.
Since it's common for sellers to cover up to 4% of the purchase price in closing costs when you finance a home with a VA loan, offering a good faith deposit will help you strengthen your relationship with them. They may feel good about covering your closing costs because they know you're a serious contender.
Cons Of Offering Earnest Money With A VA Loan
The most significant disadvantage of offering earnest money with a VA home loan is that you could lose your money if you violate the purchase contract terms. For example, purchase agreements usually outline timelines for completing the home-buying process. Failing to complete the transaction within the allotted timeframe may breach your contract, costing you your earnest money deposit.
Also, if you decide you have a change of heart and don't want to buy the home, you will have to forfeit your earnest money deposit. So, it's best to pay close attention to the contract timelines and make sure it's the home you want. By doing so, you can make sure you don't accidentally surrender your earnest money deposit.
How Much Earnest Money Should You Offer With A VA Loan?
The amount of earnest money that a buyer should offer depends on the market they are buying in. While home buyers usually put 1% – 3% down, you may need to put as much as 10% if you're in a very competitive market.
Conversely, if you're purchasing a property in a buyer's market with plenty of housing inventory available, you may not need to put as much down. Suppose you're fighting to purchase a property in a community with an abundance of cash offers and bidding wars. In that case, you may need to bump up the earnest deposit amount significantly.
A real estate agent can guide you in selecting the appropriate amount of earnest money for your situation. This way, you don't offer too much or too little, so you have the best chance to get your offer accepted.
Tested. Trusted. Top-rated.
Visit Rocket HomesSM to get a proven real estate agent that's handpicked just for you.
Is Earnest Money Refundable With A VA Loan?
The purchase agreement outlines what happens to the earnest money if the contract falls through. Most purchase agreements have contingencies that allow the buyer to leave the deal if something unexpected occurs.
For example, if the contract states that the buyer can walk away if the home inspection doesn't meet the buyer's standards, the buyer decides to leave the agreement and take their earnest money with them. Conversely, if the buyer has a change of heart and no longer wants to buy the property, the earnest money will go to the seller.
Here are some other common contingencies that can protect you from losing your earnest money.
Home inspection contingency: If the home inspection uncovers unsatisfactory housing conditions, the buyer may have the right to back out of the deal. It's also possible to negotiate repairs or the home's purchase price with the seller if you don't want to leave the deal.
Appraisal contingency: If the appraisal comes in lower than expected, VA loans protect the buyer's earnest money in this situation. The appraisal protection is included in every VA loan purchase.
Financing contingency: If your VA loan isn't approved by the contract deadline, a financing contingency will ensure you get an earnest money refund.
Selling existing home contingency: When you have to sell your home before buying a new one, this is a selling contingency. A seller won't be too keen on this contingency in a competitive market.
When properties fly off the market, you may feel encouraged to forgo or waive your contingencies. For example, if you know you will qualify for VA financing, you may feel it necessary to waive the financing contingency. But, waiving an appraisal or inspection contingency could backfire, especially if the inspector uncovers many issues with the home, such as foundation issues. Both of these contingencies are in place to protect your interest as a buyer, so, while it's tempting, don't forgo them to make your offer more competitive.
The Bottom Line
If you plan to finance your home with a VA loan, you're not required to offer an earnest money deposit to the seller. However, if the real estate market is hot in the community you're looking to buy in, including earnest money with your offer can give you an edge on the competition. If you're unsure whether to offer an earnest money deposit, consult with your real estate agent for guidance.
Ready to dive into the home loan process? Get approved with Rocket MortgageⓇ today.
Take the first step toward buying a house.
Get approved to see what you qualify for.
Related Resources
Viewing 1 - 3 of 3