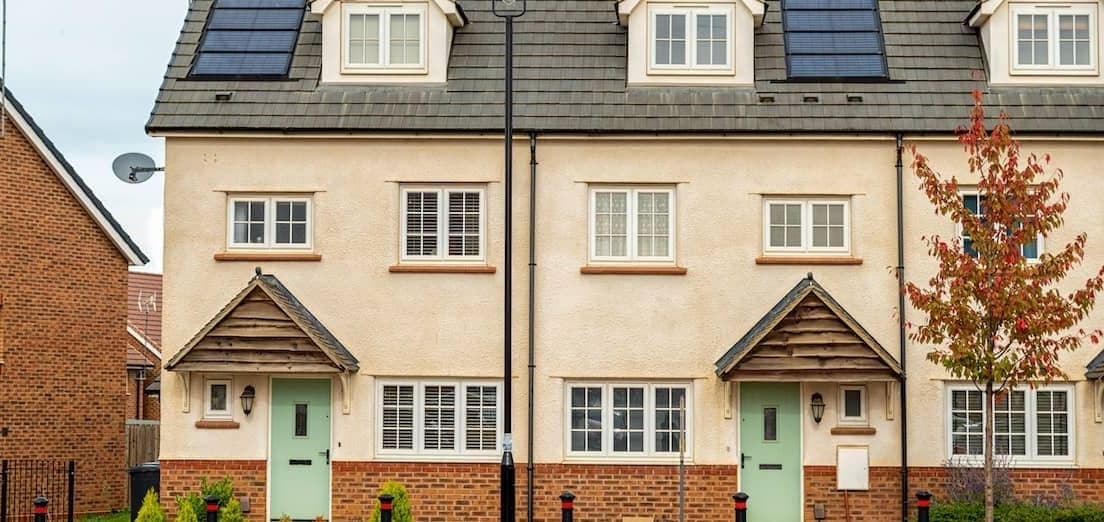 Buying A House Sight Unseen: A Step-By-Step Guide
Melissa Brock5-minute read
June 07, 2023
Share:
Buying a house sight unseen may seem like a risky move. However, buying a house without seeing it first isn't as uncommon as you think, particularly in light of the global pandemic.
In this piece, we'll cover how to buy a house sight unseen, whether you should buy one and the pros and cons for home buyers.
What Does It Mean To Buy A House Sight Unseen?
Buying a house unseen means purchasing real estate without touring the property in person. Instead of being there physically, you might take a look at a home through a virtual tour, through pictures or video clips using 3-D and video presentations. You may add in ample online research into neighborhood data as well.
Buying a house virtually has become more common, particularly due to a desire to buy homes in fast-moving, competitive real estate markets. In addition, some want to relocate to less crowded areas, move away from pandemic hotspots or move closer to family. This may lead many buyers to purchase a home before seeing it in person.
See What You Qualify For
Congratulations! Based on the information you have provided, you are eligible to continue your home loan process online with Rocket Mortgage.
If a sign-in page does not automatically pop up in a new tab, click here
Steps To Buying A House Sight Unseen
As a prospective home buyer, you may wonder about the steps you need to take to buy a house this way. Consider the following steps in the remote home buying process below.
Step 1: Choose A Good Real Estate Agent
It's important to find a qualified real estate agent or REALTOR®, especially when you plan to buy a home sight unseen. Any real estate agent you talk to should know of your plans to buy virtually.
Thoroughly research your real estate agent options before you choose an agent. Check the agent's experience, read online reviews and ask family, friends and coworkers for referrals.
You want to make sure your real estate agent has tech-savvy skills (particularly because they must communicate with you virtually), has excellent communication skills, knowledge of the local real estate market and feels comfortable negotiating.
Step 2: Get Preapproved For Your Mortgage
Preapproval refers to the process of determining how much money you can borrow to buy a home. Lenders take a look at your income, assets and credit score to determine your loan term, the amount you can borrow and your interest rate.
It's a smart move to get a mortgage preapproved by a lender before viewing or making an offer on a home because it can help you shop for homes in your price range and show sellers that you are a serious buyer. Also, real estate agents will want to see your mortgage preapproval letter before showing you properties so they can make sure that you're shopping for houses within your budget.
Step 3: Take A Virtual Tour Of The Property
What can you expect when viewing a property virtually? Video technology like FaceTme, Instagram Live or YouTube allows you to have an interactive experience while moving from room to room. Many real estate professionals even host open houses in which you can ask questions and go back to specific parts of the house for a closer look. A remote walk-through should look a lot like an in-person viewing, except that you do it on a screen.
Step 6: Close on the Home
You may want to consider asking a friend or family member who lives close to the property to view the house in person for added reassurance of the quality of the home.
Step 4: Get A Thorough Home Inspection
Whether you're buying a house sight unseen or doing a regular walk-through of a home, you'll want to have a qualified house inspector complete a home inspection on your prospective residence. An inspection may be even more important for a home you have not seen in person.
A home inspection can prevent you from spending a lot of money on structural issues and other problems that can arise after closing (like water damage, electrical issues, mold or other concerns).
Step 5: Make A Sight Unseen Offer
Making a sight unseen offer doesn't look too much different from a traditional home purchase. Once you have a preapproval letter and you've worked with a real estate agent to find your home, you will need to decide how much to offer and how much earnest money you want to put down. An earnest money deposit shows your good faith as a buyer.
Next, you'll put together an offer letter that your real estate agent can help you craft. Once the seller receives your offer, the seller can accept it, reject it, request changes or make a counteroffer. Your agent will walk you through the process.
You may want to rely on contingencies when you make a sight unseen offer. Contingencies require that before a deal is complete, some additional criteria must be met. Contingencies can vary, from home inspection contingency (the home must pass inspection) to a title contingency (the home must have a "clean" title, which means no other person or entity can lay claim to the property). You can choose to drop certain contingencies at your discretion.
Step 6: Close On The Home
Once you've had your offer accepted and all inspections and appraisals have been completed, you'll close on the home. You might do this either at the home itself or in a neutral location with the seller and a notary present.
Get approved to buy a home.
Rocket Mortgage® lets you get to house hunting sooner.
Should I Buy A House Sight Unseen?
Choosing whether or not to buy a house sight unseen is a personal choice. However, it might be necessary in some situations, such as if you move to a different state or across the country. Other relevant situations in which you might need to virtually view and purchase properties include:
Hot real estate markets (in which you must move quickly)
Moving from another country
You will need to take extra steps to rely on your network – real estate agents, attorneys, inspectors and maybe even friends and family – to make sure every step in the process goes according to plan.
Pros And Cons Of Buying A House Sight Unseen
Let's take a look at a few advantages and disadvantages of buying a house unseen.
Pros
It offers an easy way to view properties across the country or world.
You might avoid a bidding war with a quick purchase (though this might not always be the case).
Home inspections can unearth a lot of issues. These can give you the confidence to move forward without seeing the home in person.
Cons
Structural issues may be present that a buyer doesn't notice virtually.
You can't get a sense of details, such as noise, smells and even the lighting in a home.
You can't get a feel for the surrounding neighborhood or potential amenities.
The Bottom Line
Have you found yourself thinking of buying a home without stepping foot inside? Buying sight unseen real estate is a different way for buyers to shop for real estate, but it's increasingly common.
Virtual wholesale real estate involves buying and selling a property remotely, without ever visiting it in person. Buying a home online can allow you to find a new place to live without making lots of trips between your current and future towns.
The steps look similar to buying a home in person, except that most of the process is done on the phone or through a computer screen. The steps, in a nutshell, include: choosing a good real estate agent, getting preapproved for a mortgage, taking a virtual tour of the property, making an offer and closing on the property.
Interested in reading more about buying a house sight unseen? Explore your mortgage options with Rocket Mortgage®.
Get approved to refinance.
See expert-recommended refinance options and customize them to fit your budget.