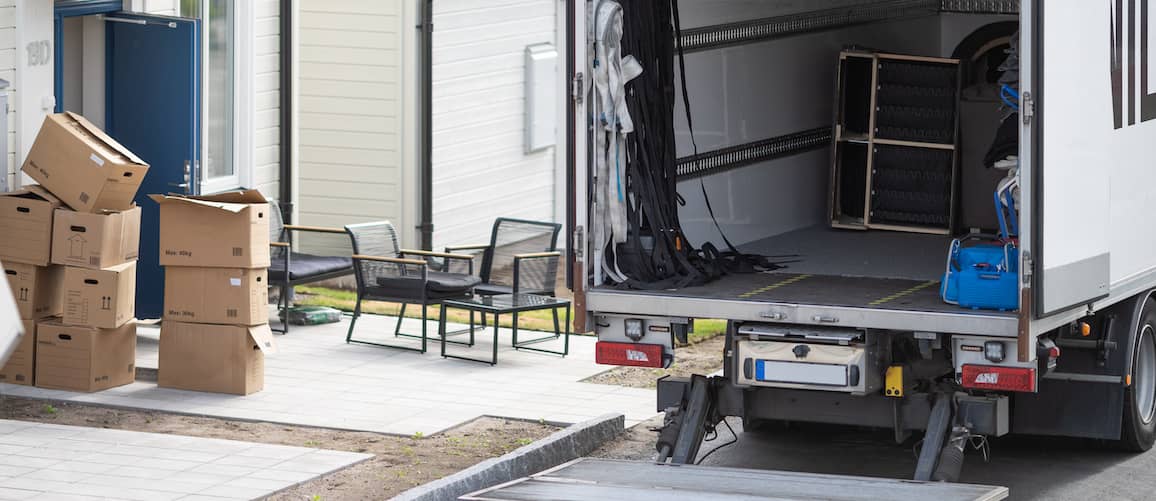 The Average Cost To Move Across The Country: 8 Ways To Save Money
Scott Steinberg9-minute read
March 31, 2023
Share:
What is the average cost to move across the country? It's an important question to be asking, with thousands of families currently contemplating a relocation. After all, amid the changing lifestyles and business norms of the last few years, even those who'd previously been reluctant to embrace the idea of a long-distance move have started thinking differently.
At the same time, many still view relocating (given moving costs, the perceived hassle of packing and dealing with movers, etc.) as a time-consuming and costly endeavor. Noting this, it's important to ask ourselves: How much does it cost to move across the country in reality − and what types of additional packing and shipping expenses do you need to account for when making a moving checklist? Having a better handle on the actual average cost to move across the country can help you make better decisions. Let's take a closer look.
Ready for a change?
Find top-rated movers and compare multiple quotes on HomeAdvisor.
How Much Does It Cost To Move Across The Country?
In general, depending on the moving company and the method of transportation that you elect to use, the average cost to move across the country currently hovers around $2,000 – $8,000. But a coast-to-coast move may come in at even higher cost, to the tune of $2,200 – $15,000. All of these expenses can further be impacted by the duration of your travels (a move of over 100 miles is considered long distance), and the type of vehicle and containers that you choose to use. Likewise, costs can vary considerably given the number of boxes, belongings, and furniture that you're looking to transport, and the individual moving company you pick.
Movers will generally provide an estimate of the total trip cost prior to moving you cross-country. However, be advised that this figure is just that (an estimate) and that final expenses can differ from this initial sketch. On the bright side, while moving costs are typically known to exceed these initial estimates, they shouldn't move too far from a general price range that you've already mapped out for your move. The more homework that you do upfront to accurately inventory and track which specific items that you'll be moving, and the more you can get a handle on the individual weight and size of these belongings, as well as how you're looking to wrap/pack items, the better off you'll be when budgeting.
Factors That Increase The Average Cost Of Moving Across The Country
Several variables can impact the moving costs that are associated with a cross-country move, with several of the most common factors noted below.
Mileage
Naturally, moving into a new home that's situated far away from the location of your initial residence can affect your moving costs, no matter what type of moving assistance or service that you purchase. If you're loath to spend on a moving truck and professional movers, truck rentals rank among the most cost-effective ways to move your property, generally costing anywhere between $150 – $400 for a local move or $750 – $2,500 for a long-distance move. Distance moves generally bundle mileage into total costs of the truck rental, while local moves charge roughly $0.75 or so per mile. Note that while do-it-yourself moves and moving truck pickups can save you money, they're also typically more time- and labor-intensive.
Method Of Transportation
Depending on where you're moving, there may also be different ways to transport your belongings. For example, truck rentals are typically less costly than shipping goods on a plane by air or transporting them by sea in containers loaded onto ships.
You might also consider renting a pod or movable storage container that gets dropped off to your residence, which you then pack, and is afterward picked up and transported by a moving company. Costs to do so may range between $500 – $1,500 for a local rental, or $1,500 – $5,000 for a long-distance move.
Of course, if you own a mobile home or manufactured home that's otherwise able to be transported, you can also consider relocating your entire residence by having it picked up and towed or trucked to a new locale.
Use Of Professional Movers
Hiring a team of professional movers, who can offer varying levels of assistance and a moving truck, is another common way to plan for a cross-country move. Costs can vary greatly depending on the services that they'll be asked to provide (like packing your whole home vs. simply picking up your belongings for transport) and the individual moving service provider. Likewise, you'll often pay an hourly rate that can fluctuate based on team size (typically two or three movers) and actual amount of labor provided (for example, it may take 6 hours to move a three- bedroom house vs. 8 hours for a five-bedroom model). Those seeking to hire a moving company can generally expect to pay around $900 – $2,500 for a local move, or between $3,000 – $10,000 for a long-distance trek. Be sure to get multiple quotes from different providers, and check their references before hiring them, and remember – doing most, if not all, of the packing yourself is often a great way to save money.
Packing Supplies
Costs of a cross-country move can also be affected by the type and volume of packing materials used in moving and transport. Some of the most common packing supplies that long-distance movers and moving services look to for use and/or purchase include:
The cost of these individual products will vary by region and retailer. It's also best to purchase them yourself where possible, as you may end up paying more if your moving company provides materials, as moving services often offer them at an added markup.
Time Of Year
Times at which movers and moving services are in high demand (spring and summer) may also add to the total costs of a cross-country move. Many families move during these warmer and more temperate months, adding to more crowded schedules and greater overall demand for moving labor. Bearing this in mind, you may be better served looking for dates and times when traffic is less strenuous.
Additional Services
Purchasing add-on services can also influence the average cost of a cross-country move as, while they reduce the hassle of moving, they also come at added time and expense. A few optional moving services that you might wish to consider springing for include:
Unpacking or unloading assistance
Furniture assembly or reassembly
Moving specialty items (pianos or grandfather clocks)
Removal of packing materials
Wrapping and transporting fragile goods
Additional moving personnel
Ready for a change?
Find top-rated movers and compare multiple quotes on HomeAdvisor.
8 Ways To Save Money During A Long-Distance Move
There are many ways to save money when budgeting for your long-distance relocation. The below expert hints, tips, and pieces of advice can help you as you consider where you can safely cut costs without compromising on the overall moving experience.
1. Downsize your household:
Before starting the moving process, take time to downsize and declutter your home. Doing so allows you to reduce the total amount and weight of household items that need to be packed and loaded. Among several common strategies that cross-country movers use to get rid of items are simply tossing them in the trash, holding garage or yard sales, or donating various items to charity. Keep in mind that downsizing can not only help you save on your move, and declutter your residence, but may also prove necessary if you're moving into a smaller home.
2. Find free packing materials:
Shh, don't tell major retailers: While packing and moving materials like boxes, paper, and bubble wrap can often be somewhat expensive, you can actually collect many at little to no cost with a little legwork. For example, you might check with your local grocery or wine and spirits store to see if they have any empty boxes handy, or with friends and family to collect second-hand materials. Many online stores also offer items like bubble wrap, cardboard boxes, and packing tape at volume discounts, as may your local dollar store or discount warehouse. The more you collect by using a little networking and ingenuity here, the more you'll stand to save on your cross-country move in the end.
3. Ask for help from friends and family:
Unsurprisingly, labor costs are often one of the largest expenses associated with moving across the country. You can save a ton of money on an upcoming move by recruiting friends and family members to help you pack and load your belongings, though. Many will often be happy to assist free of charge, or in exchange for soda and pizza. Remember: Every hour that buddies or loved ones help out is another hour on the clock that won't be charged to your wallet on the back end.
4. Pack your own boxes:
You can also save big on the cost of a cross-country move by packing your own furniture and belongings, especially if you're looking to hire a professional moving company. Again, every hour they're not billing you for work translates to literally hundreds in savings. For example, a homeowner who utilizes a portable moving container that they pack themselves could save more than $1,000 as opposed to hiring a team of two or three movers to help out. As ever, DIY options remain the most cost-effective here.
5. Choose a less busy time to move:
You may also be able to score cost savings on your move by scheduling your moving date to occur during slower seasons such as winter if possible. Doing so may allow you to easily rack up four figures or more in potential discounts just by delaying your move by a few months. That's because market prices tend to fluctuate with supply and demand. Booking your move at a time when professional movers could use more business can help you secure more competitive rates.
6. Get multiple moving quotes:
Not all movers are created, or charge, equal. Noting this, prices may vary considerably from one professional moving firm to the next. As a result, you'll want to get free quotes from at least four or more professional moving services and compare as many cost estimates before picking a provider. Keep in mind as you go here that the cheapest option isn't always the best either, as customer service and support levels may vary. Always take time to do your research and check customer reviews and references before picking a service, and be sure to look at recent reviews and scores that may be outliers. Many services may boast a high rating, but if these reviews are based on pre-pandemic performance or the work of laborers who may no longer be with the firm, they might not be representative of the current experience.
7. Read the fine print:
Some moving companies may charge hidden fees or introduce ways to inflate costs to increase the bottom line. It's not uncommon to find many of these potential clauses or sticking points contained in the fine print of contracts or estimates. Given that there are many potential ways to get around this (showing up with a smaller team than discussed, taking breaks and running up the clock, working at a more relaxed pace than is warranted, etc.) it's important to keep a watchful eye.
8. Look for possible discounts:
Be advised that select moving services may offer discounts to certain customers, like senior citizens or veterans of the Armed Forces. Likewise, a shrewd negotiator may be able to secure a break on overall pricing or the costs associated with labor and materials. In addition, if possible, you'll also want to take time to catalogue and provide a detailed inventory of what belongings you plan to move so they don't try and spring any surprises on you at the last minute. Note that doing so can also help you get a better sense if, say, the size of the job only requires a team of two movers, or if hiring three (while costlier by the hour) may help you expedite the work and ultimately save more in the end. You may also be able to qualify and apply for various moving assistance programs if needed.
See What You Qualify For
Congratulations! Based on the information you have provided, you are eligible to continue your home loan process online with Rocket Mortgage.
If a sign-in page does not automatically pop up in a new tab, click here
The Bottom Line
The average cost to move across the country currently sits around $2,000 – $8,000, while a coast-to-coast move clocks in around $2,200 – $15,000.
Of course, the total mileage and amount of ground that you're looking to cover, amount of moving assistance that you require, and type of packing and transportation options that you're looking to utilize can also impact these expenses as well. Similarly, the time of year that you're seeking to make your cross-country move, whether or not you're looking to hire professional movers, and what types of services you're asking them to provide can also influence your budget. Happily, from sourcing free or low-cost packing materials to scheduling your move for winter months to getting help with packing and moving from friends and family members, there are many ways to help whittle down these expenses as well.
Ultimately, it can be hard to predict the exact amount that you're looking at in terms of costs to move across the country when you're simply guesstimating off the cuff. A far better approach to getting a handle on actual costs is to set aside the time and effort needed to properly inventory your items, research and secure quotes from multiple moving providers, and consider your various packing and shipping options. Contemplating making a cross-country move soon? You can begin preparing for your relocation now by creating a moving checklist today.
Get approved to refinance.
See expert-recommended refinance options and customize them to fit your budget.
Related Resources
Viewing 1 - 3 of 3