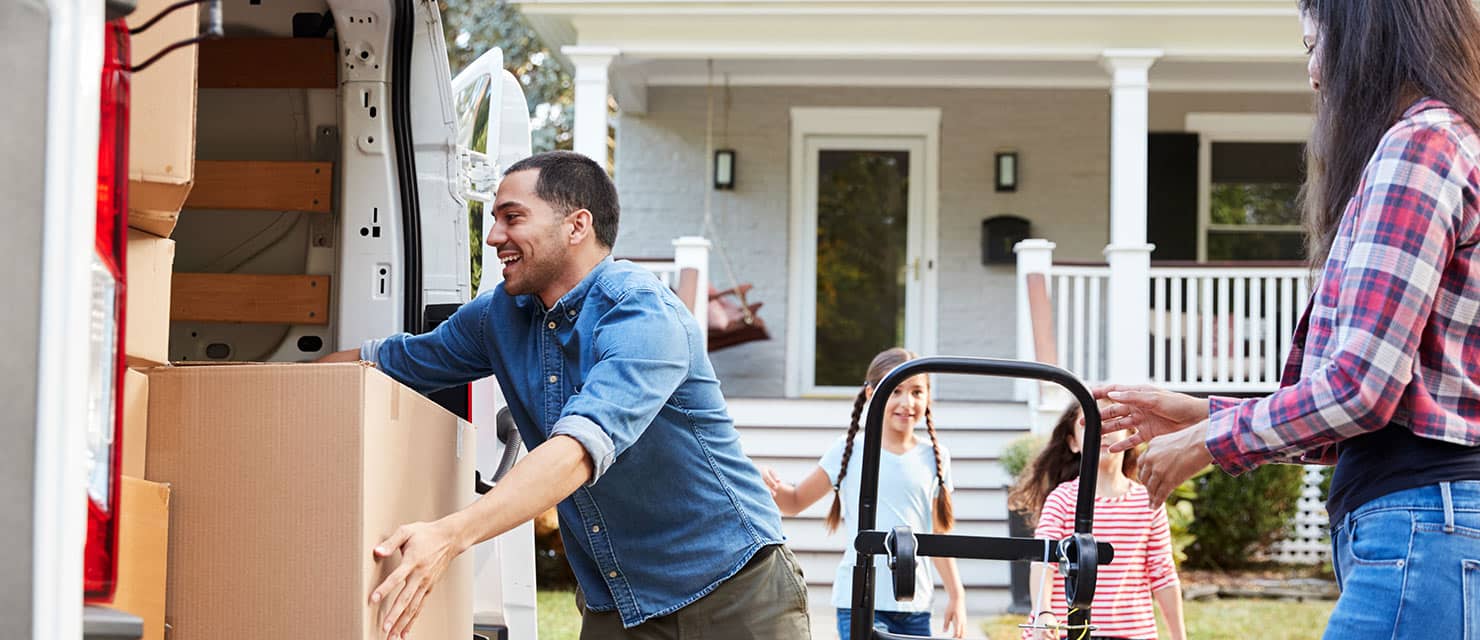 Low-Income Moving Assistance Programs And Resources
Miranda Crace6-minute read
July 18, 2023
Share:
Moving is accompanied by all kinds of expenses – like buying your new house or putting down a new deposit on a rental – that can make you feel cash-strapped before you even get your first quote.
Although many of the resources listed below are specifically targeted toward low-income families, some resources are available to other groups of movers, such as those with disabilities. Let's see what's available and who qualifies.
Help With Your Move: What Is Relocation Assistance?
Whether you are planning to move locally or across several states, it's expensive.
According to Allied Job Relocation Survey, "a quarter of survey respondents who relocated for work received employee compensation for moving expenses."
Lower-income individuals and families can use relocation assistance grants to partially relieve some of the financial burden of moving. These grants may be offered through private nonprofit organizations as well as through federally funded programs. The programs may differ depending on your destination.
See What You Qualify For
Congratulations! Based on the information you have provided, you are eligible to continue your home loan process online with Rocket Mortgage.
If a sign-in page does not automatically pop up in a new tab, click here
Moving Assistance Resources
The average cost of a long-distance – generally 100 miles or more – household move is currently $4,300. The average cost for a local move is $2,300.
If you're buying a house and getting a mortgage, you probably don't have much extra cash around to pay for movers. But if you're moving from a densely populated state to a less densely populated one, or changing employers, help might be available.
Let's look at some resources that might help make your move possible.
State And Local Government Incentive Programs
Some states, counties or cities offer relocation assistance in a variety of ways to encourage population growth within their borders, or to help low-income families relocate when necessary. Check with the state or city where you'd like to move to see what's available.
Relocation Due To Job Loss
The Trade Adjustment Assistance Program (TAA) offers relocation allowances to those affected by job loss through the American Job Center. To receive these services, search through the AJC service locator to find a center near you or contact their service hotline.
How to apply: A Petition for Trade Adjustment Assistance may be filed by a group of workers, by a company official, by one-stop delivery system operators or by partners (including state employment security agencies and dislocated worker units). It can also be filed by a union or other duly authorized representative of such workers on their behalf. For petition forms and information on how to file a petition, visit the TAA Application Process page.
Modest Needs Grants
Modest Needs is a nonprofit organization that provides financial assistance for families and individuals that aren't eligible for conventional social assistance. The organization can provide transportation grants for those who are unable to afford moving assistance.
How to apply: To apply for a grant, you'll need to submit an application through their official website. You'll need your most recently filed tax return or bank statement and income documentation to complete the online application.
Emergency Solutions Grants
The Emergency Solutions Grant (ESG) program is supported by federal funds that are used to provide aid to those that need rental assistance, emergency shelter, house search, house placement and other related services. ESG also provides services for both individuals and families that are at risk of homelessness.
How to apply: The application process will depend on where you currently reside. To find out more information, go to your state's official department of commerce website and search ESG to find the state's online application and requirements checklist.
Charitable Organizations And Nonprofits That Help With Moving Expenses
Many charities offer financial assistance for low-income families and individuals. Some of these charities offer short-term aid, while others provide more long-term funding, depending on the program and individual circumstances.
Catholic Charities USA
There are currently 160 Catholic charities in the United States, which include grants and financial programs for low-income individuals. Catholic Charities USA runs both private programs and works in partnerships to provide resources and grants.
How to apply: Start by searching Catholic charities in your local area to find one that works for your financial needs, either by state or county. Most Catholic charity organizations offer assistance for low-income families and those in job transitions.
Salvation Army
The Salvation Army is one of the largest nonprofit organizations in the country and provides short-term financial resources for those in need. Its Housing Now program specifically offers home assistance for low-income families, including rental and housing assistance.
How to apply: To apply, check which Salvation Army center near you offers moving assistance. You'll need to set up an appointment at that specific center beforehand to complete the application process. For the application, you'll need photo identification, relocation information, low-income status and proof of residence such as a security deposit document.
YWCA
The YWCA works to strengthen women's empowerment and civil rights in the United States. The organization offers financial moving assistance for low-income individuals, especially for women who plan to invest in a home.
How to apply: To be eligible for financial moving assistance, you must live in proximity to a YWCA office. Search your location and from there, you'll be able to navigate to the office's website to view the housing resources available to you. These moving services will be categorized under the "Supportive Housing" tab.
Housing Industry Foundation
The Housing Industry Foundation provides help to those in need of stable housing. The foundation offers financial assistance for low-income families and individuals through its Housing Emergency Fund.
How to apply: To apply for a Housing Emergency Fund grant, you'll need to apply for assistance through the official website. The foundation accepts applications from community members and works directly with partner agencies to provide additional financial assistance.
Take the first step toward buying a house.
Get approved to see what you qualify for.
Government Benefits For Low-Income Families
The United States government offers many benefits for low-income families to utilize. In particular, the Department of Housing and Urban Development (HUD) funds several programs that provide relocation housing and rental assistance.
For more detailed information on each service, it's best to navigate to the official HUD website.
R
ural Housing Service
The USDA's Rural Housing Service has several programs that assist in grants and relocation loans for single individuals and families in rural areas. The moving agency has partnerships with other nonprofit organizations and agencies to provide services. These grants and loans may be used for moving costs.
How to apply: To apply for a grant or loan, you must be in proximity of a local agency office or center. The application process will differ depending on the size of your family and the circumstances of your relocation. Information needed for the application includes family size and income eligibility documentation.
Veterans Affairs Relocation Assistance Program
The Department of Veterans Affairs (VA) offers veterans comprehensive transition assistance, including relocation assistance. The VA works to offer the best relocation plan, depending on your situation. Veteran moving assistance may be allocated through your local branch agency.
In addition, many private moving companies offer discounts for veterans and their families. Make sure you ask about veterans discounts while getting moving company quotes.
Federal Relocation Assistance Program
You may receive money to help with moving costs through federal aid. The Federal Relocation Assistance Program protects those affected by the acquisition or demolition of their property. The program provides funds for transportation costs and security deposits.
How to apply: You must apply for a grant through the official website. Search the relocation claim form directory and fill out this application for residential moving and housing expenses.
How To Find Affordable Housing
HUD also provides several programs that offer affordable housing to a variety of buyers. It also maintains a database of home buying assistance programs available in your state and locality.
The availability of these resources will differ from state to state, so it's important to review your state's official website for more information on specific requirements and steps.
Is There Moving Assistance Available For People With Disabilities?
The Bottom Line: There Is Relocation Assistance Available When You Move
There's no way around it – moving is an expensive part of buying or renting a new home. If you're a moderate- or low-income wage-earner, or you're able to take advantage of state or local incentive programs, you may be able to get some help.
Ready to get the process of buying a home started? Apply online now to see what you qualify for.
Get approved to buy a home.
Rocket Mortgage® lets you get to house hunting sooner.
Related Resources
Viewing 1 - 3 of 3