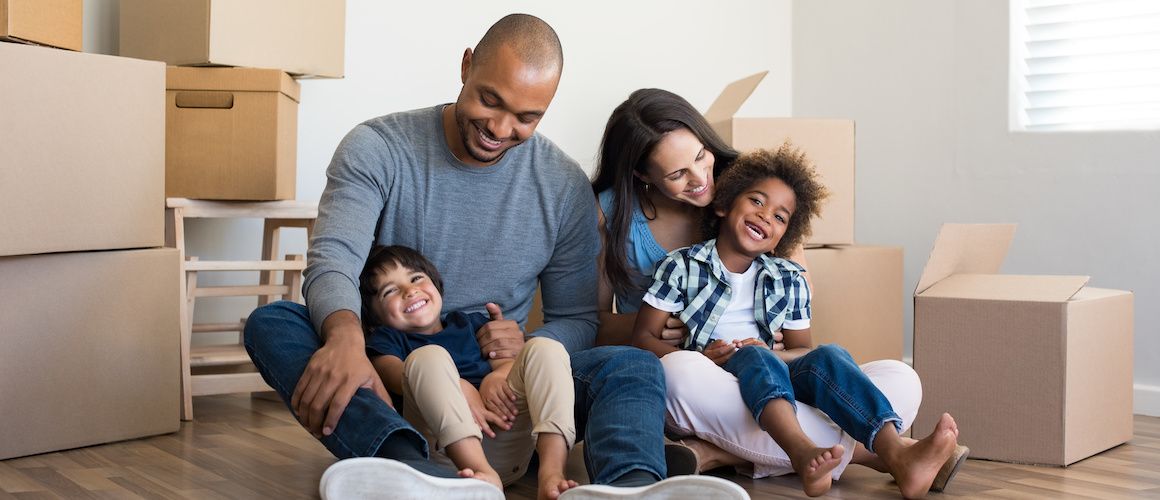 Moving Checklist: Your Go-To Guide For Planning Ahead
Victoria Araj7-minute read
May 02, 2023
Share:
Moving can be stressful, regardless of whether you're moving to another state or just across the street. However, coming up with a game plan that includes a moving checklist can make the moving process significantly easier.
Let's take a look at a few of the major tasks you'll need to handle before the big day arrives. We'll also share a timeline of when you should tackle each task so you aren't left scrambling the night before your move.
2 Months Before Your Moving Date
Two months before your move, you still have plenty of time to get your high-level chores in order. At this point, focus on the big-picture tasks versus the smaller ones.
Decide how you want to move, what you want to get rid of and what you want to bring to your new home.
Say Goodbye To Extra Stuff
The key to a low-stress move is to travel as lightly as possible. Two months before your moving date, think about what you need and what you want to bring with you. There's nothing worse than moving stuff, only for it to sit in storage because you didn't need it in the first place.
If you've ever cleared out your closet, then you know that this is easier said than done. Knuckle down, make the hard choices and start to declutter your home. Donate old clothing, furniture, books and appliances to your local thrift store to make your move easier.
You could also try to earn some quick cash with a garage sale or sell items online through Facebook Marketplace, Craigslist or another digital marketplace.
Make Lists And Organize
Now that you've cut out the chaff, start organizing the items you want to bring with you. Create a list of everything you're going to pack and organize it by room.
Sorting out everything you plan on moving by room will make it more likely that boxes will end up in the right place. This makes for quick and easy unpacking.
The more organized you are, the less you'll have to worry about lugging a heavy box of dishes from the basement up to the kitchen because it was mislabeled.
Decide How You Want To Move
Decide whether you want to use professional movers or do it yourself (or with the help of friends and family). If it's in your budget to enlist some professionals, start collecting quotes from local companies and reading reviews online.
Be sure to get separate quotes from the movers – one with a price for them to pack your stuff, and another for them to move your belongings that you've packed. The quotes will likely be very different. The cost of moving can get pricey, so if movers aren't in your budget, don't think you're the only one who can't afford them.
If you want to save some money and handle it all, reserve your moving truck or van now. Reach out to any friends or family members to make sure they mark the calendar to help on the big day.
And don't forget to show your gratitude with free food and drinks.
Start The School Enrollment Process
Depending on the scope of your move, you may need to enroll your child in a new school or daycare. Start this process as early as possible. Depending on the type of school you're interested in, you may have to deal with long waitlists, especially if it's a popular city or state to raise a family in.
Additionally, you may need to:
Fill out lengthy enrollment forms

Register kids for extracurriculars

Solicit reference letters from your child's current school

Get immunization records sent to the school
Whether you're sending your child to a private or public school, take care of the paperwork early to avoid worrying about it while moving.
Get Updated Pet Records
Your new homeowners association (HOA) or landlord might need your furry friend's records. You certainly don't want to find out that your dog or cat isn't welcome after you've already moved. Call your veterinarian and request a copy of your pet's medical records as soon as possible.
Inventory Your Valuables
No matter how many precautions you take, accidents happen. This is where homeowners insurance becomes extremely important. Your insurance company will need to know about the valuables you own.
Inventory your valuables – jewelry, artwork, heirlooms, antiques – as early as possible to streamline the insurance process and ensure you have coverage for everything.
Take photos of everything and store your list and any photos on a cloud-based storage system. Then, decide whether you want to purchase an additional insurance rider for very expensive items.
If you're using a moving company, be sure to ask your movers about their policy on valuable items. Also, find out what kind of insurance you'll need.
See What You Qualify For
Congratulations! Based on the information you have provided, you are eligible to continue your home loan process online with Rocket Mortgage.
If a sign-in page does not automatically pop up in a new tab, click here
1 Month Before Your Moving Date
As your move gets closer, it's time to start packing. Take extra steps within this moving process to ensure your transition to your new home goes as smoothly as possible.
Schedule A Utility Stop And Start Dates
Now is the time to notify your utilities and other service providers that you're changing addresses. Schedule a stop date for your current address and a start date for your new home. You'll need to contact:
Electricity and gas providers

Water and sewage treatment providers

Internet, phone and cable providers

Medical and dental service providers

Home, auto, life and other insurance providers

Banks and credit card companies that mail statements to your home

Your children's schools

Newspaper, magazine and other subscription providers

Home alarm system providers
Additionally, be sure to let the post office know that you're moving by filling out this USPS change of address form.
Collect Packing Supplies
A move requires plenty of sturdy boxes, bubble wrap and rolls of packing tape. If you haven't hired a mover who supplies the materials and packs everything for you, be sure to order your packing supplies about a month before moving.
If you want to save some pennies, you can call your local grocery and liquor stores to ask if they have any empty boxes. You can also post on Nextdoor or a similar community site to ask if anyone has spare moving boxes. Bookstores are another great source for sturdy boxes, especially if you're hauling heavy items.
Make Travel Arrangements
If you're moving long distance, book your hotel and transportation now, if you haven't already. If you're relocating for a job, make sure you talk with your new employer about whether they offer moving benefits.
If you're driving, it's best to schedule car repairs or an oil change before you head out. You absolutely don't want to be broken down on the side of the road with a trailer full of your valuables.
Start Packing Early
If packing a month in advance of your move seems too early, the hard truth is that it could be the key to reducing your workload when you get closer to the date.
Don't box up any items you might want or need in the weeks leading up to the move. Start by packing up out-of-season clothing and holiday decorations instead.
Label all boxes as you pack them so you can avoid any surprises or missing items.
2 Weeks Before Your Moving Date
Two weeks before your move, get serious about packing. Go through each room in your house and pack everything but essentials like medication or documents you'll need to quickly access.
Label each box with the room where it will go and store boxes in a cool, dry area. Below are some additional tips.
Keep The Essentials Handy
Be sure to leave out some key items that could come in handy on moving day, including:
A rolling dolly

An assortment of screwdrivers and wrenches

A utility knife

Packing tape

Cleaning supplies

Permanent markers

Measuring tape
Return Items You Borrowed
You don't want to worry about rented items on the day of your move. Go through your home and collect anything that needs to be returned. Schedule a day to take back library books, magazines, furniture, appliances and any other items you've borrowed.
Prepare Outdoor Items
Drain all garden hoses and wipe down lawn furniture before you box it all up. Properly dispose of the gasoline from your lawn mower, trimmers and other landscaping equipment before moving them. Consider selling any items that are old or not functioning at their peak.
Check In With Your Movers
Contact the friends or moving company who agreed to help you and make sure they're still available. If not, see if you can find an alternative solution. You don't want to end up with no help on the big day.
1 Week Before Your Moving Date
It's now time to finalize your move and finish up last-minute tasks. In addition to packing up the last of your household items and taping the boxes shut, below are a few other last-minute to-dos.
Create An 'Essentials Bag' For Moving Day
Create an "essentials bag" for each of your family members on the day of the move. Items you should put into your bag include:
2 – 3 sets of clothing

Toiletries (toothbrush, deodorant, toothpaste, shampoo)

Phone and computer chargers

Medications

Snacks

Books, toys and games

Computer and/or tablet

Headphones
Keep this bag separated from the rest of your moving supplies so it doesn't get mixed in with your other boxes. If you're moving with kids, make sure their favorite blanket, stuffed animal or lovey is packed in this special bag. If their comfort blanket ends up packed in a box somewhere, you could have a big problem on your hands.
Clean Out The Refrigerator
If your fridge is moving with you, make sure you empty and defrost it at least 24 hours before the day of your move. If you're leaving the fridge at your old home, remove all leftover food and wipe down the interior.
Consider visiting a local food bank or shelter and donating any nonperishable food items that you're not bringing along.
Deep Clean Your Space
Do a room-to-room deep clean of your space before you move if you're renting. As soon as you finish cleaning out a room, close it off to prevent it from getting dirty again. Make a note to perform any necessary repairs to ensure you get your security deposit back.
It may be worth hiring a cleaning service that specializes in deep cleaning homes for move-out. Although a move-out clean may not be cheap, hiring a cleaner can save you some of the hassle during the last week before your move.
2 To 3 Days Before Your Moving Date
If you've followed this moving checklist so far, then the last few days before your move should be a piece of cake. Cross these off your to-do list before closing the door on your old home and opening the door to your new home.
Grab Cash To Tip The Movers
If you're working with a professional moving company, it's customary to tip the people who lend you a hand. If you don't have cash on hand, visit the bank and grab some to tip your movers. Most people tip each mover $4 – $5 per hour, but you may want to tip a little more if you have a lot of heavy boxes or furniture.
Contact A Locksmith
Contact a locksmith a few days before the move if your lease stipulates that you need to change your locks before moving out. You may also want to change the locks on your new home if the old owners didn't.
Get The Kids Ready For An Early Day
A few days before your move, get the kids into the routine of waking up early. This may save you the headache of dragging the kids out of bed while packing up your moving van. Make sure you have some disposable bowls, plates and cutlery on hand so breakfast doesn't create another mess to clean up before you head out.
What To Do Once You've Made The Move
Congrats are in order now that you made it through moving day, but what comes next? Everyone has a different way to unpack and decorate, but here are a few tips that might help after you move into a new home:
Clean before you unpack.
Organize closets.
Set up utilities and services.
File any insurance claims if items are missing or damaged.
Update voter registration.
Locate local health care providers.
Help pets acclimatize.
One of the last to-dos we recommend after moving in is making time to greet your new neighbors. You'll likely be seeing them frequently, so it's good to know who they are from the start.
The Bottom Line: Find A Home And Plan For Your Moving Day
A solid moving checklist can help make your moving day much easier. Start 2 months in advance, and you'll have plenty of time to get everything in order, rather than rushing in the final days. Pack early, clean early and make sure you have all your ducks in a row.
If you're early in the process and still shopping for a new home, you don't need to go it alone. We're here to answer your most pressing questions and get you closer to your big moving day.
Get started by talking with a Home Loan Expert today.
Protect yourself from rising rates for 90 days.
Lock in today's rate with RateShield®.1
Related Resources
Viewing 1 - 3 of 3