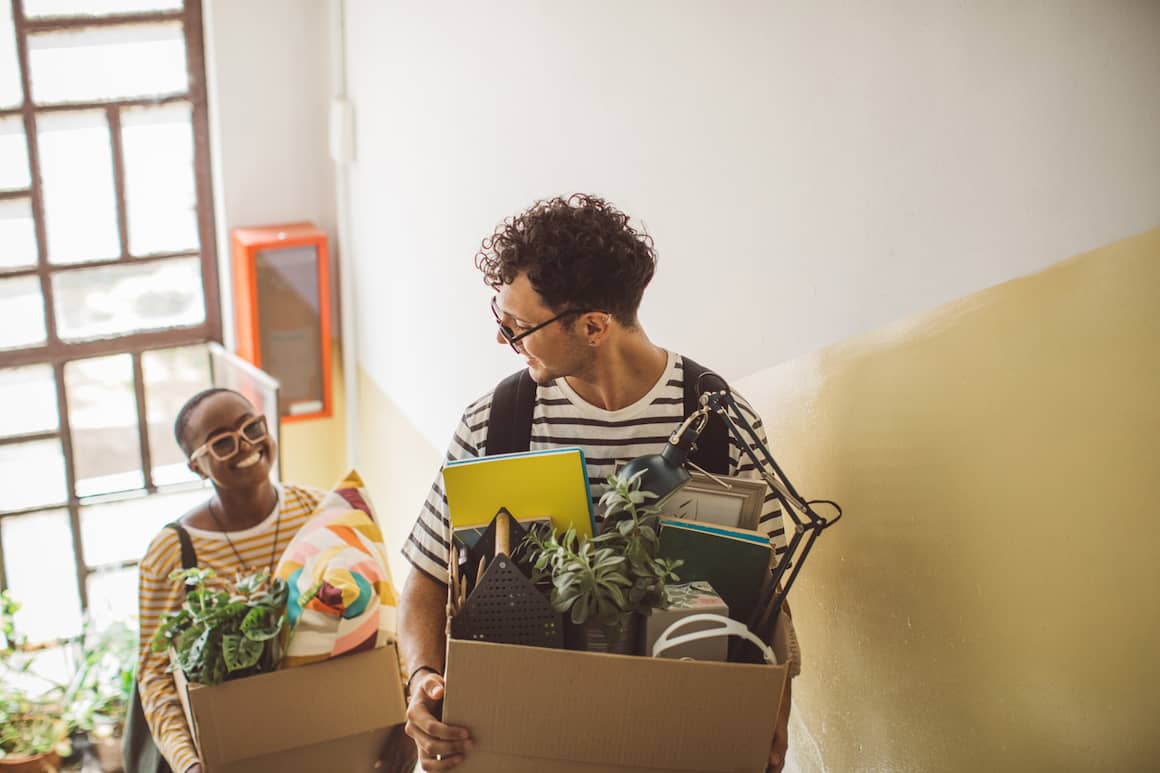 Relocating With A Low Down Payment
Carla Ayers6-minute read
July 12, 2023
Share:
Employees considering relocation have a lot to think about before they accept a job offer. Things like the cost of living in their new city, available housing inventory, and the upfront cash necessary to purchase a home will weigh heavy on their mind when making a decision.
One of the biggest misconceptions among potential home buyers is the amount of money required up front to purchase a home. In a survey conducted by the National Association of REALTORS® (NAR), 35% of those surveyed believe they will need to have 16% – 20% of a home's value for their future down payment. In reality, first time home buyers have been purchasing homes with an average 6% – 7% down payment since 2018. This is good news for transferees who are on the fence about the affordability of relocation.
In this article we will discuss the ins and outs of down payments and how your transferees can relocate with less.
Why Do Lenders Require A Down Payment?
Lending people money is risky business and lenders know that. If you have ever let someone borrow money, then you understand that there is a chance you won't be paid back. To help mitigate the risk of lending, banks and investors can require a down payment as a show of good faith that the borrower is committed to the home purchase process.
Down payment requirements often come from the source that is providing the funds to lenders, banks, and credit unions. Loans through the Federal Housing Administration, Fannie Mae, and Department of Veterans Affairs are a few of the agencies that require a down payment.
See What You Qualify For
Congratulations! Based on the information you have provided, you are eligible to continue your home loan process online with Rocket Mortgage.
If a sign-in page does not automatically pop up in a new tab, click here
How Much Down Payment Is Enough?
There are no right or wrong answers when it comes to how much money someone should put toward a down payment. The average first-time home buyer puts down 6% - 7% of the home's sale price. Repeat home buyers put down an average 13% down payment. That said, every home sale is unique and there are a few more outside contributing factors transferees need to consider.
Below are items relocating employees must consider when saving for a down payment:
The minimum down payment required for the loan they intend to use
Having a sufficient emergency fund for their new home
The cost of repairs necessary to move in
Existing debt and recurring payments
Moving expenses
Furniture and appliances
Home accents and décor to make their new space feel cozy and inviting
Where Did The 20% Down Payment Rule Come From?
The myth of the 20% down payment rule likely comes from private mortgage insurance (PMI) requirements. PMI is insurance that protects a lender if a borrower defaults on their loan. PMI is not required if the borrower is able to put down at least a 20% down payment or more.
It's important to note that PMI isn't around for the life of the home loan. If a relocating employee chooses to put down less than 20% to buy a home, once they reach 80% equity, they can request that the PMI be cancelled or refinance to a mortgage loan with no PMI requirement.
If a transferee isn't comfortable with the idea of paying PMI, they may qualify for lender-paid mortgage insurance (LPMI). Instead of a monthly premium attached to their mortgage, lenders build the cost of covering insurance into the mortgage rate. The borrower will have a slightly higher interest rate instead of a higher monthly mortgage payment.
The Pros And Cons Of A Larger Down Payment
When preparing to make a large purchase, we all want to know the good … and the bad. Below are some of the pros and cons of making a larger than average down payment.
Pros
Less interest: A larger down payment means the borrower is borrowing less money from their lender and accruing less interest as they pay off their home.
Lower mortgage rates: With a larger down payment, lenders are assuming less risk. The lower a borrower's loan-to-value (LTV) ratio, the more likely their lender or credit union will qualify them for a lower interest rate.
Reduced private mortgage insurance: PMI costs can range 0.5% - 2% depending on the mortgage loan balance, down payment, loan term, borrower credit profile and type of mortgage. Borrowers who put down 20% or more are less likely to be required to pay PMI.
Cons
Waiting to enter the housing market: Saving for a substantial down payment is tough to do when paying everyday living expenses. While saving, the housing market could shift, and home values could skyrocket, tacking on additional time transferees need to wait to relocate. If a relocating employee waits too long to make a move, their relocation package could expire, forcing them to forfeit significant benefits and savings from their lender and employer.
Less cash available: For employees relocating to a new home in a new destination, having access to an emergency fund could be more beneficial than committing their entire savings to a down payment.
It takes time to reap the benefits: It's important for transferees to work closely with their mobility manager and their lender to understand all facets of their relocation. Many of the benefits of a large down payment are long-term rewards. If a transferee is planning on moving in a few years or there is a strong chance the business will relocate them again, a large down payment might not be the best purchase strategy.
Home Loans That Help
Not all mortgage loans were created equal and that is a good thing. It's hard enough to save for a down payment; throw in an unstable economy and fluctuating interest rates and it could feel downright impossible to save enough. This is where working with professionals can come in handy.
The Rocket Mortgage® Relocation team is obsessed with making the relocation process simple for transferees. A dedicated team of Home Loan Experts are fully trained on your company's relocation policy, expectations, and culture to ensure your relocating employees have a flawless move from start to finish.
The Rocket Mortgage Relocation team offers exclusive pricing and benefits that you can't find anywhere else. Its starts with a flexible $3,000 credit that transferees can use to buy down their interest rate or put toward closing costs.1 To help give relocating borrowers a boost of confidence when looking for a new home, the Mortgage First program will verify their income, assets, and credit up front. They will receive a fully underwritten approval before they schedule their first home tour.
Below are loan options available to relocating employees:
Conventional loans: These are the most popular home loan options for relocating employees. They will receive a fixed-rate option with a term that fits their long-term financial goals.
FHA loans: Insured by the Federal Housing Administration. A qualified borrower with a credit score of at least 580 could purchase a home with just 3.5% down. Borrowers with scores as low as 500 may qualify for a home loan if they're able to pay at least 10% down.
VA loans: Insured by the Department of Veterans Affairs. VA applicants must meet the necessary service requirements or be the surviving spouse of an eligible Armed Forces or National Guard service member. VA loans can be used to purchase a home with no down payment.
The Bottom Line
Don't let the legend of the 20% down payment deter your relocating employees from exploring new possibilities. Partnering with an experienced relocation team will give your employees the peace of mind they need to move forward in their new position in their new home.
Ready to get moving? Check out Relocation.RocketMortgage.com to learn more about exclusive discounts and benefits today.
1 Eligible clients will receive a lender credit of $3,000 and receive an interest rate reduction when they close on a Qualified Mortgage (QM) conventional, government or high-balance loan offered by Rocket Mortgage for relocation purposes. Offer valid on new applications received on or after June 6, 2022. This offer is only available to clients who call the dedicated phone number or go through the dedicated website, Relocation.RocketMortgage.com, submit an application and close their loan through the Rocket Mortgage Relocation program. Rocket Mortgage reserves the right to cancel this offer at any time. Acceptance of this offer constitutes acceptance of these terms and conditions, which are subject to change at the sole discretion of Rocket Mortgage. Offer is nontransferable. This is not a commitment to lend. Additional restrictions/conditions may apply. Offer not valid with any additional discounts or promotions.
Related Resources
Viewing 1 - 3 of 3