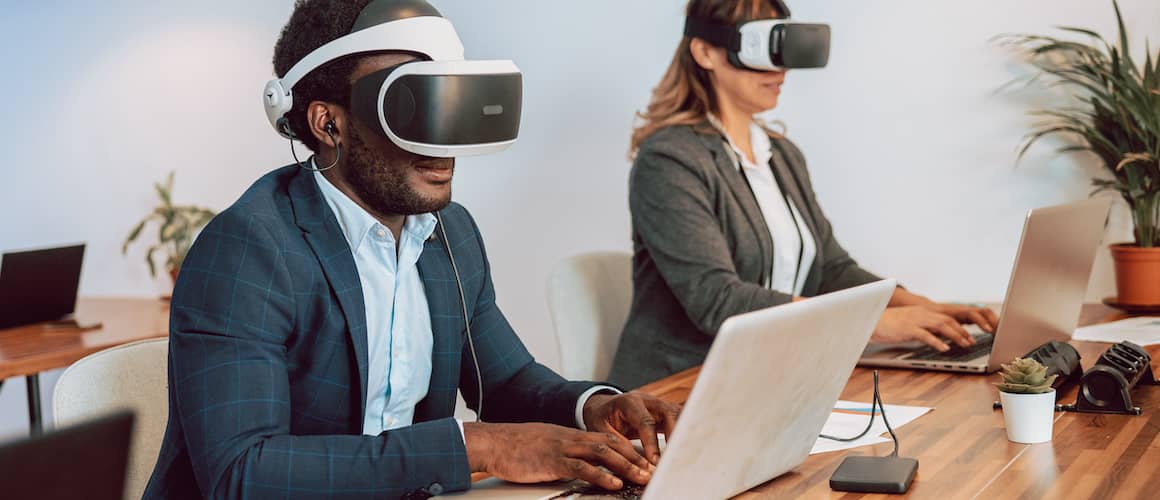 What Is Digital Real Estate And Should You Invest In It?
Sam Hawrylack6-minute read
June 29, 2023
Share:
Physical real estate is a great investment, but when the industry struggles, you may wonder where else to invest your money. Today, many investors are trying digital real estate. While this sounds abstract and complicated, if you understand domain names, mobile apps, and advertising, you know much more about investing in the digital world than you thought.
Like any investment, there are pros and cons to investing in digital assets. Keep reading to see how investing in the virtual world works and how it compares to the real world.
What Is Digital Real Estate?
Digital real estate refers to any digital assets you own. A common example is a website. It's easy to see how this digital property takes up space in the digital universe. Other complicated examples of digital real estate include non-fungible tokens, mobile apps, or digital billboards.
In short, digital real estate investing is investing in any real estate in the 'alternate world,' aka the internet. Many investors today are turning to digital real estate because of the state of the housing market and its volatility.
You can still see and use digital real estate, even rent it out like you would if it was physical. However, the buying and selling process and how you earn your profits differ. Fortunately, you don't have to be a "techie" to understand how to make money in this way.
How Valuable Is Digital Real Estate?
Like any property, there's no way to predict the value of digital real estate beyond today, but we can look at the gains it's made thus far.
With market values in the trillions, it's easy to see why investors are jumping on board with digital real estate investing to diversify their portfolios from the volatility of real estate in the real world.
In Decentraland, investors have seen as much as a 500% property value increase.
All investments have their ups and downs, though. So don't fixate on a specific period when virtual assets went crazy. Instead, look at the big picture and be realistic about your potential earnings (or loss).
See What You Qualify For
Congratulations! Based on the information you have provided, you are eligible to continue your home loan process online with Rocket Mortgage.
If a sign-in page does not automatically pop up in a new tab, click here
How To Make Money From Digital Real Estate
Learning how to buy digital real estate and invest in it isn't as complicated as it seems. But, like any investment, there are simple and complex ways to invest your funds.
Build Or Buy Websites
Building a successful website or buying an already established one is the most common form of digital real estate investing. If you build a large audience, you can sell the website for more than you invested in it, earning capital gains.
Build A Blog
You can start a blog if you don't want to run an eCommerce store. Once you build a following, you can start advertising on your blog and make money. If you can build a large enough audience, you may be able to flip and sell your blog in the future, making a profit and handing over your audience to the new owner.
Advertising
If owning a website doesn't appeal to you, consider advertising to earn money in digital real estate. Blog owners can use affiliate marketing to earn commissions, get sponsored by other businesses to post content on their blog, or create their own brand, advertising on other investors' websites, increasing their company's sales.
Renting Website Space
Just like you rent out investment properties, you can invest in digital real estate and rent it out. You earn cash flow for renting the property to others while gaining the capital appreciation the site makes.
Social Media
Making money on social media is another way to invest in digital real estate. You might even know someone who is a social media influencer. They get paid to do sponsored videos and posts or to sell their products on their social media platforms.
The key is to know how to build a following. Pick a niche with pain points existing influencers haven't touched and build your audience. Like a blog, the more followers you have, the more advertising and sponsored posts you'll have.
Flip Domain Names
Domain names can be worth money if you know how to find the right options. Look for domain names that companies can easily brand, are short and easy to remember, and have the .com extension for the greatest returns.
Like fixing and flipping homes, flipping domain names can be risky. First, you must know what will sell (and won't). You can buy a "dud" and not make anything, or you can buy an incredible name and sell it for thousands of dollars in profits.
Buy And Sell Crypto Or NFTs
Digital currency is quickly increasing in popularity, despite its rollercoaster performance over the last year. One thing is clear, digital currency is here to stay, and as more companies adopt it and enter the metaverse, the more the digital currency will be worth.
Buy Virtual Land
If you're looking for an investment that mimics investing in physical real estate, invest in virtual land in the metaverse. Decentraland is a common platform for digital real estate investments, but there are other options too.
All digital real estate transactions are recorded on the Ethereum blockchain so that no one can replicate the real estate. A blockchain is a public database that's shared across many computers in a network.
The Pros And Cons Of Digital Real Estate Investing
Like any investment, you should consider the pros and cons of digital real estate investing before choosing it.
The Pros Of Digital Real Estate Investing
Digital real estate has a market opportunity of $1 trillion
Knowing the potential digital real estate has makes it a lot easier to invest your money in it. While it's relatively new and uncertain for many investors, some experts believe it can be a great opportunity.
Potential for high returns
Like any investment, you might earn high rewards, especially as the popularity of learning how to make money from digital real estate increases.
Digital real estate appreciates in value
Like physical real estate, digital real estate appreciates. If you own it, you earn appreciation, which means you can sell the property for more than you paid, making capital gains on your investment.
Expansion of your investment portfolio
Diversifying your investment portfolio helps offset the risk of a total loss. For example, putting all your money in physical real estate can be risky if the real estate industry crashes. However, with money invested in other areas, such as digital real estate, you may not experience such a large loss.
The Cons Of Digital Real Estate Investing
The unpredictability of the market
Because digital real estate investing is relatively new, there's not a lot of historical data to use. This makes the market unpredictable. Right now, it's performing well, but that doesn't mean it's guaranteed to continue.
"Maintenance" of your digital property
You must keep up your digital property to ensure its value and make money if you sell it. This means keeping up your followers, maintaining sponsors and advertisers, or continuously finding new tenants for your digital real estate.
Converting your blockchain profits into USD
Blockchain profits are in cryptocurrency, not U.S. dollars. To calculate your profits and use your earnings, you must convert to U.S. currency, which costs money, reducing your profits.
Get approved to buy an investment property.
Rocket Mortgage® lets you get started, sooner.
How To Start Investing In Digital Real Estate
You must have a platform to learn how to buy digital real estate. The most common platforms are Decentraland, The Sandbox, and Axie Infinity.
As you explore your options, consider the type of cryptocurrency they require to purchase digital real estate. For example, Decentraland uses MANA, The Sandbox uses SAND tokens, and Axie Infinity uses Axie Infinity Shards. In addition, all three platforms use the Ethereum blockchain.
After you buy your tokens, you must store them in the platform chosen. Then, you can use this digital wallet to invest in digital assets when you're ready. For example, you can hold your currency until you find the perfect property or buy properties immediately. Like physical real estate, digital properties vary in value, cost, and potential, so do your research.
The Bottom Line: Digital Real Estate Investing Has Profit Potential
Investing in digital real estate can be enticing with its fast earnings and popularity, but you should consider the pros and cons before investing. You shouldn't put all your money in digital assets, just like you shouldn't put all your money in physical real estate. They are great for diversifying your portfolio but consider physical real estate investment opportunities too.
If you'd like to learn more about investing in physical property, contact a financial expert or apply for a home loan with Rocket Mortgage®.
Is a traditional investment strategy a better option for you?
Apply for a mortgage online with Rocket Mortgage®.
Related Resources
Viewing 1 - 3 of 3