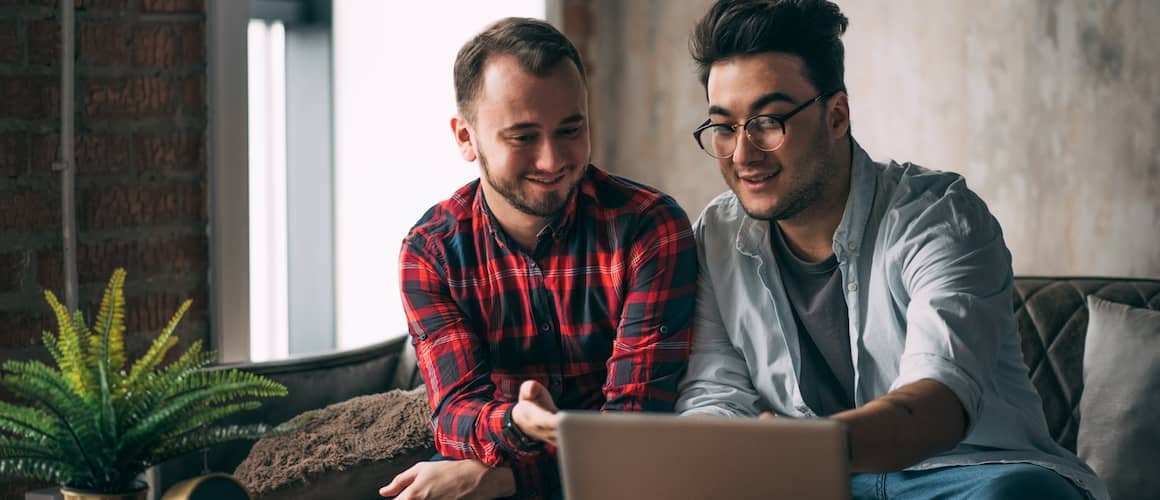 What To Expect When Closing On A House Remotely
Sidney Richardson5-minute read
October 15, 2021
Share:
Closing on a home remotely isn't just for out of state buyers or investors anymore. With the unique circumstances of COVID-19, buying or selling a home completely online is easier and more common than ever before.
Are you considering buying or selling a home remotely? Read on for our guide to what you should expect from remote closings.
What Is A Remote Closing On A House?
A remote closing is just like closing on a home regularly – except many or all aspects of the process are done virtually. During a traditional closing, the buyers, sellers, real estate agents/REALTORs® and attorneys traditionally gather around a table to make necessary payments and review and sign documents. With a remote closing, all parties can complete all or some of the same tasks from the comfort and convenience of their own home or office using a computer.
Get approved to buy a home.
Rocket Mortgage® lets you get to house hunting sooner.
How Do Remote Closings Work?
Once you've done your house hunting, made an offer on a home and had it accepted, it's time to close and get the keys to your new home. When closing remotely, instead of meeting in person, the home buyers and other parties involved may instead meet virtually and go through closing procedures that way.
For a fully online closing, you can expect to meet remotely using a video conferencing app like Skype, Zoom, Google Meet, etc. Any payments that must be processed for closing will likely be done via electronic transfer and mortgage documents will have to be signed electronically.
Not all remote closings are the same, however. Thanks to differing e-closing laws across the country, not every closing can be done entirely online. Depending on your state, the process may look a little different than what we described above. Currently, though, there are three main "models" of online closing that you can expect to see: the hybrid method, remote online notarization (RON) and in-person e-notarization (IPEN).
Hybrid Method
Online closing is legal in many states, but in others, like Kansas, Connecticut and New Jersey, things are a little more complicated. COVID-19 has made it possible to close on a home digitally in most states in order to abide by social distancing rules, but some of the executive orders making this a possibility are not permanent. If remote closing policy is hazy in your state, never fear – it's still possible to close on a home online.
By using the hybrid method, you can sign everything that doesn't require a notary electronically before your actual closing date. Once that date arrives, you can meet with a notary or closing agent in person and sign the remainder of your documents, as well as receive the keys to your new place.
While this method isn't fully remote, it is perfectly legal across the country since you're still signing the important documents in person. It's also a little safer in terms of social distancing than traditional closing. Since you can make payments and sign documents before your actual closing date, it also makes the process considerably faster. Most remote closings are still done using the hybrid method.
Remote Online Notarization (RON)
Remote online notarization, or RON, allows you to do the entire closing process from the comfort of your home. Rather than confirm your identity in person, you'll likely video conference during the closing process and present documents of identification such as your drivers license to a
RON is currently legal in most U.S. states as of 2021. The following states, however, do not have a permanent RON bill, making fully online closings potentially only temporarily possible:
Alabama
Arkansas
California
Connecticut
Delaware
Illinois
Kansas
Mississippi
New Hampshire
New Jersey
New Mexico
North Carolina
Maine
Massachusetts
Oregon
Rhode Island
West Virginia
If you live in one of these states and the executive order allowing RON in your area has expired, you can still do at least a portion of your closing electronically by using the hybrid method discussed above.
In-Person E-Notarization (IPEN)
In-person e-notarization, or IPEN, is the process of signing closing documents electronically but not remotely. An electronic notary is allowed to notarize without any paper involved but will need all parties involved in closing to be physically present.
Although this form of online closing has to be done in person rather than remotely, it cuts down paper waste by using electronic documents and helps make your closing process secure by confirming your identity in person. While IPEN is not a truly "remote" method of closing, it still has its benefits.
What Is A 'Wet Signature' And When Is It Required?
A "wet signature" refers to a real, physical signature on a document rather than an electronic one. Thanks to RON, technically all documents can be validly signed virtually if allowed in your state. Some states without permanent RON bills may require that some of your mortgage documents, like promissory notes or other notarized papers, be signed physically and in person. Some states or lenders may require this for legal reasons, such as to prevent fraud.
Why Has It Taken So Long For The Real Estate Industry To Embrace Remote Closings?
Before COVID-19, remote closings existed but were not as widely used. Online closings might have been occasionally utilized by out-of-state home buyers who couldn't be there in person but were otherwise seen as a luxury.
Despite being widely embraced as a safer and more convenient method, remote closings are still frowned upon by a number of states. While remote closings can help prevent you from getting sick during the pandemic, there are other concerns involved, like fraud. Identity theft as well as other security and privacy concerns have stopped many states from implementing RON bills.
Some places in the U.S. also have complicated laws surrounding the closing process and may require attorneys to be physically present for these events, thus making it impossible to make the closing process fully remote.
Will Remote Closings Become The New Standard?
Remote closings are a convenient new way to tackle the process of getting the keys to your home, and they certainly seem like the logical next step in the world of real estate. You can buy a car remotely and have it delivered straight to your doorstep, so why not make it possible to buy a home from your computer as well?
It makes sense that this would be the direction closings may go in the future, but in terms of the present, remote closings might still have a way to go. Though online closing is allowed across most of the country, many of these closings are authorized by executive orders, not permanent laws. Once COVID-19 slows down, it's hard to say whether remote closings utilizing RON will remain as prevalent.
Rocket Mortgage® is dedicated to making the mortgage process easier going forward. Rocket Mortgage® is currently able to perform online closings in some form in all 50 states – so even if your state forbids the use of RON, you can still complete at least a portion of your closing digitally using the hybrid method or IPEN.
The Bottom Line: Technology Makes Real Estate Closings More Convenient
Remote closing is a faster and more convenient method of getting the keys to your new home – but the rules aren't the same for all closings across the U.S. Make sure to research notarization laws and RON executive orders in your state before deciding if this method of closing is for you.
For more information and help with your remote home buying journey, check out our guide to buying a house online.
Tested. Trusted. Top-rated.
Visit Rocket HomesSM to get a proven real estate agent that's handpicked just for you.