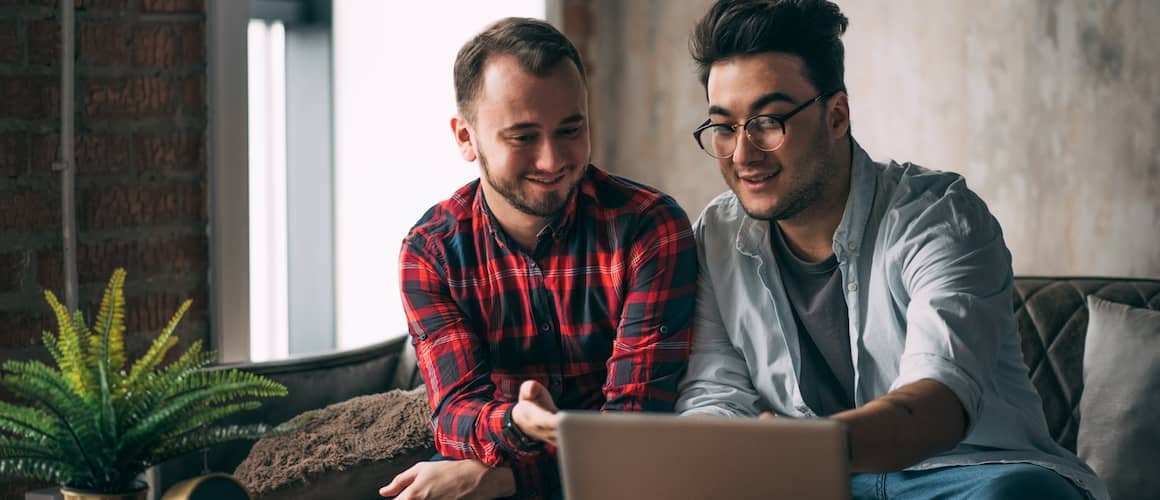 What To Expect When Closing On A House Remotely
Sidney Richardson5-minute read
May 16, 2023
Share:
Closing on a home remotely is no longer just for out-of-state buyers or investors. Because of the unique circumstances surrounding the COVID-19 pandemic, handling complex transactions from different locations is easier and more common than ever before.
Are you thinking of closing on a mortgage remotely? Let's take a detailed look at what you should expect from remote closings.
What Is A Remote Closing On A House?
A remote closing, often called a virtual closing, is one in which identities are verified virtually and all documents are signed electronically. In states that allow for this, new home loan and mortgage refinance transactions can be completed without having to meet in person.
With a remote closing, all parties can complete all or some of the same tasks from the comfort and convenience of their home or office using a computer. Virtual closings often accompany eMortgages, which are electronically created, stored and transferred versions of traditional mortgage documents.
You may be able to close remotely on your loan whether you're looking to buy a new home or refinance your mortgage if your state allows.
Even if your state doesn't permit a 100% remote closing, Rocket Mortgage® can help conduct at least a portion of it online – which we can guarantee now that we perform remote closings in one form or another in all 50 U.S. states.
See What You Qualify For
Congratulations! Based on the information you have provided, you are eligible to continue your home loan process online with Rocket Mortgage.
If a sign-in page does not automatically pop up in a new tab, click here
How Does A Remote Closing Work?
With a virtual real estate closing, the home buyers or refinance clients involved may meet and proceed with the closing online instead of in person.
For a fully online closing, you can expect to meet remotely via virtual video conference. If you're buying a property, you'll likely meet virtually with the sellers, real estate agents and other necessary parties, such as a real estate attorney. Any payments that must be processed for closing will likely happen through electronic transfer, and mortgage documents must be signed electronically.
Not all remote closings are the same, however. Due to various eClosing laws across the country, it's not possible to do every closing entirely online. Depending on your state, the process may look a little different than what we described above.
The three main eClosing "models" are: the hybrid method, remote online notarization (RON) and in-person e-notarization (IPEN).
The Hybrid Closing Method
Online closings are legal in many states, but things are a little more complicated in others. If the digital closing policy is hazy in your state, never fear – it's still possible to close on a mortgage using a hybrid method.
With the hybrid method, you can sign everything electronically that doesn't require a notary, and you can do so before your actual closing date. Once that date arrives, you can meet with a real estate notary or closing agent in person and sign the remainder of your documents to secure your financing.
While this method isn't fully remote, it's perfectly legal across the country since you're still signing the important documents in person. But since you can make payments and sign documents before your actual closing date, the process is considerably faster. Most closings still happen by way of the hybrid method.
Remote Online Notarization (RON)
Remote online notarization, or RON, allows you to do the entire real estate closing process from the comfort of your home. Rather than confirming your identity in person, you'll jump on a video conference at closing and present documents of identification such as your driver's license or passport.
Rocket Mortgage doesn't offer RON for purchase closings at this time. You can, however, use this remote closing method to refinance in some states. If you're looking to lower your monthly mortgage payments or take cash out of your home, be sure to explore your refinance options to find what works best for you.
Get approved to refinance.
See expert-recommended refinance options and customize them to fit your budget.
In-Person E-Notarization (IPEN)
In-person e-notarization, or IPEN, is the process of signing closing documents electronically but not remotely. An electronic notary is allowed to notarize without any paper involved but will need all parties involved in the closing to be physically present.
Although this form of online closing must happen in person rather than remotely, it cuts down on paper waste by using electronic documents and helps make your closing process secure by confirming your identity in person. While IPEN is not a truly "remote" method of closing, it still has its benefits.
What Is A 'Wet Signature' And When Is It Required?
A "wet signature" refers to a real, physical signature on a document rather than an electronic one. Thanks to RON, technically, all documents can be signed virtually if this is allowed in your state.
Some states without permanent RON bills may require that some of your mortgage documents, like promissory notes or other notarized closing paperwork, be signed physically and in person. Some states or even individual mortgage lenders may require this for legal reasons, such as trying to prevent fraud.
Why Has It Taken So Long For The Real Estate Industry To Embrace Remote Closings?
Before COVID-19, electronic closings existed but weren't widely available. Closing costs are routinely paid via wire transfer in a typical real estate transaction. But previously, if you couldn't attend a closing, you'd have to give someone power of attorney to sign on your behalf.
So what has prevented more widespread adoption of remote closings? It could simply be slow adoption of the underlying technology.
Some places in the U.S. also have complicated laws surrounding the closing process and require a real estate attorney to be physically present for these events, thus making it impossible for the closing process to be fully remote.
Will Remote Closings Become The New Standard?
Remote closings are a convenient new way to tackle the process of getting the keys to your home or refinancing to a new mortgage, and they certainly seem like the logical next step in the world of real estate. You can buy a car remotely and have it delivered right to your doorstep, so why not also make it possible to buy a home from your computer?
It stands to reason that this may be the preferred method for closings in the future, but remote closings may still have a way to go since they're not yet legal everywhere.
Rocket Mortgage is dedicated to making the mortgage process easier going forward. We can now perform online closings in some form in all 50 states – so even if your state forbids the use of RON, you can still complete at least a portion of your closing digitally using the hybrid method or IPEN.
The Bottom Line: Technology Makes Real Estate Closings More Convenient
A remote closing is a faster and more convenient method of closing on a mortgage, but the rules aren't the same for all closings across the U.S. Make sure to research remote notarization laws in your state before deciding if this method of closing is for you.
If you're ready to move forward with buying a home or refinancing your mortgage, you can apply online or give us a call at (833) 326-6018.
Take the first step toward the right mortgage.
Apply online for expert recommendations with real interest rates and payments.
Related Resources
Viewing 1 - 3 of 3