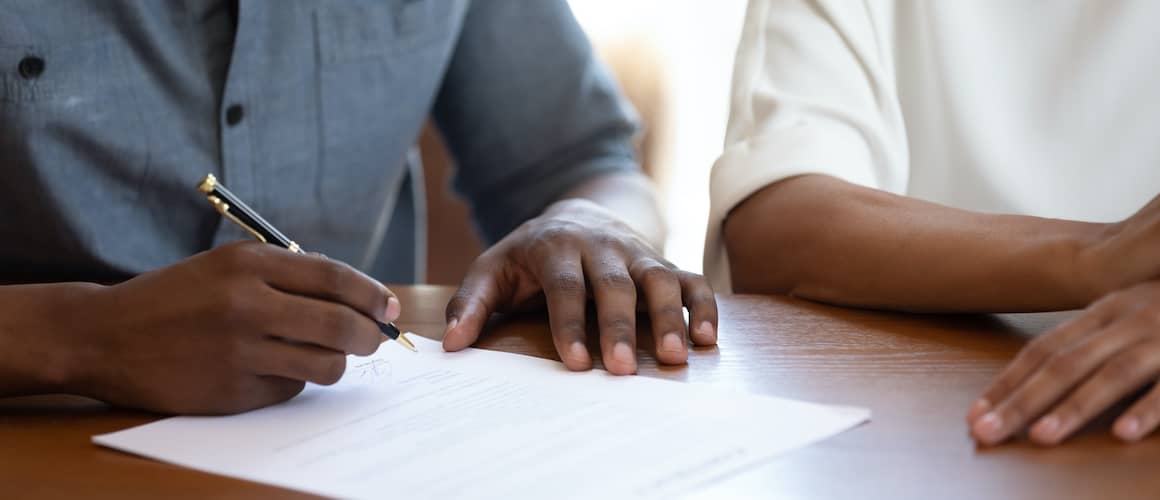 Promissory Notes, Defined And Explained
Hanna Kielar5-minute read
March 06, 2023
Share:
When you borrow money from a lender to buy a home, you'll come across a set of complex legal and financial jargon that may be unfamiliar to you. One such term is "promissory note," which will definitely come up if you are using lender money to finance your home purchase. Don't let this term confuse you – a promissory note is essentially just a legal document where you, the borrower, formally agree in writing that you'll repay the loan.
What Is A Promissory Note?
A promissory note is a written agreement between one party (you, the borrower) to pay back a loan given by another party (often a bank or other financial institution). Anyone lending money (like home sellers, credit unions, mortgage lenders and banks, for instance) can issue a promissory note. But specific to real estate and the mortgage process, promissory notes serve as an agreement that the borrower will repay their mortgage loan by the maturity date.
Mortgage Note Vs. Promissory Note
It's worth making the distinction between a promissory note and a mortgage note. While all mortgage notes are promissory notes, not all promissory notes are mortgage notes.
A promissory note is a legally binding promise from a borrower to repay a loan to their lender. A mortgage note is a document that outlines the terms of a mortgage. It includes information such as the down payment amount, the total loan amount, whether the interest rate is fixed or adjustable and whether the borrower pays a prepayment penalty If the loan is paid off early.
See What You Qualify For
Congratulations! Based on the information you have provided, you are eligible to continue your home loan process online with Rocket Mortgage.
If a sign-in page does not automatically pop up in a new tab, click here
Types Of Promissory Notes
There are a handful of types of promissory notes, such as secured, unsecured and the aptly titled Master Promissory Note (MPN.)
Secured Promissory Notes
A secured promissory note requires the borrower to safeguard the loan by putting up items of hard value, such as the home, condominium, or rental property being purchased, as collateral to ensure that sums are repaid. Most commonly, a promissory note will be secured by the home you are purchasing, which also serves as collateral for the mortgage itself.
Unsecured Promissory Notes
An unsecured promissory note does not come with these upfront collateral requirements, though you are still obligated to repay the loan.
Master Promissory Notes
A Master Promissory Note (MPN) is the same as a promissory note – it's a legally binding document that obligates a borrower to repay a loan and abide by the terms of the agreement. The "master" in front comes from the fact that lenders and borrowers can use a Master Promissory Note across multiple loans, such as federal student loans. (Most often, you will see the MPN terminology when dealing with federal student loans.)
To explain further, a new secured or unsecured promissory note must be issued for every new real estate loan. For example, if you've ever refinanced a home, you'd have signed a new promissory note because a refinanced loan is a new loan.
In contrast, when students take out new loans each school year with their lender, they take out one MPN the first year and use it for all their loans throughout their tenure in school. This eliminates the need to sign a new promissory note each time they take out a student loan.
What's Included In A Promissory Note?
A promissory note is, ultimately, a legal document outlining the terms of the agreement. But the document also states all the additional relevant information of the loan. While each state has its own individual rules governing what must be included in the document, standard items that you might expect to see contained within a promissory note include:
Borrower's name and contact information
Lender details and contact information

Total amount of money to be borrowed

Interest rate being charged and how it's been calculated

Date first payment is required

Required

payment amount

Number of required payments

Frequency with which payments will be made

Fees and charges
Repayment terms and options
Loan conditions

Any collateral that will be put up

Date and location of note issuance

Loan maturity date
Borrower's signature (this is what makes it legally binding)
Promissory notes typically don't address how to handle defaults or breaches of loan terms, like late or missing payments.
How Do Promissory Notes Work In Real Estate?
Promissory notes are just one part of the complex financial and legal process of buying a home. While it may look like a simple stack of paper at closing, each document serves a purpose.
As part of the home loan mortgage process, you can expect to execute both a legally binding mortgage and mortgage promissory note, which have complementary purposes. A home mortgage secures a promissory note with the title to the property as collateral. This is done in case the lender ever needs to foreclose and sell the property because the homeowner did not make loan payments.
Your lender will keep the original promissory note until your loan is paid off. However, you will also receive a copy of your mortgage and your promissory note with the remainder of your closing documents when you close on the purchase.
Note: When closing for a mortgage online (through Rocket Mortgage® for example) a promissory note may be called an eNote, but it is essentially the same thing.
Why Do Lenders Use Promissory Notes?
A lender uses a promissory note as a way to ensure there is legal recourse if you do not repay the loan. While many homeowners think they're paying off the mortgage loan to officially "own" their home, it's actually the promissory note that holds them to the promise. The lender holds the note until the mortgage repayments are complete and it's the note that gives them the power to foreclose if the homeowner defaults.
Without a legally binding promissory note, a financial institution may not have any legal recourse to foreclose on the home or attempt to get their money back. Often, promissory notes are sold (along with mortgages) on the secondary mortgage market. While a promissory note could get lost in the shuffle of secondary market lenders, it doesn't mean you're off the hook for the amount, as your legal obligation to pay the loan still exists.
Laws vary by state, but a lender may reinstitute a promissory note in some instances.
FAQs About Promissory Notes
Looking to learn more about promissory notes? The following FAQs can be a great starting point.
When are promissory notes used?
Promissory notes can be used in a variety of circumstances, including with mortgages, car loans, student loans and even personal loans.
Can I write my own promissory note?
It is possible to write your own promissory note and doing so can help ensure the note is customized to fit the transaction. A promissory note template can help you get started and it may also be a good idea to enlist the help of an attorney to ensure the note is correct and legally binding.
Can I get a promissory note without a mortgage?
Yes, it's possible to have a promissory note without a mortgage. In fact, a promissory note may be a way for someone who is unable to obtain traditional financing to still buy a home through what is called a take-back mortgage. The financing vehicle effectively allows the home seller to loan a buyer money to purchase the home.
The Bottom Line
A promissory note is a key piece of a home loan application and mortgage agreement, ensuring that a borrower agrees to be indebted to a lender for loan repayment. Ultimately, it serves as a necessary piece of the legal puzzle that helps guarantee that sums are repaid in full and in a timely fashion.
Homeowners will see and need to sign a promissory note at closing, but first, they'll need to apply for a mortgage. If you're ready to get started, start your mortgage application online today. You can also give us a call at (833) 326-6018.
Take the first step toward the right mortgage.
Apply online for expert recommendations with real interest rates and payments.
Related Resources
Viewing 1 - 3 of 3