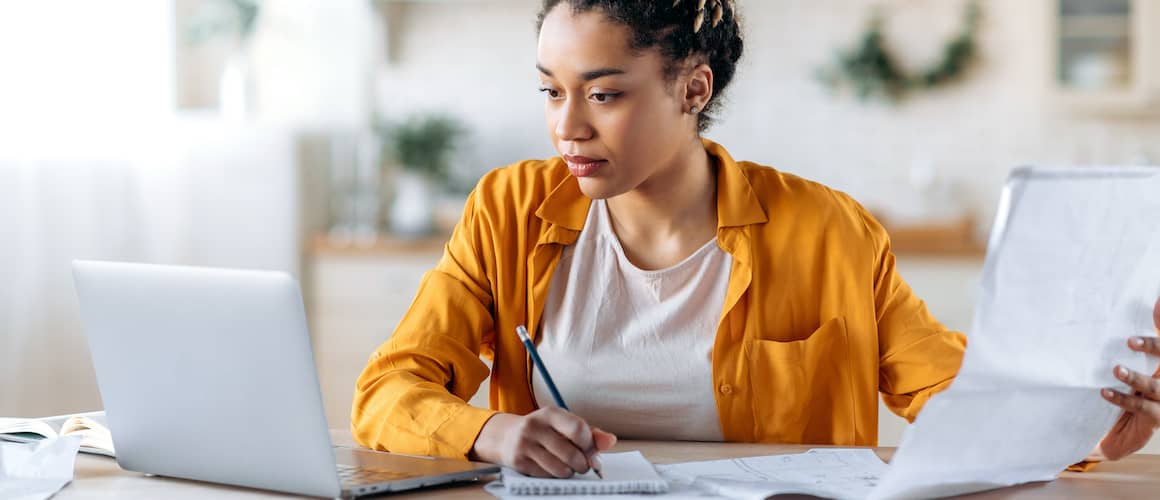 Virtual Wholesale Real Estate: How To Buy Houses From Your Couch
Jamie Johnson6-minute read
November 08, 2021
Share:
Technology continues to transform the way we search for, buy, and invest in real estate. According to the National Association of REALTORS® (NAR), 51% of home buyers found their homes online.
And increasingly, investors are conducting real estate deals online through a process called virtual wholesale real estate. Virtual wholesaling allows investors to remotely perform real estate deals and buy property they wouldn't have access to otherwise.
If you're a new investor who's looking to give virtual wholesaling a try, this article will outline the basics of what you need to know to get started.
What Is Virtual Wholesaling?
Virtual wholesale real estate involves buying and selling a property remotely, without ever visiting it in person. This transaction takes place via a computer or smartphone, and investors will sign the necessary documentation electronically.
Virtual wholesaling allows real estate investors to operate in any market, regardless of the location. But to fully understand virtual wholesaling, it helps to know what wholesaling real estate means.
What Is Wholesaling Real Estate?
If you're interested in becoming a real estate investor but worried you don't have enough capital, wholesaling real estate may be a good option for you. Wholesalers start by looking for a discounted property to put under contract.
To find the right property, investors will often look for distressed properties priced below market value. These properties usually need quite a bit of work, and the owner is often motivated to sell and isn't interested in working with a real estate agent.
From there, the investor will enter into a wholesale real estate contract and then reassign the contract to an end buyer for a higher price. This is known as a wholesale fee and usually costs 5% – 10% of the property.
How Do I Make Money Virtual Wholesaling?
One of the advantages of virtual wholesaling is that you don't need a lot of money to get started. You're usually buying houses that are distressed or in foreclosure, and working with a highly motivated seller.
Real estate investors make money by attaching a wholesale fee to the transaction. This fee is usually a percentage of the total cost of the property. The wholesaler acts as a middleman in the transaction and earns money by finding and closing real estate deals virtually.
Take the first step toward the right mortgage.
Apply online for expert recommendations with real interest rates and payments.
Do I Need A Real Estate License For Virtual Wholesaling?
No, you don't need a real estate license or experience to start virtual wholesaling. Anyone can start doing it and make money at it. It's especially attractive to new investors since you can get started with very little upfront capital.
However, it will take time to make money as a wholesaler, and you may make a lot of mistakes in the beginning. It can be helpful to connect with a mentor who has already been successful as a real estate wholesaler. That person can guide you through the process of getting started.
Pros And Cons Of Virtual Wholesaling Real Estate
Just like any other real estate investing strategy, there are pros and cons to virtual wholesaling. Let's look at some of the biggest benefits and drawbacks you need to know about.
Pros
Since you don't have to visit multiple properties in person, virtual wholesaling is a more efficient use of your time.
It's a good entry point to getting started as a real estate investor.
You have the opportunity to close real estate deals in any market, regardless of proximity.
Very little capital is required to begin, so it's a low-risk way to get started as an investor.
If you have access to a laptop and Wi-Fi, you have everything you need to communicate with buyers and sellers.
Cons
You'll have to do quite a bit of research to find the right properties and cash buyers.
It will take time to be successful and start earning a profit as a virtual wholesaler.
Since you may not see the property in person, there could be issues that you are unaware of.
Virtual Wholesaling Real Estate Vs. Flipping Houses
It's important to understand that virtual wholesaling is not the same thing as flipping houses. Both strategies involve purchasing distressed homes and selling them for a profit, but they go about it in different ways.
When you flip a house, you purchase a property that needs some work and spend time fixing it up. Once you've increased the value of the home, you turn around and sell it for a profit.
With virtual wholesaling, you're still buying a distressed property, but you're not doing the work to fix it up yourself. Instead, you're charging a wholesale fee to the final buyer. As a result, you'll get less money in a wholesale deal, but you won't invest the same resources into the house.
The Virtual Wholesaling Process
If you want to break into real estate investing but you're short on cash, becoming a wholesaler or even a virtual wholesaler could be a lucrative option for you. Here are eight steps you can take to get started with virtual real estate.
1. Do Your Research
Before becoming a wholesaler, it's a good idea to familiarize yourself with virtual wholesaling laws. It's also a good idea to spend time researching the markets you're interested in buying properties in. For instance, you can use resources like Rocket Homes® to research specific neighborhoods you're looking to buy in.
2. Find The Right Property
To be successful, you need to find the right properties listed below market value and have to find ways to make them more appealing to the end buyer.
Many investors do this by looking for homeowners that are motivated to sell. For instance, homes that are in foreclosure or have liens are a good place to start. You can also find good deals using the following resources:
Multiple listing service (MLS)
Online networking groups
Direct mail campaigns
Social media marketing
Checking Craigslist for good deals
It's a good idea to try a variety of methods in the beginning and pay attention to what works. Over time, you can narrow this down to the one or two strategies that give you the best results.
3. Crunch The Numbers
Once you find a property you're interested in, you need to crunch the numbers to make sure it makes financial sense for you to buy it. To do this, you need to know the property's fair market value and how much it will cost to make any necessary repairs. This information will allow you to calculate your maximum allowable offer, which is the highest price you can pay on the property.
4. Get In Touch With The Seller
Next, it's time to reach out to the seller to start the negotiation process. Depending on where you found them, their information may not be readily available. You may be able to find their information by looking at public tax records or by searching for them online.
When you reach out to the seller to make your offer, it's important to be upfront about the fact that you're a real estate wholesaler. Explain why working with a real estate wholesaler is beneficial and how you plan to handle the entire process.
5. Perform Due Diligence
It's harder to perform due diligence when you're buying an investment property online, but it is possible. You should start by verifying the fair market value of the property.
You'll do this by looking at comparable properties sold in that area. You can also look at things like rental income, occupancy rates and cash on cash returns to analyze your investment.
6. Get The Property Under Contract
Now it's time to present your offer to the seller and put the property under contract. When you present the contract to the seller, make sure it includes an inspection contingency.
This contingency allows you to cancel the contract if any unexpected problems come up during the inspection. The contract should also include the right to assign the contract to another party.
7. Market Your Contract To Cash Buyers
Once you've found the right investment and worked out a deal with the seller, your work is not over. Now you need to market your contract to potential cash buyers.
One of the easiest ways to do this is by connecting with a REALTOR® in your area. That individual can help you identify cash purchases made over the past year. You can also connect with potential buyers on social media.
8. Reassign The Contract To The End Buyer
Once you have an interested buyer, you can use technology to assign them the contract and close the deal from anywhere. Programs like DocuSign make it easy to sign the contracts and close the deal virtually.
The Bottom Line
If you're looking for a low-cost way to invest in real estate, virtual wholesaling could be a good option for you. As a virtual wholesaler, you can tap into new markets and earn a profit on your investment.
This type of virtual investing is low risk and has the potential for high rewards over the long run. If you're interested in learning more about real estate wholesaling or other investing strategies, be sure to check out the Learning Center at Rocket Mortgage®.
Get approved to buy a home.
Rocket Mortgage® lets you get to house hunting sooner.
Related Resources
Viewing 1 - 3 of 3