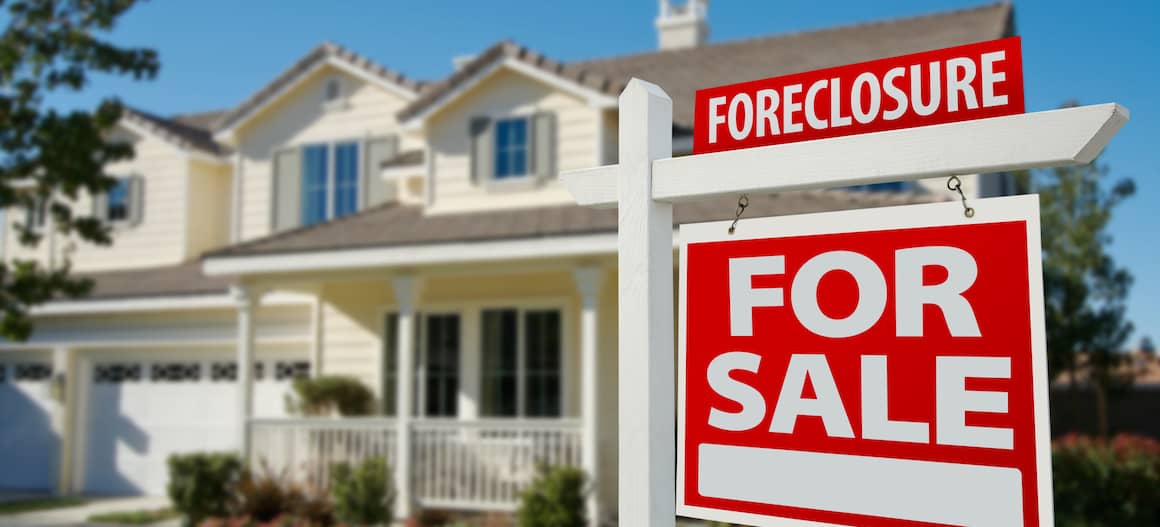 What Is A Zombie Foreclosure?
Andrew Dehan4-minute read
February 27, 2022
Share:
You've heard of a zombie apocalypse, but what about a zombie foreclosure? Fortunately for us all, only the latter is a common occurrence.
Learn what a zombie foreclosure is, how it can happen and the negative effects one can have on homeowners and surrounding properties.
Zombie Foreclosure Definition
A zombie foreclosure refers to a situation where a homeowner vacates their property after receiving a notice of default, expecting they will lose the home in the pending foreclosure.
The foreclosure may get canceled for any number of reasons and never completed. This means the house title will remain with the homeowner, who may not even know they still own the home and are financially responsible for it.
So why is it called a zombie foreclosure? Like its namesake, the house is essentially dead, growing more decayed and decrepit over time, but its mere presence can continue to cause harm to its former owners and the community around it.
Real Estate Terms Similar To Zombie Foreclosure
Zombie foreclosure isn't the only ghoulish and mysterious term that applies to real estate. Let's look at what some other common frightening terms mean.
Shadow Inventory
"Shadow inventory" refers to foreclosure properties that are owned by the bank and intended to be sold on the housing market. Until it is officially for sale, the property is considered shadow inventory, or "hidden in the shadows."
Vampire Foreclosure
As if zombie foreclosures weren't complicated enough, a home can become a vampire foreclosure when the previous owner continues to reside in the house even after a completed foreclosure. For any number of reasons, the bank hasn't tried to remove the former owner or sell the property, and the previous owner will continue to live in the home undisturbed.
Take the first step toward the right mortgage.
Apply online for expert recommendations with real interest rates and payments.
How Do Foreclosed Properties Become Zombie Homes?
Homes usually become zombie properties because of a misunderstanding of the foreclosure process. If a homeowner believes their home to be lost, they might pick up and leave during preforeclosure and never come back.
Normally, ownership of the home is transferred to the lender, who then completes the foreclosure process on the property. Sometimes, though, the lender may decide not to go through with the foreclosure.
This could be because the lender or bank doesn't want to take on the financial responsibilities of repairs or back taxes owed. The lender, however, has no obligation to let the previous owner know that they still hold title to the home.
If the homeowner is unaware of the failed foreclosure, they are then the owners of a zombie title that – pun intended – can come back and bite them.
How Zombie Homes Can Hurt Homeowners And Neighborhoods
Leaving your home to "rot," as it were, doesn't absolve you of your responsibilities, financial or otherwise. If you've moved on to another house, or another town, the revenant of your former home can continue to haunt you in a number of ways.
For example:
You may still owe unpaid property taxes that a collector may come to collect.
You could still receive a bill for maintenance, upkeep, trash removal and other services.
You can accrue fines for your property inadvertently violating zoning laws following your abandonment.
Not only will your financial responsibilities prevent you from fully moving on with your life, but you could be dragging your former neighborhood down with you. Abandoned homes can fall into disrepair and affect the value of the surrounding properties.
Vacant property can become shelter for squatters and attract vandalism or other crimes. This could drive away potential new residents and cause current ones to reconsider if their neighborhood is still safe to live in.
Can You Prevent A Zombie Foreclosure On Your Home?
The clearest way to prevent a zombie foreclosure is to keep out of foreclosure in the first place by continuously making on-time mortgage payments. If you receive a notice of default and your home enters the foreclosure process, you can still avoid foreclosure with a deed in lieu agreement, as well as other methods.
If all else fails and you foresee losing your home to foreclosure, it's best to stay in your house until receiving an official notice to vacate the premises. This way, you can remain in communication with your lender and be notified when the title of the property has been transferred out of your name.
Just to be safe, you may want to confirm you no longer own the property by visiting your county recorder's office or website.
How To Buy A Zombie House
Buying foreclosed properties is common among home buyers and real estate investors alike, but buying a zombie foreclosure can involve a few extra steps. Because of title discrepancies and other legal ramifications, consider working with a real estate attorney before trying to buy a zombie property. You may even need to file a lawsuit to obtain ownership.
Finding zombie properties these days is easier than it used to be with improved and accurate property data systems. It can still be more complicated than buying a regular investment property. Expect to do a lot of detective work and make a lot of phone calls.
Consider reaching out to the following entities for information on a zombie property:
The lender or bank. Lenders usually keep a list of foreclosure properties in their areas, and it stands to reason they'd keep files on zombie foreclosures as well.
The property management company. The zombie property in question may be associated with a property management company. You should contact them to learn any important information regarding the property.
The previous owner. If you can find the name and contact information of the former owner in your county's public records, you may want to consider getting in touch with them in regard to purchasing the property. This could be the simplest way forward if the owner is willing to cooperate.
The Bottom Line: Stay In Your House To Avoid Zombies
Zombie foreclosures may not refer to the walking dead, but they can be just as scary for homeowners and communities. If possible, you should do everything in your power to avoid letting your home turn into a zombie house. The best way to do this is to remain in the house throughout the foreclosure process.
Learn more about the foreclosure process here and how to keep your home out of foreclosure. If you're interested in finding and purchasing a zombie foreclosure property, get started today with an approval from Rocket Mortgage®.
Get approved to refinance.
See expert-recommended refinance options and customize them to fit your budget.
Related Resources
Viewing 1 - 3 of 3