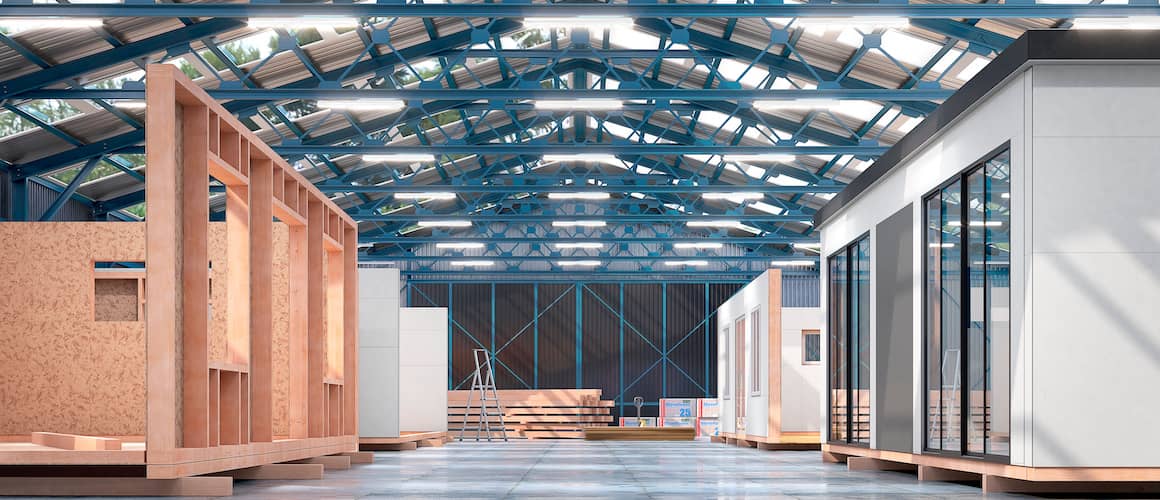 The Best Modular Home Manufacturers In The U.S.
Sarah Sharkey8-minute read
July 21, 2023
Share:
If you have your heart set on a modular home, choosing the right manufacturer can make all the difference. Modular homes aren't one size fits all, and neither are the manufacturers.
Let's explore the top modular home manufacturers. With all of the necessary information, you can opt for the right manufacturer for your modular home needs.
The Difference Between Manufactured And Modular Homes
Although both are relatively cost-effective housing solutions, it's important to note the difference between manufactured and modular homes.
A modular home involves multiple factory-made pieces that are assembled on a home site. A key feature of modular homes is that the structure is permanently attached to the land via a traditional foundation. In contrast, manufactured homes are built in sections for a single or multi-width space. Manufactured homes are built on a steel chassis, which may or may not be affixed to the land.
In many cases, it's easier to get a traditional mortgage on a modular home. Since manufactured homes may be moved, it's often more difficult to get financing.
The Top Modular Home Manufacturers
Modular homes come in all shapes and sizes. As the homeowner, you can select the features and floorplan that suit your needs and budget. Below is a sampling of the top modular home manufacturers.
Clayton Homes
Clayton Homes made the list of top modular home manufacturers due to its relatively affordable price points, ample options and fast timelines. Prospective homeowners across the nation can find homes starting at around $60 per square foot.
The company earned multiple Manufactured Home Institute Excellence in manufactured housing awards. Beyond the award-winning homes, the short timelines are very enticing. It's possible to move into your new home in as little as 8 weeks.
Throughout the process, you'll find plentiful tools at your disposal. After you purchase the home, you'll enjoy a basic warranty. But if you are looking for more peace of mind, you can upgrade your coverage to 5- or 10-year warranty plans.
The pros include:
Short construction timelines
Extended warranty options
Winner of multiple awards
The cons include:
Home styles not available everywhere
Champion Home Builders
Champion Home Builders has been around for over 60 years and offers an extensive selection of floor plans. As you explore your options, a virtual tour feature can help you truly visualize what the space has to offer.
As a prospective homeowner, the floor plans serve as a starting point for your customizations. You can add a wide range of details to suit your needs. Everything from gourmet kitchens to architectural features is available through Champion Home Builders.
The pros include:
Virtual home tours to visualize the property
Extensive selection of floor plans
The cons include:
Must finalize the purchase with a local retailer
Firm pricing information is not available
Impresa Modular
Homeowners looking for extensive customization options will enjoy what Impresa Modular has to offer. The company offers a wide selection of floor plans and designs to create your dream home.
You'll even have the chance to design your home completely from scratch. HomeStyler, the company's interactive design tool, offers a simple and functional way to bring your dream to life. Depending on your customizations, the costs range from around $200 to $245 per square foot.
Once you choose a home, the turnaround time often ranges from 3 to 4 months. The home can be installed anywhere in the nation. The company offers a worthwhile option for anyone looking for a highly customized home.
The pros include:
High level of customization options
Easy to use design tool
Relatively fast construction
The cons include:
Relatively high costs
Limited warranty
Commodore Homes
Commodore Homes offers a selection of modular homes that won't break the bank. When you work with the company, you'll have access to a comprehensive budgeting calculator to add up all of your projected costs. For example, electrical hook-ups and site construction estimates are all considered in your bottom line.
Although budget-friendly, the exact costs of Commodore Homes options are difficult to uncover. Likewise, information on lead times is limited. However, you'll have a good idea of the cost when you price out your desired home.
One limiting factor is the covered states. At the time of writing, Commodore Homes only offers products in 35 states.
The pros include:
Helpful budgeting tool
Online design tools
The cons include:
Vague pricing information
Deer Valley Homebuilders
Deer Valley Homebuilders offers worthwhile options for homeowners seeking energy-efficient homes made with high-quality materials. According to the company, these priorities create healthy built homes.
Through the company, you'll find four different families of homes with unique themes. But these homes serve as a jumping-off point for any customizations you'd like to add. Overall, the home style tends to lean toward modern with an emphasis on country charm.
One downside is the geographic limits of Deer Valley Homebuilders. It's primarily available to homeowners in the Southeast.
The pros include:
Ample customization options
Energy-efficient building materials
The cons include:
Not available in every state
Limited pricing information
Blu Homes
Blu Homes offers four different styles of single-family homes that range from around 600 square feet to 2,100 square feet. From this starting point, you can add custom design elements to give the house everything you had in mind.
The company has a focus on an energy-efficient build with a modern aesthetic.
When you work with Blu Homes, you can expect the home to be ready for move-in within 3 months. After you place your order, the price is locked in to avoid the headaches of additional costs along the way.
The homes come with a 10-year structural warranty, two-year systems warranty, and one-year workmanship warranty. The combination of warranties should protect your wallet for years to come.
A big downside is that Blu Homes are only available in California.
The pros include:
Extensive customization options
Energy-efficient focus
The cons include:
Only available in California
How To Choose A Modular Home Builder
If opting for a modular home, finding the right builder is a key part of the process. With the right builder, the process of making your modular home dreams come true is more likely. The wrong builder could put a wrench in your modular home plans.
Consider Their Floor Plans
The floor plans offered by a modular home builder is arguably the most important factor. As a prospective homeowner, the layout and size of your home have obvious significance. After all, you don't want to get stuck with a home that doesn't suit the needs of your household.
When looking at potential builders, take a close look at their potential floor plans. It's essential to find a builder offering a floor plan that meets your needs. Even if a builder checks every other box, the lack of a suitable floor plan is a dealbreaker.
Pay Attention To Their Custom Options
The customizations you add to a home can go a long way toward making a house feel like home. Everyone has different customization preferences. As you start your home builder search, consider making a list of what you'd love to have in your home.
For example, you might crave the architectural interest of vaulted ceilings. If that's on your wish list, confirm the builder can make this customization. Scan the list of customizations to confirm the builder can create a house that suits your style.
Read Up On Reviews
Reading the reviews of any business can be a remarkably eye-opening experience. The internet makes it easy to find customer reviews before moving forward with a major purchase. Don't skip this part of the process.
You likely want to work with a company that has stellar reviews. If a company consistently earns terrible customer reviews, it's best to steer clear.
Even if you decide to work with a company that has mediocre reviews, you'll know what to watch out for. For example, if customer reviews consistently point to a delayed timeline, you can factor that into your plans.
Consider Customer Service
Customer service is a key part of any purchase. But when purchasing a modular home, helpful customer service is especially important.
Check out the customer service options. Confirm that the customer service hours line up with your own schedule. For example, a customer service office that closes at 5 p.m. every day might not be compatible with your work schedule. It's better to find this out before signing up to work with a company.
Ask About Turnaround Time
A home purchase ultimately results in a new place to call home. But the length of the construction process is a big deal for anyone moving into a new home. Take a look at the turnaround time for any manufacturer you are considering.
If you have questions about the timeline, don't hesitate to ask upfront. It's better to know about potential delays upfront because it's easier to make alternative housing arrangements in advance.
Also, consider the demand for a company. While high demand for a company's homes is a good thing, it might impact your timeline. Many companies on this list mentioned high demand impacting their estimated timelines. Be clear on the expected time frame before signing on the dotted line.
Learn About The Materials They Use
A home is only as strong as the materials used to build it. High-quality materials can help your home last for decades. If possible, opt for a builder providing homes made from high-quality materials.
If you aren't thrilled about a particular building material, consider asking about a switch. If the builder is unwilling to accommodate your request, it might be time to find a different option.
Warranties
No one wants to run into an issue with their home. However, it's possible that a mistake at the factory could lead to big issues down the line. A warranty can help you avoid picking up those costs.
Take a close look at the warranty options offered by the manufacturer. Many offer a one-year warranty. But some offer extended warranty options. If you want more peace of mind, a longer warranty might do the trick.
Price Range
Different modular home manufacturers offer homes in different price ranges. While some manufacturers offer value-based options, others offer extensive customizations that increase the cost of your home.
As you consider different options, look for a builder that offers options in your price range.
When looking at the numbers, don't forget to include the costs beyond the build. In addition to the actual home, you'll need to consider the costs of site preparation, utilities, taxes, and fees. The costs vary based on your location. But determining a good estimate of your extra costs will help when pricing out your home purchase.
Location
Some modular home manufacturers offer options for prospective homeowners around the country. But others have a limited range of geographic availability. As a buyer, you'll need to confirm the company is able and willing to deliver to your area.
FAQs About Modular Home Manufacturers
You have questions about modular home manufacturers. We have answers.
What is the difference between manufactured home builders and modular home builders?
Manufactured home builders provide homes with the ability to move. Modular home builders create homes designed to be installed on a traditional foundation and stand up to the building codes of the area. Additionally, manufactured home builders must meet building codes set by the Department of Housing and Urban Development.
Do modular home builders have to follow state building codes?
Yes. Modular homes must follow state, local, or regional building codes. The homes are held to the same standard as site-built homes.
Are modular homes more expensive than manufactured homes?
In general, modular homes are more expensive than manufactured homes. However, the cost of individual homes varies.
Is working with a modular home builder better than buying a manufactured home?
It depends on your goals. Modular home builders create homes that often appreciate more than when compared to manufactured homes. However, manufactured homes are often a more affordable option.
The Bottom Line
Modular homes offer a relatively affordable path to homeownership. As the homeowner, you can create a customized layout that suits your needs and your budget. If you are interested in buying a modular home, then apply online with Rocket Mortgage® to explore your financing options.
Get approved to buy a home.
Rocket Mortgage® lets you get to house hunting sooner.
Related Resources
Viewing 1 - 3 of 3