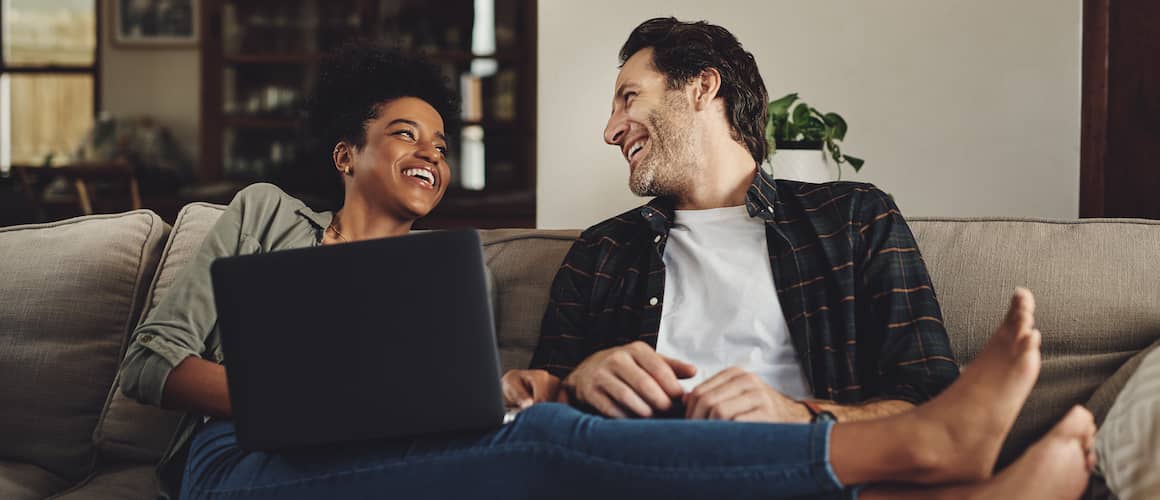 When To Get A Mortgage With Rising Rates
Katie Ziraldo7-minute read
November 11, 2023
Share:
As the government continues its attempts to stabilize the economy following the COVID-19 pandemic, experts expect interest rates (the cost to borrow money) will continue to rise.
But what do rising interest rates really mean for prospective home buyers and current homeowners? In this article, we'll share everything you need to know about the expected rate environment in 2022 and how it might impact you and your finances.
Why Are Mortgage Rates Rising?
The Federal Reserve, also referred to as the Fed, is raising its benchmark interest rate – the federal funds rate – as a result of numerous factors, including the long-term impact of the COVID-19 pandemic, the current crisis in Ukraine and inflation. The Fed raises the federal funds rate as an effort to help stabilize the economy.
Although the federal funds rate doesn't directly control mortgage rates, banks and lenders have to pay it to borrow money from each other overnight, which means it costs more for them to lend money, which ultimately drives up mortgage rates.
In December, the Fed announced a series of rate hikes that will happen throughout 2022, indicating that interest rates – and by extension, mortgage rates – will continue to rise. But if you're looking to buy a house, how will your specific rate be determined?
How Are Interest Rates Determined?
Before we dive too deep into the current state of the housing market, it's important to understand how mortgage rates are determined. In addition to the federal funds rate, the bond market, the health of the economy and the rate of inflation all play a role in determining mortgage rates.
More specifically, the interest rate you'll see on your home loan also depends on loan qualifying factors, such as your credit score, debt-to-income (DTI) ratio and the size of your down payment.
See What You Qualify For
Congratulations! Based on the information you have provided, you are eligible to continue your home loan process online with Rocket Mortgage.
If a sign-in page does not automatically pop up in a new tab, click here
When To Get A Mortgage With The Fed Rate Hike
As we've discussed, it's expected that rates will continue going up throughout 2022. However, it's important to recognize that current rates aren't considered historically high. They only appear to be high when compared with the historically low rates experienced in 2020 and 2021.
As of the first week of May 2022, the average 30-year fixed-mortgage rate is up to the mid-5% range. This isn't much higher than what you might have encountered to buy a house just a few years ago in 2018. And when compared with rates in the 18% range during the 1980s, a 5.50% interest rate might seem downright affordable.
The fact remains: you will save money over the lifetime of your home loan with a lower interest rate. So how much should current rates impact your home buying timeline?
Regardless of market conditions, the right time to buy a house is when you feel ready, and when your credit score and financial footing are both healthy and stable. Though it's a good idea to keep rates in mind, rising interest rates shouldn't make you rush into homeownership, nor should you let them prevent you from buying your dream home. Instead, take the time to understand how rising rates might impact you so you're better prepared to navigate through the process.
How The Fed Funds Rate Hike Affects Borrowers
The raised Fed funds rate and prime rate, the best possible mortgage rate lenders can provide, may impact new and current mortgage borrowers in a few ways. If you're a current homeowner or in the process of buying a home, consider the following.
How Home Buyers Are Affected
Simply put, rising interest rates could affect home buyers and their ability to afford homes. A higher rate not only means paying more in interest over the lifetime of the loan – it also means less buying power to begin with. But how do interest rates impact how much house you can afford?
Let's break this down with an example. When you're approved for a mortgage, your lender will determine how much money you can borrow based on loan qualifying factors including your debt-to-income ratio (DTI). Your DTI ratio is the percent of your gross monthly income that goes toward debt payments like loans and credit cards. Lenders typically look for a DTI of 45% or lower for approval on conventional loans.
But when lenders calculate your DTI, they also consider your newly projected homeowner costs as a debt payment. So, let's say you can afford to make an $1,800 monthly payment on a 30-year fixed-rate mortgage while keeping your DTI ratio at 45%. This monthly payment, along with your credit and income, will help determine your home buying budget.
With a 5.50% interest rate, your $1,800 payment may mean you can afford to buy a house for $350,000. But if that interest rate rises by 1%, the maximum home price you can afford decreases to around $315,000, therefore decreasing your buying power by 10% because of the added interest costs.
Another option to consider is the adjustable-rate mortgage (ARM). ARMs often charge less in interest during the introductory period, providing a more appealing, lower monthly payment. But once the initial fixed-rate period ends – typically after the first 5, 7, or 10 years of the loan – the adjustment period begins. During the remainder of the loan, the interest rate will fluctuate based on the market, which in turn, means your monthly payment will fluctuate, too, which can be difficult to plan for in your budget. Because of this, it's important to understand the short- and long-term implications of ARMs and fixed-rate mortgages before deciding what's right for you.
How Homeowners Are Affected
If you already own a home, you might be wondering how these rate hikes impact you. As opposed to the market in 2020 – when many homeowners were able to successfully refinance their homes to secure a lower interest rate – getting a refinance in 2022 may have less obvious benefits to homeowners.
If you're not aiming to lower your rate and instead opt for a cash-out refinance, where you refinance your loan for more than you owe and access the difference in cash, it's important to note that you will still be affected. Higher interest rates mean higher monthly payments on your new higher loan balance.
Similarly, home equity loans and home equity lines of credit (HELOCs) have interest rates that are tied to the prime and federal funds rates, so it will get more expensive to access your home equity. Still, these loan options offer lower overall interest rates than credit cards and personal loans, so tapping into home equity may continue to be your most affordable option despite rates rising.
Tips For Getting A Mortgage With The Fed Rate Hike
Despite the current activity in the economy and the new Fed rate hike, life continues to chug along, and you should too. If you're in the process of buying a home, consider the following tips to make the most of your money.
Shop Around – Compare Lenders
With rates on the rise, it's important to shop in a timely fashion to find the best loan for your specific situation. As you compare lenders, remember to consider rates and loan terms alongside factors that may not appear on paper, such as the reputation of the lender and the quality of customer service you're going to receive. After all, you'll likely be making payments on your home for a long time, so it's important to work with a lender you can trust. Be sure to compare apples to apples regarding the type of loan as well as the cost (possible mortgage discount points) for the rate you'll obtain.
Once you find a lender, you should also take the time to get preapproved, which determines how much money you can borrow to buy a home. Having a preapproval will help you better understand how much home you afford while also indicating to sellers that you're a serious buyer with secured financing.
Get A Mortgage Rate Lock
Some lenders, including Rocket Mortgage®, offer a mortgage rate lock, which allows homeowners to secure a set interest rate during loan processing. This means that regardless of what's happening in the economy, your interest rate will stay the same for a set period, typically about 45 days.
For a home purchase, borrowers can lock their rate for 90 days with RateShield® by Rocket Mortgage. If rates fall while you're shopping, you can lower your rate one time during this period.1
But keep in mind that you'll only reap the benefits of a mortgage rate lock if you're able to close on your loan during the lock period – otherwise your locked rate may expire.
You Can Refinance Later
If you get a mortgage while interest rates are higher than you'd prefer, it may be comforting to remember that you can always refinance your loan for better rates when they go back down. And if acting now means securing your dream home, it's probably worth it to pay a bit more in interest in the meantime.
Wondering when to refinance? There's no definitive perfect time, so keep an eye on the market and take advantage of the opportunity when you see a promising rate.
The Bottom Line
Buying a house is a long-term investment, but don't get so hung up on the financials that you forget the most important piece: finding a house you can call home. If you find your dream house, don't let rising rates stop you from turning your dream into a reality.
Remember: current interest rates are considered normal from a historical perspective, and you can always choose to refinance for a lower rate later on.
If you're ready to take the next step, apply online for a preapproval from Rocket Mortgage.
1 RateShield Approval is a Verified Approval with an interest rate lock for up to 90 days. If rates increase, your rate will stay the same for 90 days. If rates decrease, you will be able to lower your rate one time within 90 days. Please contact your Home Loan Expert for additional information. This offer is only valid on 30-year FHA, VA, and Conventional purchase loan products. Additional conditions and exclusions may apply.
Related Resources
Viewing 1 - 3 of 3