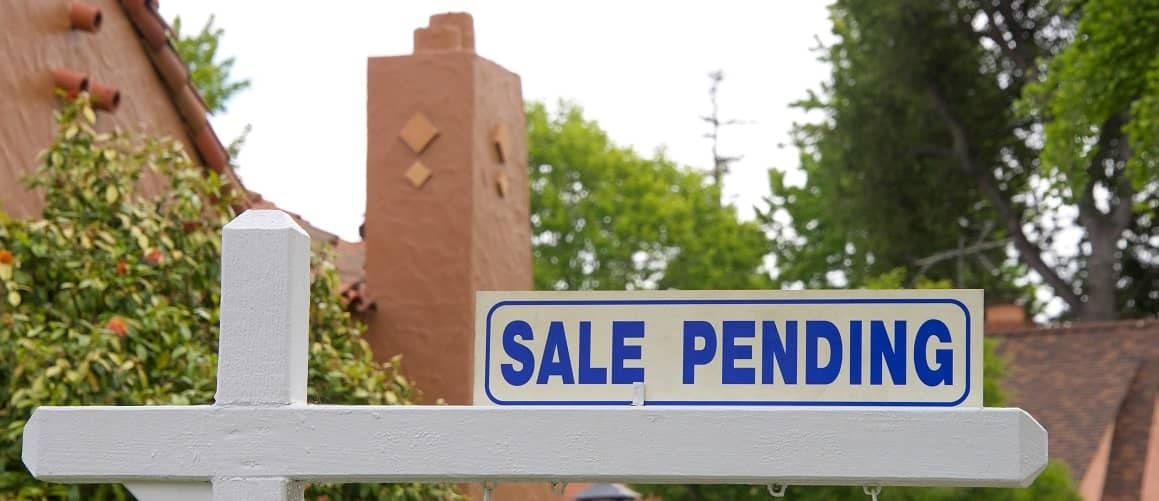 What Does 'Pending' Mean On A House?
Jamie Johnson4-minute read
December 23, 2021
Share:
If you're looking to buy a new home this year and have your eye on your dream house, it can be a huge disappointment to see the house listed as 'pending.' But what does pending mean on a house?
And if a house is listed as pending for sale, does that mean it's no longer available to purchase? This article will explain what pending real estate is and why it doesn't necessarily mean the sale is final.
What Does It Mean When A House Is Pending?
A pending sale means that a seller has accepted a successful bid from a buyer. This usually means the contingencies have been worked out, and the buyer is locked in on the sale.
The contract has been signed, and all that is left is for the home to move to the final stages of escrow. But even though the sale is in its final stages, the house hasn't officially sold yet.
That means it's possible for you to put in a bid on the home yourself. However, it's unlikely that the seller will be able to seriously consider your offer unless the other sale falls through.
Typically, when a seller accepts an offer from the buyer, they sign a contract stating that they can't cancel the contract if a better offer comes through. So, while you can submit an offer, this is a waste of time and energy in most cases.
Why Are Homes Listed As Pending?
If a property is pending, the provisions on a contingent property were successfully met, and the sale is being processed. Eventually, the sale moves to "pending," which means the issues have been resolved, and the deal is almost done.
Homes are listed as pending because even though they are under contract, they haven't sold yet. There's always a chance the sale could fall through – for instance, the buyer's financing could fall through.
Great news! Rates are still low in 2022.
Missed your chance for historically low mortgage rates in 2021? Act now!
Can You Still Make Offers On A Pending House?
Technically, it's possible to put in an offer on a home that's pending. Some real estate agents won't accept offers on pending homes, though it doesn't hurt to ask. But it's unlikely that you'll be able to purchase a pending home sale.
If the buyer was serious enough to put in an offer on the home and sign a contract, it's unlikely they'll lose interest in buying it. But if you're really hoping to buy the home, let's look at a few ways you can put in an offer on a pending house.
How To Make An Offer On A Pending House
Here are three steps you can take to make an offer on a pending real estate transaction:
Contact the listing agent:

First, have your real estate agent find out if the seller is still accepting offers while the sale is pending and if they included a kick-out clause in the sales contract.

Draft up your offer:

Assuming the listing agent is still accepting offers, you can draft up your offer on the house. If the deal goes through, you likely won't hear anything back. But if the deal falls through, the listing agent will contact you.

Prepare your financing:

It's important to get preapproved for a mortgage before putting in an offer on a pending house. If you're preapproved, this shows the seller you're serious and have the ability to purchase the home.
What's The Difference Between Contingent And Pending Offers?
One of the things you'll occasionally come across is that a property is listed as contingent. There is a difference between contingent and pending offers in real estate.
A property that's listed as contingent means that the seller has accepted the offer but is choosing to keep the property listed in case certain conditions aren't met. For instance, the home inspection or appraisal could cause the sale to fall through.
Whereas if the property is listed as pending, that means those contingencies have already been met, and the buyer is preparing to close on the property. So, you have a better chance of purchasing a property that's listed as contingent than a pending home sale.
How Long Is A Home Sale Pending?
How long a home is listed as pending depends on the buyer and the seller, and there are no hard and fast rules. But on average, homes are listed as pending for between 30 – 60 days. If the buyer is paying in cash, they may close on the house much sooner.
Why Might A Pending Sale Fall Through?
There are many reasons why a pending sale could fall through. One of the most common reasons is that financing issues suddenly come up. For instance, if the buyer's loan application is denied and they're unable to secure financing, the sale cannot proceed.
In addition, major issues can come up during the home inspection. If the inspection reveals structural problems with the property, the buyer and seller will need to re-negotiate the home price. If they're unable to agree on a new price, the sale might fall through.
And finally, the home could be appraised lower than the listing price, meaning the buyer would have to pay an additional sum of money to account for the difference.
The Bottom Line: Pending Purchases Aren't Final
When you find a home you love only to see it's listed as pending, this can be very disappointing. But a pending sale is not the same thing as a final sale. The pending offer could still fall through, and there's a chance you could buy that home.
If you're just starting the home buying process, the best thing you can do is to start the mortgage process today. Get your financial affairs in order and get preapproved for a mortgage. That way, when you reach the pending process on your dream home, you'll ensure the process goes smoothly.
Get approved to refinance.
See expert-recommended refinance options and customize them to fit your budget.
Related Resources
Viewing 1 - 3 of 3