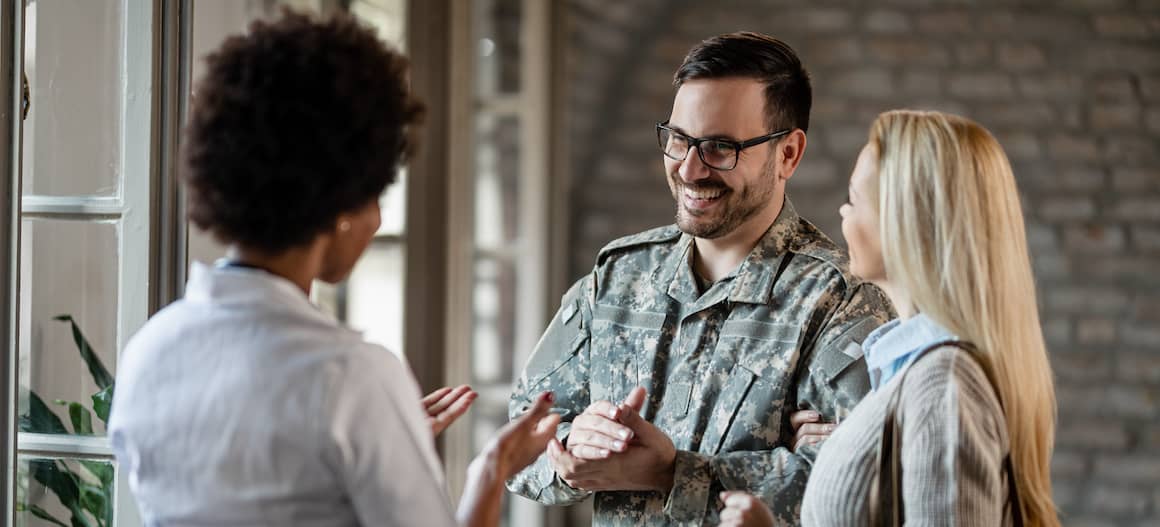 Vendee Loan: A Definition
Sarah Sharkey4-minute read
March 29, 2022
Share:
Have you been hunting for the right home in your price range for a while without any luck? Vendee loans could be the key to finding an affordable home.
Many write off this opportunity because it is available through the Department of Veterans Affairs. But a VA vendee loan is actually available to buyers of all kinds, regardless of their military service.
What Is Vendee Financing Or The Vendee Loan Program?
You've likely heard of the VA loan, which offers eligible veterans and service members the opportunity to purchase a home with little to no money down. With a VA loan, the Department of Veterans Affairs guarantees the loan for lenders.
But if a borrower misses enough loan payments to trigger a foreclosure, the lender has the option to allow the VA to acquire these foreclosed properties. If the VA acquires the property, it becomes what is known as a VA real-estate owned property.
That's when vendee financing opportunities enter the picture. Vendee financing is a loan that borrowers can use to buy a VA real estate owned home. Through this program, borrowers can obtain a home with little to no money down.
How The VA Vendee Loan Program Works
The VA vendee loan program is available to owner-occupants and investors -- whether or not they served in the military. Qualified borrowers will receive a competitive interest rate on mortgage terms of 15 or 30 years. Plus, borrowers can obtain the property with little or no money down.
As you explore this opportunity, the funding fee is one catch to keep in mind. VA loans of all kinds have a funding fee attached to help cover the costs of the program.
Understanding VA Foreclosure
The opportunity of the vendee loan program starts with an unfortunate foreclosure for one homeowner. Veterans with a VA loan will experience foreclosure after an extended period of missed payments.
If a default happens with a VA loan, the lender who issued the loan has several options. One of the options is to seek recourse with the Department of Veteran Affairs, which will take the property. At the point of foreclosure, the property becomes a real estate owned property or REO property.
If the property is a VA foreclosure, then the VA will sell it to any qualified borrower with a guaranteed loan. However, the VA vendee loan program is administered through a third party called VRM Lending.
VRM Lending will list the property for sale. If you move forward with a property purchase, the financing will likely be issued through VRM Lending. At closing, you will be required to pay a funding fee of 2.25%.
Take the first step toward the right mortgage.
Apply online for expert recommendations with real interest rates and payments.
Eligibility Requirements For The Vendee Loan Program
The eligibility requirements for the vendee loan program are much different than the regular VA loan.
Who Is Eligible For A Vendee Loan?
Vendee loans are available to veterans, nonveterans, owner-occupants and investors. However, you'll need to be a qualified borrower with a financial picture to adequately support the loan.
Do You Qualify For A Vendee Loan, And How Is It Determined?
As with all mortgage loans, your ability to qualify will vary based on several financial factors, including your credit score and debt-to-income ratios.
Beyond that, there are additional requirements for investors. Specifically, you cannot be a first-time investor. Instead, you must have proven previous experience in managing rental properties to secure financing through VRM Lending.
When Should You Use A Vendee Loan?
A vendee loan presents a useful opportunity for real estate investors and owner-occupants alike. The lack of a down payment requirement is very enticing. But there are major limitations to this opportunity because of scant availability in some markets.
The vendee loan will work best for experienced investors looking for their next financing opportunity. Additionally, owner-occupants who are flexible on the property's layout and location will have the most luck successfully finding a property for a vendee loan.
Pros And Cons Of Using Vendee Loans
Let's take a closer look at the advantages and disadvantages of using vendee loans.
Pros
The advantages of using a vendee loan include:
No down payment. You can obtain a property without the need to save for a down payment.
Credit scores are not the deciding factor. You don't need a minimum credit score to obtain a vendee loan.
Available for everyone

.

This program is available for owner-occupants and investors.
Don't have to have mortgage insurance. Mortgage insurance is not required for this loan.
Take these pros into consideration.
Cons
Of course, there are also disadvantages to consider with a vendee loan.
Funding fee required

.

All borrowers must pay a funding fee of 2.25%.
No financed closing costs. You'll need to have closing costs available to obtain the property.
Limited selection. You might have a difficult time finding these opportunities. Availability may be especially limited in areas without a military presence.
Must use personal credit. You cannot purchase the property with a business name, which may be a dealbreaker for investors.
You'll need to weigh the pros and cons before moving forward with your purchase.
Is A Vendee Loan Right For You?
A VA vendee loan is undeniably a good opportunity for some.
Experienced investors that are willing to pay the funding fee may find this relatively unknown supply of houses is full of deals in their area. But keep in mind that investors will need to purchase the property with their personal credit, which means that your personal assets will be on the line.
Owner-occupants struggling to find an affordable property with attractive financing may find a deal with a vendee loan. But the minimal supply might make it challenging to find a home you want to pursue living in.
The attractive financing could make this a great choice. But you'll need to consider the downsides, such as minimal supply and investor experience requirements, before jumping in.
Vendee Loan FAQ
Let's answer your vendee loan questions.
Who should I contact for VA Vendee financing?
VA vendee financing is available through VRM Lending. If you have questions or want to explore the available properties, get in contact with VRM Mortgage Services.
What does seller financing Vendee mean?
You may come across seller financing when researching vendee loans. Seller financing is a completely separate opportunity from VA vendee loans. With seller financing, the owner of the land becomes a vendor, and the buyer becomes the vendee. These types of purchases are often used in land contracts or contracts for deeds.
Get approved to refinance.
See expert-recommended refinance options and customize them to fit your budget.
Related Resources
Viewing 1 - 3 of 3