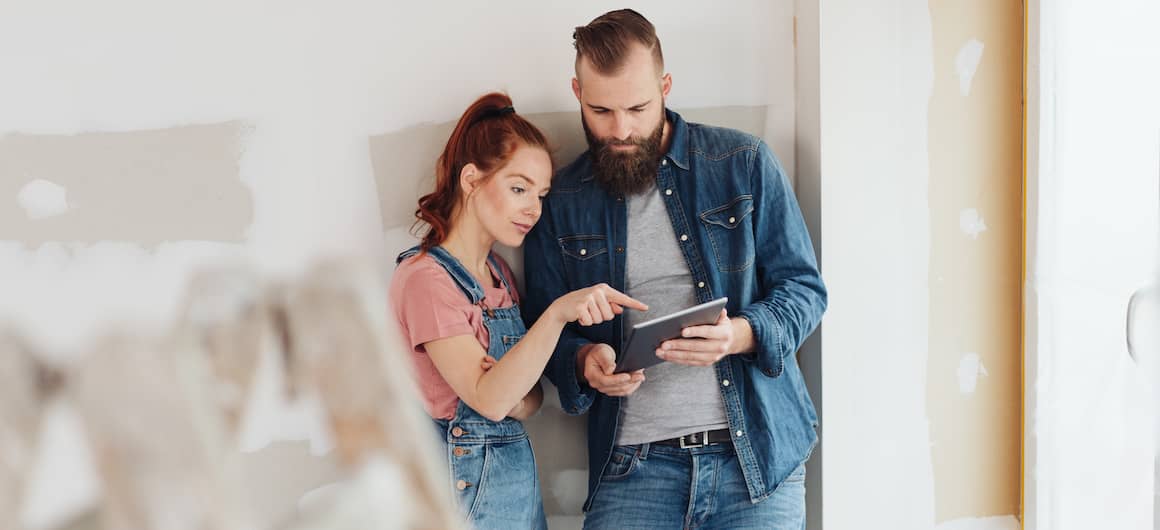 Renovation Mortgages: Can You Add Renovation Costs To A Mortgage?
Lauren Bowling5-minute read
November 18, 2021
Share:
Unless you buy a new construction home, at some point, most homeowners will have to endure renovations. While there are manypros and cons of buying a fixer-upper house, figuring out how to pay for it shouldn't be a source of stress. A renovation mortgage can help a buyer get into a home and provide the funds necessary for renovating the property.
Please note: Rocket Mortgage® does not currently offer renovation mortgages of any kind, but it's important for potential home buyers to know of all the options out there.
What Is A Renovation Mortgage Loan?
A renovation mortgage loan allows borrowers to buy the home they want and pay for their desired renovations and repairs all under a single loan. The loan can then be paid back over time through affordable monthly payments, just like with a conventional 30-or-15-year mortgage.
Renovation mortgages pay for professional work so repairs - both necessary mechanical upgrades and cosmetic fixes – can happen quickly, efficiently, and often at a lower interest rate than any other type of loan product.
How Does A Renovation Mortgage Work?
You may be thinking that since a renovation mortgage is paid over 30 or 15 years, you have that same amount of time to do the repairs. The big distinction of a renovation mortgage is borrowers do receive money for repairs of their choice, but they must also do all the work in a timely fashion (typically within 6 months to a year of closing.)
There are also many safeguards in place to ensure the money earmarked for renovations isn't used to buy a houseboat or a second vacation home.
How a renovation mortgage works varies by lender and program, but at a high level, here is how a renovation mortgage works: you'll find a lender that offers this type of loan product and apply. In order to be approved, you must meet certain eligibility criteria such as credit score, steady income, and proof of employment. Then, you'll choose a professional contractor (that must be verified by the lender) to come to the property and give you a bid for the project.
The lender then comes out and assigns an "as-is" value for the home and an "after repair value" taking into account the projects you plan to do with your contractor. The after-repair value is what the bank uses to determine how much you're allowed to borrow on your renovation loan.
Here's an example:
You're buying a home for $120,000, but it's a real fixer upper. The contractor estimates the home needs $75,000 in cosmetic upgrades.
At closing, you'll close on a loan for the amount of $195,000. The lender will pay the seller for the amount of the home. Then the remaining $75,000 for the project, plus 10% project contingency into an escrow account.
You'll work with your contractor to come up with project milestones where they can draw down money from the escrow account for the work. Say the project will take 4 weeks, and you agree that they can draw money down each week if a certain amount of work is done each week. For example, plumbing finished in week one, painting in week two, etc.
Someone from the lender will come to verify that the work is complete, you and your contractor will sign paperwork, and then the money will get disbursed from the lender for that milestone's draw.
Take the first step toward the right mortgage.
Apply online for expert recommendations with real interest rates and payments.
Renovation Mortgage Options
Renovation loans aren't used as often as other mortgage products, and as such there are only two main renovation mortgage loan options in the marketplace. (Note: Rocket Mortgage does not currently provide renovation mortgage loans.)
Fannie Mae HomeStyle Renovation Mortgage
In recent years, Fannie Mae has been working to expand eligibility and streamline servicing and approvals for the Fannie Mae Homestyle Renovation Mortgage.
Borrowers must meet Fannie Mae underwriting eligibility criteria.
Renovations are limited to 75% of the after-repair value (ARV) or purchase price + project cost (whichever is less.)
This loan enables contractors to draw up to 50% up front for material costs.
Only appraisal needed is the initial after-value appraisal done prior to closing the loan.
Fannie Mae is also offering incentives should home buyers want to combine a renovation mortgage with their new HomeStyle loan product for energy upgrades.
FHA 203(k) Rehab Loan
The beauty of the FHA 203(k) loan is that it provides both the benefits of a renovation loan and benefits of an FHA loan product (lower eligibility criteria) making financing for housing and project work more accessible for lower income borrowers. In order to qualify for a 203k rehab loan borrowers must:
Meet all standard FHA loan eligibility criteria.
The home must be more than one year old.
Work done must be greater than $5,000. (Although there is a Limited 203(k) product if repairs are less extensive.)
Total value of purchase and rehabilitation must not exceed mortgage limits for the area.
There is a lot of flexibility with the 203(k) rehab loan product. The 203(k) rehab loan product can also be used for both a home purchase and a home refinance, to rehabilitate the residential portion of a mixed-use property, convert a single-use property to multi-family, or completely rebuild a structure provided the existing foundation remains intact. Pretty wild, right?
Renovation Mortgage Vs. Home Renovation Loan
The main distinction between a renovation mortgage and a home renovation loan is the number of loans. Think of it this way:
A renovation loan and the purchase price for the home are wrapped up under one loan. At closing, you begin paying your monthly payment for both the purchase price and project.
A home renovation loan is a second loan you take out, just like you would a loan for a new car or a home equity line of credit. It's not lumped into your mortgage, so you'll make two separate payments.
Pros And Cons Of Renovation Mortgages
Pros
You can borrow more money than a house would originally be appraised for to account for planned renovations.
Your interest rates and down payment can be lower than with a traditional loan.
Your interest may be tax deductible.
Do not need to have cash on hand to rehabilitate a home, meaning less financial stress and more home options available during the buying process.
Cons
It can be difficult to find a lender that offers renovation mortgages.
Because contractors will need to front cash for materials and labor prior to the first draw with the lender, it can be difficult to find reputable contractors willing to work with a bank on a renovation loan.
You must have your contractor and renovation plans set before the appraisal, which doesn't allow room for flexibility.
The approval process can take longer than a traditional mortgage because of the additional people involved.
It can be difficult to add additional scope of work since the project is already predetermined by the bank.
Any overages outside of the initial lump sum must be made in cash and cannot be added to your balance from the lender.
The Bottom Line: A Purchase And Renovate Loan Can Make Your Dream House A Reality
Often, home renovations are put on the back burner because of how much cash is needed to complete the repairs. A renovation loan gives home buyers an opportunity to revitalize old and distressed properties while rolling project costs into the rock bottom interest rate of a mortgage.
In the end, a home that may be overlooked gets saved, a homeowner is able to buy a property and increase the home value immediately, and a fixer-upper has a chance to compete in a tight real estate market.
Get approved to refinance.
See expert-recommended refinance options and customize them to fit your budget.