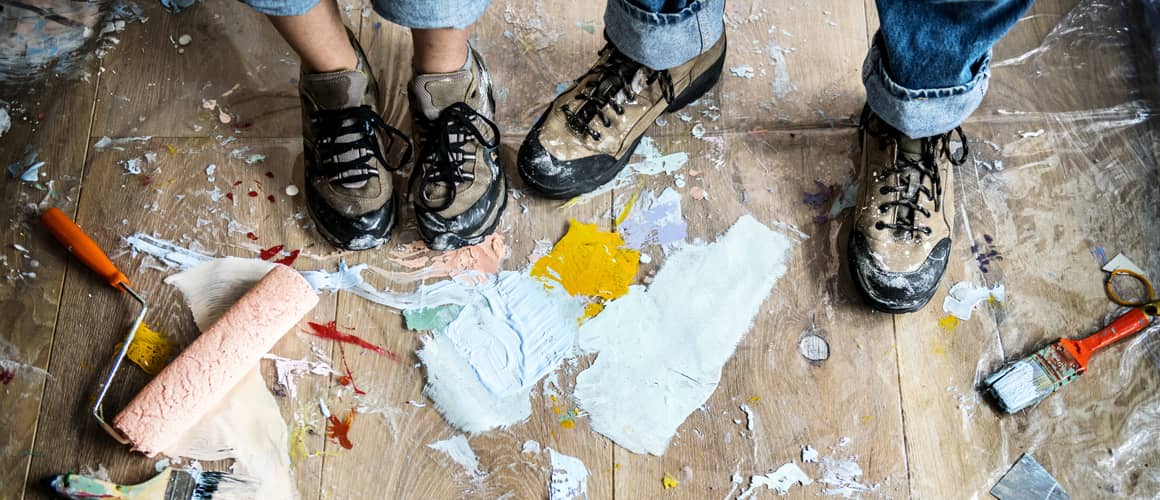 Refinancing For Home Improvements: A Guide
Victoria Araj5-minute read
March 30, 2023
Share:
Looking to make some major home improvements? Consider a cash-out refinance. Refinancing is a low-interest way to get tax-free cash for remodeling your kitchen, finishing your basement or anything you choose.
Let's look at how cash-out refinancing works, and what you need to know about using cash from your home for repairs and renovations.
Refinance To Remodel: Using A Cash-Out Refinance For Home Improvements
When you opt for a cash-out refinance, you refinance your mortgage for more than you owe and take the difference in cash. The more equity you have built up (in other words, the less you owe compared to the value of your home), the more money you can convert to cash.
Let's look at an example. Say you bought your home for $160,000, but you now believe your home is worth $200,000. After having the home for a few years, you've paid your mortgage balance down to $135,000.
To calculate how much equity you have, simply subtract your mortgage balance from your home value. This leaves you with $65,000 in equity.
But you can't take all of that out as cash. In most cases, you'll need to leave some money in the home to refinance. Assume you can only refinance 80% of the value of the home. That means $40,000 stays in the home, and you take out $25,000, minus closing costs, in cash.
Try our refinance calculator for an idea of how much cash you could take out on your home.
See What You Qualify For
Congratulations! Based on the information you have provided, you are eligible to continue your home loan process online with Rocket Mortgage.
If a sign-in page does not automatically pop up in a new tab, click here
What Can You Use That Cash For?
When you do a cash-out refinance, the cash you get is tax-free. Yes, you'll have to pay it back as part of your mortgage balance, but it's at a much lower interest rate than you might otherwise get with an unsecured loan like a personal loan.
You can use the cash for home improvements or anything else you need – debt consolidation, tuition or even a newer car. The money is yours to do with as you please.
Qualifying For A Cash-Out Refinance
To do a cash-out refinance, you and your home must first meet certain requirements.
Credit Score Requirements
In most cases, you'll need a credit score of at least 620 to do a cash-out refinance. The exact credit score you'll need depends on factors like your loan type, how many units the property has and how much cash you're taking out.
Equity Requirements
To take cash out, you need to have a certain amount of equity in your home. When you apply to refinance, your lender will require an appraisal of the property to determine property value.
You can subtract your current loan balance from the appraised property value to determine how much equity you have in your home.
The minimum amount of equity you'll need to leave in your home when you refinance varies by loan type and by lender. If you want to take cash out with a conventional loan, you'll typically need to leave at least 15 – 20% equity in your home.
If you refinance with an FHA loan, you'll need 15% equity in your home. VA loans, on the other hand, are unique in that you can refinance 100% of the home's value. In other words, you don't have to leave any equity in the home if you meet your lender's credit score requirements.
Debt-To-Income Ratio (DTI) Requirements
Your debt-to-income ratio (DTI) is also considered when you refinance. DTI is calculated by combining all your recurring monthly debt and dividing it by your gross monthly income. The maximum DTI allowed varies by loan type and lender, but you'll typically need a DTI of 50% or lower.
Keeping up with these requirements and following helpful refinance tips can result in a stress-free refinancing experience.
Today's Refinance Rates
*
Pricing is currently not available for the selected value.
The Benefits Of A Cash-Out Refinance
In addition to the amount of cash you can gain, getting a cash-out refinance can come with other benefits, too.
Low-Cost Home Improvements
A cash-out refinance is a low-cost way to make home improvements when you don't have the money on hand. Refinancing can be a good way to borrow a lot of money at once, which means expensive renovations are in reach and won't take much from your monthly budget.
You Could Secure A Better Loan
The best time to refinance your mortgage is when interest rates are low. The lower the interest rate you secure, the bigger your savings will be over time and on a month-to-month basis.
If you refinance at the right time, you could find yourself in an even better loan than you had before. You could gain access to some of your equity and lower your mortgage payment at the same time.
Boost Your Property Value
Improvements can add value to your home. Add a lower interest rate and you'll come out ahead if your house is worth more. The right home improvements could make your home more appealing to buyers down the line.
Maintain One Payment
A cash-out refinance isn't the only way to get funds for home renovations, but it's likely to be easiest on your budget. Home equity loans, personal loans and credit card debt add extra payments and more interest.
By choosing a cash-out refinance vs. a home equity loan or other loan type, you'll maintain a single mortgage payment that may not be much higher than the one you have now.
Low Interest Rates
Some people turn to credit cards or personal loans to bankroll home improvements, but those options come with higher interest rates, sometimes in the double-digit range. When you refinance your mortgage, you can borrow money at a much lower interest rate. In today's market, that's typically around 3.5%.
You May Get A Tax Deduction
Mortgage interest is usually tax-deductible, but the interest on many other types of debt is not. Depending on where you live and the tax rules that apply to you, the interest you pay on your mortgage can be deducted. Check with a tax professional to see how this applies to you and if you're able to claim refinance tax deductions.
Things To Know About Doing A Cash-Out Refinance
Apart from the benefits listed above, there are other things you should consider before doing a cash-out refinance.
The Amount You Borrow Depends On Your Equity
Lenders typically require you to maintain 15 – 20% equity in your home after a cash-out refinance. This can limit the amount you can access for home improvements.
If you had huge renovation aspirations, or if your appraisal comes back lower than you thought it would, you could be forced to find additional funding sources.
You'll Get Different Loan Terms
Like any refinance, a cash-out refinance changes the terms of your loan. You'll get a new loan with an updated interest rate, and your payment will change to reflect the change in your loan.
This could mean a larger payment, but not always. For example, if you're resetting your term to 30 years, or if you're getting a lower interest rate, your payment won't necessarily go up.
Refinancing Requires Closing Costs
A cash-out refinance is like any other refinance, which means there are closing costs involved. The closing costs will typically be subtracted from the cash you're getting, so you won't have to pay anything out of pocket.
However, it's a good idea to weigh closing costs against interest rate savings and the potential increase in value to determine if a cash-out refinance makes sense for you. If you plan to move soon or take out only a small amount of money, a cash-out refinance may not be the best option.
Alternatives To Refinancing For A Home Improvement Loan
Not everyone has the equity to qualify for a cash-out refinance. If you need another way to make home improvements, here are a few other options:
A home equity loan or home equity line of credit (HELOC) can let you borrow against the equity in your home. Neither of these loans will require you to change the terms or interest rate of your existing mortgage. However, you'll pay a higher interest rate than you would with a cash-out refinance, and you'll take on an additional monthly payment.
Make sure you understand the difference between a cash-out refinance vs. HELOC before deciding which is better for your financial situation. Rocket Mortgage does not offer HELOCS, though it does offer home equity loans.
Personal loans are another option. These are unsecured loans issued and supported only by the borrower's creditworthiness, rather than by any type of collateral. As a result, they tend to have higher interest rates. Our sister company Rocket Loans® offers personal loans for home improvement and many other uses.
The Bottom Line
A cash-out refinance can be just the ticket if you're searching for a low-cost way to turn your home improvement list into a finished project or two. To see how much cash you could get from your home, apply online today with Rocket Mortgage.
Take the first step toward the right mortgage.
Apply online for expert recommendations with real interest rates and payments.
Related Resources
Viewing 1 - 3 of 3