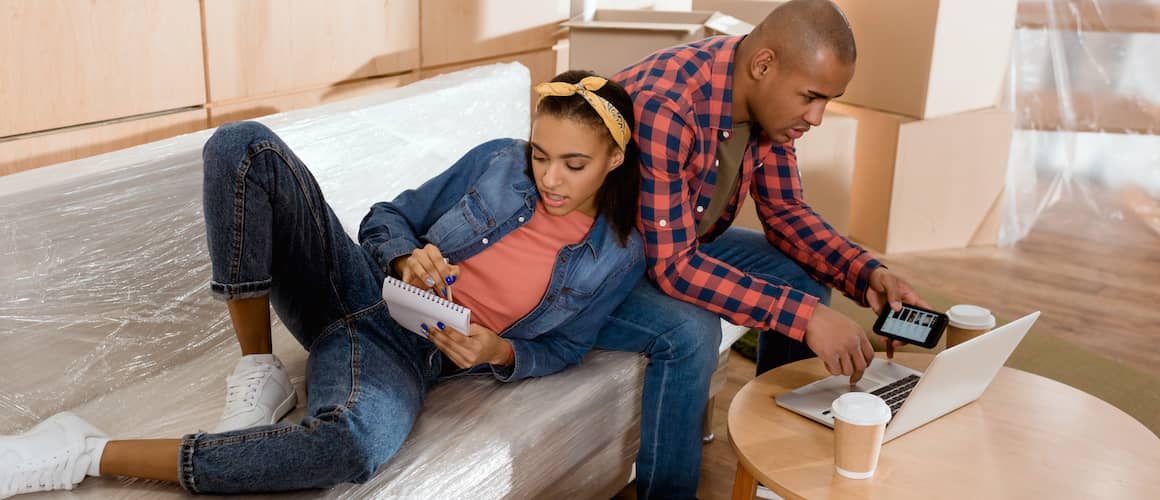 Moving For Work: Everything You Need To Know About Relocating
Holly Shuffett6-minute read
June 15, 2022
Share:
Relocating for work can be an exciting opportunity for a new start in a place you may not have otherwise considered. But to ensure a smooth transition, it's important to plan ahead, stay organized, and understand what the relocation process has in store for you.
This guide can help you prepare for this big life change – from understanding the resources available to you and how a relocation expert can offer support, to which steps you should take next. Let's dive in.
Preparing For Relocation
Being prepared is a good philosophy for many areas of life, relocation included. Not only can planning ahead give you peace of mind, but it can also help to streamline your financing, giving you more time to focus on getting settled before resuming work.
Here are some key ways to plan ahead for a smooth transition when relocating for work.
Plan Your Timeline
It's a good idea to begin planning as soon as you know you'll have to relocate. Understand when your new start date is and begin piecing together your moving timeline around it. Remember to try and give yourself ample time to unpack and wind down.
According to a 2020 survey conducted by Pew Research Center, roughly one in five Americans moved or knew somebody who did in 2020. Whether it's the fact that remote work has granted more freedom to live elsewhere, or the lockdown has urged many to be closer to family, moving has certainly become commonplace for many U.S. adults.
Because of this potential for increased demand, you'll want to take care of reserving a moving truck or an appointment with interstate movers as far in advance as possible. Keep your start date in mind and don't forget to accommodate for packing and travel time accordingly.
Another step to take will be finding a good real estate agent to work with – both to sell your current home and to help you find a new one. You're going to want to give yourself enough time to sell your home and find a new one, and having a knowledgeable agent in your corner can be a tremendous help.
Don't be afraid to ask friends or family for agent recommendations or contact your company relocation team for an agent referral. Remember, when relocating you want to work with an agent or REALTOR® who has expertise in the area you're moving to.
Most job relocations will take 3 – 6 months to tie up loose ends and find a new home. For renters, this means ending your lease, and for homeowners, this can mean working with your real estate agent to begin showing your home to potential buyers.
Here are a few other things you should take care of before relocating:
Schedule utility stop and start dates
Find new healthcare providers local to your new home
Forward important mail to your new address
Enroll your kids in their new school and transfer transcripts and immunization records
Inform your insurance providers of a new address
Cancel or transfer memberships with community clubs or classes
Understand Your Employee Relocation Package
If you're moving for work, you may have access to an employee relocation package. Employers oftentimes offer these to help support you both financially and logistically when moving to a new area.
Relocation packages help cover certain costs necessary for a successful move, which may include:
Fees associated with breaking a lease
Moving vehicle rentals or the cost of hiring movers
Temporary housing costs, if you can't find a new home right away
Travel expenses (including trips for house hunting)
Storage rentals
Costs associated with selling your existing home
Home finding assistance (for eligible candidates)
Be sure to understand what costs your employer covers in their relocation package and what you may be expected to pay for out-of-pocket.
If you want to avoid missing out on big potential savings, you'll also want to work with your company's relocation team or a credible relocation mortgage company (RMC). While relocation packages offer financial support, your company's relocation team or an RMC is an essential resource for gaining insight and access to best-in-class pricing and servicers. A good relocation expert can connect you with reputable moving services, real estate agents or REALTORs® and more.
Optimize Relocation Assistance Experts
Relocation assistance teams are the experts behind employer relocation packages who can connect you with valuable resources and lend a helping hand during your relocation financing process. When looking at mortgages during your relocation, Rocket Mortgage has specialized pricing1 and teams that can assist you throughout the process, which can maximize communication and efficiency.
For example, at Rocket Mortgage® our relocation team utilizes Mortgage First to preapprove borrowers by gathering financial information and documentation upfront, fully underwriting the loan. Not only can this eliminate roadblocks and make for a faster closing, but it can also make you a more competitive home buyer when shopping for a new home.
It's also not uncommon for relocation assistance teams to provide in-house consultants who can further assist you during the moving process. Be sure to ask for help and make a plan that works best for you and your family.
Have Paperwork Ready
For the most efficient relocation process, you'll want to get a preapproval upfront. Here are some of the documents you'll need to have readily available:
A copy of your offer letter
1 month of pay stubs
2 months of bank statements
W-2s from the last 2 years
Federal tax returns from the last 2 years (must include all schedules)
2 years' worth of bonus income history / pay records
Real estate agent's contact information
Recent 401(k) statements
U.S. Social Security number
For our complete list, check out our Relocation Mortgage Checklist.
What To Do After Relocation
After making the big move, the bulk of your work should be over with, but there are still a few things you may need to take care of. Here are some of them.
Register Your New Address
While you may have forwarded your mail or notified some third parties of your move, there are still other areas where you'll have to update your new address. Be sure to update your license and car registration with your new local Department of Motor Vehicles, and register to vote in your new state.
Update Your Tax Information
As one of life's constants, you'll need to report an address change to the IRS when you relocate – particularly if you've moved to a new state. Not only does this ensure that important documents, like tax returns or notices, are sent to your correct address, but this may safeguard you against tax claims by your former state of residency.
When relocating, especially if you're moving from a state that has a state income tax to one that doesn't, you may be subject to a residency audit. This calls for you to prove your new state of residency or continue paying previous state taxes. So be sure to update your address and register it with the IRS, DMV and other institutions to prove your relocation and protect yourself against these claims.
The Bottom Line: Relocation Teams Make Life Easier
Relocating for work combines the unknown of a big life change with the uncertainty of the home buying and selling process. But being prepared with a well thought out schedule and all the right documentation can cut down on this stress and allow you to embrace this new chapter in your life.
While it's easy to feel overwhelmed, remember that you don't have to go at it alone. Make the most of your employer's relocation mortgage program and take advantage of consultative opportunities, resources, contacts and of course, valuable financial aid and attractive loan options.
If you're ready to relocate with Rocket Mortgage®, get started today and download our Do's And Don'ts Of Relocating Guide.
1 Eligible clients will receive a lender credit of $3,000 when they close on a Qualified Mortgage (QM) conventional, government or high-balance loan offered by Rocket Mortgage for relocation purposes. Offer valid on new applications received on or after June 6, 2022. This offer is only available to clients who call the dedicated phone number or go through the dedicated website, Relocation.RocketMortgage.com, submit an application and close their loan through the Rocket Mortgage Relocation program. Rocket Mortgage reserves the right to cancel this offer at any time. Acceptance of this offer constitutes acceptance of these terms and conditions, which are subject to change at the sole discretion of Rocket Mortgage. Offer is nontransferable. This is not a commitment to lend. Additional restrictions/conditions may apply. Offer not valid with any additional discounts or promotions.
Related Resources
Viewing 1 - 3 of 3