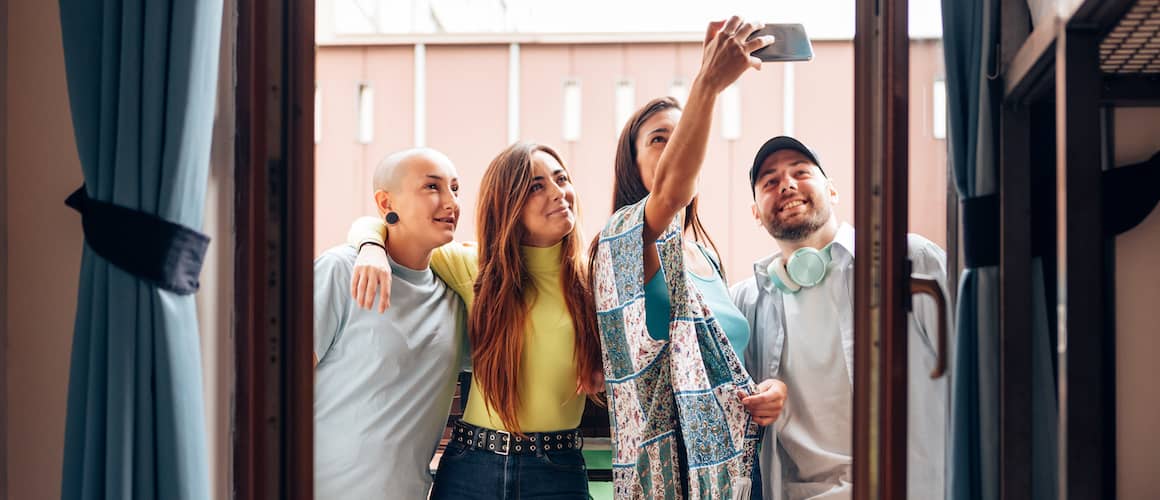 72% Of Gen Zers Plan To Buy A Home In Under 6 Years, But How Are They Preparing?
Isabel Lenzen7-minute read
July 26, 2023
Share:
Gen Z is highly motivated to buy a home due to wanting to start or grow a family
Only 1.9% of Gen Zers feel current interest rates are keeping them from purchasing a home
8% of Gen Zers believe they can only afford a home that's less than $200,000
Many Gen Zers are under the misconception that you have to put 20% down to qualify for a mortgage
On average, 33.9% of Gen Zers were wrong about what factors lenders consider in your ability to qualify
In the 2 years that followed the pandemic, we've seen the housing market heat up, resulting in rising home prices. Around the same time, interest rates increased thanks to several Fed rate hikes. In response, many first-time buyers have become more cautious as of late. Despite current conditions, Generation Z remains determined to become homeowners, according to a recent Rocket Mortgage® survey.
In fact, 71.5% of Gen Zers plan to buy their first home in the next 1-6 years, while 37.2% plan on buying as soon as 1 – 3 years.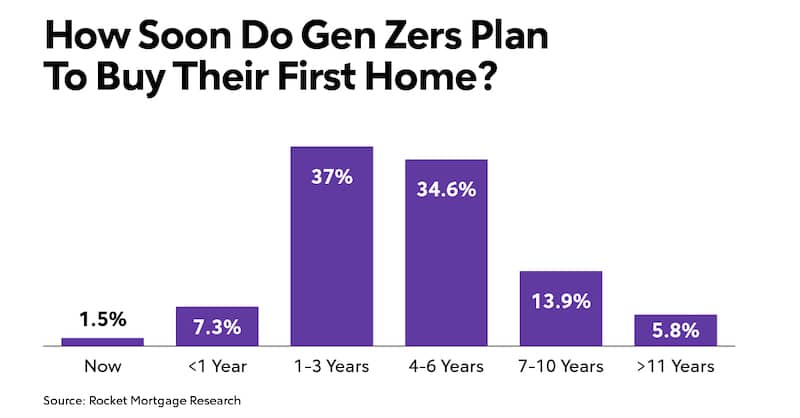 Will these young adults be ready for homeownership in such a brief time? Preparation – including saving for a down payment, increasing income and improving credit score – will play a role in the ability of Gen Z home buyers to turn their homeownership dreams into reality.
Rocket Mortgage surveyed 2,000 members of Generation Z (ages 18-26) to better understand what's motivating them to pursue homeownership and the steps they're taking to prepare for homeownership.
Will these motivations be enough to drive Gen Zers to be ready for homeownership or are they creating an unrealistic timeline? Here's what the survey found.
Unlike Millennials, Gen Zers Are Focused On Homeownership To Grow Their Family
Of those surveyed, 34% said that starting or growing their family was their main motivation to buy a home. In fact, 63.6% of Gen Z plans on having a family. This differs drastically from the millennial generation, who have been slower and less eager to establish a household. According to a 2020 Pew Research study, more than four-in-ten millennials do not live with a family of their own. That's 11% – 30% less than previous generations at the same age.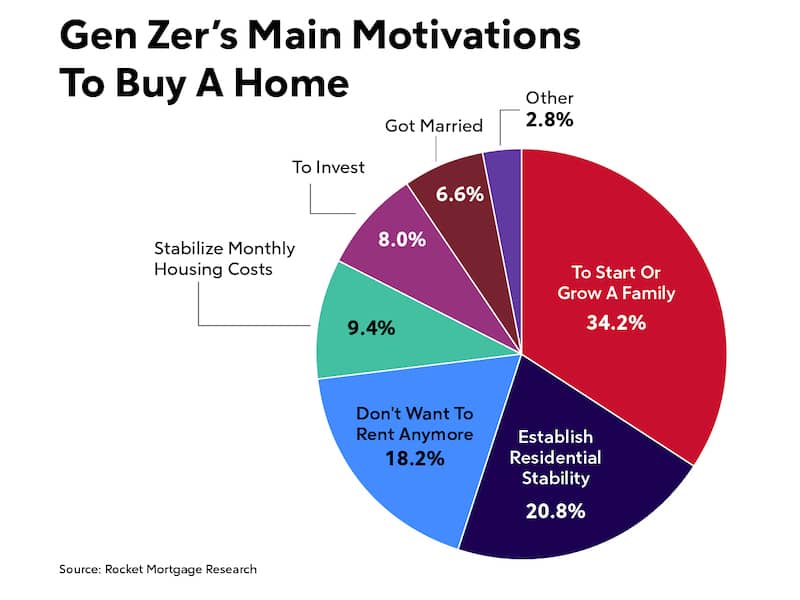 Along with growing a family comes establishing a home base. Of Gen Z, 20.8% are motivated to buy a home because they want residential stability. Owning a home gives people the ability to stabilize their monthly housing costs compared to dealing with landlords consistently raising rent every term.
Gen Zers: Buying Vs. Renting
According to the U.S. Census American Community Survey, median rent in the U.S. has increased almost 40% since 2010. So, it makes sense that 18.1% of Gen Zers are motivated to own a home because they don't want to rent anymore.
How much could Gen Z save over time buying vs. renting? When comparing the median cost of rent is U.S. to the median cost of buying a home, it would be cheaper to buy after about 4 years of mortgage payments. To see how we got that number, review the methodology below.
Income Plays A Large Role In Home Affordability For Gen Z
Of the Gen Zers surveyed, income was the biggest challenge of buying a home, with 23.3% reporting it as holding them back from homeownership. Among other reasons, 14.6% of Gen Z reported home prices as their biggest challenge and 11.9% reported their current savings amount as a roadblock to buying a home.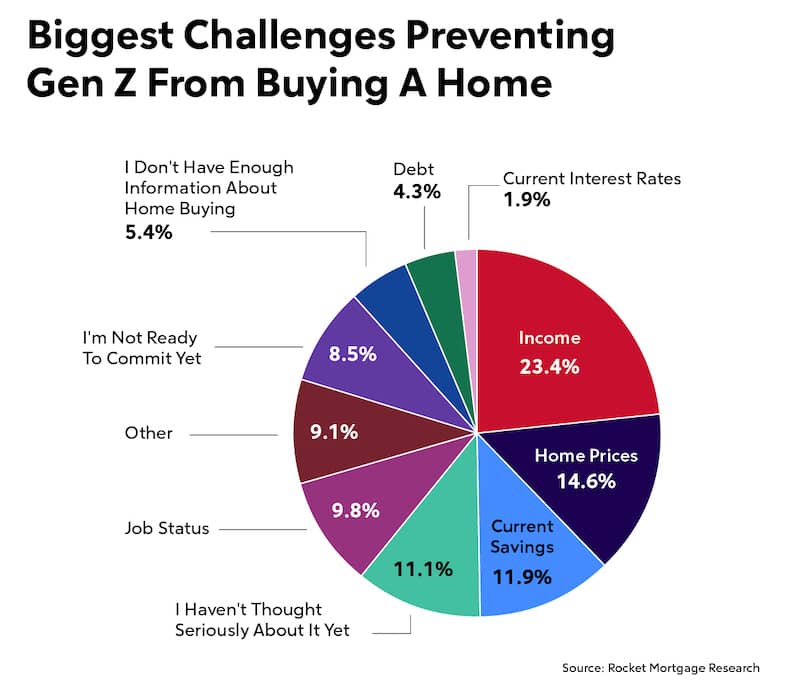 In terms of income, it makes sense for those still in college to not have the adequate income to afford a home. However, while working Gen Zers with a bachelor's degree earn about 40% more than those without, they still report income as the biggest reason holding back from buying a home. According to the U.S. Census, mean earnings of workers with bachelor's degrees in 2021 was $61,073 versus $47,422 in 2010. Average sale prices for homes in the U.S. in 2021 was $281,400 versus $188,400 in 2010. Earnings have only increased by 28.8% in 11 years, while home prices have increased by 49.3%.
Fears of recession and other economic factors have made it hard for adult Gen Zers to make saving a priority. Rising home prices have made first-time home buyers cautious. As the market starts to cool, home prices could start to diminish for our future home-owning Gen Zers.
Gen Zers Face Home Buying Challenges, But Interest Rates Aren't One Of Them
While many more experienced home buyers have expressed concern with recent rises in interest rates, Gen Zers haven't taken it into consideration as much. One cause of this could be interest rates will be different once they eventually buy a home. Still, 2% of Gen Zers pointed to it as their main challenge to homeownership.
Home prices ranked as the second biggest challenge to homeownership. However, while home prices are easier to understand than interest rates, they might still fluctuate by the time Gen Zers buy a home.
Gen Zers Are Focused On Affordable Homeownership, But Is It Realistic?
Of Gen Zers currently saving money, 56.2% are saving for their first home. The majority of Gen Z (79.8%) believe they can only afford a home that costs less than $200,000. Only 6.9% of Gen Zers believe they can afford a home over $500,000 in their desired timeframe. These discrepancies in home price affordability truly depend on the state, city and area one may be looking to buy. Salaries and median home prices range dramatically by state. For example, median home prices in Mississippi average around $141,900, while California home prices average about $684,800.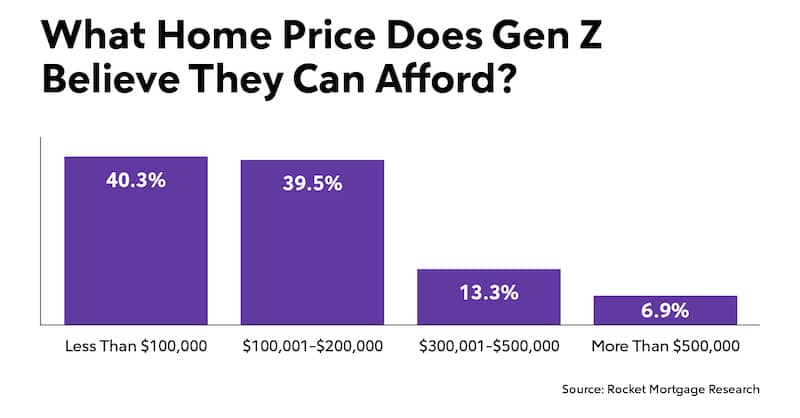 The study found that 21.9% – the largest percentage of Gen Zers – plan to put down 8% – 11% of the purchase price of a home followed by down payment amounts of 4% – 7% and 12% – 15%. Only 10.1% of Gen Zers plan to put down 20% of their home price.
Of the respondents who said they plan to put down 20%, many are under the misconception that that is the amount required to qualify for a mortgage. One respondent said, "I believe that [20%] is the standard amount a person must put down to qualify for a mortgage." While another respondent stated, "Most lenders want this and if it's a house that I really want (and need), I'd like to increase my chances of the deal being closed."
While 20% down allows home buyers to avoid having to pay for private mortgage insurance premiums, it's not required. The amount of money first-time homeowners plan to put down as a percentage of the purchase price of a home depends on a few different factors, including the type of loan they want.
For an FHA loan, the required down payment can be as low as 3.5%. Other government-backed loans, like VA loans, may not require a down payment at all. Those who want a conventional loan generally need a minimum credit score of 620, but can put down as low as 3% as a first-time home buyer. Even so, only 13.3% of Gen Zers intend on putting 3% – 3.5% down.
40.2% Of Gen Z Incorrectly Believes Level Of Education Impacts Your Ability To Qualify
Most Gen Zers know what lenders consider when reviewing a mortgage application. When asked what could impact one's ability to get a mortgage, here's how they responded:
Income (83.3%)
Down payment (74.8%)
Credit score (73.2%)
Employment (72.7%)
Paying closing costs (69.8%)
Debt to income ratio, or DTI (67.2%)
Length of employment (61%)
Student loans (55.1%)
While many Gen Zers were correct in identifying certain qualifications, some Gen Zers were incorrect in what they believe impacts their ability to qualify. In fact, some believed factors that are included in the Fair Housing Act are used to qualify a person for a mortgage:
9% believe gender impacts their ability to qualify.
6% believe marital status impacts their ability to qualify.
2% believe level of education impacts their ability to qualify.
Fair lending prohibits lenders from considering race, color, nationality, religion, gender, familial status, marital status or disability when applying for a mortgage. These misconceptions could cause Gen Zers to believe qualification for a mortgage has barriers that don't actually exist.
Bottom Line: Gen Z Want To Be Homeowners But Could Use Further Education
While most of Gen Z isn't quite ready for homeownership just yet, they're taking the steps to make these goals a reality in the future. Many in this generation have already started saving for their first home and have intentions of buying their first home soon. They know their income, current home prices and their current savings are challenges they'll face if they want to buy a home sooner than later. However, they're motivated to establish their own residence and stop paying rent.
Even though the majority of Gen Z is aware of the qualifying factors for a mortgage, including income, credit score and down payment, they could use some guidance on just how much of a down payment they need, how much house they can afford and the type of assistance that's available to them. There are many types of first-time home buyer programs available to Gen Zers, including down payment assistance, FHA loans, tax deductions and closing assistance.
Methodology
To understand more about mortgage perceptions of Generation Z, Rocket Mortgage surveyed 2,000 adult American members of the generation (born between 1997 and 2003, according to Pew Research Center). Gen Z respondents were asked about their understanding, knowledge and goals regarding home buying, mortgage rates and home loans. Gen Zers who had previously purchased real estate were restricted from this survey along with those experienced in the mortgage industry. The average age of the respondents in this survey was 22 years old, and the average college attainment level was some college. This survey was conducted December 9, 2022.
To calculate what this demographic would save buying versus renting, Rocket Mortgage took the median home list price in the U.S. according to Rocket HomesSM as of December 2022, ($339,307), the national median monthly rent according to the US Census ($2,007), and Rocket Mortgage's 30-year fixed rate with 20% down as of December 2022 (6.375%). To try it yourself, check out Rocket Mortgage's Rent Vs. Buy Calculator.
Related Resources
Viewing 1 - 3 of 3