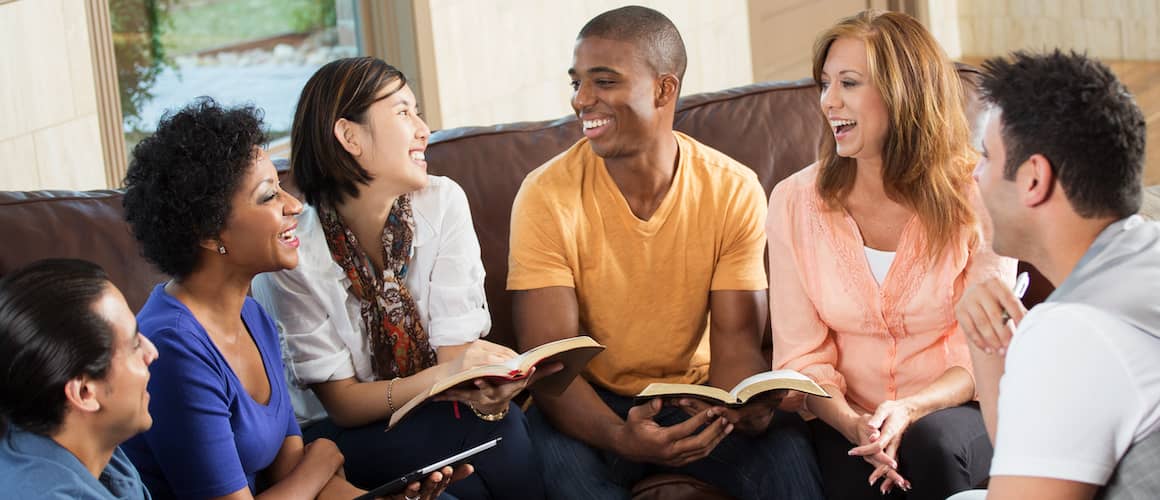 Generation Z Sets Big Financial Goals For 2023 Despite Hurdles
Lauren Nowacki5-minute read
June 22, 2023
Share:
Increasing income was the most completed financial goal in 2022

45.1% of Gen Zers have a homeownership-related goal for 2023
42.6% of Gen Zers have spent more than they earned
69.1% are currently saving money
In a new Rocket Mortgage® survey, 2,000 members of Generation Z (ages 19 – 26) were asked about their financial habits and goals. It found that financial health and homeownership were most important to this generation.
Gen Z, also known as Zoomers, have already experienced financial turbulence in their young adult lives. From a coronavirus pandemic that put the world on pause to the resulting rise of inflation, Gen Zers have felt the effects, with 42.6% having spent more than they earned and 39.8% having not invested any money. But despite current financial challenges, Generation Z is still finding a way to build their savings – partly because of their goal to own a home.
Gen Z Is Saving Money
Of those surveyed, 69.1% are currently saving some amount of money. And within that group, 56.4% are putting money away for their first home.
It makes sense that this demographic has prioritized saving for a house. Not only do 45.1% of Gen Zers have a homeownership-related goal for 2023, a Rocket HomesSM study of Gen Z home buyers revealed that not having enough saved for a down payment was the most anticipated obstacle for home buying.
Second to saving for a home, unexpected expenses are the next category Gen Z is currently focusing on, with 39.2% building their emergency fund. But while they prepare for unanticipated costs, they are less focused on future, guaranteed expenses. The categories in which Gen Zers are saving for the least are retirement (11.8%) and taxes (9.6%).
This age group may be adding to their savings accounts, but they're more interested in making more money, while also keeping their financial well-being top of mind.
Gen Z Financial Goals In 2022
Before looking forward to the new year, the study looked back into the 2022 goals of Gen Z. It found that the most popular goal this past year was increasing income, with 28.9% respondents saying they started or completed this goal in 2022. As the median age for this group of survey-takers was 22 years old with some college, it's likely many were just starting their careers, going from college to the working world, thus increasing their income exponentially.
2022 was also the year this generation focused on their financial health. Almost half of the respondents (47.3%) completed or started a goal that had to do with improving their financial wellness. These goals included creating an emergency fund, creating a budget, increasing financial education and managing or building credit.
Gen Z Financial Goals For 2023
The most popular financial goal for 2023 stayed the same as last year, with even more Gen Zers (39.5%) aiming to increase their income.
However, a new category took second place in 2023. Having focused on their financial health the previous year, more Gen Zers are starting to prepare to buy a house, with 27.3% having the goal of saving for a home in the new year. In fact, homeownership-related goals grew from 37.3% in 2022 to 45.1% in 2023. Higher mortgage rates, rent and real estate aren't deterring this generation – almost half of Gen Zers have homeownership goals. Those include saving for a home, buying their first home or moving out of their parent's house.
However, while many have homeownership-related goals, 38.4% of this generation feel they lack the information or confidence to achieve them. Drilling down a little more, a quarter of Gen Zers believe they don't have enough information specifically on buying their first home.
Many Gen Zers Feel They Need To Increase Their Financial Literacy In 2023
Home buying isn't the only category on which this generation wants more information. The goals they felt were most out of reach due to a lack of information were centered around investing. Gen Z believes they lack the most information on investing in the stock market (28.1%), investing in crypto (24.2%) and starting a retirement fund (20.3%).
Perhaps unsurprisingly – based on their 2022 and 2023 goals – Gen Zers are most confident in their ability to increase their income, with only 13.8% feeling as though they don't have enough information.
What may surprise some is where Gen Z gets most of its financial advice and information. Unlike older generations, Gen Z was born into a world where advanced technology already existed and has always had instant access to information via Google, personal finance influencers and social platforms like TikTok. Even so, 40% of Gen Zers get most financial advice and information from their parents. Digital resources trail far behind moms, dads and/or other parental figures – with 18.7% relying on Google and 11.7% turning to social media.
Only Half Of Gen Zers Are Trying To Budget
While the various resources they use may recommend budgeting as part of their financial planning, Gen Z is split in half by those who budget monthly and those who don't. Of those surveyed, 51% have a budget.
The top five budgeting categories are: food (79.9%), rent (64.8%), utilities (54.4%), transportation (50.8%) and entertainment (48%).
Based on the study's findings, here's a larger breakdown of a typical budget for all of Gen Z: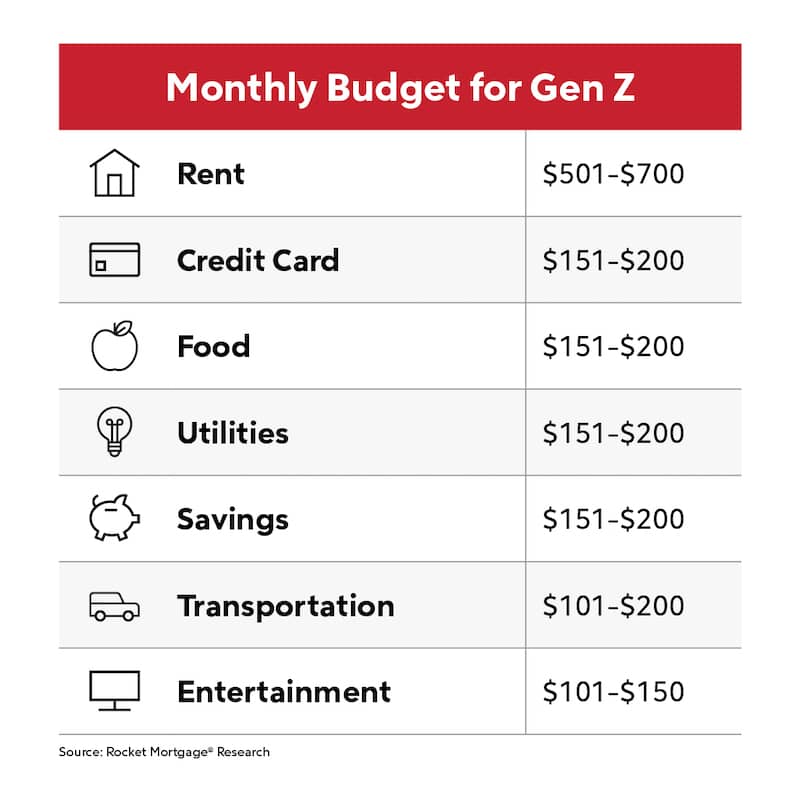 The study also investigated the budgets of Generation Z college grads working full-time. It found that, on average, they spend about $114 more per spending category than others in their generation. Of course, in some categories, like rent, the spending was much higher.
Based on the study's findings, here's a typical budget for Gen Z college graduates with a full-time job: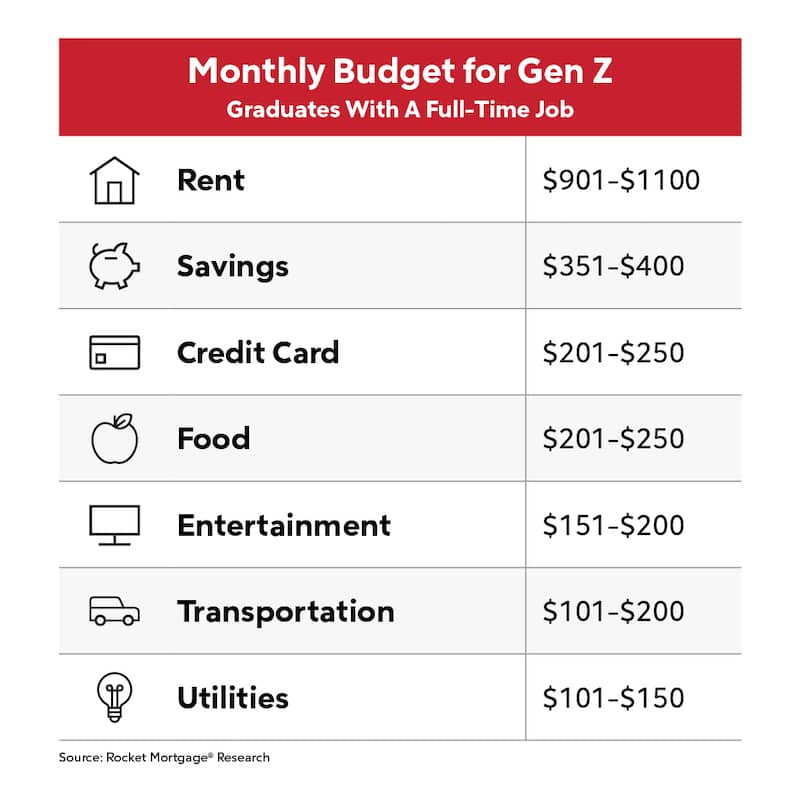 Bottom Line: Gen Z Remains Undeterred But They Need More Assistance
Inflation and rising rents and interest rates have likely required Gen Z to adjust their budgets. These could also be reasons they have a goal of increasing their incomes in the new year. In 2022, this financially minded generation focused on goals relating to financial health and now has homeownership in its sights for 2023. While inflation is contributing to the difficulty of reaching these goals, so is a lack of information, according to respondents. Another hurdle is, unsurprisingly, student debt. Of those surveyed, 69.1% have federal student loans and, like millennials, most of them (91.6%) believe student loan forgiveness would allow them to contribute toward their financial goals.
But regardless of these obstacles, Generation Z remains undeterred as they set financial and homeownership goals for the new year. And as more members of this generation enter adulthood, begin their careers and purchase a home for the first time, it will be interesting – and impressive – to see how they succeed in achieving such goals when some may argue the current odds are stacked against them.
Methodology
To understand more about the financial habits and goals of Generation Z, Rocket Mortgage surveyed 2,000 adult American members of the generation (born between 1997 and 2003, according to Pew Research Center). Gen Z respondents were asked about their savings, budgeting, goals, habits and sources of financial information. To understand how Gen Z non-homeowners are going about budgeting and saving, Gen Zers who have previously purchased a home/condo were restricted from this survey along with those experienced in the mortgage industry. The average age of the respondents in this survey was 22 years old, and the average college attainment level was some college. This survey was conducted December 9, 2022.
Related Resources
Viewing 1 - 3 of 3