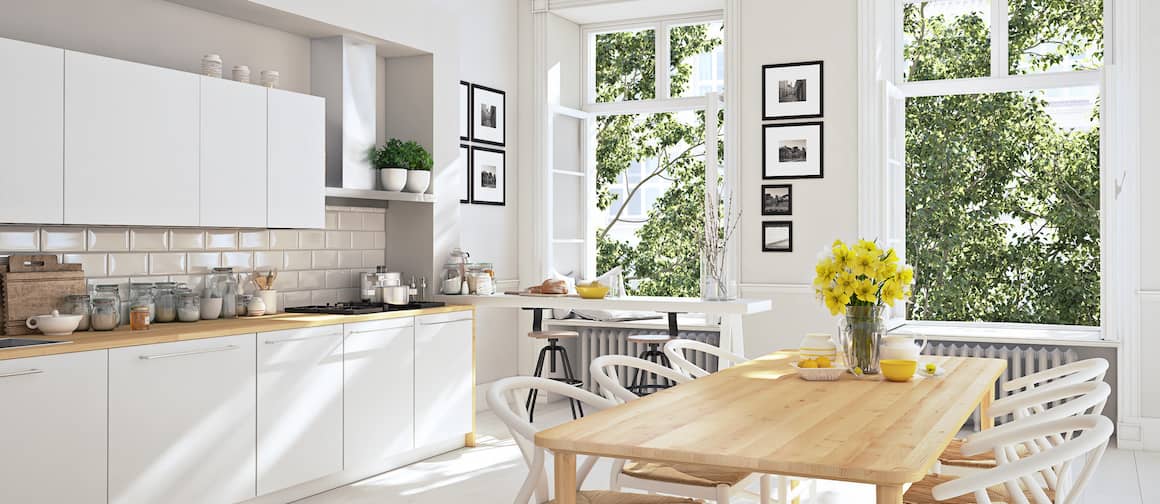 Cash-Out Refinance: Rates And Guide For Homeowners
Victoria Araj6-minute read
October 19, 2022
Share:
Buying a home is probably one of the biggest investments you'll ever make, and you likely want to do everything you can to make sure your home is as comfortable and up-to-date as possible. But it can be tough to build up the necessary savings to complete home renovations and repairs.
A cash-out refinance may be your answer. It can help you accomplish your home improvement goals so you don't have to rely on credit cards, a personal loan or a second mortgage. A cash-out refinance can also help you use the money you've already paid into your mortgage to do things like cover repair bills, consolidate to pay off debt or even eliminate your outstanding student loans.
This article will walk you through the ins and outs of a cash-out refi so you can determine whether it's right for you before you apply.
See how much cash you could get from your home.
Apply online with Rocket Mortgage® to see your options.
What Is A Cash-Out Refinance?
As your mortgage matures, you gain equity in your home. Equity refers to the amount of a home's value that you've actually paid off. You can gain equity in two ways:
Your home increases in value.

You pay down your mortgage principal through your monthly mortgage payments. Every time you make a monthly payment on your loan, you gain a bit more equity in your home.
A cash-out refinance is a type of mortgage refinance that takes advantage of the equity you've built over time and gives you cash in exchange for taking on a larger mortgage. In other words, with a cash-out refinance, you borrow more than you owe on your mortgage and pocket the difference.
Unlike when you take out a second mortgage, a cash-out refinance doesn't add another monthly payment to your list of bills – you pay off your old mortgage and replace it with your new mortgage.
For example, let's say that you've bought a home for $200,000 and you've paid off $60,000. This means you still owe $140,000 on your home. Let's also say that you want to make $20,000 worth of renovations.
With a cash-out refinance, you take a portion of your equity and then add what you've taken out onto your new mortgage principal. This means your new mortgage would be worth $160,000 – the original $140,000 you owed on the home plus the $20,000 you need for renovations. Your lender gives you the $20,000 in cash a few days after closing.
When you refinance, you can do anything you want with the money you take from your equity. You can make repairs on your property, catch up on your student loan payments or cover an unexpected medical or auto bill. Cash-out refinances also usually give you access to lower interest rates than credit cards.
Get approved to refinance.
See expert-recommended refinance options and customize them to fit your budget.
How Much Cash Can You Get On A Refinance?
The amount you earn on your refinance typically depends on your home's value. Before finding out how much you qualify for, you'll need to have your home appraised. In general, lenders will let you draw out no more than 80% of your home's value, but this can vary from lender to lender and may depend on your specific circumstances.
One big exception to the 80% rule is VA loans, which let you take out up to the full amount of your existing equity. Rocket Mortgage® allows you to take out the full amount if you have a median FICO® Score of 620 or higher. Other lenders may have different policies.
How Does A Cash-Out Refinance Work?
The cash-out refinance process is similar to the process you undergo when you buy a home. After you know you meet the requirements, you choose a lender, submit an application and documentation to underwriting, get an approval and wait for your check.
Let's take a closer look at each of these steps.
1. Check The Requirements
Your lender sets their own requirements when it comes to deciding who qualifies for a refinance. Some of the most common cash-out refinancing requirements include:
A Credit Score Of At Least 580
To refinance, you'll usually need a credit score of at least 580. Although the qualifying score may need to be higher in certain cases to take cash out, there are exceptions.
If you're eligible for a VA loan, you can take cash out with a median FICO® Score of 580 or higher as long as there is at least 10% equity left in the home after you complete the refinance. It's worth noting that you can take out up to the full amount of your equity with a 620 qualifying credit score using a VA loan.
An FHA loan may be used to pay off debt at closing if you're an existing client of ours with a median 580 credit score. Otherwise, all other purposes for taking cash out require a 620 credit score. Conventional loans always require a 620 qualifying credit score.
A Debt-To-Income Ratio (DTI) Of Less Than 50%
Your DTI ratio is the amount of your monthly debts and payments divided by your total monthly income. For example, if you pay $1,500 in bills every month, including your mortgage, and you have a total monthly household income of $4,000, your DTI is $1,500 divided by $4,000, or about 37.5%. Although it's a good idea to target a DTI of 50% or lower, it's possible to qualify with higher debt loads on FHA or VA loans.
Equity In Your Home
You'll need to already have a sizable amount of equity built in your home if you want to secure a cash-out refinance. Remember that your lender won't let you cash out 100% of the equity you have unless you qualify for a VA refinance, so take a careful look at your current equity before you commit to a cash-out refinance. Make sure that you can convert enough equity to accomplish your goals.
2. Determine How Much Cash You Need
Once you know that you meet the requirements for a cash-out refinance, determine how much money you need. If you're planning to cash out for repairs or renovations, it's a good idea to get a few estimates from contractors in your area so you know how much you need. If you want to refinance to consolidate debt, sit down with all of your credit card and bank statements and determine exactly how much cash you need to cover your debts.
3. Apply Through Your Lender
After you apply for a cash-out refinance, you receive a decision on whether your lender approves the refinance. Your lender might ask you for financial documents like bank statements, W-2s or pay stubs to prove your DTI ratio. After you get an approval, your lender will walk you through the next steps toward closing.
After closing, all that's left to do is wait (typically 3 – 5 days) for your check to arrive.
Reasons To Consider A Cash-Out Refinance
A cash-out refinance can provide a number of financial benefits, and may present advantages over taking out a personal loan or second mortgage.
Here are some reasons to consider getting a cash-out refinance.
Fund Home Improvements And Renovations
From questionable design choices to a broken HVAC system, upgrades are often necessary. A cash-out refinance allows you to use the equity you've already earned to fund home improvements.
Consolidate Debt
A cash-out refinance can give you the money you need to pay down your debts and transfer what you owe to one convenient, lower-interest payment.
Get A Lower Interest Rate
If you put an unexpected bill on a variable credit card, you might pay a high amount of interest – the prime rate that's tied to the federal funds rate set by the Federal Reserve, plus a certain number of percentage points on top of that. Mortgage and refi rates are generally lower than credit card interest rates – often significantly lower. If you have enough equity in your home to cover your bill, you may save thousands in interest over time.
Free Up Money To Invest
When you take into account the power of compounding interest, it can be a smart move to free up money and save toward retirement early rather than keep your funds tied to your home. Cash-out refinances give you access to funds that you can use to boost your retirement savings or build up a college fund.
What You Should Know About Getting A Cash-Out Refinance
You might need to consider a few things before you commit to a cash-out refinance. Here are some important considerations to bear in mind.
You'll (Probably) Have To Leave Equity In Your Home
Let's say you've paid a total of $20,000 on your mortgage principal. You might assume this means you can take up to $20,000 out with a cash-out refinance. However, depending on your loan, this isn't always possible. Conventional loans require you to leave 20% equity in your home after a refinance, and FHA loans require 20% as well. The only exception to this rule is with a VA loan refinance, which doesn't require you to leave any equity after you refinance.
You'll Pay Closing Costs
Just like when you buy a home, you'll pay closing costs when you refinance. Some common costs to refinance for closing include credit report fees, appraisal fees and attorney fees, depending on your state. If you only need to take out a very small loan, you should take a look at whether the closing costs would negate anything you save with a lower interest rate. In cases like this, resources like Rocket Loans℠ can help you explore your options for personal loans.
You Won't Get Cash Immediately
Similar to when you buy a home, you must submit to underwriting and appraisal processes before your lender approves your refinance. Even after you close, the Truth in Lending Act requires your lender to offer you 3 days to cancel the loan if you have a change of heart, and you won't get your cash until 3 – 5 days after closing. If you need money immediately, a cash-out refinance may not be the right solution.
Your Loan Terms May Change
When you get a cash-out refinance, you pay off your original mortgage and replace it with a new loan. This means your new loan may take longer to pay off, your monthly payments may be different or your interest rate may change. Be sure to look at the Closing Disclosure from your lender and analyze your new loan terms.
You'll Need An Appraisal
Cash-out refinances are contingent upon an appraisal by an independent third party. Appraisals can take time, so factor this into your refinancing timeline.
Cash-Out Refinance Vs. Home Equity Loan
Cash-Out Refinance: Frequently Asked Questions
Consider these frequently asked questions before you opt for a cash-out refinance.
When is a cash-out refinance a good option?
A cash-out refinance is a great option for homeowners who need on-hand cash, meet the requirements of the refinance loan and generally need no more than 80% of their home's equity. Because of their lower interest rates, cash-out refinances can be a better option than financing with a credit card.
If you're not sure whether a cash-out refinance is right for you, our refinance calculator may be able to help.
How much can I get with a cash-out refinance?
Generally, the amount you can borrow with a cash-out refinance is capped at 80% of your home value. However, this can vary depending on the lender and loan type you choose.
Do I have to pay taxes on a cash-out refinance?
Because the IRS considers a cash-out refinance an additional loan, you don't need to list the cash you receive from your cash-out refinance as income on your taxes. However, the IRS does limit refinancing deductions you can take on your cash-out refinance with your taxes.
Cash-out refinance borrowers have the opportunity to deduct the interest on their original loan balance only if they use the equity to make improvements to the property's value.
The Bottom Line: Is A Cash-Out Refinance Right For You?
Whether you want to pay down debt or renovate your kitchen, a cash-out refinance can be a powerful tool and can give you the money you need to move toward your goals.
If you're ready to get started, explore your refinance options with Rocket Mortgage today.
Get approved to refinance.
See expert-recommended refinance options and customize them to fit your budget.
Related Resources
Viewing 1 - 3 of 3