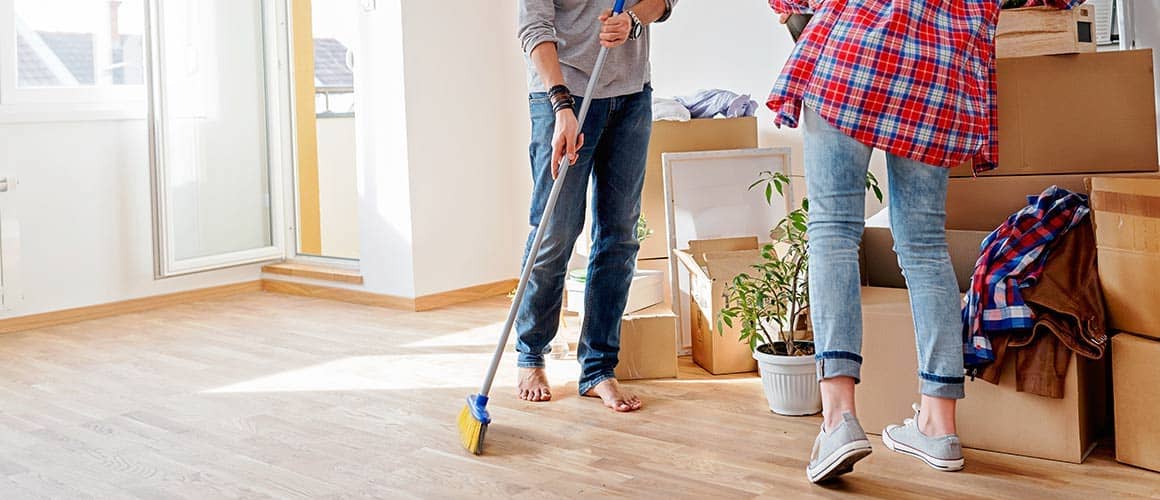 What Is Broom Clean Condition? + How To Achieve It
3-minute read
April 17, 2023
Share:
Let's say you're getting ready to move out of your apartment and investigate your lease contract to find a move-out procedure. Do you notice the term "broom clean" in the instructions, but aren't sure what that means?
You'll often find the phrase "broom clean condition" within rental lease agreements and real estate contracts. It refers to the state in which you should leave your former residence upon moving out.
If you've just purchased a new home and are moving out of your well-loved abode, use this guide to meet the golden broom clean standard upon move-out.
What Does Broom Clean Mean?
Broom clean condition is a broad term referring to the condition in which you'll leave your home. How this phrase is interpreted will vary depending on your landlord or real estate contract, so it's important to establish what's expected before your official departure date.
For both renters and sellers, you should remove all personal belongings and waste. Clear out anything the next homeowner or renter may want to be removed from the home. This is a great time to downsize and donate stuff you won't need in your next home.
How To Broom Clean Your Home
What your cleaning routine looks like will vary depending on whether you're a renter moving out of a leased apartment or a homeowner moving out of your starter home. Follow the parameters below to make sure you ace your last clean sweep.
Broom Cleaning For A Renter
There's usually a strict list of rules to follow when vacating a rental. These rules should be stated within your lease contract. If not, discuss with your landlord before moving out to determine their expectations.
The goal is to get as much of your security deposit back as possible. You should leave the space in a similar condition to how it was when you moved in. Don't stress about normal wear and tear, though – your landlord shouldn't expect the residence to be exactly how it was when you moved in.
Be sure to fix any alterations you've made to the space, including nails or holes in the wall, and follow up with a deep clean after you've removed your possessions.
We recommend taking pictures of the rental space before you leave in case your landlord doesn't refund your security deposit. Connect with your local tenant's union organization if you experience any issues with your landlord during your vacating process.
Broom Swept Condition For Selling A Home
When moving out of a home, you'll usually be asked to leave it in a "broom swept" condition. This means the home should be emptied of any furniture pieces or belongings. It doesn't necessarily mean the home needs to be scrubbed clean before the new homeowners arrive.
It's uncommon for a buyer to require the home to be professionally cleaned. Your real estate agent will let you know if it's necessary. Typically, a professional deep clean is a courtesy call rather than a requirement.
During the final walk-through, the buyer may note if there are furniture pieces or wall furnishings they'd like to be left. Your real estate teams will write in the closing agreement which items will be left if you choose to leave them.
Broom Clean Checklist
Ready to get your place into sparkling broom clean condition? Don't wait until the last day to get started on these tasks. Start working on them during the last month of your lease or the period before your home closes.
Make sure to check off these cleaning to-dos before handing over the key.
Use this moving checklist along with the cleaning checklist above to organize your move-out process.
Moving out of an apartment and ready to buy your first home? Let us help you every step of the way – starting with what you might need for your new home.
See What You Qualify For
Congratulations! Based on the information you have provided, you are eligible to continue your home loan process online with Rocket Mortgage.
If a sign-in page does not automatically pop up in a new tab, click here
Related Resources
Viewing 1 - 3 of 3