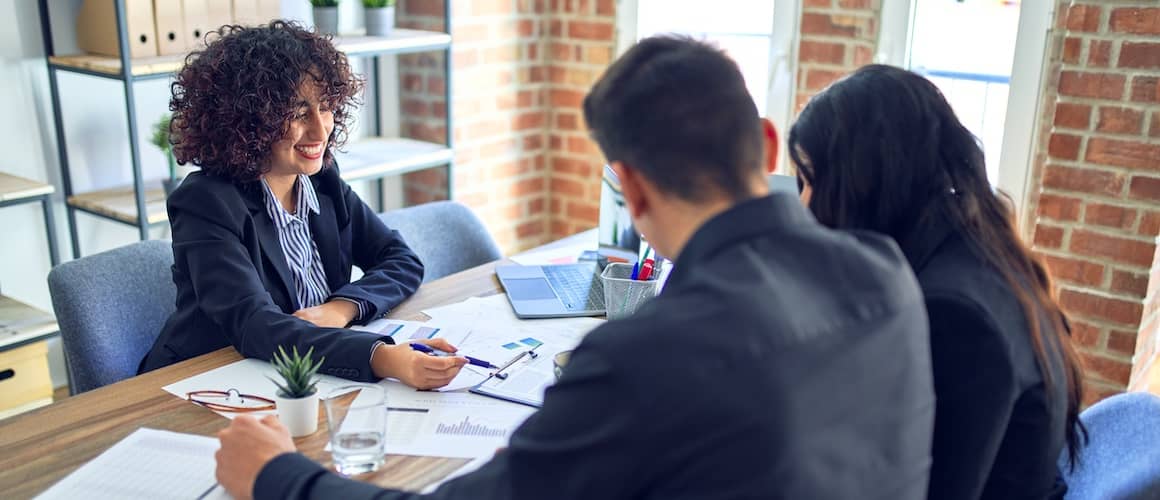 What Is A Bridge Loan And How Do They Work?
Scott Steinberg8-minute read
February 12, 2021
Share:
A bridge loan is often used in real estate transactions to provide cash flow during a transitional period, such as while moving from a current residence into a new home. Homeowners can use these short-term loans, which can help quickly put more cash in their pockets, to finance a new home or pay off an existing debt obligation. However, like any form of financing, bridge loans come with a variety of costs attached, and they're not designed to replace a traditional mortgage. To learn more about bridge loans (which Rocket Mortgage® does not currently offer), simply read on.
What Is A Bridge Loan?
A bridge loan is a form of short-term financing that can serve as a source of funding and capital until a person or company secures permanent financing or removes an existing debt obligation. Bridge loans (also known as swing loans) are typically short-term in nature, lasting on average from 6 months up to 1 year, and are often used in real estate transactions. Obtain one, and you can effectively use it as a means through which to finance the purchase of a new home before selling your existing residence.
As you might imagine, most home sellers would ideally prefer to wait until their house is under contract before placing an offer on a new one and using monies from the sale of their existing property to help finance a new real estate acquisition. Should you be unable to offload your property and facilitate such a sales transaction though, a bridge loan can provide you with the funds needed to move forward on purchasing a new property regardless. Put simply, bridge loans give you access to additional monies with which to purchase a piece of real estate by allowing you to tap into added funds, or any equity that you hold in your current home prior to its actual sale.
It's not uncommon for homeowners needing to make a sudden transition (for example, having to quickly transfer to another location for work-related purposes) to need a way to bridge the gap between homes. A bridge loan can help you finance your way through this transitionary time period. In addition – especially if you're trying to shop for a new home in a hot market – it can also help you avoid having to make sale-contingent purchase offers on new properties. (Which buyers tend to shy away from, as these offers provide the option to back out of the contract if your current home doesn't sell.) However, although it is secured with your current home as a form of collateral, as is a conventional mortgage, a bridge loan isn't designed to replace a traditional mortgage and is meant to be repaid within roughly 1 – 3 years' time.
Great news! Rates are still low in 2021.
Missed your chance for historically low mortgage rates in 2020? Act now!
How Does A Bridge Loan Work?
Bridge loans are typically used by sellers who find themselves in a tight spot or needing to make a sudden change of locale. At the same time, bridge loans' terms, conditions, and fees can vary greatly between individual transactions and lenders. Some of these financing vehicles are designed to pay off your first mortgage at the time that the bridge loan closes, while others add and pile new debt onto the total overall amounts borrowed that you owe. Costs can also vary considerably between lenders, and bridge loans can differ greatly in payment structure. For example, some may require you to make monthly payments, while others may be structured to require a mix of upfront and/or end-term or lump sum payment charges.
Common reasons to seek out a bridge loan include:
Inability to afford a down payment without first selling your current house.
Pressing need to quickly secure a new home.
The closing date for a new purchase is scheduled after the closing date for the sale of your home.
You'd like to secure a new property before listing your current residence.
Sellers in your desired area aren't comfortable with contingent purchase offers.
In general, two main options are available for those seeking a bridge loan:
To use the bridge loan as a second mortgage to put toward the down payment on their new home until they can sell their current home.
To take out one large loan to pay off the mortgage on their old home and put the remainder of monies borrowed toward the down payment on their new residence.
Similarly, bridge loans tend to:
Run for 6-month or year-long terms.
Be secured using the borrower's current home as a form of collateral.
Only be issued by lenders with whom you agree to finance your new mortgage as well.
Vary in amounts of interest charged, with charges typically hovering slightly above the prime rate.
Note that applying for a bridge loan works similarly to applying for a conventional mortgage. Lenders will look at numerous factors when considering applications including your credit score, credit history, and debt-to-income ratio (DTI). What's more, the majority of institutions that issue bridge loans will allow applications to borrow a maximum of up to 80% of their loan-to-value ratio (LTV). In other words, you'll typically need a minimum of 20% equity in your current home in order to quality for a bridge loan package, as well as to meet additional financial qualifications outlined here.
Common Home Bridge Loan Rates
Interest rates associated with bridge loans are generally higher than with conventional loans – including charges that tend to range up to roughly 2% above prime rate. As with traditional mortgages, bridge loans also incur closing costs (which can skew up to a few thousand dollars in expenses, plus a certain percent of the loan's value) and origination fees to boot. You may additionally be required to pay for an appraisal as well.
Be advised, though: As protections for buyers are often limited in the event that the sale of their current home falls through, it's important to read the terms and conditions associated with any bridge loan offer. Because bridge loans are secured with your existing property, it can be foreclosed upon by a lender in the event of nonpayment. Noting this, you'll want to carefully consider just how long that you can afford to go without financial relief in the event that a sale stalls and make a point to avoid overextending yourself on any amounts borrowed. Likewise, you'll also find that it pays to do extensive research into the current real estate market and how long on average that homes take to sell in your local area.
Low rates were a big story in 2020. It was a great year to refinance!
Great news about 2021 so far: Rates are still relatively low.
Pros And Cons Of Bridge Loans
As with all forms of lending and financing, there are advantages and disadvantages associated with taking out a bridge loan. For example, you'll wish to consider the following upsides and downsides inherent to this form of borrowing:
Pros
Offers you the opportunity to buy a new house before you've sold your current home.
You can make an offer on a new home without having to implement a sale contingency.
Provides additional funds in the event of a sudden or time-sensitive transition.
Presents a helpful short-term solution for financing your way through periods of uncertainty.
Often the prospect of no monthly payments for the first few months.
Potential for interest-only payments, or payments that are deferred until you sell.
Cons
Bridge loans come with higher interest rates and APR
Most lenders require a homeowner have at least 20% home equity built up before they'll extend a bridge loan offer.
Many financial institutions will only extend a bridge loan if you also use them to obtain your new mortgage.
You may own two houses for a time – and managing two mortgages at once can be stressful.
Trouble selling your property can lead to future issues, or – in a worst-case scenario – even foreclosure.
Bridge loans can be obtained from many lenders, including banks, credit unions, and other financial institutions. However, it's most common for your current mortgage provider to be the originating source for these programs. If you're interested in pursuing a bridge loan, your lender should be your first port of call. Pro tip: As you go about looking for a financing partner, be wary of lenders offering quick access to capital, who may charge exorbitant rates for their services, and boast less of a proven track record in terms of strong performance or customer service.
Bridge Loan Alternatives
Of course, it's not always necessary to seek out a bridge loan if you're in need of a timely windfall. After all, many other alternative forms of real estate financing can help you make ends meet here, even in a pinch. For example:
Home Equity Loans
Home equity loans are a popular alternative to bridge loans. Under this form of financing, which is secured using your current home as collateral, you can borrow against current equity held in your home. Home equity loans are typically long-term in nature (ranging up to 20 years) and offer interest rates that compare favorably with those attached to bridge loans. While often more cost-affordable than a bridge loan, don't forget, though: Obtaining a home equity loan will still require you to carry two mortgages, or even three, if you purchase a new home and fail to sell your original residence in prompt fashion. Rocket Mortgage® does not offer home equity loans.
Home Equity Line of Credit (HELOC)
A home equity line of credit (HELOC) essentially takes the form of second mortgage that offers a better interest rate, lower closing costs, and added time to repay borrowed sums. You can also use any amounts borrowed under a HELOC to make home improvements and other upgrades. Note that some HELOCs may come with prepayment fees attached. Rocket Mortgage® does not offer home equity lines of credit.
80-10-10 Loan
An 80-10-10 loan provides a vehicle through which to buy a new home with less than a 20% down payment while also avoiding additional fees due to private mortgage insurance (PMI). Under the terms of an 80-10-10 loan, you pay 10% down, then obtain two mortgages: One for 80% of the new home's asking price, and a second for the remaining 10%. After selling your current home, you can take any funds left over after paying off any outstanding balances on it to pay off the 10% second mortgage on the new property. Rocket Mortgage® does not offer this type of financing at this time.
Personal Loan
Finally, if you have a strong credit history, sound employment, a solid track record of timely expense payment, and a good debt to income ratio, be advised. You might also seek to obtain a personal loan, which is often secured with personal assets, with terms and conditions that will vary by lender.
The Bottom Line
A bridge loan can come in handy in certain circumstances, if you find yourself in pressing need of buying a new home before an old one has sold. But while a bridge loan can help you out of a tight spot, or help you more quickly scoop up a much-needed new property in a hot market, it can also provide a costly acquisition to come by.
Obtain one, and you'll certainly have more cash to spend on real estate in hand. However, you will also add to your overall debt load, and may wind up paying off multiple loans simultaneously if your current home doesn't promptly sell. As ever, the best strategy, if you can manage it, is to wait to sell your old house before moving forward to acquire a new property.
To learn more about additional money-saving strategies and mortgage tips, be sure to check back frequently at the Rocket Mortgage® Learning Center.
Take the first step toward the right mortgage.
Apply online for expert recommendations with real interest rates and payments.